Triple Decker Peanut Butter Squares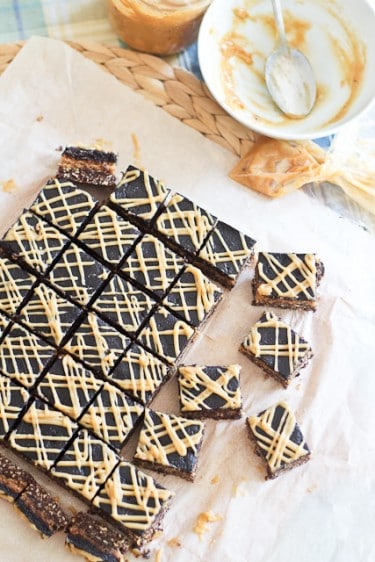 I've never been one to eat first thing in the morning.
Oh, I know that breakfast is the most important meal of the day and trust me, I never skip that. Only, I tend to have it a little later than most, maybe.
The thing is, my tummy just ain't in the mood for food when it's just woken up. It's like it needs at least an hour to realize that it's no longer asleep. Before that, food just isn't appealing to him. And I'd much rather eat when my tummy actually enjoys the experience, you see.
That "condition" of mine wouldn't be so bad I guess if I didn't happen to work out first thing in the morning.
There are a lot of people out there who are saying that it's actually a good thing to exercise on an empty stomach, as one tends to burn more fat that way.
I'm not too keen on that idea… I feel if I want to go somewhere with my car, I need to put gas in it BEFORE I actually get behind the wheel, and it should be the same when it comes to my body. To me, I need to put a little food in it before I ask it to start jumping around, cycling or lifting heavy weights…
Maybe it's a question of respect…
That's why I like having little bars such as these around.
They are a perfect bite for my grumpy tummy to enjoy right out of the comfort of his bed. This is the only kind of food that he will accept besides coffee. Yeah, I think he sees coffee as food… at least in the morning, he does!
Just one of these little squares before a workout and I feel I've at least given my body a little something to get it going.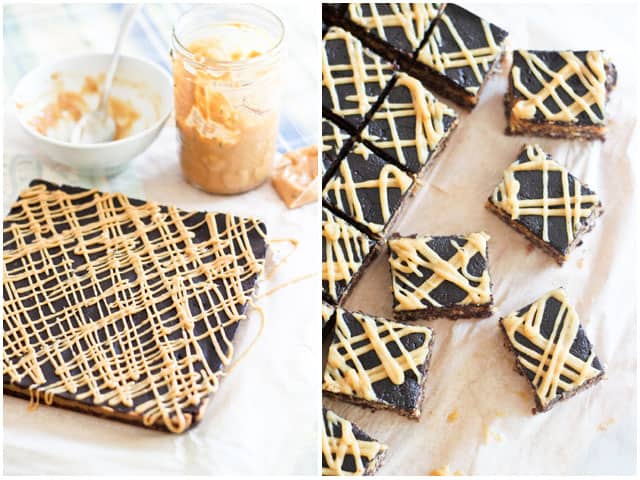 Of course, after my workout, I have a more substantial breakfast… now that Mr. Tummy is wide awake and fully responsive and ready to accept food. Usually, by that time, he's even grumbling quite audibly, as if very dissatisfied and blaming me for not feeding him
earlier.
As if it were my fault. 😉
Now these irresistible little squares here were inspired to me by Jessica over at Chockohlawtay. As soon as I saw her decadent looking Chocolate Peanut Butter Fudge Bars, I knew I had to get them inside me. It was only matter of time before it happened.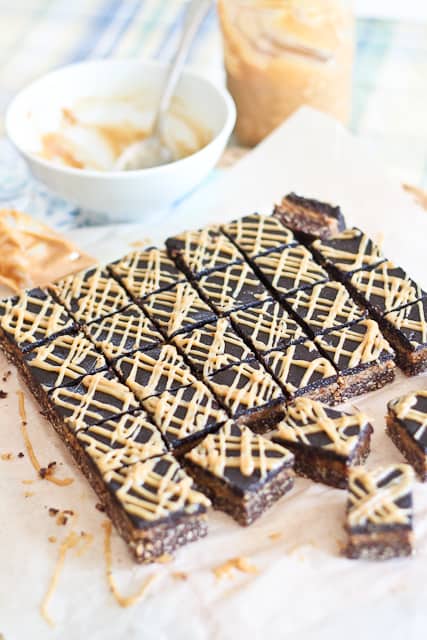 While the recipe looks quite extensive and fairly complicated, it's really not that bad, and trust me, these little squares are worth every single second that you will spend working on them. They are extremely rich and intense in flavor, both in the chocolate and peanut butter department. Plus, their super chewy and dense texture makes them super filling and satisfying.
You wouldn't really guess from biting into one of these that they are actually super healthy.
Hey, if they will support me through a workout, guess it's safe to say that two or three pieces would make for a very good breakfast or a great healthy morning snack.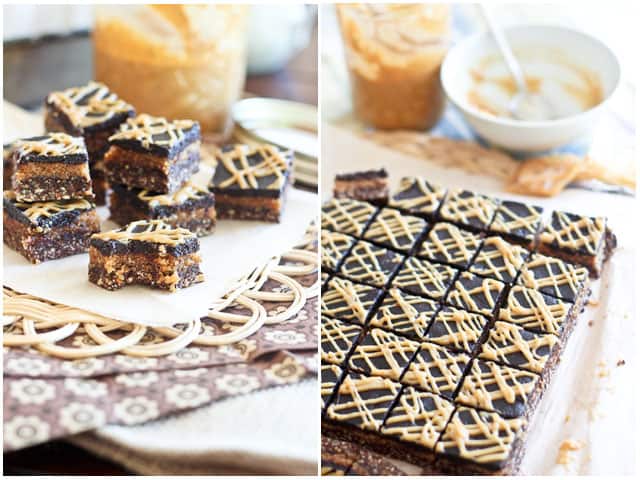 One lonely little square could also make a good little dessert, for those of you who like to enjoy a teeny sweet bite after having had lunch.
By all means, don't let the long list of ingredients put you off. I swear, these little guys will no doubt win you over as soon as you sink your teeth into one of  'em.
They sure got me… and grumpy tummy!
Triple Decker Peanut Butter Squares
Servings: 30 bars
Ingredients
Bottom Layer
¼ cup coconut cream, the canned variety
¼ cup coconut butter, I used home made
¼ cup date paste
1 scoop vanilla flavored whey protein powder
1/3 cup dark cocoa powder
1 cup soy flakes, you can use oats if you don't want to keep these grain free
1 tsp pure vanilla extract
Peanut Butter Filling
2 scoops plain or vanilla flavored whey protein powder
¼ cup date paste
1/3 cup peanut butter
2 tbsp coconut cream, the canned variety
Top Chocolate Layer
1 scoop vanilla flavored whey protein powder
3 tbps dark cocoa powder
¼ cup peanut butter
2 tbsp date paste
2 tbsp coconut cream, the canned variety
Drizzle
1 tbsp peanut butter
½ scoopvanilla flavored whey protein powder
1 tbsp coconut cream, the canned variety
Instructions
For the bottom layer
Add all ingredients except soy flakes to the bowl of your food processor and process until the mixture turns into a sticky paste.

Add soy flakes and process until well combined. You might have to scrape the sides and push the mixture down a few times to help it get in the blades.

Press to the bottom of a 8 x 8 square pan lined with parchment paper
For the peanut butter filling
Add all ingredients to the bowl of your food processor (no need to clean it...) and process until smooth and well incorporated.

Press that mixture evenly on top of the first layer. It will be on the dry side and will need a little bit of persuasion to get in its place. Use a flat rubber or metal spatula to help even it out.
For the top layer
Do exaclty what you did with middle layer. Add all ingredients to food processor, process until smooth and press on top of middle layer. Use a flat spatula to help make the frosting nice and smooth.
For the drizzle
In a medium mixing bowl, mix all the ingredients together until smooth. It might look like it's never gonna happen at first, but it will eventually get there.

Transfer that mixture to a small plastic bag (ziploc style) and make a little hole in one corner.

Push all the mixture to that corner and press to drizzle mixture over the top layer. Make 2 passes, diagonally one way and then over the other way.

Refrigerate the bars at least 4 hours before cutting into 30 squares.

Keep refrigerated for up to a week.

These bars freeze really well and are just as good straight from the freezer.
Nutrition
Calories: 114kcal
If you've tried this recipe, please take a minute to rate the recipe and let me know how things went for you in the comments below. It's always such a pleasure to hear from you!
You can also FOLLOW ME on PINTEREST, FACEBOOK, INSTAGRAM and TWITTER for more delicious, healthy recipes!