Carrot Cake Overnight Oats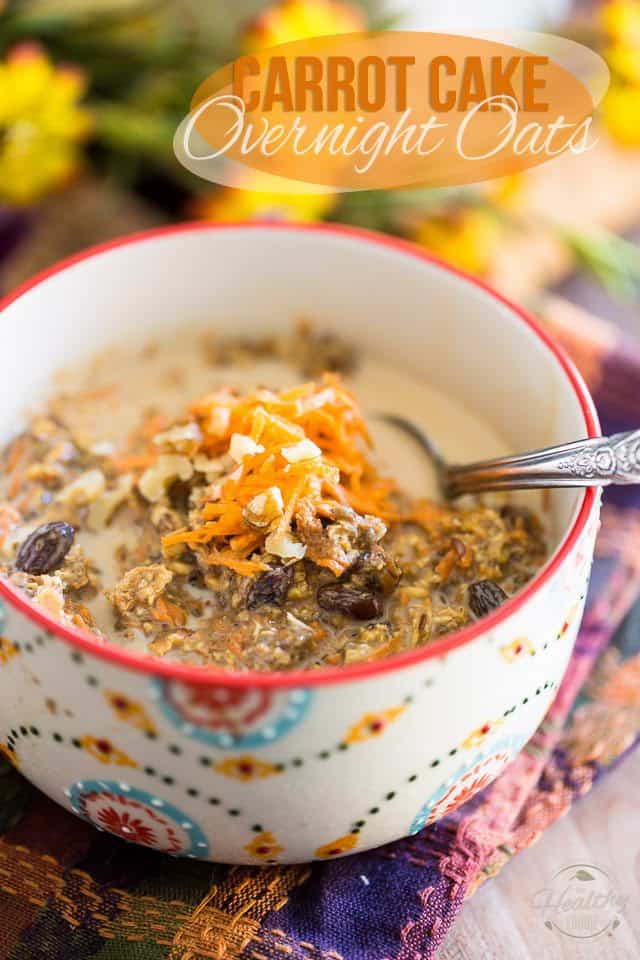 OMG, I'd forgotten just how much I loved overnight oats! Man ô man are these things ever yummy!
Of course, in the dead of winter when it's super cold out AND that you have plenty of time on your hands, nothing beats a bowl of warm, thick and creamy, slowly cooked oatmeal. Ever tried my Fluffy Apple Cinnamon Egg White Oatmeal? It's to die for!
But when it's still kinda warm out, or during the week when mornings are usually pretty hectic, or even for those days when you need to take your breakfast with you, I don't think that it gets much better than these Carrot Cake Overnight Oats!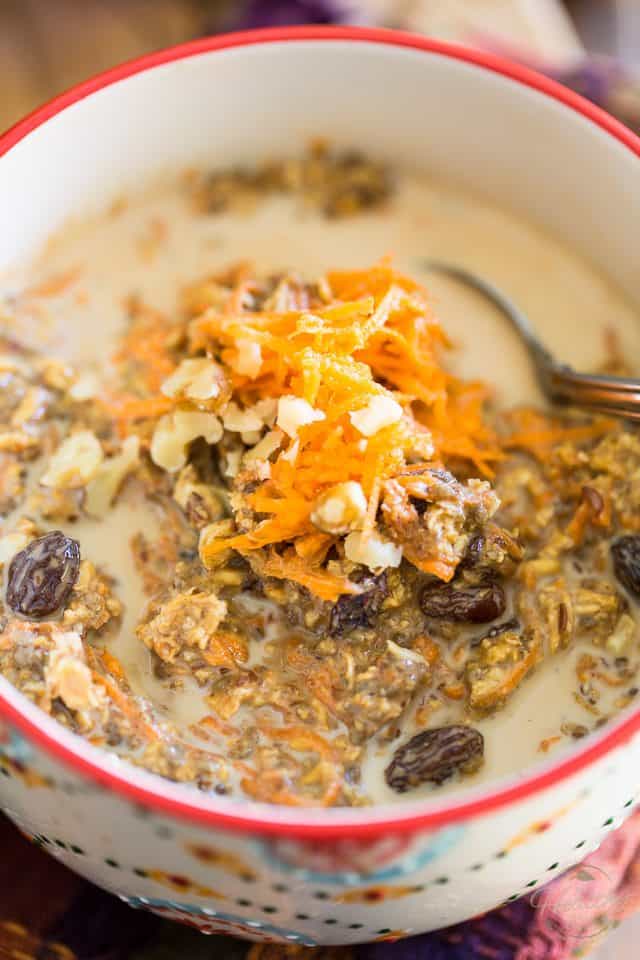 I'm telling you, this stuff is so yummy, you'll look forward to getting up in the morning just so you can eat it. I'm ready to bet you'll probably be up before the alarm even goes off…
And if you're gonna be enjoying them after a workout, they'll sure help you get through it: they will be on your mind the whole time, so that workout will just seem to fly by.
The best thing about them is they're so easy to make! You basically throw everything in a bowl the previous night, send them to the fridge and they'll be right there waiting for you in the morning.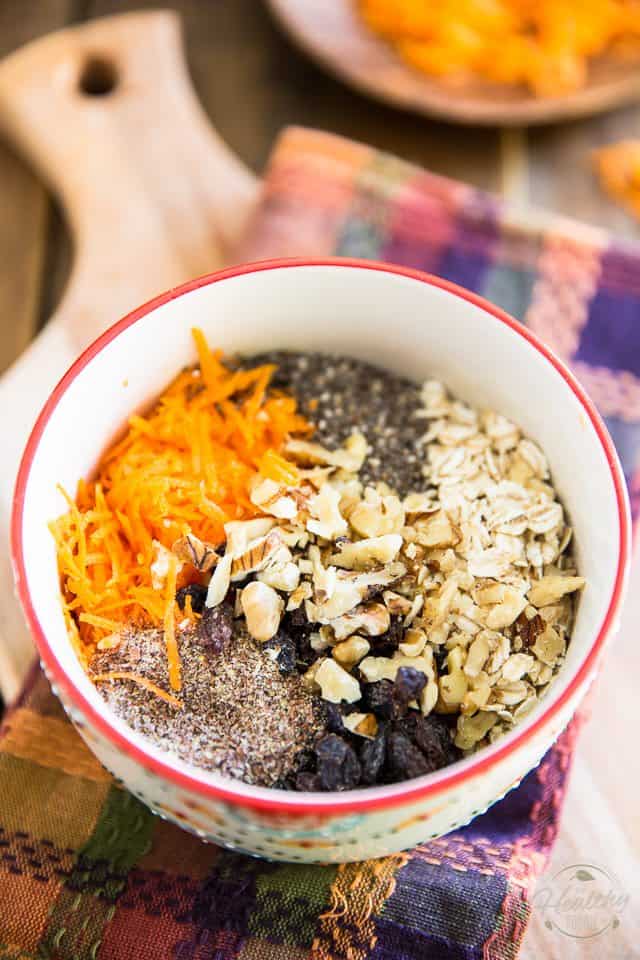 Well… technically, you could just throw all the ingredients into a single bowl and not bother with splitting them between "dry" and "wet" like I did.
However, I prefer to do it this way because I find mixing the spices with the wet ingredients first ensures that they won't clump up somehow and that they will get evenly distributed. Biting on a lump of cinnamon or nutmeg isn't really my idea of pleasant…
Plus, doing it this way really isn't that much more complicated — first, combine all the dry ingredients in a medium-sized mixing bowl; make sure you choose one that has a tight fitting lid.
Oh, and when you grate your carrot, I strongly suggest that you use the fine side of your box grater: that way that carrot won't be so much "in your face", you know. It'll give the oats a nice sweet flavor and agreeable little crunch without leaving you feeling like you're munching on a bowl of carrot salad.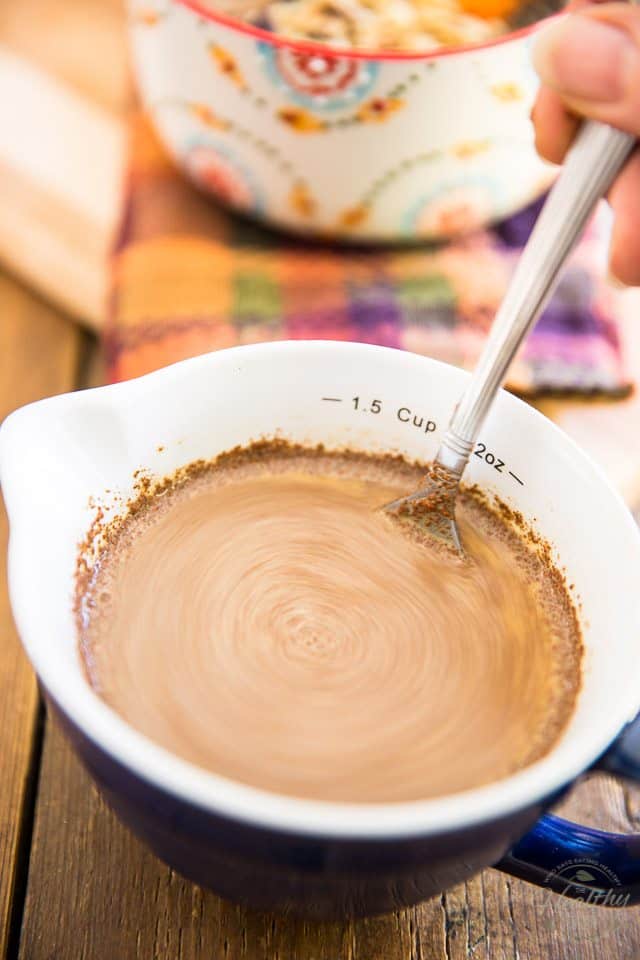 Then, just mix the buttermilk, milk, molasses, vanilla and spices together with a fork, or small whisk.
Note that I chose to use buttermilk in my recipe because I'm a huge fan of it and I love the tangy flavor that it confers to the oats; very reminiscent of carrot cake, I find! However, if you couldn't get your hands on it or weren't really a fan of buttermilk, you could very well substitute your preferred milk instead, or even Greek yogurt, why not?
If you chose to use Greek yogurt, though, you might want to add a few tablespoons of milk or water to it, just to make it more liquid. Don't worry about using precise measurements here: making Overnight Oats really isn't an exact science!
You have plenty of latitude to improvise.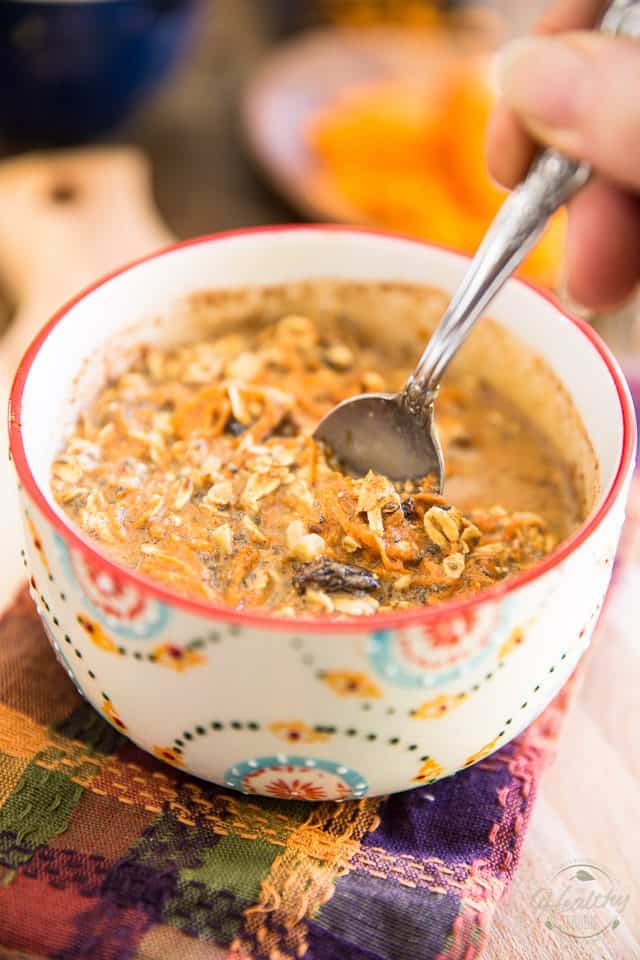 Once your liquid ingredients have been well blended, pour them over the dry and mix everything together well with a spoon.
Now all that's left to do is put a lid on this and send it to the fridge for AT LEAST 4 hours, but preferably overnight… and hum, try not to taste it every hour or so – you want there to be some left when you get up in the morning!
You know what? You could even make a double or triple batch if you wanted to, and eat from it all through the week: Overnight Oats will keep super well for several days!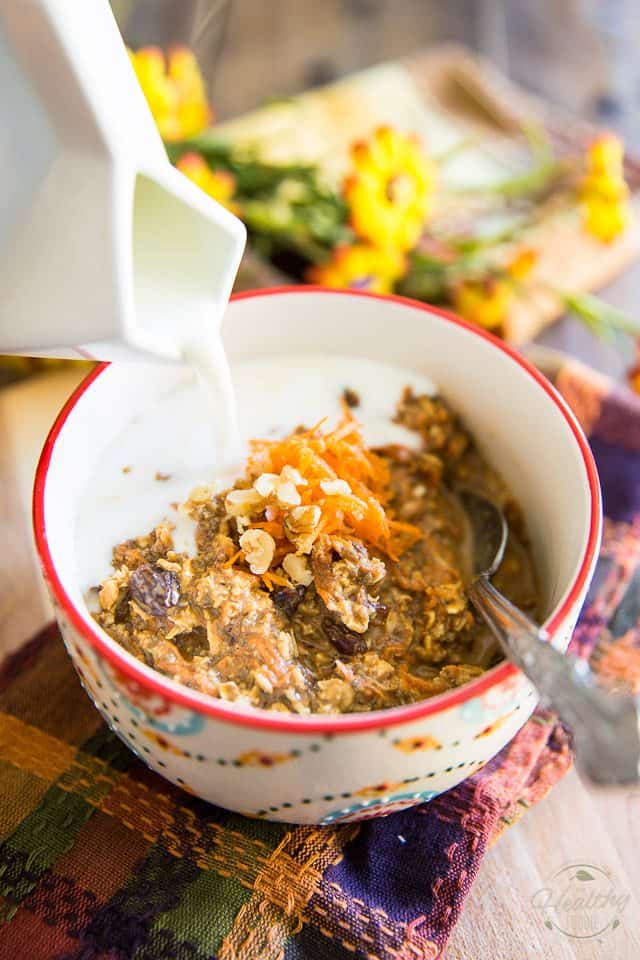 I like to add a little bit more milk to my oats when I eat them, and then, because I like my food to look as good as it tastes, you know, I put a little garnish on top.
This time, I went with a pinch of grated carrots, a few more raisins and chopped walnuts.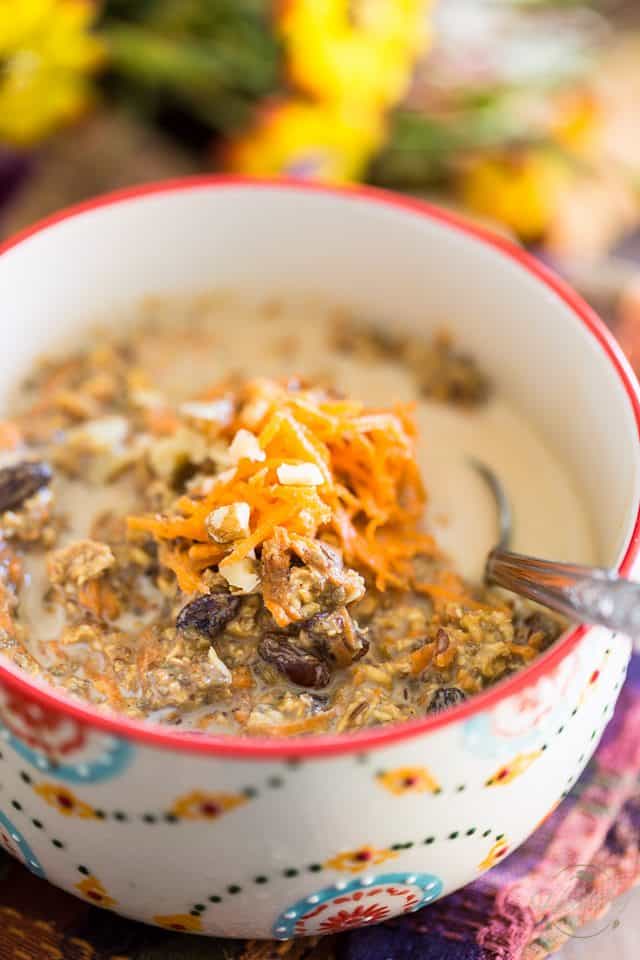 Don't you just want to dig right in?
Can't blame you for it. I say you should totally make your own… like now!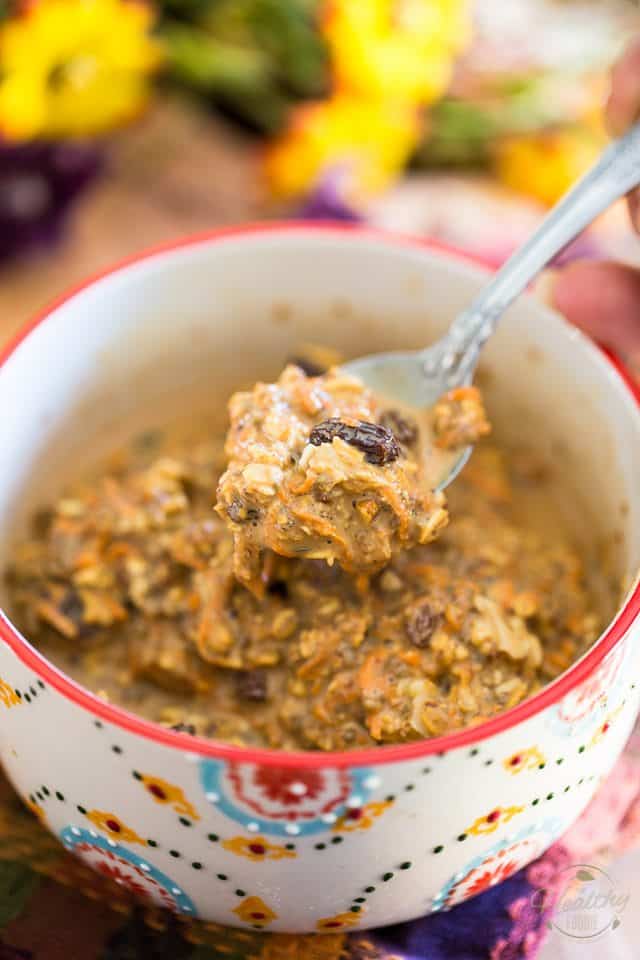 Carrot Cake Overnight Oats
As delicious as they are quick to prepare, these Carrot Cake Overnight Oats will have you totally look forward to rolling out of bed in the morning!
Servings: 1
Ingredients
To serve / garnish
More milk, raisins, chopped walnut and grated carrots
Instructions
Combine all the dry ingredients in a medium-sized mixing bowl with fitting lid.

In a separate container, combine all the wet ingredient and mix well with a fork or whisk until well combined. Pour over dry ingredients, mix with a spoon until well combined.

Cover and refrigerate for at least 4 hours, but preferably overnight before serving.

When ready to eat, add a little bit more milk, if desired, and garnish with a pinch of grated carrots, a few more raisins and chopped nuts.
Nutrition
Calories: 636kcal, Carbohydrates: 94g, Protein: 20g, Fat: 23g, Saturated Fat: 5g, Cholesterol: 17mg, Sodium: 244mg, Potassium: 1401mg, Fiber: 16g, Sugar: 31g, Vitamin A: 10445IU, Vitamin C: 6mg, Calcium: 461mg, Iron: 5mg
If you've tried this recipe, please take a minute to rate the recipe and let me know how things went for you in the comments below. It's always such a pleasure to hear from you!
You can also FOLLOW ME on PINTEREST, FACEBOOK, INSTAGRAM and TWITTER for more delicious, healthy recipes!