Chili Con… Pollo!
Once in a while, as in about once a year, I get this insane craving for Chili Con Carne
For some reason, it usually coincides with the  presentation of the Super Bowl and it's almost become a tradition that we should eat Chili Con Carne on Super Bowl Sunday in this household.
However, this year my craving got kicked off a bit prematurely thanks to Natalie over at Perry's Plate who recently posted this crazy mouth watering version of a Slow Cooker Steak Chili.
After seeing it (more like staring at it for several veeeeery long minutes), I knew there was no way I was gonna last so long and wait all the way until Super Bowl week-end to have my bowl of chili.
Sadly, I'm afraid this bowl you're looking at is now long gone…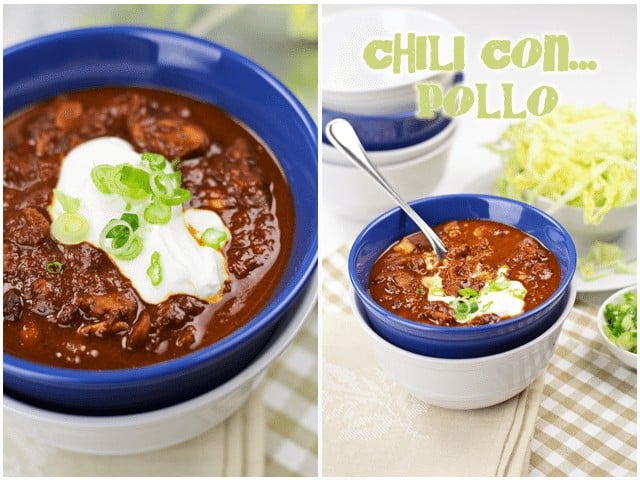 Looks like Super Bowl will have to settle for pizza this year. Home made, Ground Beef and Green Olive Pizza is what I have in mind… Not a bad replacement, if you ask me!
Now, to be honest, as much as I wanted to try Natalie's recipe, I had a serious craving for my good ole faithful, tried tested and true recipe so I decided to stick to it and make it once again. I'd even posted it earlier, but I felt a little revamp really wouldn't hurt…
What can I say? I'm so super satisfied with this recipe, so as they say, why fix it if it ain't broke?
There is only one thing that I did different this time around. Instead of using ground chicken, I cut it into bite size chunks. That much was inspired by Natalie's version. Oh, how I appreciated biting into those large pieces of meaty chicken! They added so much texture and substance to the dish. Plus, you get to taste it that much more.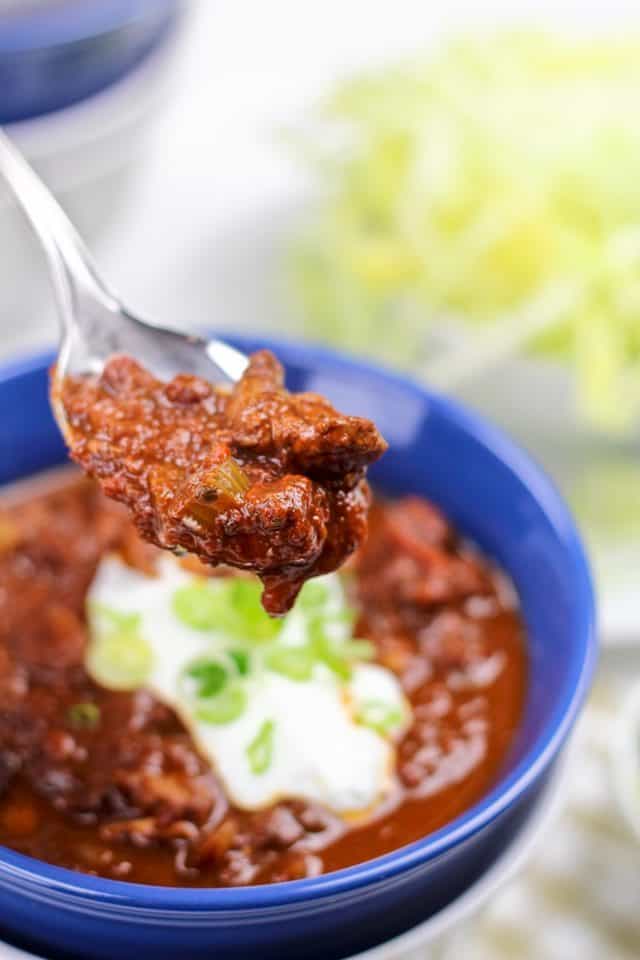 If there is one thing that I would change, it would be to add mushrooms to it. Big chunks of beefy, chewy mushrooms. Not whole, but BIG. Maybe quartered. That oughta do the trick.
Now, call me weird, but I LOVE to garnish my chili with shredded iceberg lettuce. What? You've never tried it? Oh, you have no idea what you're missing out on. You HAVE to give this a try.
And you know what? I had never realized before now just how truly healthy chili happens to be. I really don't think I'll be waiting for Super Bowl to get here again before I make another batch.
It might even become a regular for me. What a perfect lunch this would make.
It's highly portable, very easy to reheat and will keep you satisfied for a very long time.
I'm all for that!
Chili Con Pollo
Servings: 6
Ingredients
1½ cups dry Kidney Beans
500 g chicken breast, bones and skin removed, cut into small cubes
1 large onion, finely chopped
3 cloves garlic
2 celery ribs, finely chopped
1 bell pepper, finely chopped
1 tsp Himalayan or fine sea salt
1 tsp freshly cracked black pepper
2 tbsp ground cumin
1 tsp ground cinnamon
¼ tsp freshly grated nutmeg
½ tsp ground allspice
1 tbsp chipotle, or chili powder
2 tbsp dark cocoa powder
1 tbsp dried oregano
2 tbsp dried parsley
2 bay leaves
1 large can diced tomatoes
1 large can crushed tomatoes
4 cups water
1 can tomato paste
3 canned chipotle peppers, finely chopped
Instructions
The previous night, soak the kidney beans in 5-6 cups of water.

Rinse the beans in a colander to remove all the soaking liquid.

Transfer the beans to a pot and cover with plenty of water. Bring to a boil, then reduce heat, cover loosely and simmer for about an hour, until tender but slightly undercooked. Make sure the beans are always covered with water.

In a large saucepan, drizzle some olive oil and cook the pieces of chicken until they take a nice golden coloration on all sides.

Add the onions, bell pepper and celery, and, over medium heat, cook until fragrant and softened, about 3-5 minutes.

Add all the seasonings, stir to coat.

Add the water, cooked beans, tomatoes, tomato paste, chipotle peppers and bay leaves. Bring to a boil then reduce heat and simmer for 2-3 hours, stirring from time to time. Adjust seasoning as needed.

Serve piping hot with a generous dollop of fat free plain Greek yogurt and a few chopped green onions. (and if you're weird like me, shredded iceberg lettuce!)
If you've tried this recipe, please take a minute to rate the recipe and let me know how things went for you in the comments below. It's always such a pleasure to hear from you!
You can also FOLLOW ME on PINTEREST, FACEBOOK, INSTAGRAM and TWITTER for more delicious, healthy recipes!