Overloaded Coquille St-Jacques Made Healthy!
It's kicking in again… the loneliness of celibacy. As I sit here typing these words, I feel terribly alone.
Or maybe it's this harsh winter that's leaving me so sad and depressed. Every day seems to be tougher, colder and dryer than the previous one… I can't wait for it to end.
I hardly even feel like cooking anymore and sometimes, this whole blogging thing seems to be asking from me a whole lot more than I can handle. Even my camera, it seems, refuses to cooperate with me.
I think they call it seasonal depression. Yep. That's the one! And I get it every.single.year.
The good thing is, it's only seasonal. It eventually passes!
But until it does, I do tend to take a lot of comfort in food.  Only, I try my earnest to keep it clean!
Tell me, can you think of anything more comforting than food that has melted cheese on it?
I don't think I can…
And if French Onion Soup would be my daughter's favorite, this here used to be my dad's, I'm sure.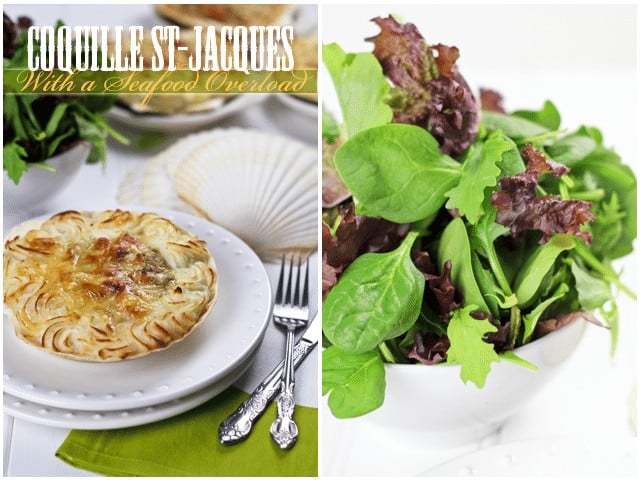 I remember my mom making this for him on his birthday when I was younger. The whole family had been invited. Grandma and grandpa were there. I was not a happy camper because back then, I couldn't stand seafood of any kind. Not even shrimp. I loathed any food that came from the sea.
But, I truly believe that my mom made that at my dad's request. I'm pretty convinced that Coquille St-Jacques was this one dish that he would have elected to eat on his birthday if given the choice.
That, or a plate of Fish 'n Chips from his ultimate favorite seafood restaurant.
But this Coquille St-Jacques would be a much healthier choice! And while it might be a little bit on the extensive side, I think it's worth every single minute you'll spend making it. Plus, if you time things right, it's not so bad at all. Prep everything beforehand, make the sauce while the potatoes are cooking and you should be good to make this in under a half hour, not including the time these babies have to spend in the oven, of course.
The good thing though is you can also make them in advance and instead of putting them in the oven after you're done piping the potatoes and sprinkling the cheese, you can just throw them in the fridge and keep them there until you are ready to eat.
I'm pretty sure they would freeze very well too!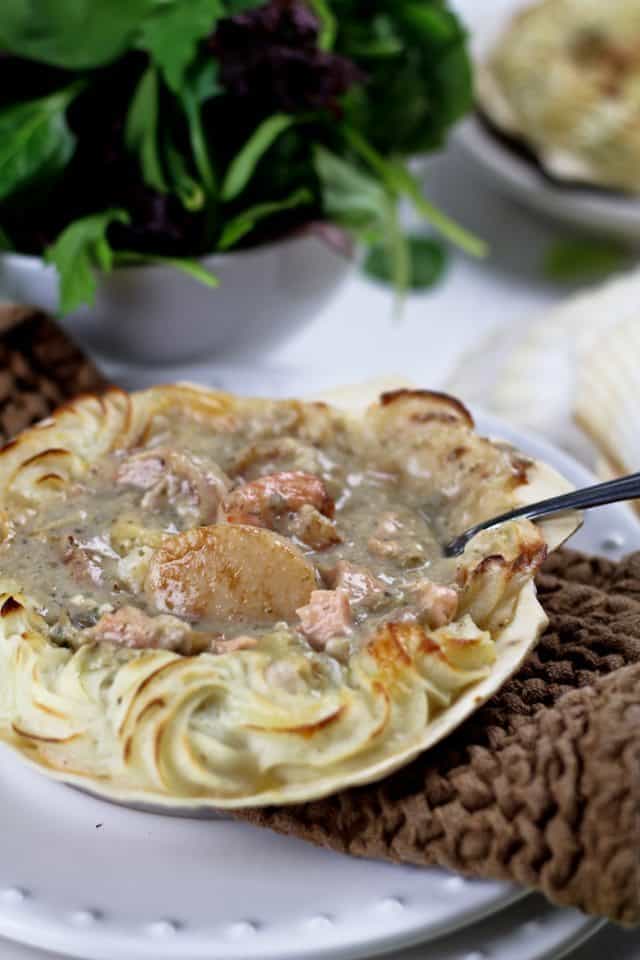 And while technically, a Coquille St-Jacques only has scallop in it, I elected to totally load mine with all sorts of fish and seafood. Of course, there is scallop, but I've also added shrimp, clams and salmon. Talk about seafood overload! Just the way I like 'em, and just the way my dad would've liked it too, I'm sure.
And he wouldn't even have minded that they were healthy. In fact, he wouldn't even have been able to tell!
Here's a dish that's well worthy of eating on a birthday, if you ask me…
Or that certainly will help cure an episode of seasonal depression! 😉
Tell me, I'm curious… what dish would YOU want to eat on your birthday if you were given the option?
Overloaded Coquille St-Jacques Made Healthy
Servings: 4
Ingredients
The Seafood
125 g fresh salmon fillet, skin removed and cut into 1" chunks
16 large shrimp, cleaned and tail removed (size 26-30)
4 giant scallops, patted dry (about 50g each)
For the Mashed Potatoes
4 medium potatoes, peeled and cut in 2" pieces
1/3 cup fat free plain Greek yogurt
2 tbsp buttermilk
¼ tsp salt
¼ tsp black pepper
Few grinds fresh nutmeg
For the Gratin
70 g light Swiss cheese, grated
Instructions
To make the mashed potatoes
Cook the potatoes in salted boiling water until fork tender. (you might want to start working on your sauce while the potatoes are cooking!)

Drain and transfer to the bowl of your stand mixer equipped with the paddle (if you don't have a stand mixer, you can also use a hand mixer or a potato masher)

Add Greek yogurt, buttermilk, salt, pepper and nutmeg.

Mix on medium speed until nice and fluffy. You might have to scrape the sides a few times. When the potatoes are ready, cover the bowl with a clean towel and set aside.
To make the sauce
Drizzle a tiny little bit of olive oil in a small saucepan and heat over medium heat. Add the onion, salt and pepper and cook until fragrant and starts to turn translucent, about 3-4 minutes.

Add the flour and whisk until well combined with the onions.

Pour the milk slowly while whisking constantly and making short pauses from time to time to whisk until the sauce becomes nice and smooth, then start pouring again.

Once all the milk has been added, whisk in the Dijon mustard, dried parsley and nutmeg. Stir in clams and set aside.
For the seafood
Drizzle a medium non-stick pan with a little bit of olive oil and preheat over medium-high heat. When your pan is nice and hot, add the scallops and cook without moving for about 1 minute, until a nice golden crust forms.

Flip the scallops over using tongs and continue cooking until they get the nice crust on that side too. Remove from pan and set aside.

Add the shrimp to the pan and quickly sauté them until they just turn pink and opaque, not really much more than a minute. Remove from pan and set aside.

Add the salmon to the pan and cook until it just turns opaque, again, this shouldn't take much more than a minute or two. Add the salmon to the reserved sauce and stir it in. Reserve.
Assembly
Place a scallop in the center of each individual oven safe dish; Surround with four of the shrimp.

Cover with sauce, dividing it equally between each plate.

Give the potatoes a quick stir and place them in a large pastry bag equipped with a star tip. Pipe a border along the side of your Coquille St-Jacques.

Top with grated cheese and place in the oven for about 15-20 minutes until the top becomes nice and golden and the cheese starts to bubble.

Serve immediately.
If you've tried this recipe, please take a minute to rate the recipe and let me know how things went for you in the comments below. It's always such a pleasure to hear from you!
You can also FOLLOW ME on PINTEREST, FACEBOOK, INSTAGRAM and TWITTER for more delicious, healthy recipes!