Sauteed Pork Tenderloin with an Asian Flare
So I've decided to reinstate lean pork, i.e. loin and tenderloin, as an occasional source of lean protein to my regular diet.
The thing with pork tenderloin though is that they tend to come in packages of 2 around here.
Why that is, I have no idea. But the fact is that it is.
When you're a family of 4, it's not such a big deal. But when you're mostly only cooking for yourself, well, it becomes sort of problematic…
Especially if you want to not have too much of said meat.
Hmpft. So much for that. I had to eat pork tenderloin most every day for an entire week last week.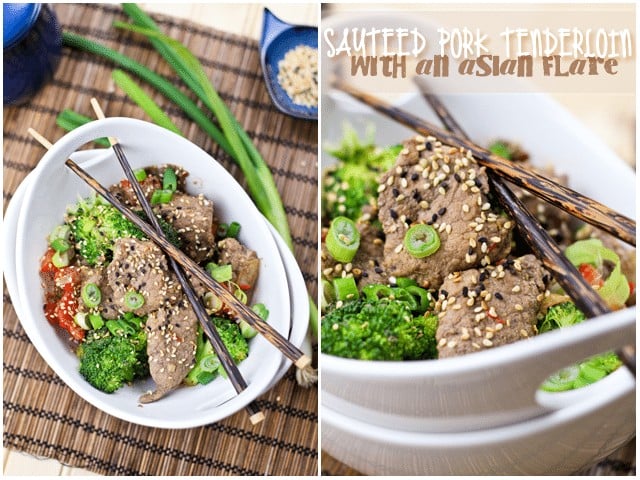 Not that I really minded, 'cuz between this glorious dish right here and my Orange Rosemary Pan Seared Tenderloin, I really was in for a treat.
Still, next time I do cook pork, I'll make sure to have people over for dinner… at least once!
My own personal inner health police will feel that much better.
But let me tell you, this pork dish made for fabulous lunches to take with me to work. It was a more than welcomed change from my sempiternal and somewhat boring veggie salad and chicken breast.
Plus, it's so quick and easy to make, it also makes for a fantastic week night dinner! Just make sure you marinate your pork the previous night and you'll have dinner on the table in a matter of minutes!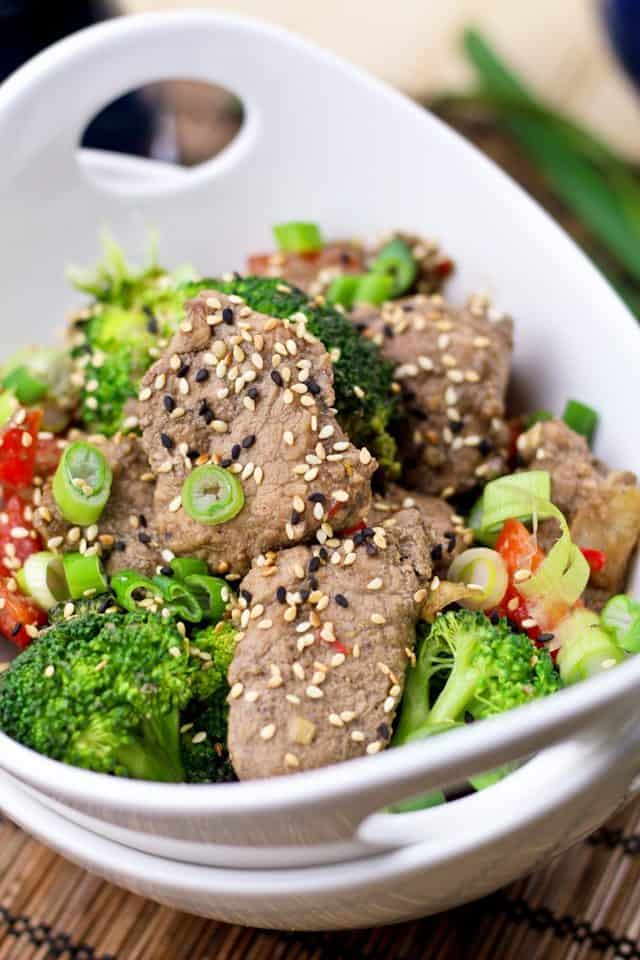 I chose to eat mine just like that, as this was plenty for lunch and was in total agreement with my current efforts to keep my carb intake on the low side, but it would also be glorious served with a side of brown rice, or even soba noodles.
One word or warning though. If you're not familiar with bird's eye chili peppers, know that they are prrrretty hot, despite their cuteness and tiny little size. If you're not big on spicy food, you might want to use only one, or even omit them altogether.
And of course, if you don't care for pork, you could very well use chicken or lean beef, or even tofu instead.
Same goes for the veggies. Feel free to sub and improvise…
Just let your imagination be your guide!
Sauteed Pork Tenderloin with an Asian Flare
Servings: 4
Ingredients
1 large pork tenderloin, 650g
1 large onion, cut into 1" pieces
1 broccoli crown, cut into florets
1 red bell pepper, cut into 1" pieces
4 cloves garlic, coarsely chopped
2 tbsp low sodium Japanese soy sauce
1 tbsp sesame oil
1 tsp ground ginger
½ tsp ground Chinese five spice
½ cup unsweetened apple juice
½ cup coconut water
1 tbsp arrowroot flour
2 bird's eye chili peppers, finely sliced
1 green onion, sliced
2 tbsp white and black sesame seeds
Instructions
In a mixing bowl, add garlic, soy sauce, sesame oil, ground ginger, chinese five spice, apple juice, coconut water, bird's eye chilis and arrowroot flour. Mix until well incorporated and set aside.

Cut the tenderloin into half inch thick slices and cut each slice in half. Add the meat to the reserved marinade you just made; mix to coat, cover and refrigerate for at least an hour (you can also leave this to marinate overnight)

Add a little bit of olive oil to the bottom of a large non-stick pan and preheat over medium-high heat. While the pan is heating, remove the pieces of meat from the marinade and set them on a paper towel to absorb excess liquid. Do NOT discard marinade.

When the pan is hot enough, add the pieces of meat one by one and let them cook until the meat starts to brown, about 2 minutes. Flip the pieces over and continue cooking for another minute or so.

Throw in the onion, bell pepper and broccoli and cook until the vegetables start to soften up and the broccoli is cooked to your liking. Add reserved marinade, continue cooking until the sauce thickens up a bit, about one minute.

Serve garnished with sesame seeds and sliced green onions.
If you've tried this recipe, please take a minute to rate the recipe and let me know how things went for you in the comments below. It's always such a pleasure to hear from you!
You can also FOLLOW ME on PINTEREST, FACEBOOK, INSTAGRAM and TWITTER for more delicious, healthy recipes!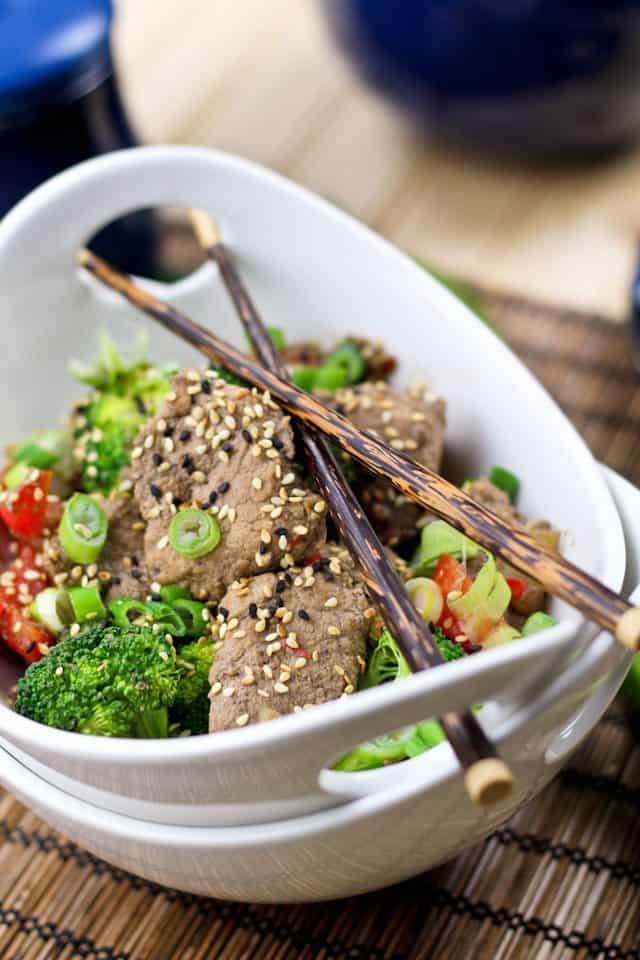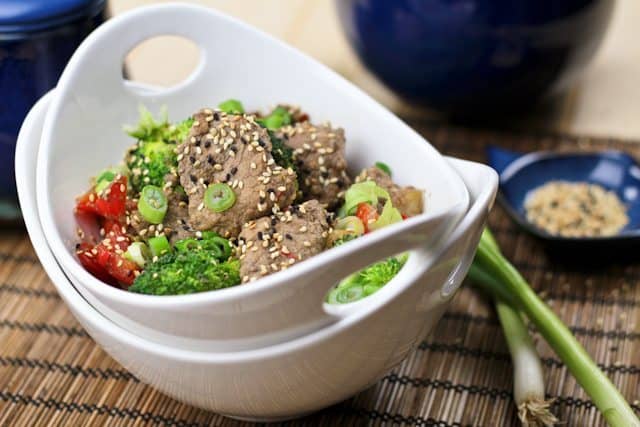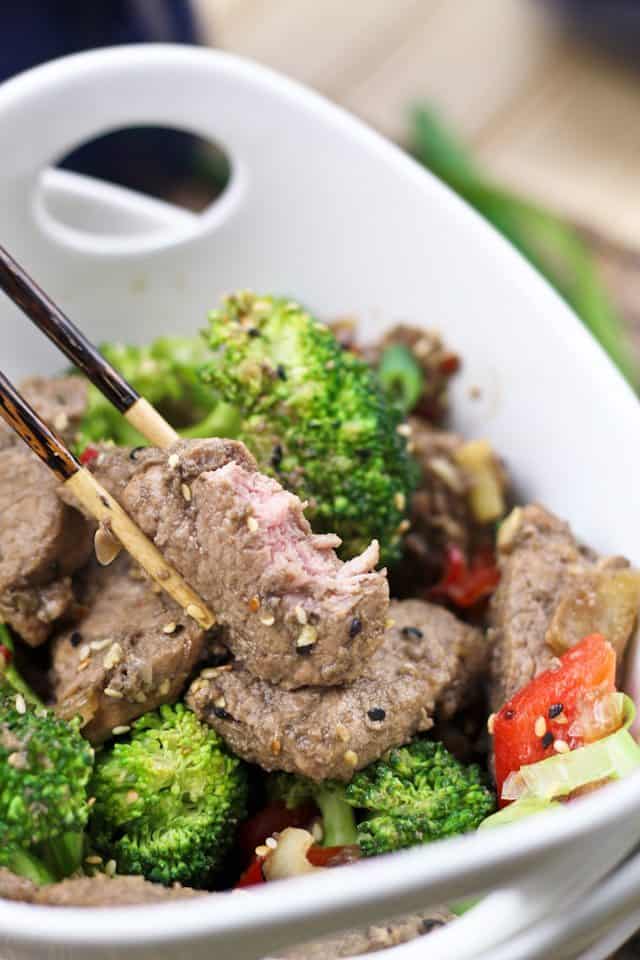 Look at how tender and juicy that meat is…