Pan Seared Orange & Rosemary Pork Tenderloin
What a tough week it's been for me!
I don't remember work-outs ever being so hard.
Well… work-outs… that's if we can call them that! I've been stuck doing nothing but riding my elliptical all half the week. Why is that, you ask?
Well, let me explain.
On Monday night, my son's car got stuck in the ditch and in an effort to quickly fly to his rescue, I managed to slip on the ice RIGHT as I stepped out my front door. I lost control of both my feet, which ended up being projected with force WAY higher than their habitual traveling height and that resulted in me landing straight on my coccyx. It must have resonated for a good five minutes as I just sat there, wondering how in the world I would ever manage to get up, or to ever walk again for that matter.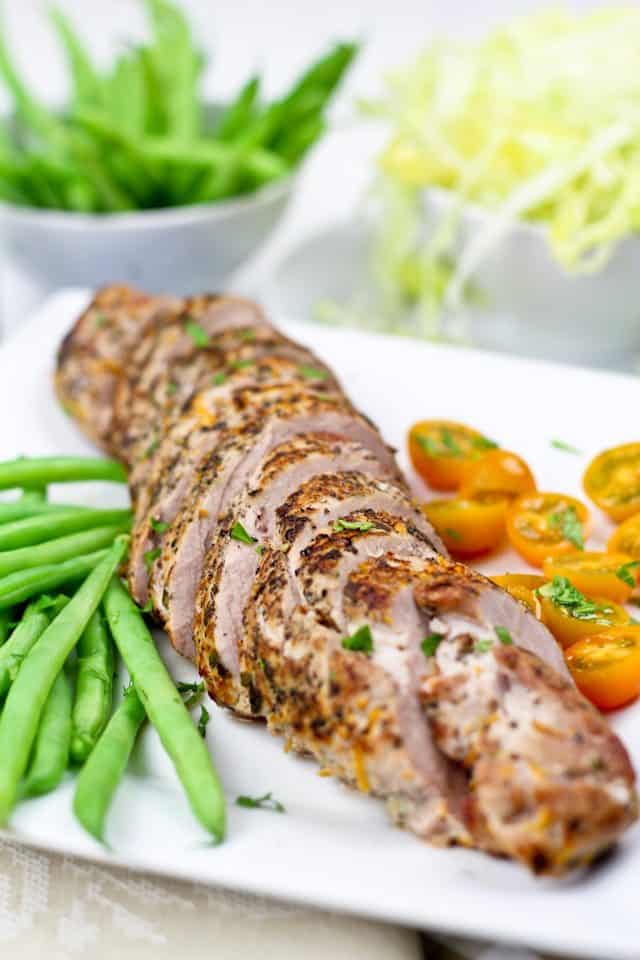 Needless to say I was a couple of days without exercising at all. Well, two days. That's all I could manage. Then I had to "force" the issue.
And as if that weren't enough, this silly girl decided to go and get her tongue pierced on Wednesday.
Now that too would be known to cause one pain and that too will drain some a lot of your energy out of you…
But wait, I'm not done yet.
This week also happened to be one of my lowest weeks ever as far as my carb intake goes. I can tell you one thing RIGHT now. I am NOT a good candidate for long term low carb / high protein diets. I tried to keep that number at around 100g of carbs per day for 2 weeks, which isn't even all THAT low, and still, it made me extremely cranky, tired AND very miserable. I had no energy at all and felt like a chain smoker when I trained 'cuz I was so out of breath. My cardio was absolutely awful.
And did I mention I had no tolerance at all? None whatsoever!
But then again, it also happened to be THE week, you know… yeah, that week. The one that starts with a P and ends with an S, and has nothing but an M to stand in between them.
So as I was saying, tough week it's been! With a capital T. 😉
But hey, at least, I managed to drop one more kilo. Only 2 more to go. Now I officially pledge to never go that crazy during the Holidays ever again!
Alright, enough chit chat for now, let's get on with the eats, shall we?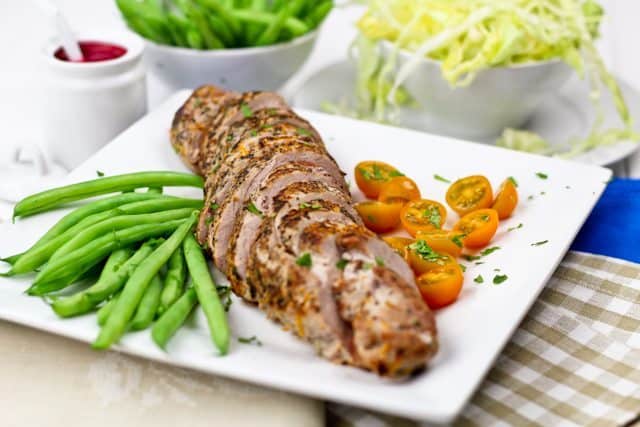 Tonight's dish might be a little controversial. I know not everybody agrees that pork is healthy. I'm not even quite sure where I stand myself, to be honest…
But seeing as how pork used to be my ultimate favorite meat and how I have pretty much completely voided it from my diet, including BACON, (omg how I used to loooooooooooove that stuff!), I figure I can at least indulge in a little bit of loin or tenderloin every now and then.
-Yes, brain, even though it is pork meat and pork has a very bad reputation. I'm very well aware of that, thank you very much for your concern.
Still, I find that, just like chicken breasts, it's a great source of lean protein, it's a super tender, juicy and tasty cut of meat. Extremely versatile, super easy to cook, which it does in no time at all… really, what's there not to like?
I think I'll be having it a little more often, from now on. After all, it had been at least 2 years since I'd had any.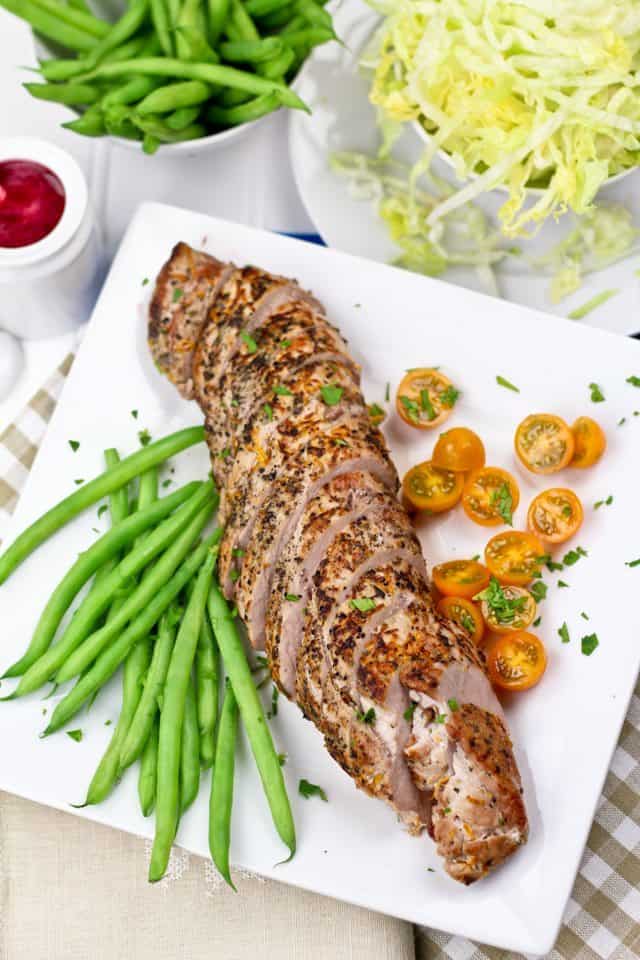 Of course, ham, sausage, greasy roasts and bacon are still crossed off my list, though.
Only the loin and tenderloin shall find their way to my table every now and then.
Unless someone eventually gives me a very good reason to stay away for good.
Until then, I'm giving me the yellow light.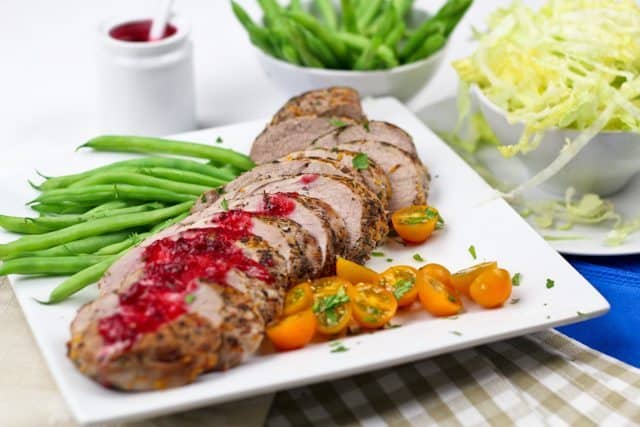 Or is that the green light?
Oh, I can't wait to take my grill out of the shed, now.
My fingers itch to grill me some meat!
Hmmmm… Barbecued pork tenderloin is simply to die for.
But until then, this beautiful pan seared version will very well do the trick!
Pan Seared Orange & Rosemary Pork Tenderloin
Juicy, tender, versatile and super easy to make, this Pan Seared Orange & Rosemary Pork Tenderloin is bound to become a favorite!
Servings: 4
Ingredients
Pork Tenderloin
1 - 1.375lb pork tenderloin
The zest of one orange
½ tsp Himalayan or fine sea salt
½ tsp freshly cracked black pepper
1 tbsp fresh sage, finely chopped
1 tbsp fresh rosemary, finely chopped
Cranberry Sauce (totally optional)
½ cup cranberry sauce
¼ cup water
½ tsp fresh rosemary, coarsely chopped
¼ tsp freshly ground black pepper
Instructions
For the tenderloin
Mix salt, pepper, sage, rosemary and orange zest in a small bowl.

Cover your pork tenderloin with this rub then place it in a large resealable plastic bag or wrap it in plastic wrap and refrigerate for at least 6 hours, preferably overnight.

Preheat your oven at 375°F

Add about a teaspoon of olive oil at the bottom of a large non stick pan and heat it over medium-high heat.

When pan is real good and hot, add your pork tenderloin and leave it to sear for 2-3 minutes until a nice golden crust forms, then flip it around and repeat with all four sides.


Transfer your tenderloin to a shallow oven safe dish, cover loosely with foil and cook until internal temperature reaches 145°F (about 20-25 minutes)

Take your tenderloin out of the oven and let it rest for about 10 minutes before to slice and serve.

Serve with cranberry sauce, if desired, and a side of fresh vegetables. Brown or wild rice would also work beautifully with this.
For the cranberry sauce
To make the cranberry sauce, simply mix all the ingredients in a small food processor until well smooth and well incorporated.

Nutrition
Calories: 235kcal, Carbohydrates: 14g, Protein: 31g, Fat: 5g, Saturated Fat: 2g, Cholesterol: 98mg, Sodium: 380mg, Potassium: 599mg, Fiber: 1g, Sugar: 13g, Vitamin A: 44IU, Vitamin C: 1mg, Calcium: 17mg, Iron: 2mg
If you've tried this recipe, please take a minute to rate the recipe and let me know how things went for you in the comments below. It's always such a pleasure to hear from you!
You can also FOLLOW ME on PINTEREST, FACEBOOK, INSTAGRAM and TWITTER for more delicious, healthy recipes!