Chicken Vegetable Soup
Someone tell me please… WHEN exactly did I sign up for this?
Oh! right, that would be NEVER!
Winter and I aren't exactly best buds, you see? In fact, it's more like: "I can't stand it. Not one tiny bit!"
I say before you are born, they should ask you what kind of person you plan on becoming and where exactly it is that you would like to live. No but seriously? Who the heck decided that I would appreciate having to get out of my warm, comfortable bed at 5 in the morning to run outside in the freezing cold, eyes still half shut, to help my daughter shovel her way to her car at temperatures WELL below zero, just so she would get to work on time?
And who elected to believe that I would be all happy to have my nostrils stick together and form a vacuum tight seal as soon as I dared step outside my house.
Who brilliantly imagined that I would be comfortable with the fact that I can't ride my bike 6 months out of the year? Or that I would have to do without the precious warmth of my beloved sun for more than half my life? Not to mention its beautiful light…
Hmpft. Whoever it might be, that person was wrong. Dead wrong.
I say I was not meant for that! There must've been a mistake when they filed my paperwork. I should've been sent off to some paradise island, where the sun it always shine and one's idea of a chilly night is when they're forced to maybe put on a little sweater or something if they're gonna go out for a quiet evening walk.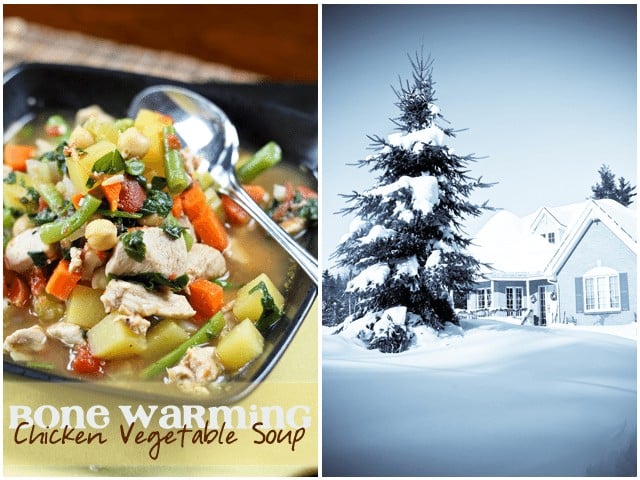 But NO! I have to end up in a place where you have to whip up the total-protection-against-the-harsh-winter-cold-full-body-armor, complete with long johns, ski pants, three-mile-thick winter jacket, gloves, boots, hat, scarf and maybe even goggles!
And what's with having to put on that whole stupid winter arsenal EVERY time you need to go somewhere. Ah, everything is just so much more complicated in the wintertime.
Decidedly, I have no tolerance for winter. None whatsoever.
Let me tell you, whoever came up with the expression "Winter Wonderland" obviously never had to endure a full Canadian winter.
The mercury has fallen below -30°C over the last few days, and sadly, this is to last for a few more days still.
Ugh.
So between that and the fact that my poor, newly pierced tongue is feeling rather pusillanimous, I guess it will come as no surprise to you if I tell you I've been loving on soup lately.
A LOT!
HA! Now that would probably be the only positive thing about winter. It'll make comfort food even more comforting and any piping hot bowl of soup, or hot chocolate, or bowl of warm oatmeal that much more enjoyable.
Not sure I would find this delicious bone warming soup quite as delicious if you were to serve it to me in the middle of July!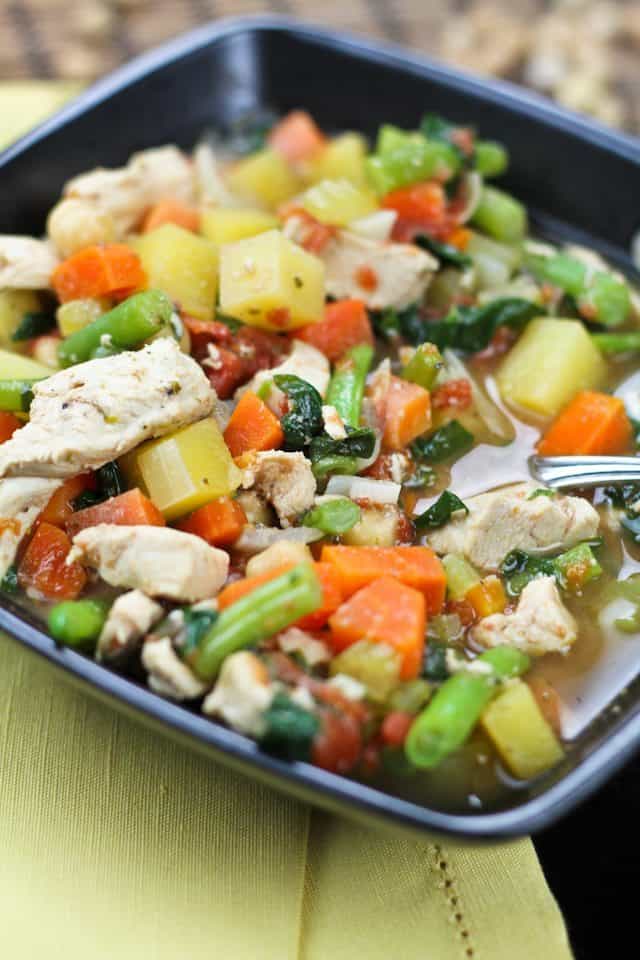 But give it to me now?
OMG, I will jump for joy and squeeze you breathless.
For I am telling you, this one will warm you right down to the bone. And even though it looks like it would take forever to make, it actually comes together in no time at all.
I'd even dare say that this one is so easy to make, and so tasty to eat, you might never eat soup out of a can ever again.
Just chop up your stuff, throw it all in a pot and let it simmer for a few minutes.
Easy enough for ya? I thought so!
And, no word of a lie, it's so good I almost want to step outside just so I can have a bowl when I come back in.
Almost…
Bone Warming Chicken Vegetable Soup
Servings: 4
Ingredients
600 g boneless, skinless chicken breast meat, cut into bite size chunks
1 medium onion, finely chopped
2 carrots, diced
1 celery stalk, diced
1 small turnip, peeled and diced (about 350g)
½ tsp Himalayan or fine sea salt
¼ tsp freshly cracked black pepper
¼ tsp cumin
1/8 tsp ground fennel seeds
4 cups low fat chicken stock
1 small can diced tomatoes
1 cup fresh green beans, cut into 1" pieces
1 cup cooked chickpeas
2 cups spinach, chopped
Instructions
In a large stockpot, add onions, carrots, celery, turnip, salt, pepper, cumin and ground fennel seeds.

Cook over medium heat for one or two minutes, just to sweat the veggies out a little.

Throw the chicken in and continue cooking until it turns opaque pretty much all around.

Add chicken stock and diced tomatoes, bring to the boil then reduce heat, cover loosely and simmer until the turnip is fork tender, about 5-7 minutes.

Throw in cooked chickpeas and green beans and continue cooking for another two minutes or so, just to soften up the beans.

Finally, add the spinach and mix them in delicately. They will wilt almost instantly.

Serve immediately, preferably on a particularly cold post-Holidays winter day.
If you've tried this recipe, please take a minute to rate the recipe and let me know how things went for you in the comments below. It's always such a pleasure to hear from you!
You can also FOLLOW ME on PINTEREST, FACEBOOK, INSTAGRAM and TWITTER for more delicious, healthy recipes!