Soul Warming French Onion Soup [that will also do your body good]
I might have overindulged during the Holidays, but for the record, not all of my indulgences were of the unhealthy kind, you know…
I mean sure, a lot of them were, but still, I did get to enjoy some extremely comforting dishes that were made super healthy too.
Hey, after all, it's not because it's Christmas that EVERYTHING you eat has to be of the super indulgent kind.
For proof, check out this amazing French Onion Soup that I made for my daughter on New Year's Eve.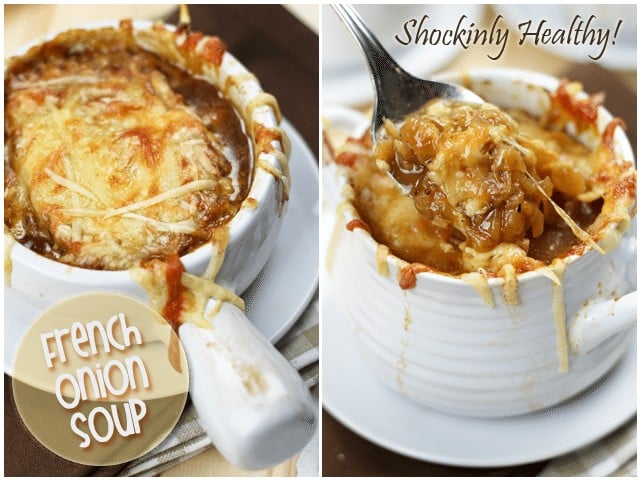 French Onion Soup, you see, would be one of her ultimate favorite foods in the whole wide world, like the one thing she would probably choose to have for her birthday if I asked her what she wanted to eat, so, although I never considered this to be the healthiest, I still make it for her every now and then.
Since she likes it so much, and since I love her even more than she likes onion soup, I decided to make this as a starter for our New Year's Eve Dinner.
However, just like I did with our entire Christmas menu this year, I also pledged that I would keep this one as healthy and clean as I possibly could and hope that she would find it as just as good.
Well, contrary to what I initially thought, it wasn't really all that hard to keep this soup healthy.
I mean, all there is to it really are fresh onions, good home made low fat turkey stock,  good, wholesome whole grain bread and a little bit of light cheese, which I consider to be good for you so long as you don't overdo it.
The only thing that bugs me about it really (and that I know I will never be able to do anything about) is the fact that you have to cook the onions for so long. I am a strong believer in cooking any food, but especially fruits and vegetables, as little as you possibly can because cooking destroys some of the nutrients.
But when it comes to making onion soup, you just don't have a choice! The key to making fantastic onion soup is to get the onions to caramelize real good before adding anything to them at all, save for a few spices… and that takes close to a half hour!
That's where all the magic happens, though! That's where all the amazing sweet and nutty flavor of the onions comes to life. That's also where the gorgeous, deep golden brown color of the broth emanates from.
What's left of the onions' nutrients after they have cooked for so long, I'm not too sure…
But if I have to choose between that and any other meal that comes out of a can or pouch, I'll take the former without so much as a moment of hesitation!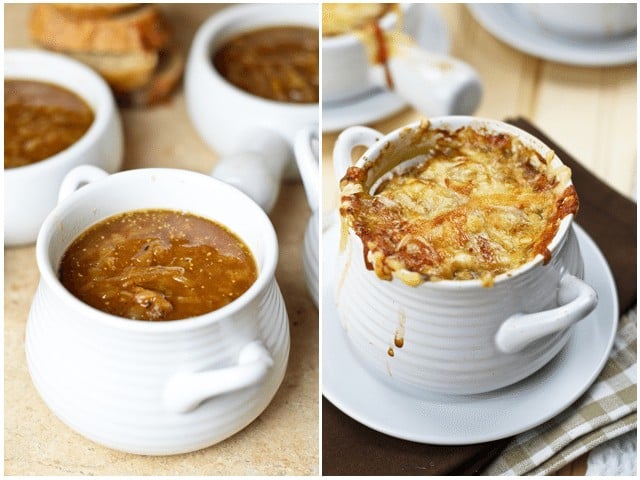 Plus, hey, sometimes, you do have to cut yourself a little slack, too.
I say this soup is still shockingly healthy for a meal that ranks so high in the "comfort food department".
Just don't go do what I did that night and have raclette right after…
Stick with something light, like a salad or something.
Oh, and you might want to go easy on the dressing!
Soul Warming French Onion Soup
Servings: 4
Ingredients
10 medium onions, sliced
4 garlic cloves, chopped
½ tsp Himalayan or fine sea salt
¼ tsp freshly cracked black pepper
½ tsp freshly grated nutmeg
1 whole star anise`
4 whole Juniper berries
1 bay leaf
½ tsp dried savory
1 tbsp Dijon Mustard
5 cups low fat turkey or chicken stock
50 g parmesan cheese, grated
50 g low fat mozzarella, grated
100 g light emmental cheese, grated
4 slices stale or toasted whole grain bread
Instructions
In a large stockpot, cook the onions, garlic, salt and pepper over medium heat until the onions get super soft and take a beautiful caramel color, about 20-25 minutes. Stir often so the onions don't burn.

When the onions are ready, add nutmeg, star anise, juniper berries, bay leaf, dried savory, Dijon mustard and stock.

Bring to a boil then cover, lower the heat and simmer for 20-25 minutes to allow the flavors to infuse. Turn off the heat and remove bay leaf, star anise and juniper berries.

When you are ready to serve the soup, ladle it into 4 oven safe individual soup bowls and place a piece of stale bread in each bowl. You want your bread to be on the very dry side. If you find it's not dry enough, give it a few minutes in the toaster.

Mix all the cheeses together and sprinkle evenly over the 4 bowls.

Place the bowls in a 375F oven and cook until the cheese is all melted and bubbly and turns a beautiful golden color. (you might want to place a cookie sheet or piece of aluminum foil underneath to catch possible overspillage)
Notes
*I made my own stock by throwing my turkey carcass along with everything that was in it (apples, oranges and sage) in enough water to cover all and I let that simmer for about 2 hours. I then strained my stock and put it in the fridge to cool completely, which made removing the very thin layer of fat that solidified on the surface super easy.
Mayo Clinic also has an excellent recipe for low fat chicken stock. You can use the same method to make turkey stock.
If you've tried this recipe, please take a minute to rate the recipe and let me know how things went for you in the comments below. It's always such a pleasure to hear from you!
You can also FOLLOW ME on PINTEREST, FACEBOOK, INSTAGRAM and TWITTER for more delicious, healthy recipes!