Cauliflower Endive and Apple Salad
I must confess…
I could even go as far as to say I need to admit something, to you and to myself.
I'm an addict. A junkie.
An incorrigible, terrible food fanatic.
Over this past Holiday Season, something happened. A HUGE trigger got triggered.
A cannonball got fired and I fell off the wagon. Way off.
Like thousands of feet down into the ravine.
You see, every year at this time of year is a period where I like to totally pull the plug. I take a break from the crazy race that my usual life is. I watch movies, play video games, stay in my pjs all day if I want and just plain take it easy…
I hadn't done it quite to that extent in a LONG while and this year, I decided that I was long due so I decided that I would chill as much as I could. At a very minimum, I had to put Zelda Skyward Sword to bed, at long last.
While I decided to take a break from all the stress, it looks like my brain decided we were also to take a break from all the health stuff. You see, the thing is, I'm not a natural at this whole health thing. While I appreciate the results and benefits that I get from it, it's a constant struggle for me to not go back to my old eating habits.
For the last 2 weeks, I behaved just like an ex-smoker who went from not smoking at all to smoking two or even three packs a day.
Like a recovered alcoholic who went from being sober to having martinis for breakfast and then proceed to drink themselves under the table basically every day.
No, I didn't start smoking again, do not fear. And I didn't get drunk either, not even once… but for 2 weeks, I fed mostly off chips, cakes, cookies, chocolate, cheese, pasta, salami, bread, sweets, more cake, and did I mention chips and chocolate? Oh, and booze too. Let's not forget the booze! While I never got drunk, I still had some form of alcoholic beverage every single day.
In other words, absolutely all the foods that I KNOW my body would be highly intolerant to, I decided to feed off get high on.
And what impact did this little regimen have on my body, you think? I managed to gain 6 kilos, no less. That's close to 14 pounds. In 2 weeks!!
Talk about ruining months of efforts, all in the name of taste.
Now I can't help but feeling like a total fraud. Here I am, trying to inspire others to eat healthy while I'm stuffing my face with all sorts of nasties.
But hey, I guess that also shows that I'm only human after all and I do happen to fall sometimes.
Only I don't intend to stay in that ravine and I will bounce right back, starting RIGHT now.
With a salad, of course! But not just any salad… Feast your eyes on this!
That, is a real protein bomb right there.
It might not contain an ounce of meat, but between the egg whites, the cottage cheese, the toasted almonds and the whey protein, this one will get well over 50g of protein into you.
And fiber GALORE!
Now if that doesn't keep you satisfied for a very long time, I don't know what will.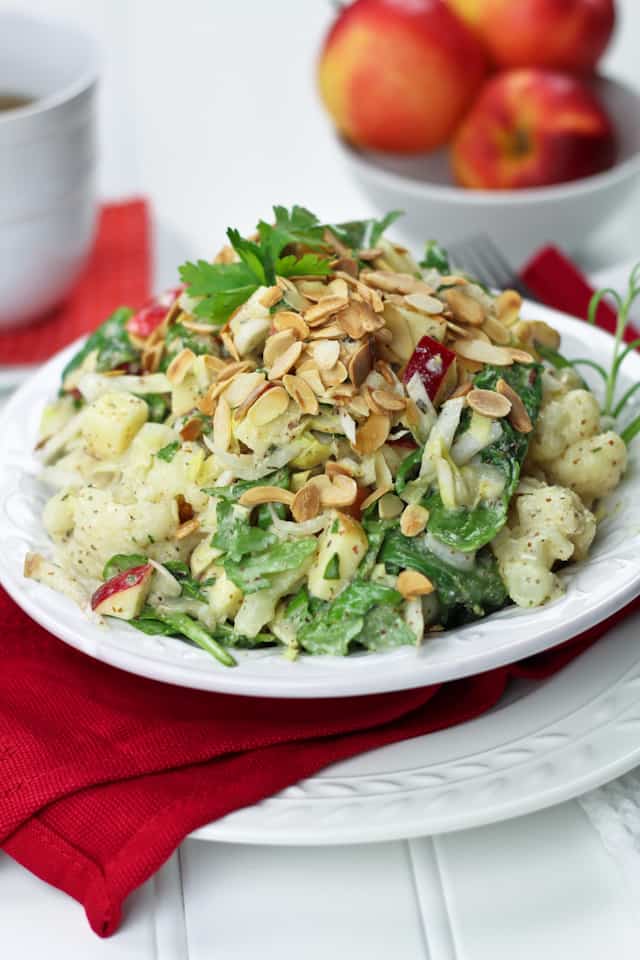 Of course, you can expect to see a few more salads like this one as well as all sorts of other light meals for the next couple of weeks.
But I'd like to think that I'm not the only one who needs to eat lighter dishes for a short while…
Oh, and guys…
Thank you so much for listening. I feel sooo much better now that I have shared this with you.
Cauliflower Endive and Apple Protein Bomb Salad
Servings: 1
Ingredients
1 cup mixed greens
½ head cauliflower, steamed and cooled
1 gala apple, peel on, diced
100 g endive, shredded
15 g sliced almonds, toasted
For the dressing
¼ cup 1% fat cottage cheese
¼ cup pasteurized egg whites
1 scoop plain whey protein
50 g fresh ginger, grated
1 tsp Pommery Meaux mustard, you could use regular whole grain mustard
1 tbsp White Wine Vinegar
Pinch salt and pepper
Instructions
In a small pan over medium-low, toast the almonds until fragrant and they start to color. Set aside.

Meanwhile, add all the ingredients of the vinaigrette to a mini blender or food processor and process until smooth and creamy. Set aside.

In a large mixing bowl, add the mixed greens, cooked cauliflower, diced apple and shredded endive. Pour in dressing and toss delicately until well combined.

Transfer to a serving plate and sprinkle almonds on top.

This salad is best enjoyed immediately.
Notes
*I strongly recommend cooking the cauliflower the previous day, or at least 4 hours in advance so that it has time to completely cool.
If you've tried this recipe, please take a minute to rate the recipe and let me know how things went for you in the comments below. It's always such a pleasure to hear from you!
You can also FOLLOW ME on PINTEREST, FACEBOOK, INSTAGRAM and TWITTER for more delicious, healthy recipes!