Creamy Butternut Squash and Anjou Pear Soup
First off, I want to thank each and every one of you for your kind words and support after my last post. Honestly, I was really afraid that opening up and exposing my vulnerability would put a serious dent in the perception that you guys have of me, but I can see that I was far from the truth. Not only did you not judge me, you liked me all the more  for it.
Wow. My heart sang as I sighed a sigh of relief.
From the bottom of my heart, thank you guys. You might not realize just how big a difference each and every one of you is making in my life. If it weren't for you all walking beside me, chances are I would have given up on my journey to health a long time ago.
So anyway, I've been back on my beloved train for 3 days now and I must say that I already feel much better, not to mention lighter!
Strange as it may sound, I had sort of allowed this little slip to happen (though I'd meant for it to be humble, NOT monumental!) and had set firm start and finish dates. Towards the end, I was really looking forward to getting back to my healthy ways, but found myself unable to cut my "vacation" short. Addictions aren't that easy to hinder, apparently! My brain was like: "NO WAY! You said until the 7, this means I get until the 7!"
I still managed to toss a lot of whatever unhealthy evidence was still all over my cupboards on Sunday without my brain objecting and suggesting that we should eat it instead since it was the last day after all and we were still allowed…
So now the house is clean of all temptations again and I am ready for action!
I must admit that I am suffering a bit as I now must stay in a calorie deficit to shed the pounds that I've so quickly gained, and since I am hoping to ditch them almost as fast as I piled them, I've taken a pretty drastic approach and have set my daily calorie intake sort of on the low side for the first 2 weeks.
Still, I feel fantastic about being able to stick with it and I almost look forward to stepping on the scale this Saturday.
But the best thing is, I'm super excited about creating all sorts of healthy recipes again, instead of focusing on baking all sorts of decadent treats.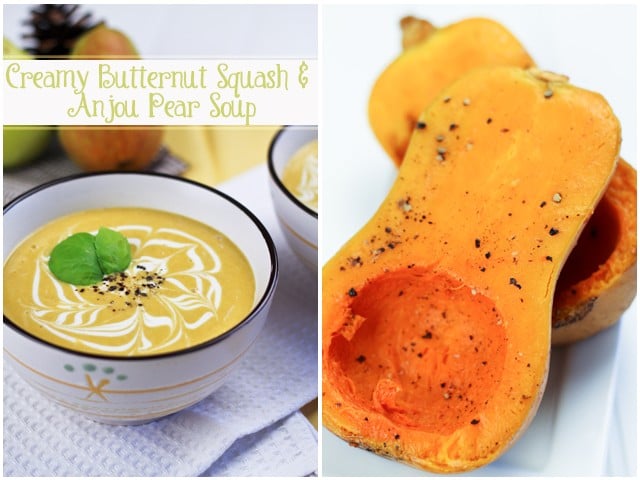 Now I'll be honest, this beautiful soup I created way before the Holidays, but Christmas sort of got in the way and I started working on my Christmas menu and well, a few of my creations had to be tossed aside.
Still, I really wish I had some of that soup in my fridge right now! Matter of fact, I think that I'll be making another batch this week-end…
I could use some of that silky, comforting bowl of health!
Plus, my taste buds would greatly appreciate the little hint of sweet spiciness , I'm absolutely certain of that!
After being fed pure refined sugar for 2 weeks and being suddenly left to hang dry, I'm sure they would welcome the subtle sweetness of this soup as soothing relief.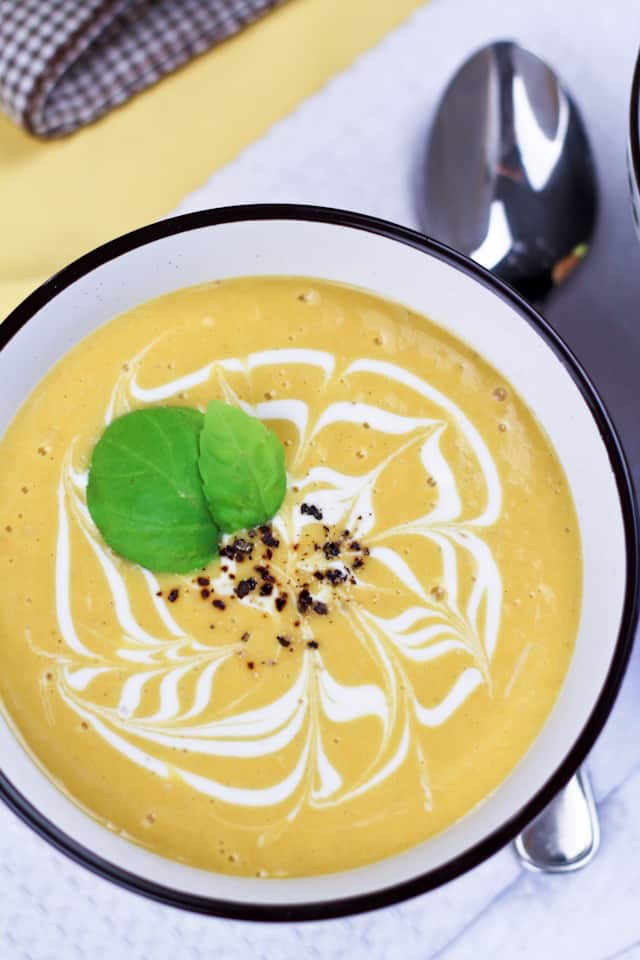 I'm also super grateful to have discovered a way to boost the protein contents of my soups while still keeping them vegetarian friendly by using egg whites and Greek yogurt.
As an added bonus, it also confers some sort of a fluffiness to soups.
The downside though it that they make them really delicate and hard to reheat. One has to be really careful not to heat them too much or too quickly, else the egg whites would cook and the yogurt would curdle.
Not what I call yummy!
But get this right you you'll be rewarded with the creamiest, fluffiest soup you've ever had.
That's it… I need a bowl NOW! I'm running to the store right right this minute so I can whip up a batch!
Kidding. I'll be a good girl and wait until the weekend! 😉
Butternut Squash and Anjou Pear Soup
Servings: 2
Ingredients
1 small onion, chopped
2 Anjou pears, peel on, core removed and diced
1 small butternut squash, about 500g
½ tsp Himalayan or fine sea salt
½ tsp freshly cracked black pepper
1/8 tsp ground cardamom
1/8 tsp freshly grated nutmeg
1/4 tsp ground anise seeds
1 + 1 cups water
1 cup fat free plain Greek yogurt
1 cup egg whites
Instructions
Cut butternut squash in half and remove the seeds. Sprinkle both halves with a bit of salt and pepper and lay them face down in a shallow baking dish. Add about ¼ cup of water in the bottom of the pan, cover with foil and cook in a 375F oven for approximately 20-25 minutes, until tender. (This can be done ahead of time. You could even put the squash in the refrigerator to cool until the next day)

In a medium saucepan, cook onion over medium heat until fragrant, about 3-4 minutes. With a spoon, scoop the flesh out of the squash and add that to the pot, along with the pears, salt, pepper, cardamom, nutmeg, ground anise seeds and one cup of water. Bring to the boil then lower heat and simmer for about 5 minutes.

Remove from heat and allow to cool for a few minutes before transferring the soup to your food processor or blender; Process on high speed for a minute or two, until very smooth and creamy.

Meanwhile, mix yogurt, egg whites and the remaining cup of water together in a mixing bowl.

While the motor is running, slowly add that mixture to the soup that is already in your food processor or blender. You want to pour rather slowly and in a continuous stream so the eggs don't cook and the yogurt doesn't turn.

Transfer the soup back to the saucepan and bring this up in temperature, almost to a simmer. However, it is very important that you do now allow the soup to boil at this point, again, to avoid cooking the eggs and have that yogurt turn on you.

For a super smooth consistency (or if you have a few little specks of cooked eggs or yogurt that you want to get rid of), strain the soup through a fine mesh sieve before serving.
If you've tried this recipe, please take a minute to rate the recipe and let me know how things went for you in the comments below. It's always such a pleasure to hear from you!
You can also FOLLOW ME on PINTEREST, FACEBOOK, INSTAGRAM and TWITTER for more delicious, healthy recipes!