Grain Free Hazelnut Butter and Chocolate Chunks Cookies
I made these over the Holidays.
Oh…
My…
Yum…
Try to be still my heart. Just try.
They are so good, I don't even know how to put it.
Well, maybe if you read the comment that I left on Erin's site, you would understand.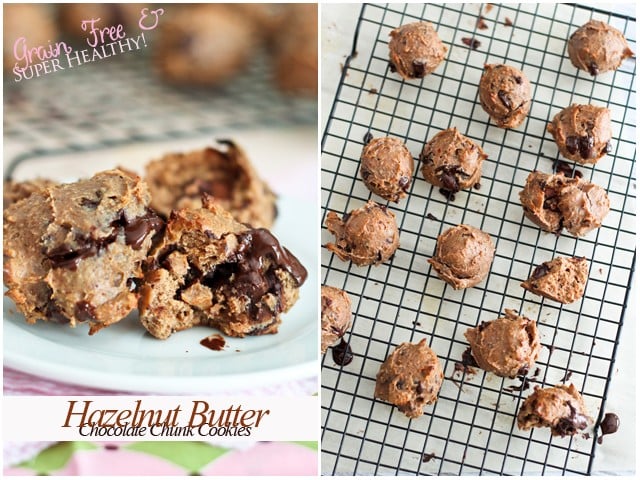 Who's Erin, you ask? She's the devil who posted the original recipe for these! Feel free to head over to her site and look for my comment, but you better be patient!
Her little beauties generated well over 450 comments!!! Of course, mine happens to be towards the very end of the list…
But seriously, a cookie that generates that many comments in so little time? I figured it HAD to be like the Food of the Gods or something.
And I think I was right!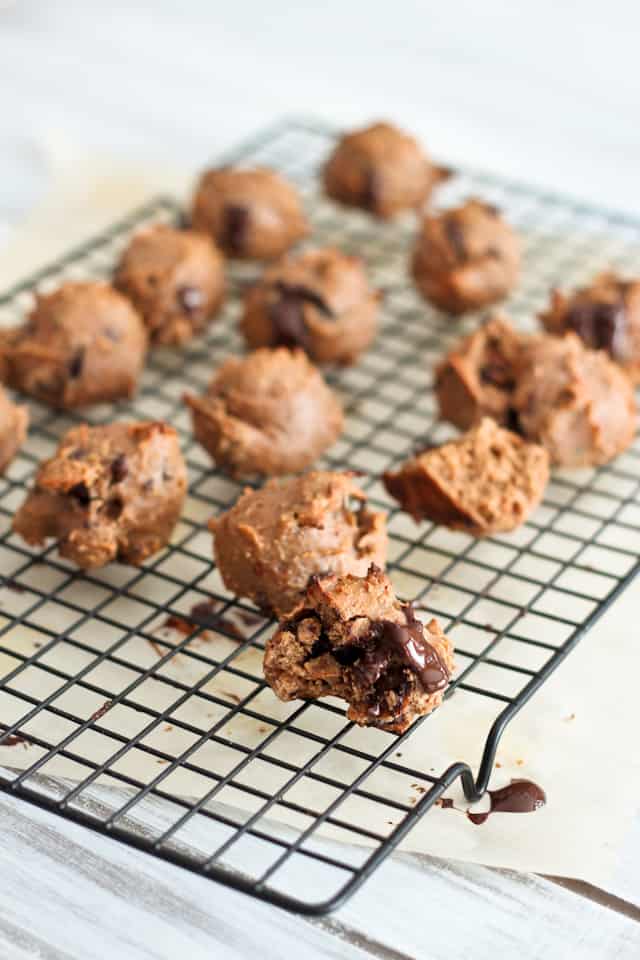 As soon as these came out of the oven, I broke one open to take the pictures, you know.
But oops! My fingers went crooked and right into my mouth it went.
So I had to break another one open, you know, so you could see how beautiful they were with the oozing chocolate and all…
Down that one went too… Followed by another one, and another one still!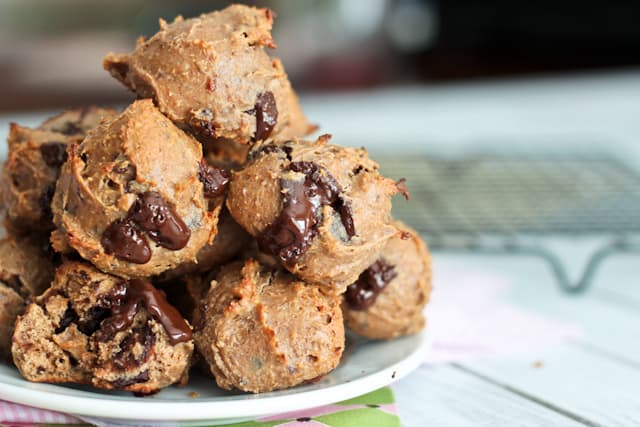 I miraculously managed to stop at 4. That's FOUR.
¡Uno, Dos, Tres, Cuatro! Understand now why I put on so much weight?
I don't recommend trying this at home, kids, because while these cookies are indeed super healthy, they also rank a little high on the calorie scale.
Two would make a very decent snack, I think.
That's if you can leave it at that.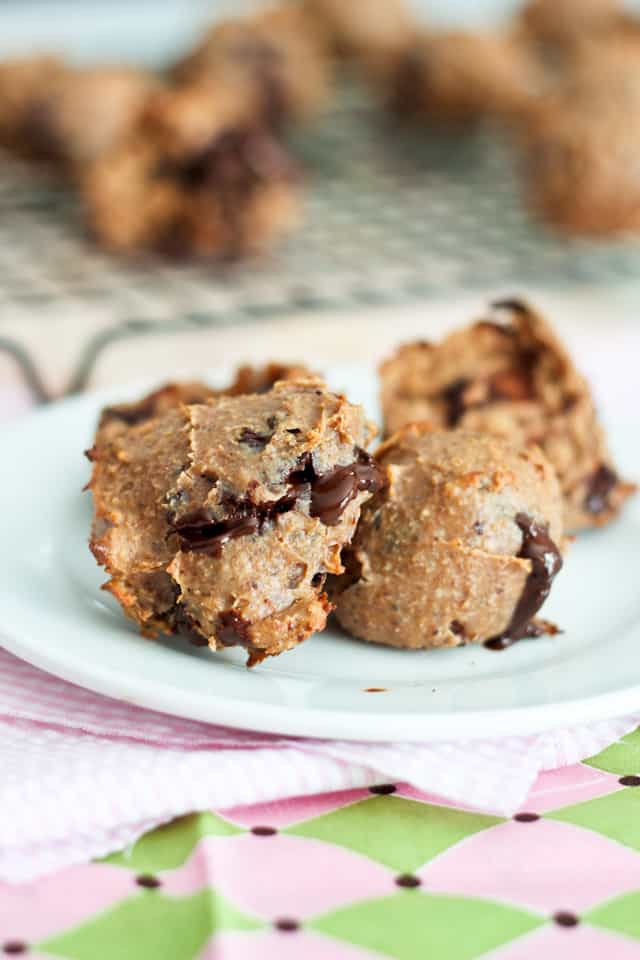 To me, this cookie is just plain perfect. I love its super dense yet surprisingly moist and soft texture. You know those chewy molasses cookies? Kind of a bit like that, but denser, and chewier.
I dunno. There's just something about them. They are ridiculously good.
For sure, you would never guess that they were made with…
Wait, right, you don't know yet, do you? Of course you don't, I haven't told you.
Well, as I was saying, you would never guess that they were made with… with chickpeas!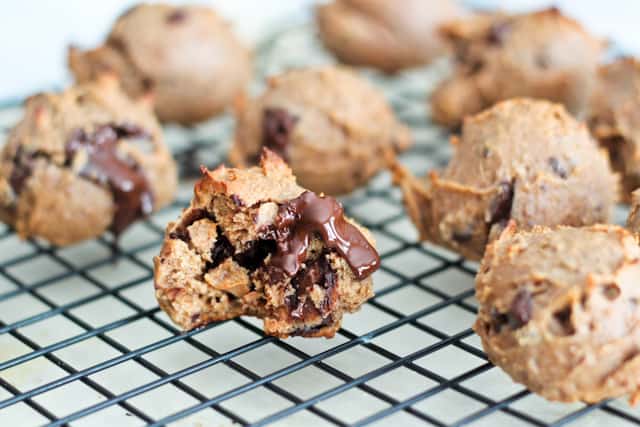 I swear though, you really can't taste them, not at all.
Their flavor only seems to enhance that of the hazelnut butter, so really, they taste like a super dense and chewy hazelnut butter cookie with loads of decadent dark chocolate.
That's what I call super satisfying.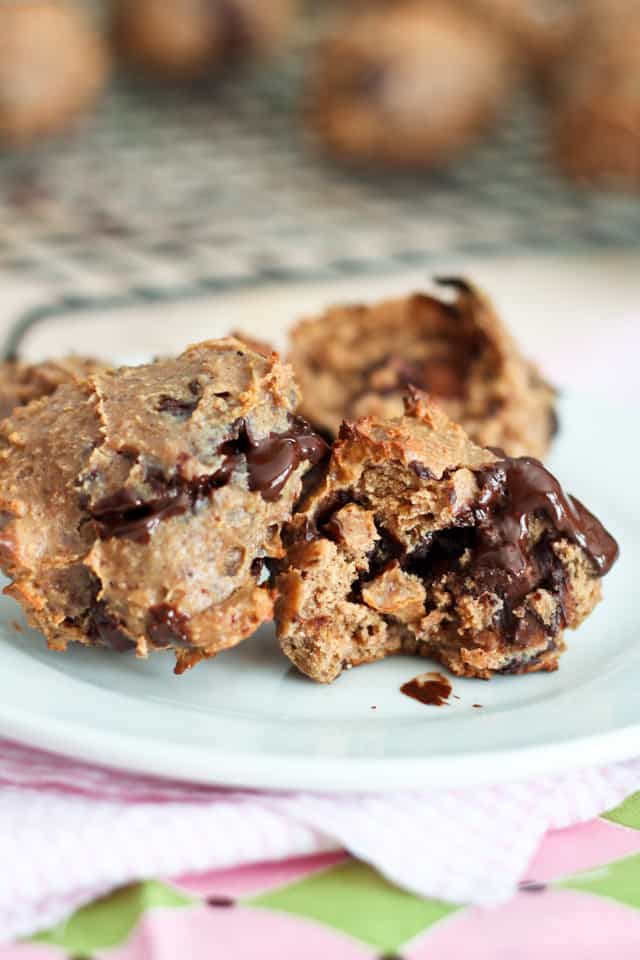 I can't decide yet whether I liked them better straight out of the oven, a little bit closer to room temperature, at room temperature or after they had spent a few hours in the refrigerator.
Each stage was different and had its own particularities but all were equally delicious.
I have yet to try them frozen solid, and I wouldn't even be surprised if that were to happen as I've got four of these babies sitting in my freezer right now.
They readily volunteered to test their "freezability" factor.
Seeing as how they have been a huge success all the way so far, I get the feeling that they will still be good in their completely frozen state, as well as after they have thawed.
That's if I'm patient enough to wait that long.
Hey, I do have to test half thawed, don't I? 😉
Grain Free Hazelnut Butter and Chocolate Chunks Cookies
Servings: 16 cookies
Ingredients
1¼ cups cooked chickpeas, cooled and patted dry
½ cup + 2 tbsp pure hazelnut butter
2 tbsp date paste
2 tbsp egg whites
½ ripe banana
1 tsp baking powder*
1/4 tsp of cinnamon
a pinch of salt
1 tsp pure vanilla extract
2 scoops vanilla flavored whey protein powder
75 g Lindt 85% dark chocolate, chopped
Instructions
Preheat your oven to 350F.

In a food processor, reduce the chickpeas down to a puree. Add the rest of the ingredients, except for the chocolate chips, and process until smooth. Make sure to scrape the sides a few times to make sure every little piece gets incorporated.

Add the chocolate chunks and pulse once or twice if you can, or add them by hand; The mixture will be very thick and sticky.

Drop the mixture by the tablespoonful onto a baking sheet lined with parchment paper. A medium sized spring loaded ice cream scoop works wonders for this! If you want your cookies to be a little more on the flat side, press them down slightly with wet fingers or with a fork. They won't do much rising.

Bake for about 10 minutes, until golden. Put the cookies on a rack to cool completely and try not to eat them all while that's happening (you have to try at least ONE while they are still warm and the chocolate is still oozing, though...)

Store at room temperature in an airtight container for 2-3 days, or in the refrigerator for up to a week.
Notes
*Storebought baking powder contains corn starch. To keep this completely grain free, you can make your own cornstarch at home using one part baking soda, two parts cream of tartar and two parts non grain starch, such as tapioca, potato or arrowroot.
Slightly adapted from Texanerin Baking
If you've tried this recipe, please take a minute to rate the recipe and let me know how things went for you in the comments below. It's always such a pleasure to hear from you!
You can also FOLLOW ME on PINTEREST, FACEBOOK, INSTAGRAM and TWITTER for more delicious, healthy recipes!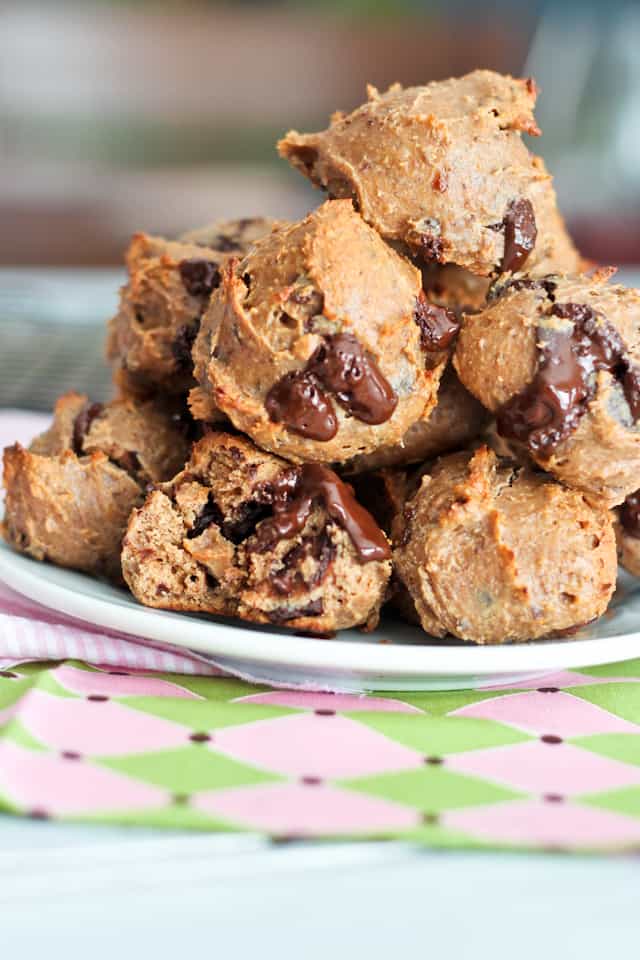 Pile of goodness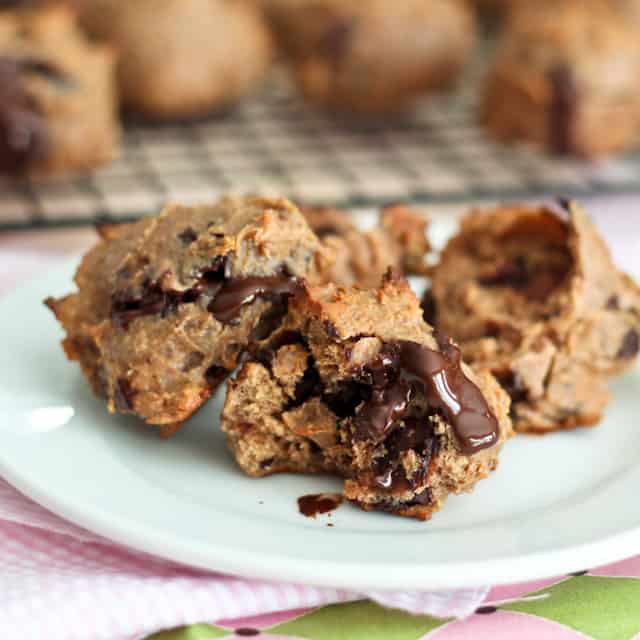 Chocolate eruption!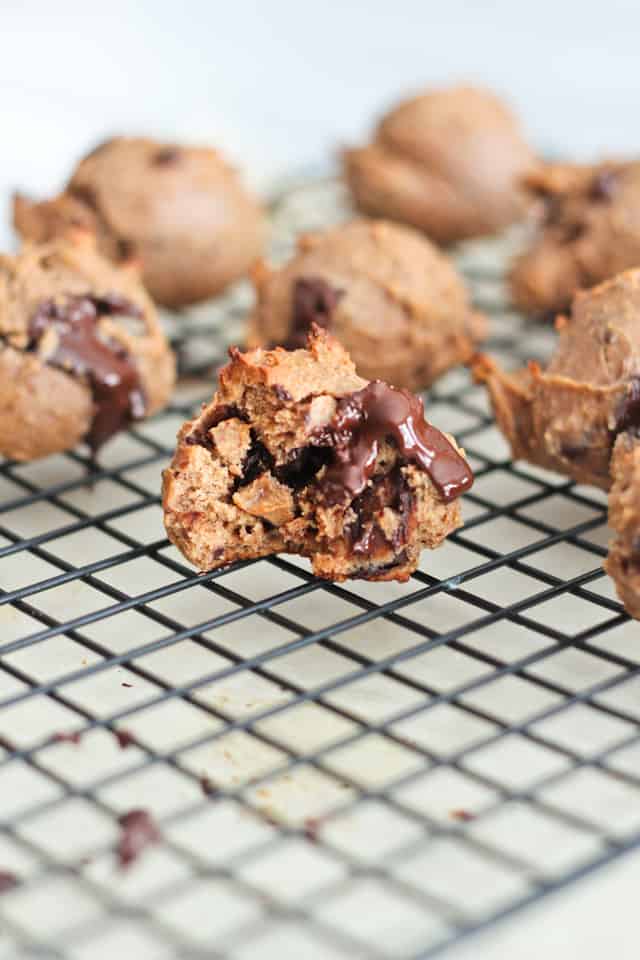 Just TRY not to eat them all right off the cooling rack…