3 Ingredient High Protein Cantaloupe Smoothie
It has been a week since I've gotten back on track after that [not so] little Holiday slip-up and I figured some of you would like to know how I am holding up…
Well, I am happy to report that things are going awfully well and exactly as planned.
I'm not saying it has been super easy, though, for I set the bar really high!
My plan has been to work very hard at getting that car back up the hill and I was determined to really stick to that plan.
NO.MATTER.WHAT
That's even though I knew I still had one final Christmas Dinner lined up.
The kind that I knew would be very hard to get through without slipping, too.
Well, I am happy, and extremely proud to say that it went super well. When I got there, I was already pretty hungry. By the time we got to eat, it was well over 2 hours past my usual dinner time. Needless to say I was starving!
But! Despite being surrounded with warm crusty bread, loads of wine and decadent choices galore on the menu (think melting brie in a walnut crust drizzled with warm, creamy dreamy maple syrup sauce, served with crispy crostinis!) as well as all kinds of yummy desserts which of course, they HAD to bring the to the table all laid out on a silver platter to show the selection, which HAD to include cannoli, I managed to stick to the choices I had made PRIOR to entering the restaurant.
I went with a Shrimp Cocktail for appetizer (left the sauce, don't care for it anyway), followed with an entrée of grilled Fillet Mignon (hold the sauce, please and I'll have a simple salad and veggies for sides thank you!) had ONE glass of wine and a cappuccino for dessert. I didn't even touch the biscotti that they had so kindly brought to keep my coffee company.
I got out of there feeling super proud, super pumped and ready as ever to face the scale in the morning.
She had nothing but nice things to say to me this time. She took 3 full digits out of my previous score!!! WOOHOO! That means I'm already down just a little over 3 kilos, so water weight is pretty much all gone now.
I figure it will be another 3-4 weeks before the other 3 kilos are also history.
Until then, I will continue to be aggressive in getting that car back up the hill for all of next week, i.e. I'll be keeping my calorie and carb intake on the very low side for another week. After that I'll resume eating normally while still maintaining a slight calorie deficit until my weight and body fat are where I want them to be.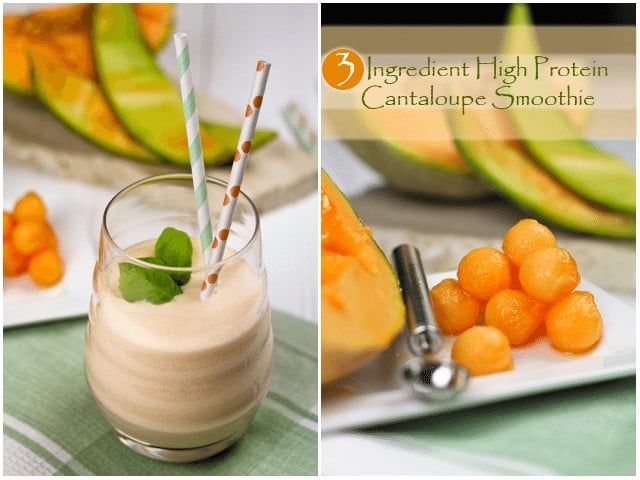 And if I can get my hands on decent cantaloupe at a decent price, there positively will be some of this beauty on my weekly diet plan.
I was lucky enough to get one such miracle a couple of weeks ago and I came up with this sublime idea.
In the summer, I'll often cut a small cantaloupe in half and fill the cavity with cottage cheese. This would be one of my ultimate favorite quick and healthy snack!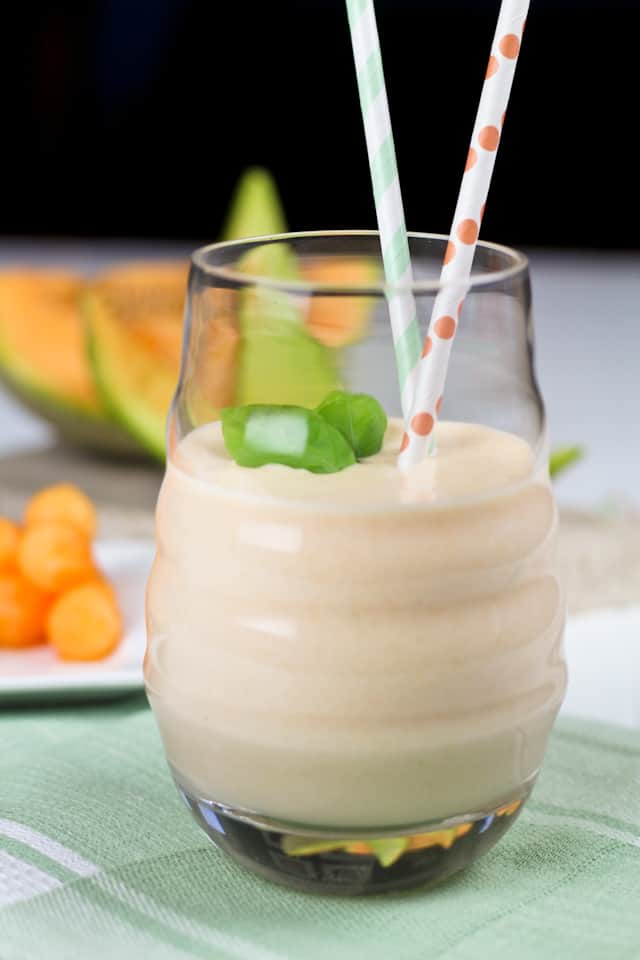 I figured why not kick that up a notch, boost the protein content even more and turn it into a smoothie?
Wow did this ever work out for me! What a winning combination that is.
So fresh, so tasty!
So healthy and satisfying!
Oh, and did I mention easy? Seriously, it doesn't get any easier than this.
I so can't wait for cantaloupe season to be here again!
3 Ingredient High Protein Cantaloupe Smoothie
Servings: 1
Ingredients
¼ large cantaloupe, seeds and peel removed, cut into large chunks
½ cup 1% fat cottage cheese
1 scoop vanilla flavored whey protein powder
Instructions
Add all the ingredients to your small blender or food processor and process until smooth and creamy, about one minute.

Transfer to serving glass and enjoy!
If you've tried this recipe, please take a minute to rate the recipe and let me know how things went for you in the comments below. It's always such a pleasure to hear from you!
You can also FOLLOW ME on PINTEREST, FACEBOOK, INSTAGRAM and TWITTER for more delicious, healthy recipes!