Skinny Beef Stroganoff On Zucchini Ribbons
The carnivore in me is resurfacing.
I'm starting to like and crave meat again.
Big time.
Not saying I don't feel bad or guilty about it though.
However, I've always believed that, sadly, human beings were "designed" to eat meat.  I mean sure, we could very well survive without it… heck, you could probably survive while feeding off nothing but white bread and water for the rest of your life, but it doesn't mean that it would be optimal for your general health and well being.
Still, I understand that no two humans are the same and some will do a lot better without it than others.
Unfortunately, it appears as though I belong to the group that does a lot better WITH it.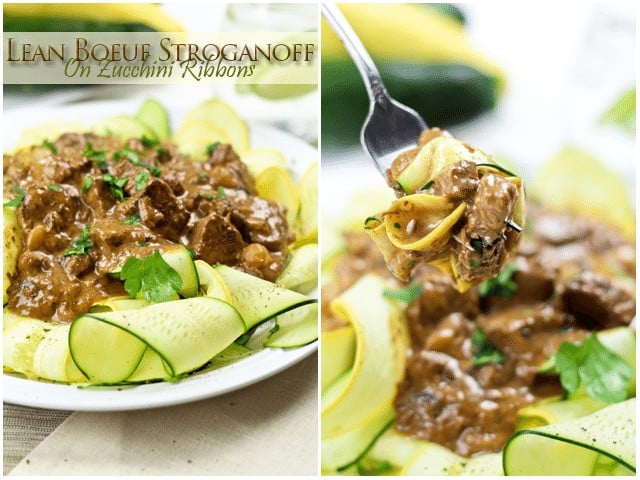 So I'm slowly reinstating meat as a part of my regular diet, only I'm making much healthier choices now. For starters, I only go for the leaner cuts of meat and also, I keep my portions much smaller than I used to.
So I'm still consuming WAY less than I used to back in my crazy hopeless carnivore days.
Now you might think that using only lean cuts of meat drastically reduces possibilities, right? After all, there's only so many ways one can enjoy a roast beef  from the inside round, isn't there?
Well, think again. The more I cook with said cut of meat, the more I learn to appreciate it.
I never thought, for instance, that I could whip up such a dreamy version of Boeuf Stroganoff. In fact, this was a delicacy I had pretty much given up on, seeing as how it calls for so much wine and heavy cream.
Well, not anymore! This version right here was TO.DIE.FOR!
The chunks of meat were melt-in-your-mouth tender and the sauce was so tasty and it felt so rich and creamy, just as if there had been loads of wine and heavy cream in it.
No way could you have ever guessed that this was in fact a skinny version of this famous comforting dish.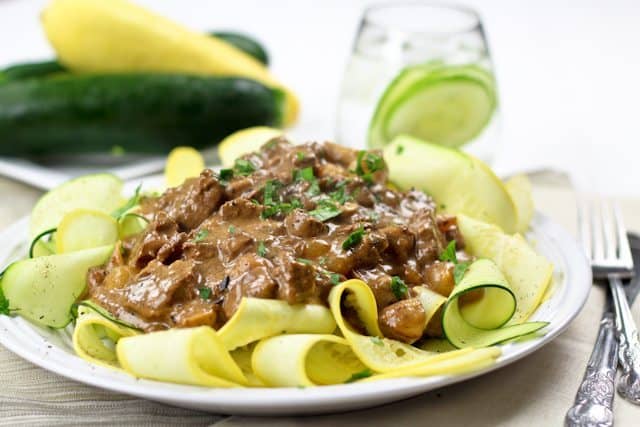 Now, in an effort to respect my current diet requirements, I decided to take some of the "comfort" factor away, so as to reduce calorie and carb contents.
Instead of serving it on the traditional egg noodles, I chose to lay it on a bed of beautiful, colorful raw zucchini ribbons.
To be honest, I don't think I missed the noodles one bit!
The heat of the sauce alone took care of cooking the paper thin zucchini, making it nice and soft and pliable and just as easy and pleasant to east as pasta.
And talk about a great way to add  loads of vitamins to this dish.
AND COLOR!
Seriously, is this not the prettiest Beef Stroganoff you have ever seen?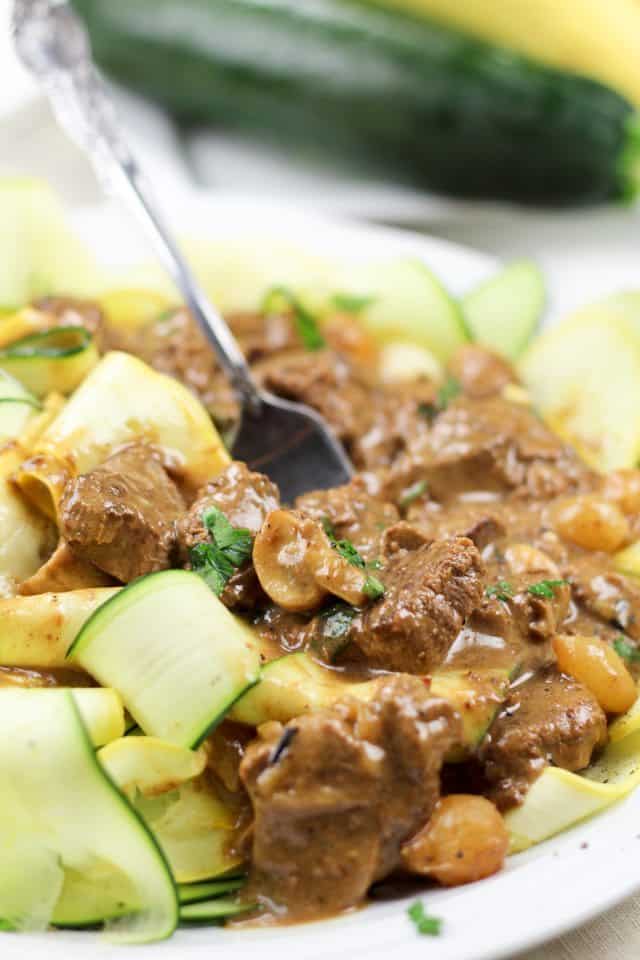 For sure, this one has become a new favorite of mine. I'm so happy that this long lost friend has found its place at my table again.
Of course, there will probably be days when I will be in the mood for really super comforting food and I will opt for whole wheat egg noodles instead of zucchini.
Easy swap, really.
But when that happens, I get the feeling that I'll still want some of that beautiful zucchini in there…
It just looks too pretty to pass!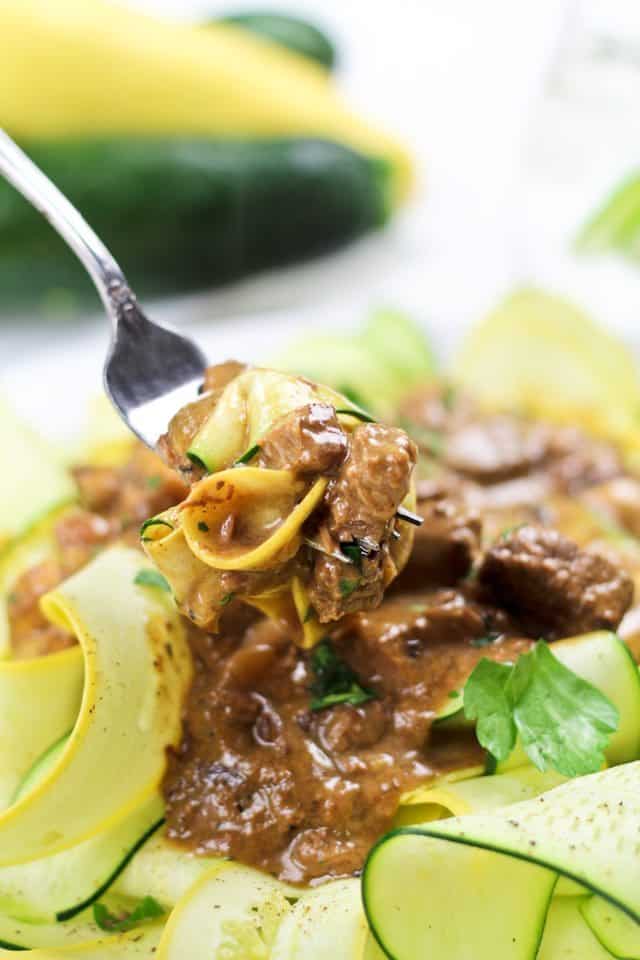 Now, if you really don't care for beef or would rather not have it, you could just as easily turn this into a Chicken Stroganoff, or even turkey, why not?
Just as well, you could let your imagination run wild and sub the veggies. Don't like mushrooms? Why not go with carrots? Pearl onions aren't your thing? How 'bout some cute little cherry tomatoes, instead. Or green olives, maybe?
Oh! The possibilities.
I think I'm in love… again!
Thank goodness we can be in love with more than one food!
Lean Beef Stroganoff on Zucchini Ribbons
Servings: 4
Ingredients
800 g beef from the inside round, cut into small cubes or strips, whichever you prefer
1 small onion, finely chopped
1 clove garlic, finely chopped
½ tsp Himalayan or fine sea salt
½ tsp freshly cracked black pepper
6 cups water, divided
2 tbsp Dijon mustard
1 tbsp fresh rosemary, finely chopped
450 g mushrooms, quartered
100 g frozen pearl onions
1 tbsp fresh parsley, finely chopped
½ cup fat free Greek yogurt
2 tbsp arrowroot flour
8 yellow and green zucchinis in ribbons*
Instructions
Preheat a large pan coated with olive over high heat and sear the pieces of beef to form a nice golden crust on all sides.

Add onions, garlic, salt, pepper, lower heat to medium and continue cooking until the onions are softened.

Add 2 cups of water, Dijon mustard and fresh rosemary and stir until the mustard is well incorporated.

Cover loosely, lower heat and simmer until the liquid is almost completely evaporated then add another 2 cups of water and reapeat the process.

At this point, you want to add your mushrooms, pearl onions and another 2 cups of water. Bring back to a simmer and continue cooking until you're left with a nice, thick sauce; Turn off the heat.

In a mixing bowl, add yogurt, arrowroot and about a cup of your cooking liquid. Mix with a wisk until fully combined and add that to the pan.

Add fresh parsley and stir delicately until all is well combined.

Serve over zucchini ribbons
Notes
*The use of a mandolin is strongly recommended to get the zucchini slices really paper thin. Alternatively, you could also cut the zucchini into long thin strips to mimic spaghetti.
If you've tried this recipe, please take a minute to rate the recipe and let me know how things went for you in the comments below. It's always such a pleasure to hear from you!
You can also FOLLOW ME on PINTEREST, FACEBOOK, INSTAGRAM and TWITTER for more delicious, healthy recipes!