Spaghetti Squash, Pomegranate & Goat Cheese Salad
Gosh, how I LOVE spaghetti squash!
And I think cold salads have become my favorite way to enjoy it.
This version has such a Christmas feel to it, I probably should've come up with it a month ago…
All that's missing is the pine branches, dont'cha think? 😉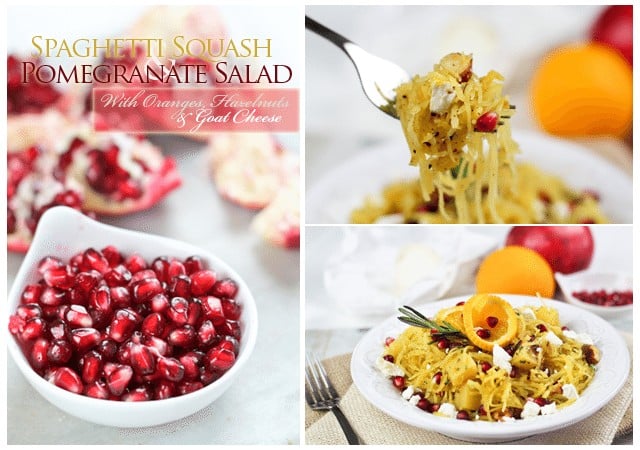 If this doesn't really turn you on because you think you're not a big fan of squash, you might want to reconsider your position!
I used to be just like that, you know. I did NOT care for squash.
At all!
And that held true for ANY kind of squash. Just the word squash would actually put me off.
But then I decided to start fresh and try it again with an open mind.
And this time, I fell in love. Totally in love.
Just looking at it now makes my mouth water.
I guess it probably helps that I conditioned my brain before each tasting and took extra care that each and every one of them would be a positive and exciting experience. I didn't give my brain much of a choice!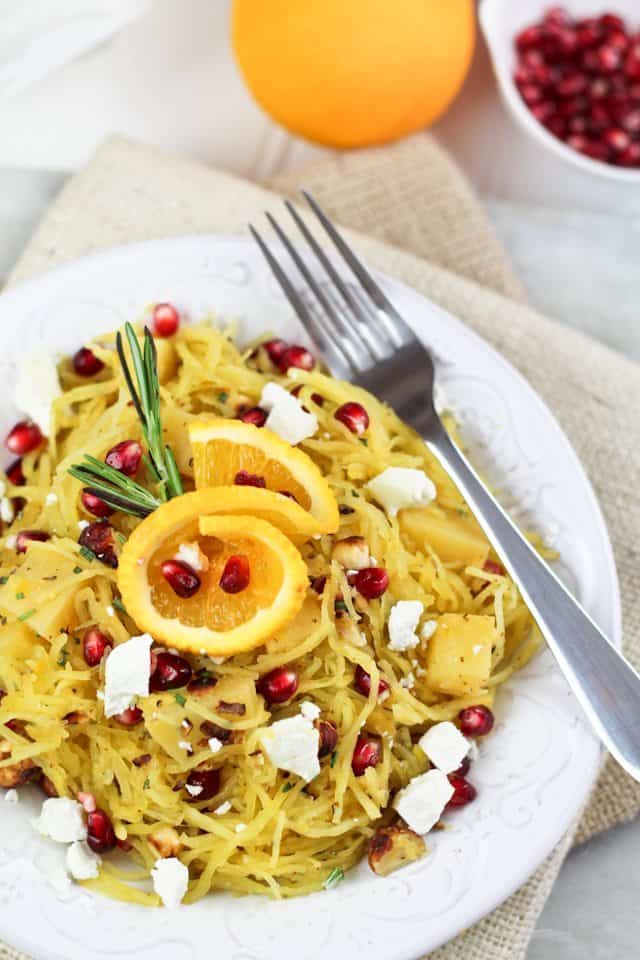 I wish I was that crazy about pomegranate.
Although I really, truly appreciate the fruit, for some reason, I just can't seem to bring myself to eat a full one on its own.
It just HAS to be a part of something.
You'll never catch me seeding one, putting it in a bowl all by its lonesome and go at it with a spoon.
My daughter, however, is the complete opposite. She goes GAGA for pomegranate and could easily eat a dozen, just like that.
Me? I'm like meh… I'll have a few handfuls of arils and be fed up already.
I really feel they need to be a part of something.
And it looks like I have decided that salads are just the thing. Hey, why not? I find it really works.
And this combination right here was just plain incredible.
So simple, yet bursting with flavor and crazy satisfying. Plus, it's a great way to sneak in some turnips into your diet, too! Sadly, there's a veggie that is too often forgotten or overlooked.
Even I, I'm afraid, have to plead guilty as charged. Even though I ADORE turnips (and always have), I seem to keep forgetting that they even exist.
Well, let me tell you, the memory of this salad sure will remind me of their existence, I can guarantee that. 
As a matter of fact, I have a huge one sitting in the fridge right now.
As well as 2 pomegranates…
I wonder is the 3 of them would like to play together? Or maybe I should save the pomegranates to make some kind of dessert…
Hmmmm… dessert! Yeah, why not?
Say, does anyone have a great idea for a pomegranate dessert?
Spaghetti Squash, Pomegranate & Goat Cheese Salad
Servings: 2
Ingredients
1 medium spaghetti squash, cooked and cooled* (warm would also work)
2 cups diced turnip, cooked and cooled
the arils of one pomegranate
30 g toasted hazelnuts, chopped
15 g soft goat cheese, crumbled
Instructions
Start by making the vinaigrette by placing all the required ingredients to your small blender or food processor. Process until smooth and creamy. Set aside.

Remove the flesh from the spaghetti squash by scraping it delicately with a fork. Add that to a large mixing bowl.

Add the rest of the ingredients, including the vinaigrette and stir very delicately.

Divide between 2 shallow bowls and serve immediately, or keep in the fridge for up to 24 hours before serving. The salad will be even tastier after the flavors got to mingle.
Notes
*To cook the spaghetti squash, preheat oven to 375F. Cut spaghetti squash in half and remove the seeds. Sprinkle both halves with a bit of salt and pepper and lay them face down in a shallow baking dish. Add about ¼ cup of water in the bottom of the pan, cover with foil and cook for approximately 30-40 minutes, until tender. Let cool slightly or completely before removing flesh with a fork. As for the turnip, I like to just steam it for a few minute until fork tender.
If you've tried this recipe, please take a minute to rate the recipe and let me know how things went for you in the comments below. It's always such a pleasure to hear from you!
You can also FOLLOW ME on PINTEREST, FACEBOOK, INSTAGRAM and TWITTER for more delicious, healthy recipes!