Healthy and Comforting Cream of Turkey Soup
Don't say I hadn't warned you!
Yes, it's another turkey recipe. But this IS the last one now, I promise.
Besides, I'm sure you will simply ADORE this one.
Seriously, who doesn't like a good, piping hot bowl of super comforting Cream of Chicken Soup?
Well, if chicken is so great in soups, turkey would be just as good, now, wouldn't it?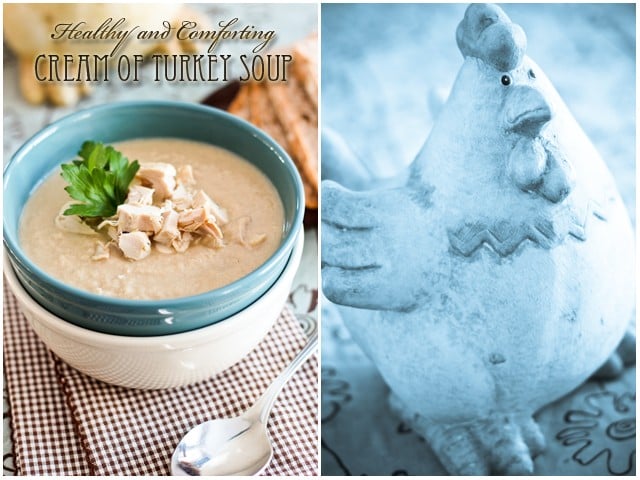 This has to be my favorite way EVER to use up turkey leftovers. I'd never even thought of making my own cream of turkey soup at home. I thought for sure that the only way to enjoy this was out of a can.
Boy was I wrong. The canned stuff has NOTHING on this home made version, except for maybe a hell of a lot more fat, and unwanted additives.
Now, I'm not going to lie to you. This soup has a "texture". Unlike the canned stuff, it's not all smooth and creamy. It's a soup that you sort of have to chew on. Kind of like that orange juice that has a lot of pulp, you know…
The thing is, this soup is LOADED with meat, and I do mean LOADED. Turkey meat is actually what makes it so SUPER THICK  and meat being fibrous by nature, there is no way you can make this one super silky.
But talk about satisfying. This will keep you full and satisfied for a very long time.
Not surprising when you consider how much protein you get out of a single bowl of soup! The protein contents is simply through the roof!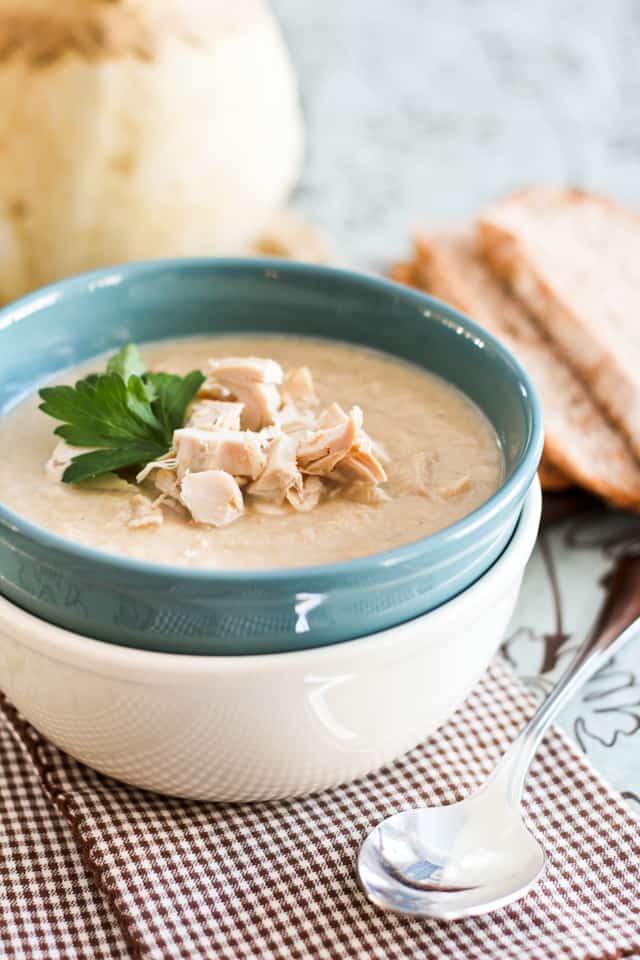 Now that I've had this soup, I don't think I could ever settle for anything else.
And I can't think of anything more comforting after a long walk out in the freezing harshness of winter.
By all means, give that one a try.
I bet you will love it and, like me, will consider roasting another turkey just so you can have more leftovers!
Cream of Turkey Soup
Servings: 6
Ingredients
1 medium onion, chopped
Pinch of salt
½ head of cauliflower, cut into florets
500 g + 200g leftover cooked turkey, roughly chopped
6 cups fat free turkey stock*
2 tbsp arrowroot flour
Instructions
In a large saucepan, cook onion with a pinch of salt over medium heat until fragrant, about 3-4 minutes. Add cauliflower, 500g cooked turkey meat and turkey stock.

Bring to a boil then lower heat and simmer uncovered until cauliflower is fork tender.

Remove from heat and allow to cool for a few minutes before transferring to your high speed blender or food processor.

Add arrowroot flour and process on high speed then transfer the soup back to the saucepan.

Throw in the remaining 200g of leftover turkey meat, bring back to a simmer and continue cooking for a few minutes until the chunks of meat are nice and warm.
Notes
*I made my own turkey stock by throwing the carcass along with everything that was in it (apples, oranges and sage) in enough water to cover all and I let that simmer for about 2 hours. I then strained my stock and put it in the fridge to cool completely, which made removing the very thin layer of fat that solidified on the surface super easy.
Mayo Clinic also has an excellent recipe for low fat chicken stock. You can use the same method to make turkey stock.
If you've tried this recipe, please take a minute to rate the recipe and let me know how things went for you in the comments below. It's always such a pleasure to hear from you!
You can also FOLLOW ME on PINTEREST, FACEBOOK, INSTAGRAM and TWITTER for more delicious, healthy recipes!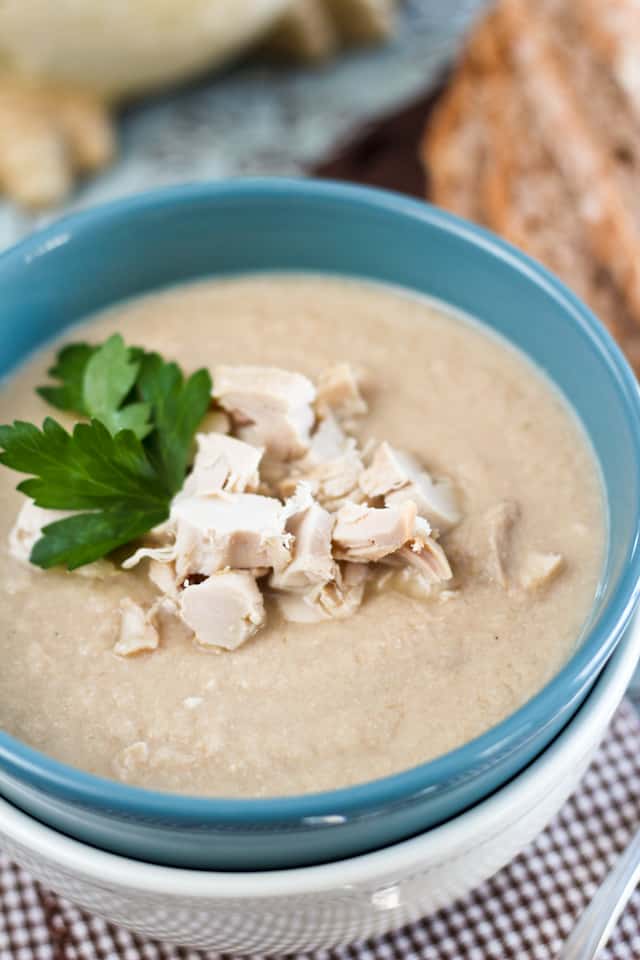 Make your soup super pretty: garnish it with a few more chunks of turkey meat
('cuz chances are, you STILL have more left…)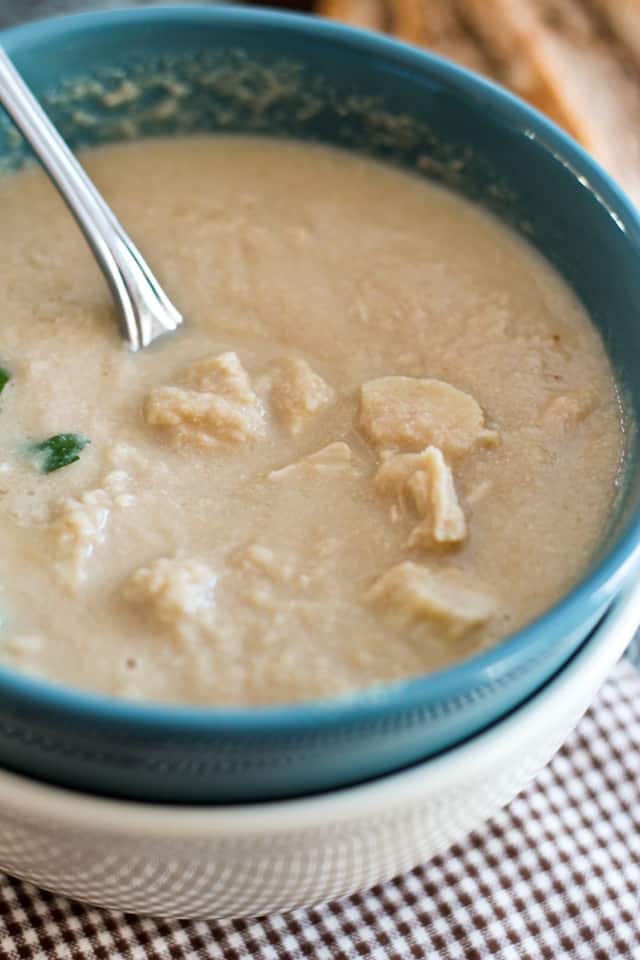 Look at all that beautiful meat… you won't get that out of a can!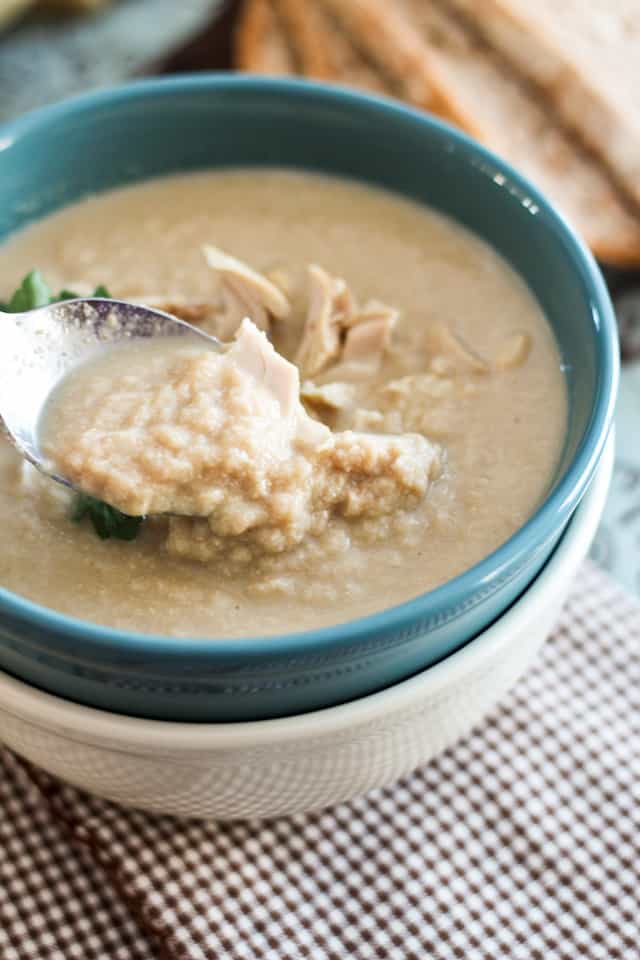 See what I mean? Texture!