Orange, Apple and Goat Cheese Stuffed Turkey Breast with Naturally Sweetened Cranberry Sauce
Sorry guys, I'm serving turkey today… again.
I bet by now, most of you are really all turkey-d out and DON'T wish to so much as see another piece of turkey until next year.
I hope you will forgive me then, for I still have a few recipes to log and share with you.
Two more, to be exact. Then that's it, I promise.
At least for a little while, that is, because I happen to really love turkey and would like to find a way to make it a part of my regular diet. If only it were more readily available, and a tad more affordable outside of the Holiday Season.
I wonder why it is that turkey is only available at this time of year here in Quebec. Is it like that where you are too? Come Thanksgiving and Christmas day, the bird can be found in all and every grocery store for a ridiculous price. Other than that? Be prepared to look for it and open up your wallet really wide if you want some.
So anyway, back to this recipe. At least, let me console you by saying that this is the last one that has a "Christmas Flavor" to it.
But hey, if like me you usually do an intimate Christmas Eve party at home with your kids and life partner and maybe a few select friends, then maybe roasting a whole bird is a bit of an overkill.
Unless you want to eat turkey leftovers for weeks on end…
Such was the case with me, so this year, I decided to do things a little bit differently.
While I still made the whole bird for the big party on the 25, I decided to downsize a bit for our Christmas Eve reunion and make a more humble stuffed Turkey Breast instead.
I pretty much used the same brine as I did for my roasted turkey, which conferred a nice, sweet and spicy but not overwhelming apple and orange taste to the meat.
But what really made this dish was the addition of apple slices, some of that gorgeous cranberry sauce and a little bit of super tasty goat cheese to the very center of the roast.
Talk about an explosion of flavor! And the brine really helped make the meat super juicy and tender.
I might have broken a lot of traditions this year. And all were not so very thrilled about it at first.
But you know what?
When all was said and done, I think I only ended up creating new ones.
This Stuffed Turkey Breast, for example, is definitely is here to stay!
And so is that delicious cranberry sauce!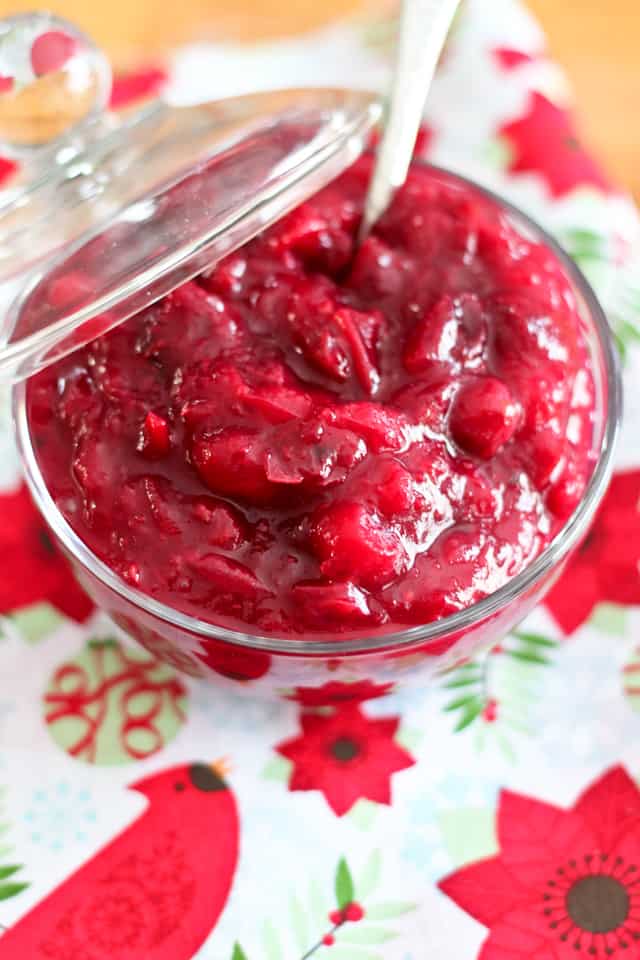 I am telling you, that cranberry sauce is so good, I eat it by the spoonful bowlful!
I've been enjoying it on a nice piece of toasted walnut bread in the morning.
Oh.My.Lord!
Yummers.
This is one recipe I am going to be making year round. That's IF I can get my hands on fresh cranberries, that is.
Because cranberries, just like turkey, tend to disappear as soon as the Holidays are over.
Sad…
'Cuz you all know how much I love my cranberries, don't you?
Naturally Sweetened Orange Apple Cranberry Sauce
Ingredients
1 cup all natural unsweetened apple juice
The juice of 2 freshly squeezed oranges
Zest of 2 oranges
¼ cup unpasteurized liquid honey
700g fresh cranberries (2 bags)
Instructions
Zest the oranges first, then squeeze out their juice. Place the zest, orange juice and all the other ingredients in a medium saucepan; Bring to a boil over medium-high heat.
Turn the heat down and continue cooking until most of the cranberries have popped, about 5 – 10 minutes. You don't really have to stir, but I'm sure you won't be able to resist the urge to do that from time to time.
Turn off the heat and let the sauce cool down a little then transfer to the fridge to chill completely, at least 4 hours but preferably overnight. The sauce will be much thicker, and tastier, when cold.

Nutrition Information
Serving size: Nutritional information based on ½ cup
Orange, Apple and Goat Cheese Stuffed Turkey Breast
Ingredients
For the Brine
1 cup apple juice
¼ cup apple cider
1 cup water
1 tsp kosher salt
1 tsp liquid honey
1 navel orange, quartered
1 whole star anise
2 juniper berries
2 whole Jamaican chiles
1 whole clove
½ tsp whole coriander seeds
About ¼ whole nutmeg, grated
1 cinnamon stick
1 sprigs fresh sage
1-2 slices fresh ginger
For the stuffed turkey Breast
1 -750g skinless, boneless turkey breast
1 red apple, cored, peel on, sliced very thinly
½ cup cranberry sauce (from above recipe)
75g soft goat cheese (I used Monsieur Émile)
Instructions
In a medium saucepan, add all the ingredients for the brine and bring to a boil. Reduce heat and simmer for 5-10 minutes.
Turn off the heat and cool to room temperature.
Place turkey breast in brine (use a plastic, stainless steel or other non reactive container or you could also use a resealable plastic bag) and refrigerate at least 4 hours or overnight.
Remove turkey breast from brine and rinse well under cold water; pat dry.
Slice your turkey breast open. To do that, place the blade of your knife parallel to your cutting board, put your hand flat on top of the breast and carefully slice down the middle almost all the way to the end. You want to stop about ¾ of the way through.
Place your now flat turkey breast on your cutting board and lay the apple slices so that they form a single layer but still overlap slightly. Don't go all the way to the edge; you want to leave about one inch all around.
Spread cranberry sauce over apple slices and top with goat cheese.
Close and tie your turkey breast with butcher's twine and leave it to rest in the fridge for at least 2 hours.
Preheat your oven to 350F.
Brush a non-stick pan with a little bit of olive oil and place to heat over medium-high heat.
When pan is hot enough, sear the turkey breast on all sides and transfer to an oven safe dish; cover with aluminum foil.
Roast in the oven for about 45 minutes, or until juices run clear.
Take the turkey breast out of the oven and loosen the aluminum foil to form a tent. Let the meat rest for 15-20 minutes, then slice and serve with more cranberry sauce on the side.

Nutrition Information
Serving size: Nutritional information based on 1 of 6 servings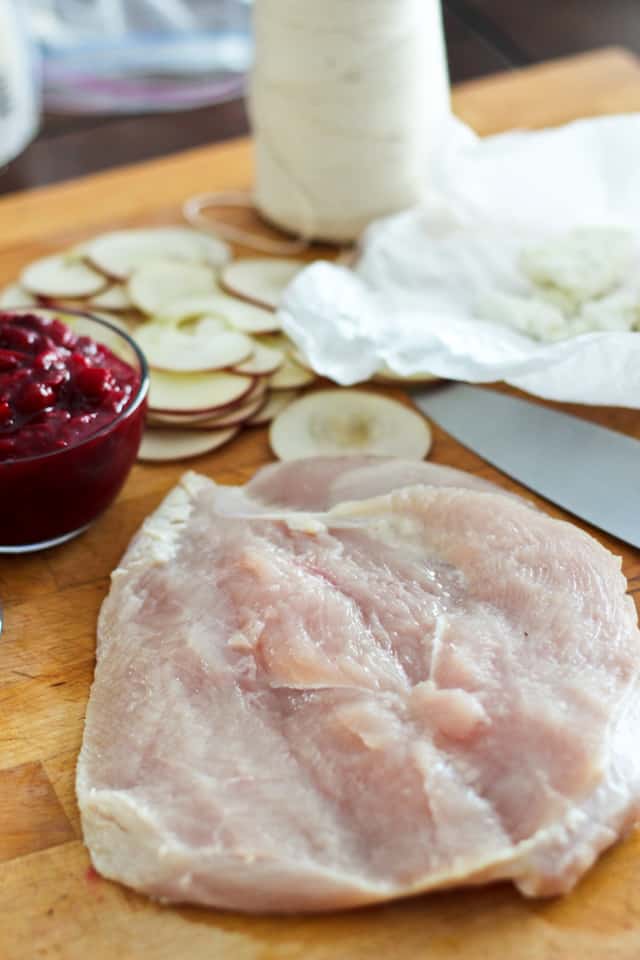 Slice your turkey breast open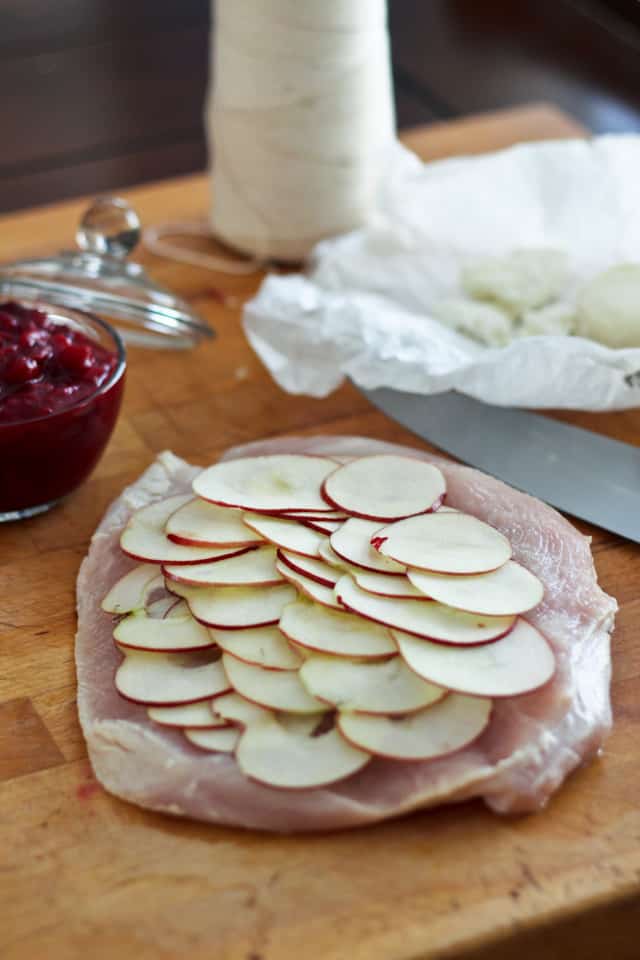 Lay the apple slices in a single layer
Spread cranberry sauce and top with goat cheese
Tie your turkey breast with butchers twine and set it to rest for a while
 Sear the roast on all sides then place in the oven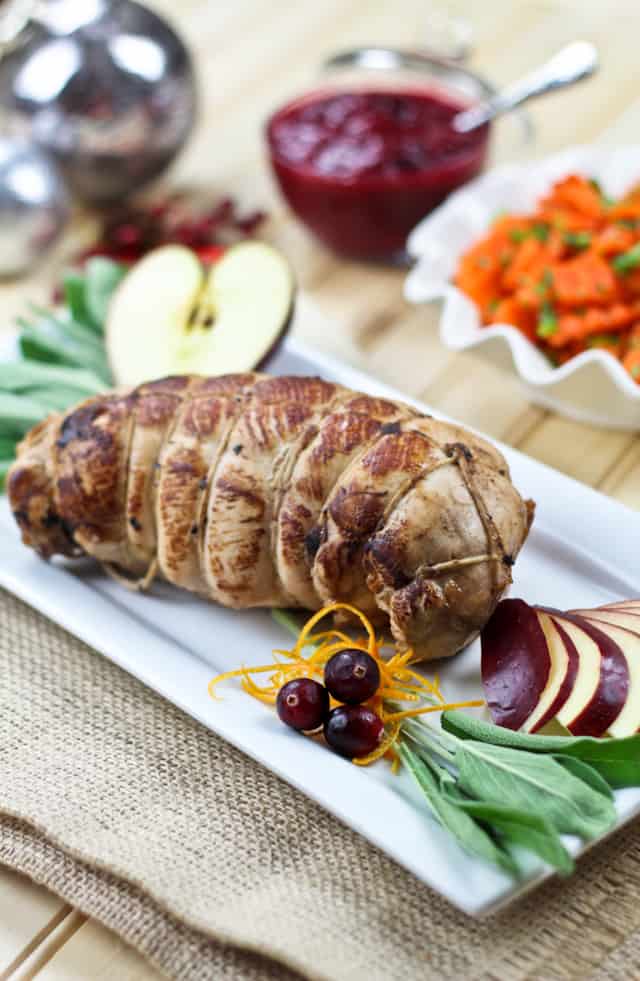 Let the roast sit for a few minutes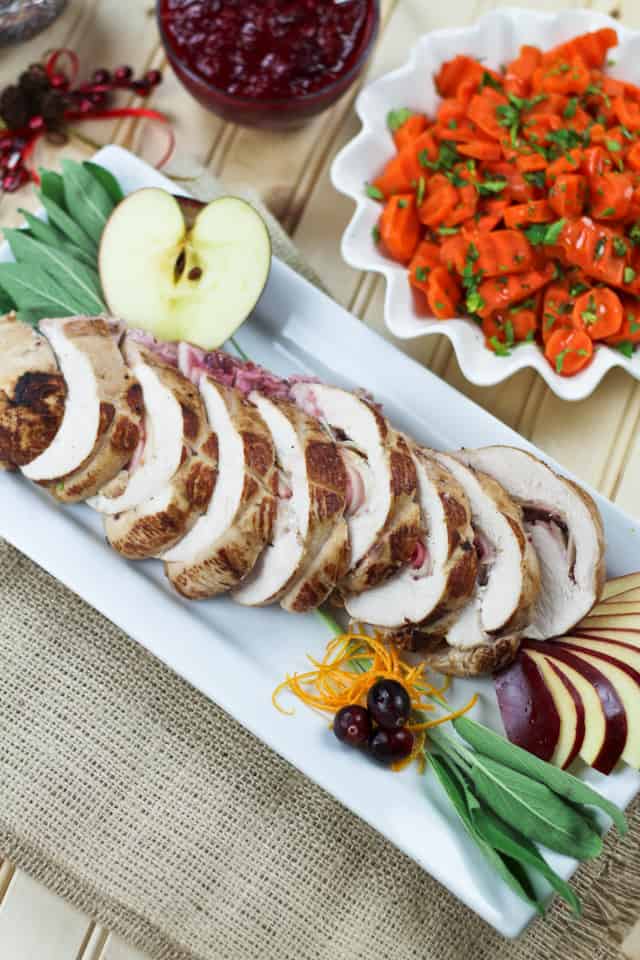 Slice and serve with extra cranberry sauce on the side