Chunky Avocado Salsa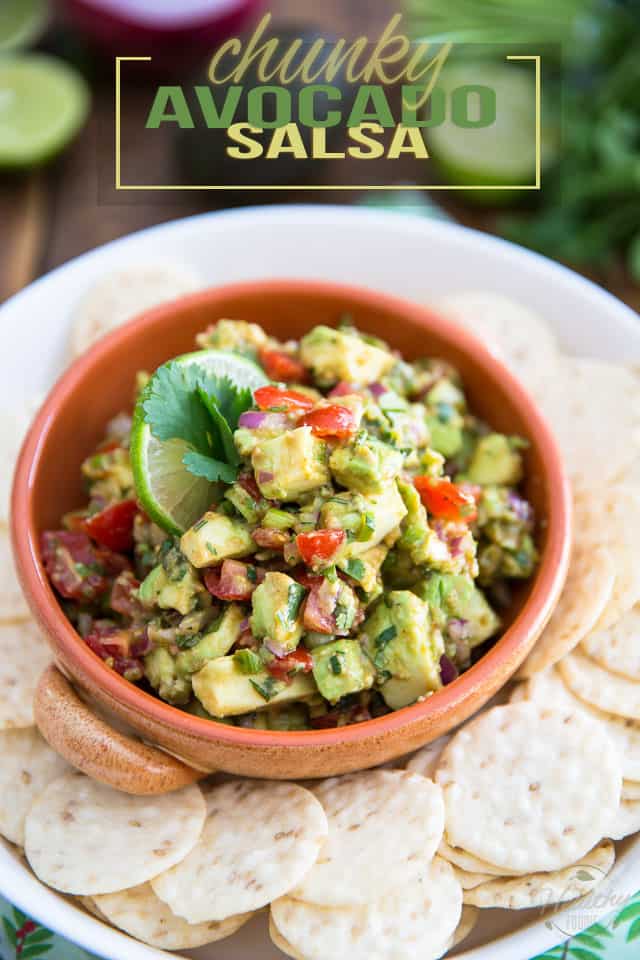 Last week-end, my daughter threw a simple little party to celebrate my baby grand-daughter's 2nd birthday. Can you believe she's already 2 years old? I most certainly can't. It's just crazy how time flies… She's growing so fast, sometimes I wish I could just put her on pause on something, so she would remain little for a while longer.
But then again, I love how she amazes me with every passing day as she learns new things, new words, new skills. None of that would happen if I were to stop her from growing. Guess I'll have to just accept the fact that she won't be a tiny little baby all her life.
But anyway, back to the party. Since she IS still pretty little, we decided to keep things fairly simple and stick to serving all kinds of snacks and finger foods. Of all the dishes that were on the table that day, I think that this Chunky Avocado Salsa is the one that got the most love. Well, that and my daughter's Deviled Eggs. She had to make a second batch half-way through the party; that's how good they were. I totally have to steal her recipe so I can share it with you. Trust me, you want it!
Just like you want to make this Avocado Salsa right here. Especially if you too have a party coming up
Good thing I happen to have the recipe for that one right here, so I can share it with you right away.
Seriously, this salsa couldn't be easier to make, or quicker, for that matter.
All you need to do is grab a bunch of ripe avocados – 3 medium sized ones should do the trick but really, this is no exact science. Use as many or as little as you like; just make sure that they're beautifully creamy and perfectly ripe!
Then, chop a dozen or so cherry tomatoes, some red onion, a couple of green onions, a handful of fresh cilantro and throw all that in a mixing bowl, along with the juice of half a lime, a generous squirt of sriracha sauce (or not so generous, depending on how big a fan of spicy you are), a pinch of salt and a little bit of ground cumin.
Whatever you do, don't leave the lime juice out: its presence is needed not only to add flavor, but also to keep the avocado from discoloring and turning brown on you…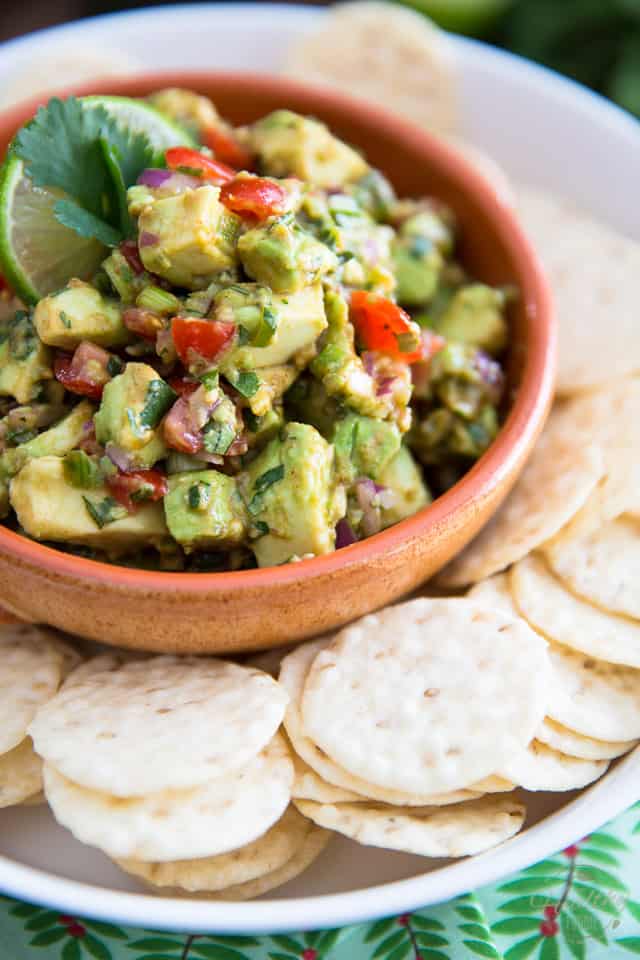 Give all those lovely ingredients a delicate toss and that's it! You're technically ready to serve.
If you have a few hours ahead of you, though, I strongly suggest that you cover your salsa real good and then send it for a little trip to the refrigerator. This will allow all the ingredients to mingle, have a little fun and get comfortable together. Trust me, after they've had a chance to do that, they will totally explode with flavor!
After all, it's a party for everyone. So let the fiesta begin!
Chunky Avocado Salsa
Quick and easy to make, delicious to eat AND super nutritious to boot, this Chunky Avocado Salsa is guaranteed to be a total hit at your next party!
Servings: 8 (±2 cups)
Ingredients
3 medium hass avocados, diced
15 cherry tomatoes, chopped
juice of 1/2 lime
2 green onions, finely chopped
2 tbsp finely chopped red onion
2 tbsp finely chopped cilantro
1 tbsp sriracha, or more or less, to taste
1/2 tsp salt, I use Himalayan salt
1/4 tsp ground cumin
Instructions
Combine all the ingredients in a mixing bowl and mix delicately until evenly distributed.

Serve immediately with tortilla chips or crackers, or, if time permits, cover tightly and refrigerate for a few hours to allow flavors to meld.
Nutrition
Calories: 89kcal, Carbohydrates: 6g, Protein: 1g, Fat: 7g, Saturated Fat: 1g, Sodium: 196mg, Potassium: 321mg, Fiber: 4g, Sugar: 1g, Vitamin A: 266IU, Vitamin C: 14mg, Calcium: 12mg, Iron: 1mg
If you've tried this recipe, please take a minute to rate the recipe and let me know how things went for you in the comments below. It's always such a pleasure to hear from you!
You can also FOLLOW ME on PINTEREST, FACEBOOK, INSTAGRAM and TWITTER for more delicious, healthy recipes!