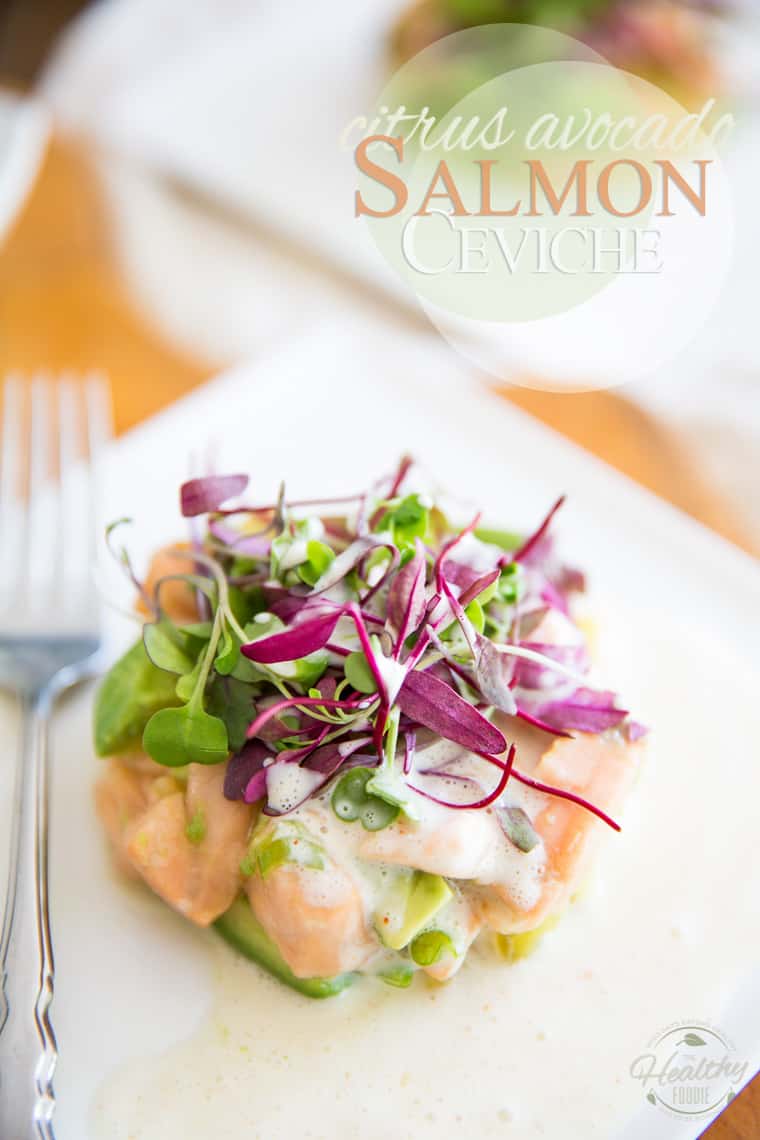 I know, I know, I'm not being all that original this week, serving salmon twice in a row… Not only that, but I'm also serving 2 fairly similar salmon dishes, too! How rude of me, right?
Well, I'm real sorry about that, but to my defense, I'd purchased this whole huge fillet of salmon and well, there was only me of me to eat it all, so something HAD to be done. Can you say Omega 3, though? Guess I got my dose, and then some, that week!
Since it also happened to be two hundred and fifty million degrees out these past couple of days, I didn't feel like eating much and the less I used the stove or oven, the happier I was. Cold, refreshing dishes were pretty much the only options for me. And well, there's only so many salads a woman can eat in a week…
Sure, I could've thrown that salmon on the grill, but can you think of anything more refreshing to make with a humongous fresh salmon fillet than a Citrus Avocado Salmon Ceviche? I don't think I can.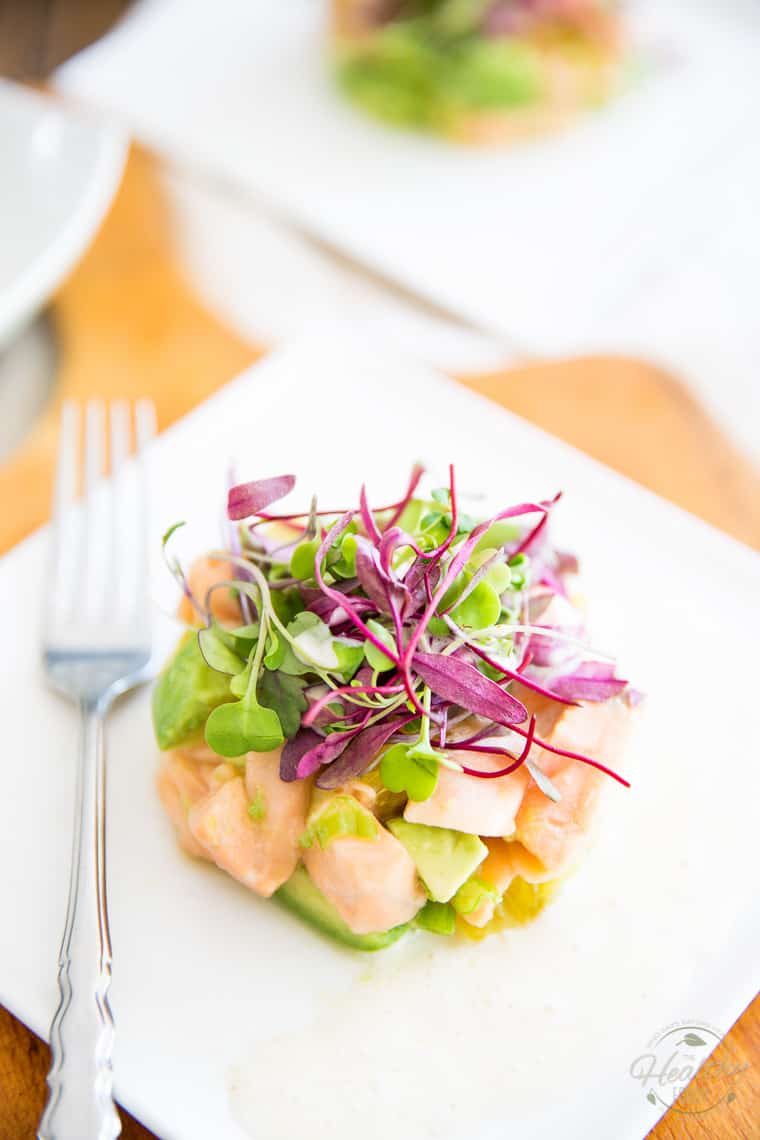 Plus, quite honestly, this thing was so good, I could've easily eaten it 3 times a day for the entire week, if it had been possible Unfortunately, this is the kind of dish that you have to prepare at the last minute and eat while it's still super fresh. Leftovers aren't something you should plan on, unfortunately…
The good thing is, though, it's super easy and fairly quick to make, so you could very well make a new batch every day, if you wanted to… provided that you still had some of that beautiful FRESH fish in the fridge. Because you don't want to go using fish that's been in the fridge for a while for this dish. Ceviche is something that you want to be making the same day that you buy your fish, or the next day at the very latest.
Then you need to plan for at least 45 minutes of resting time: that's the time that it takes for the acidity in the citrus juice to adequately cook the fish.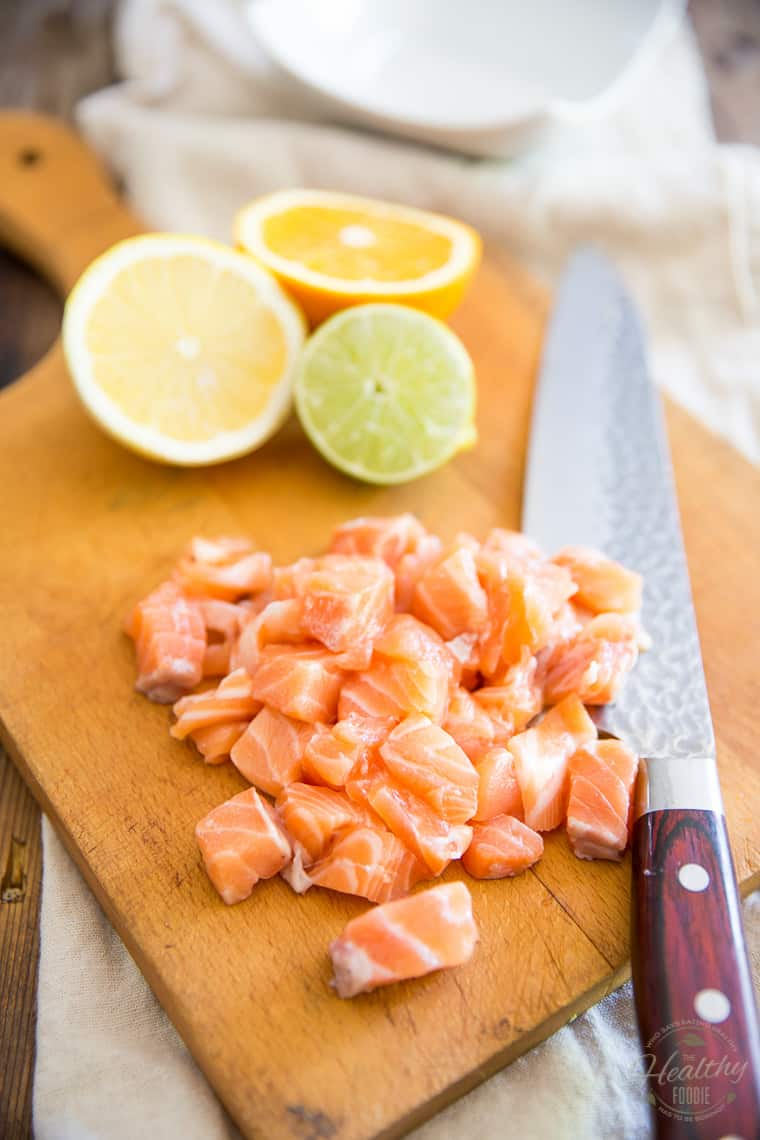 If your salmon fillet still has the skin attached to it, you'll have to either remove it or ask your fish monger to do that for you. Uncooked salmon skin isn't something that I would recommend you eat; it looks like it may be a bit chewy, you know. Not that I've eaten much raw salmon skin in my life, but I can very well imagine…
But I digress…
Cut the skinless salmon into 1/2″ cubes and place those cubes into a mixing bowl.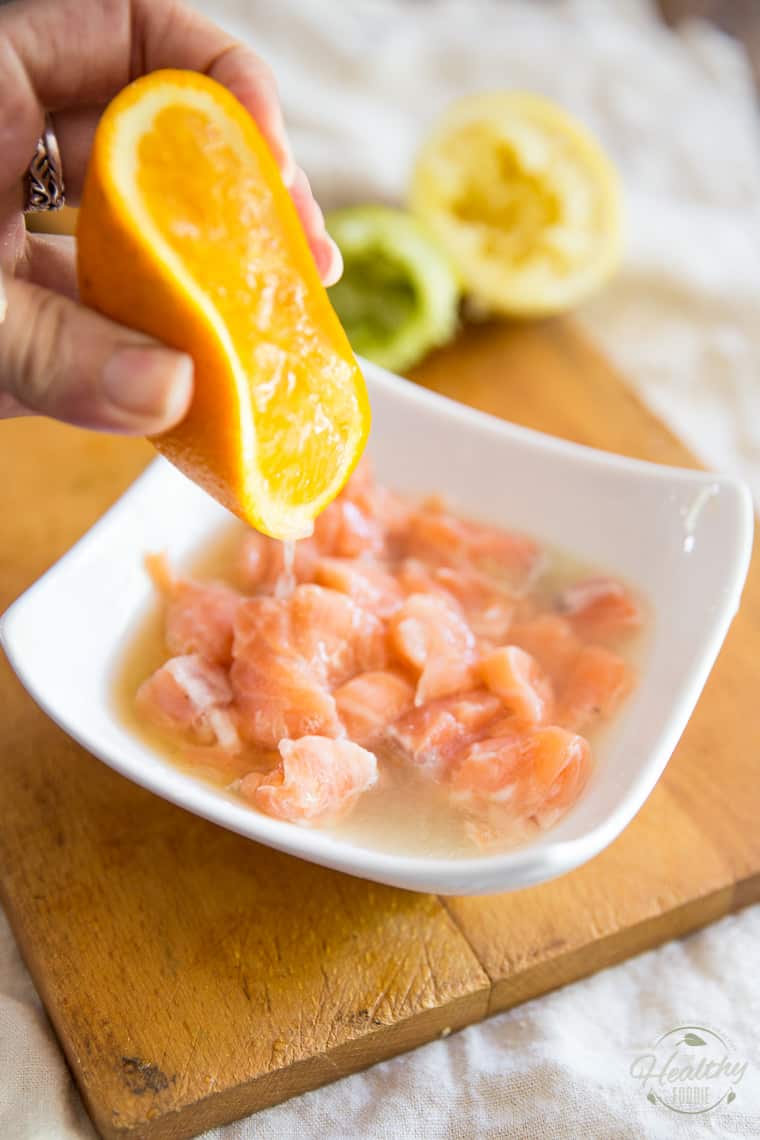 Sprinkle 1/4 tsp of salt over the cubed fish, then squeeze the juice of half the orange (hold on to the other half, you'll be using it later), half lemon and half lime directly into the bowl and over the fish.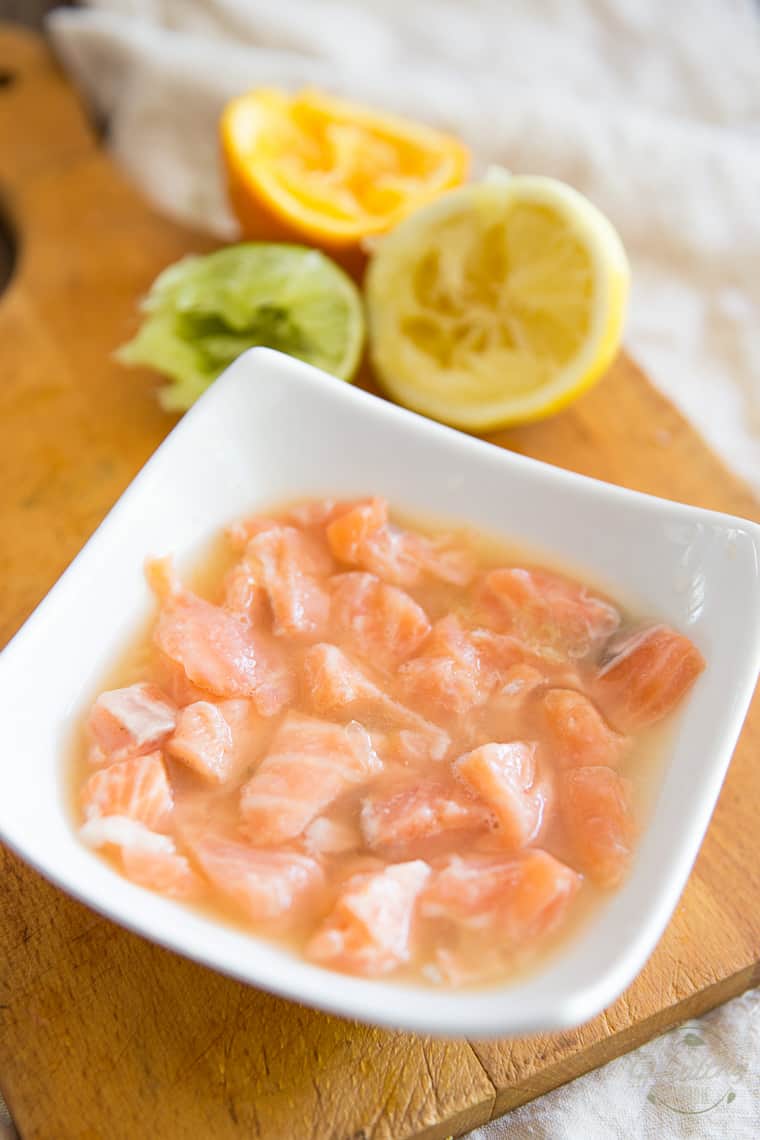 See how the acidity of the citrus juice instantly starts to cook the fish? It won't need to stay in that citrus-y bath for too long.
Stir well and send to the refrigerator for 45 minutes to 1 hour.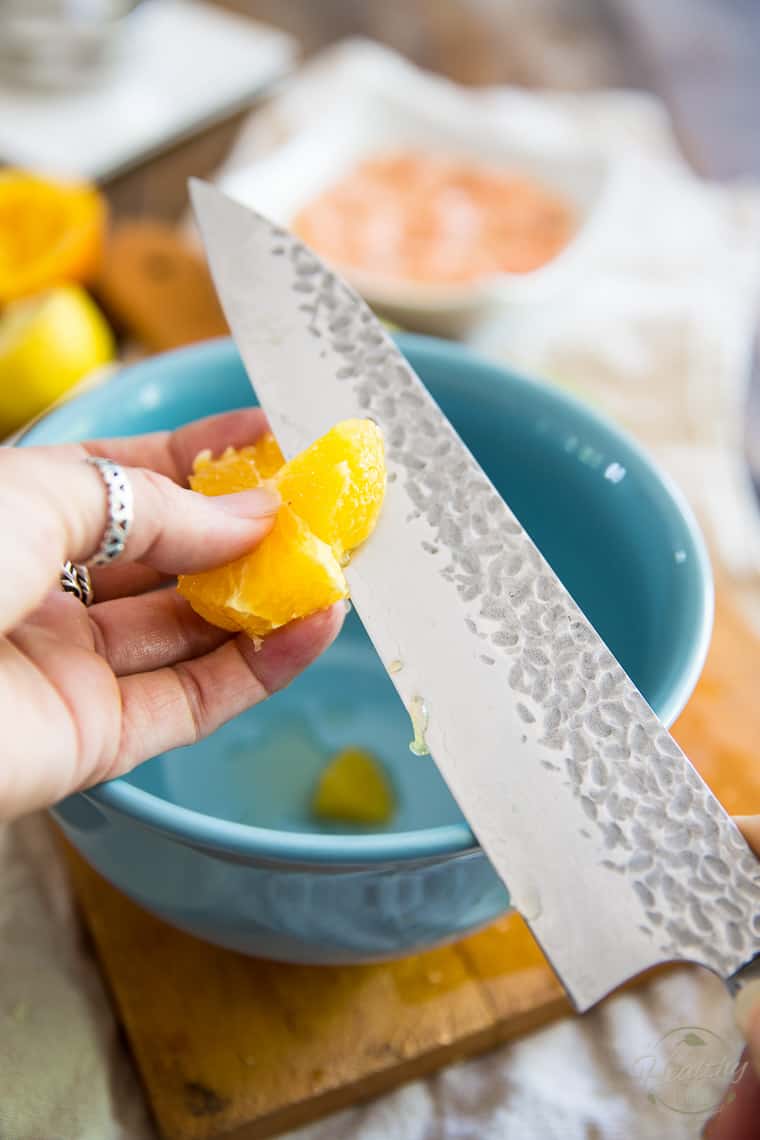 When the salmon is done curing, remove the peel and pith from the remaining half orange. Then, working over a bowl, carefully extract the flesh from between the membranes with the tip of your knife.
Let those pieces of orange flesh (also known as supremes) fall right into the bowl.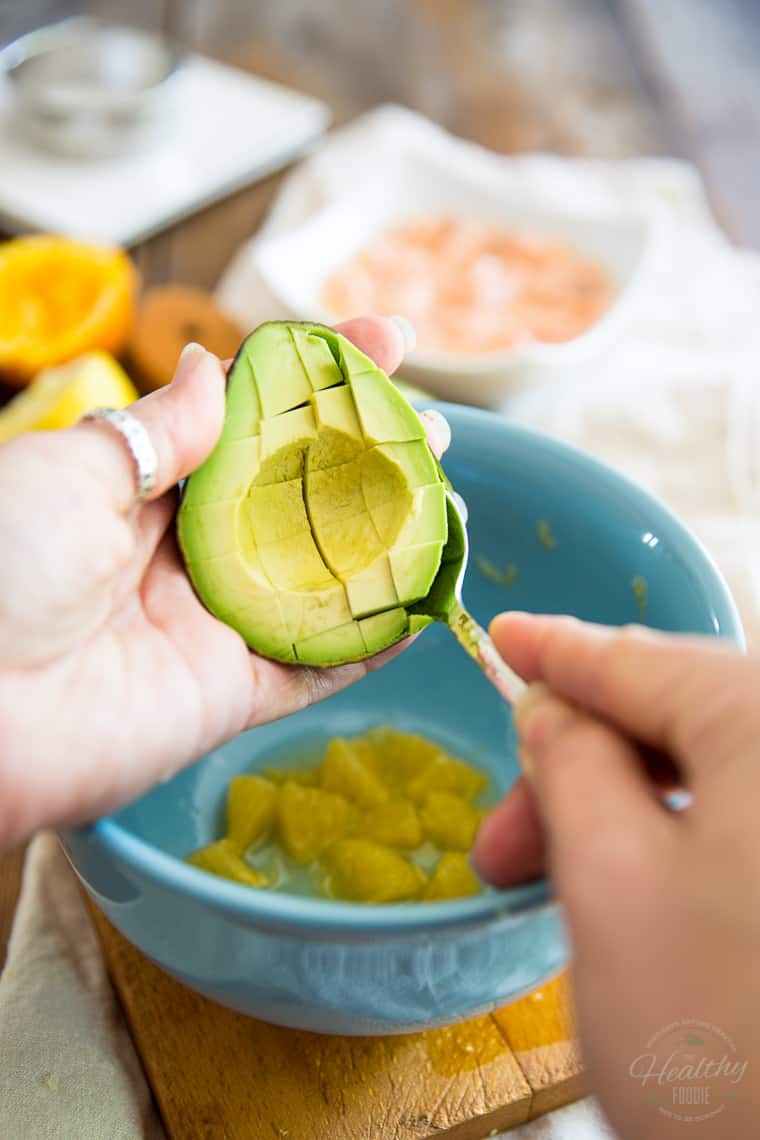 Add the diced avocado…
Surely you know that trick, right? To easily dice an avocado, use the tip of your knife to score squares into the avocado flesh, without cutting into the skin, and then carefully scoop the flesh out with a spoon.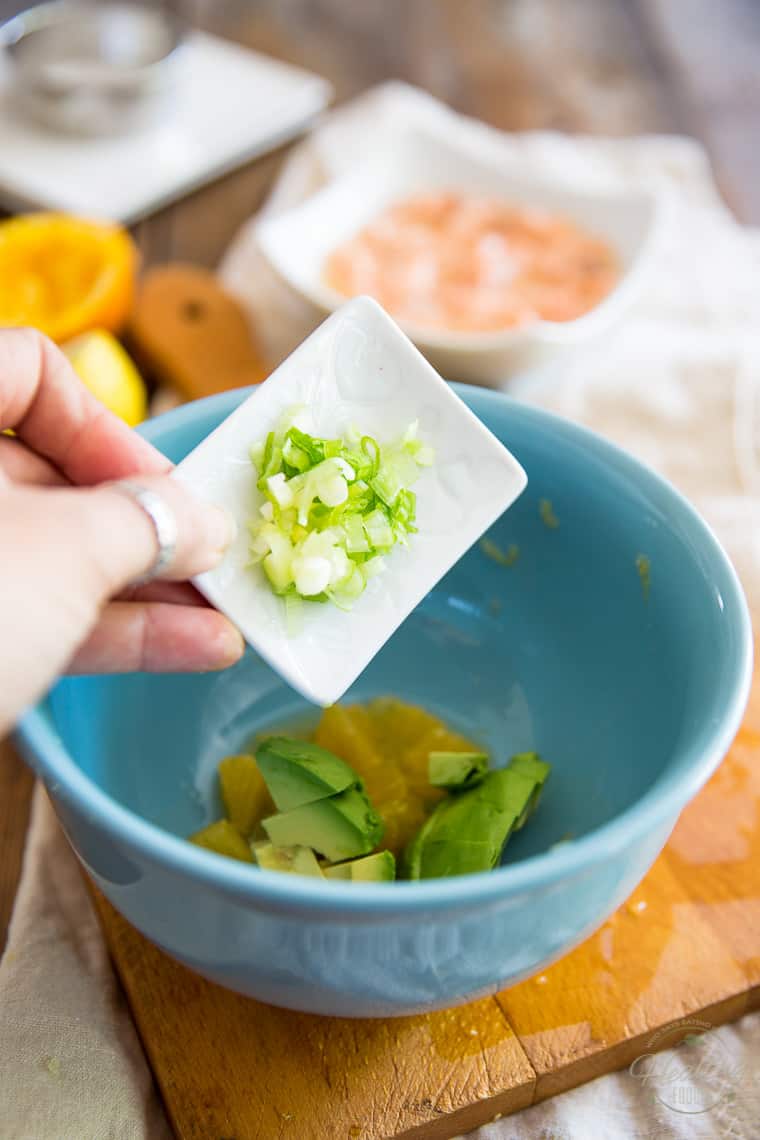 Now throw in the chopped green onion…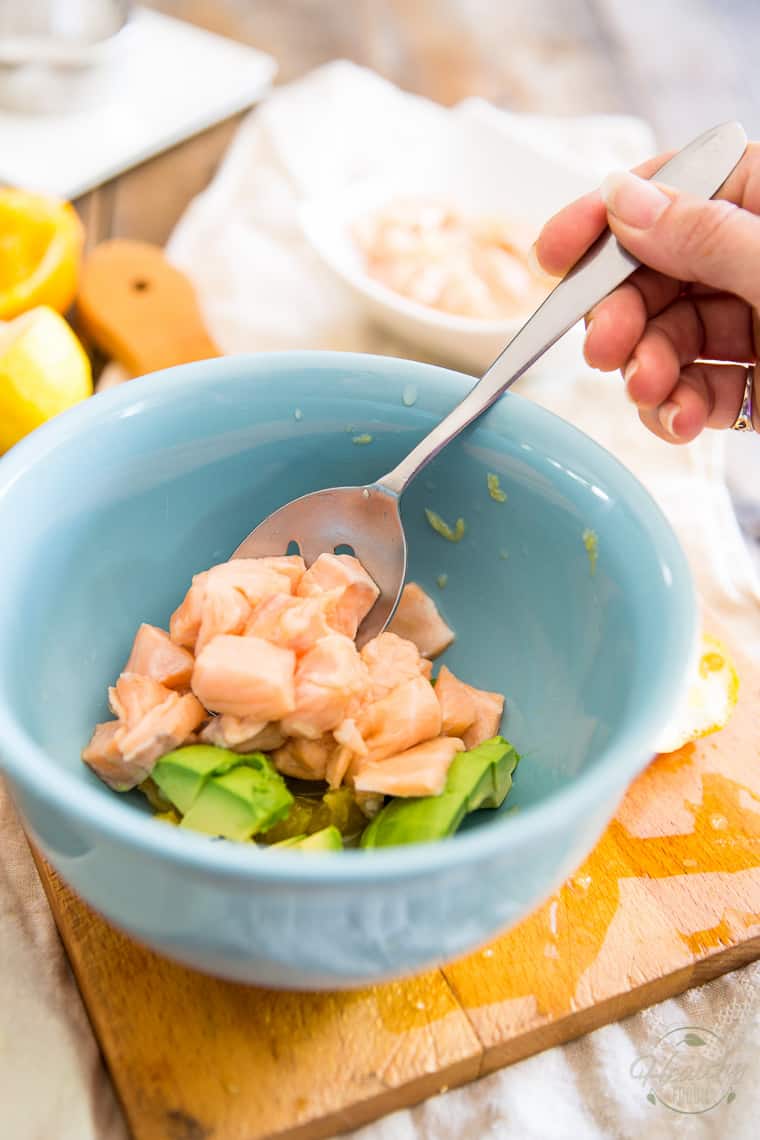 …and then carefully scoop out the cubes of salmon with a slotted spoon to add them to this bowl as well. Hold on to the citrus-y marinade, though: you'll be using it in a sec…
Mix delicately until just combined and set aside.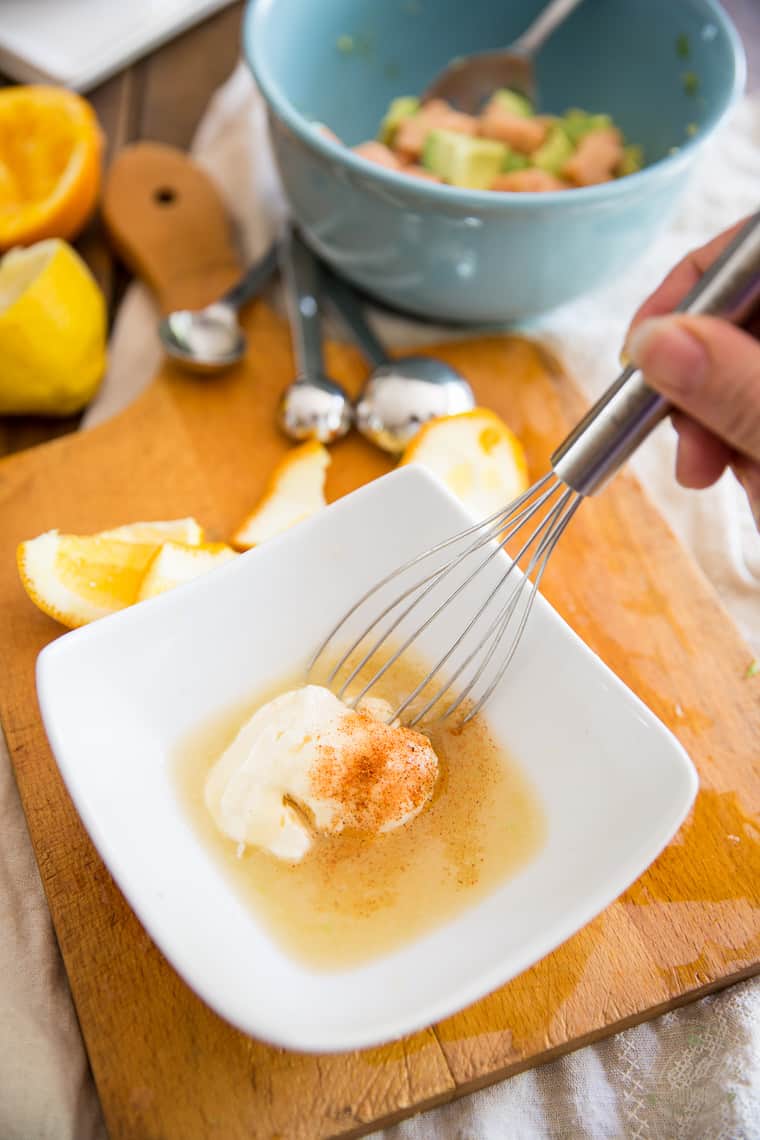 Now grab that citrus marinade and to it, add the mayo, honey and cayenne pepper…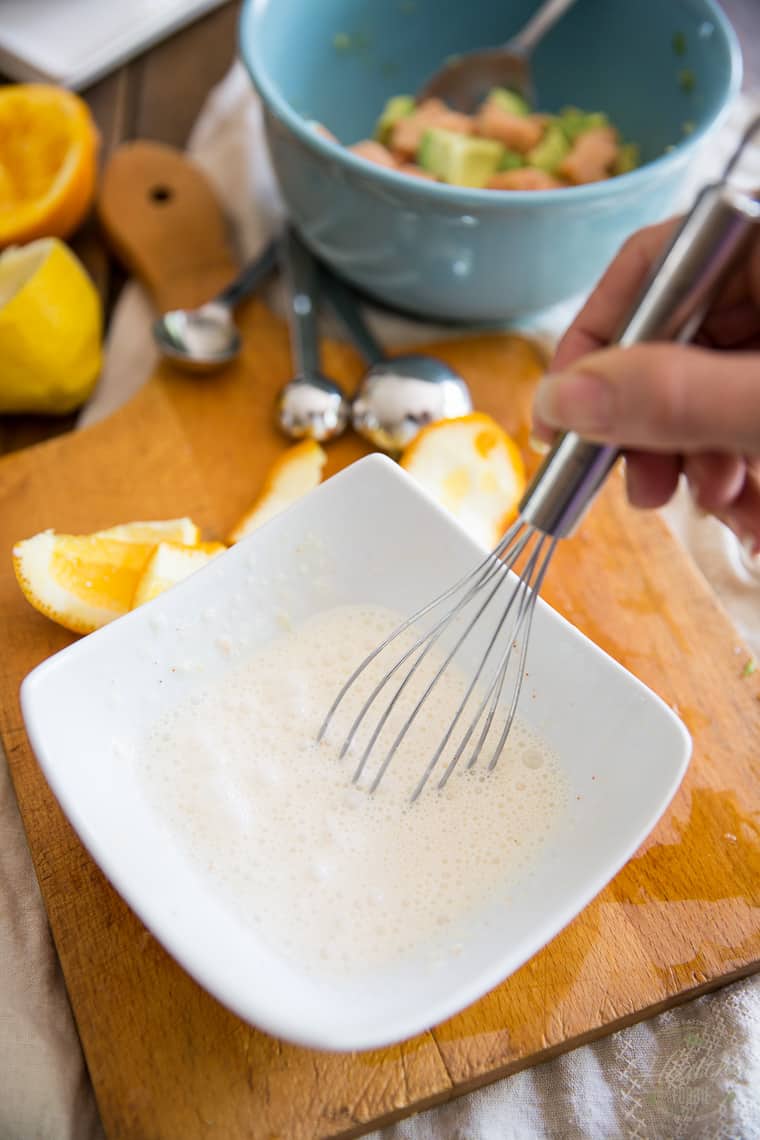 Mix with a whisk until well combined and slightly frothy.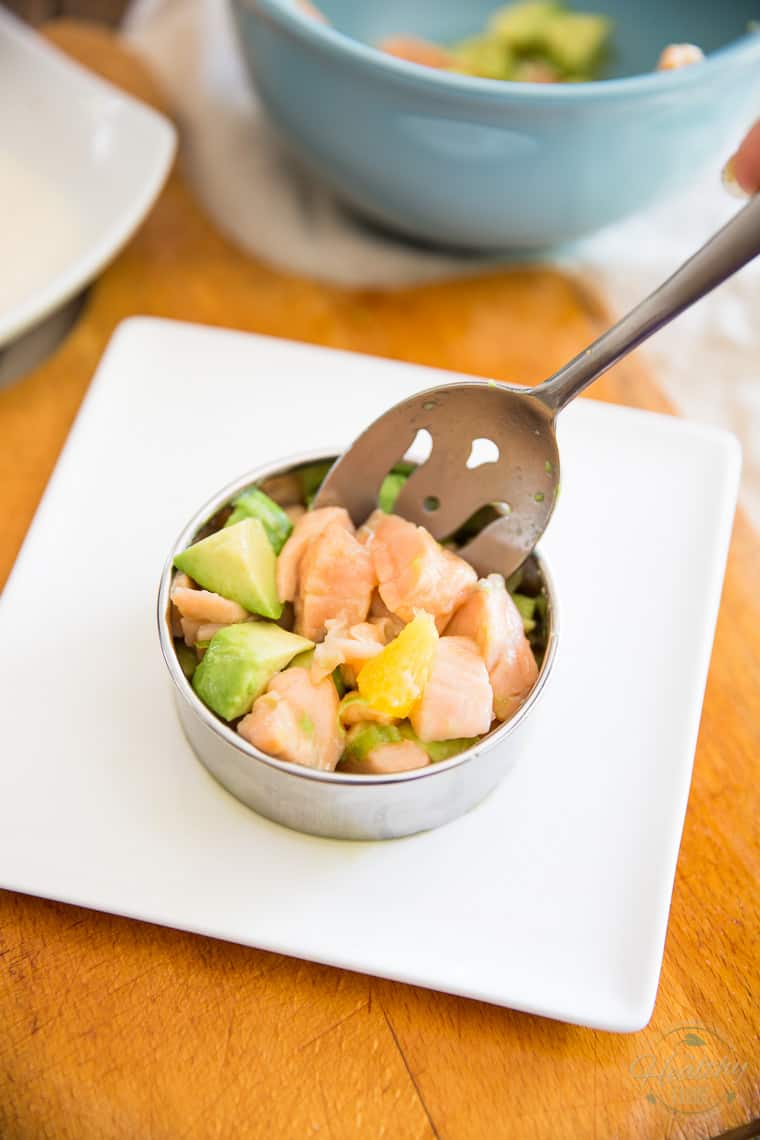 Place a 3″ cookie cutter on a serving plate; spoon half of the salmon mixture into the pastry cutter and gently press it down with the back of a spoon.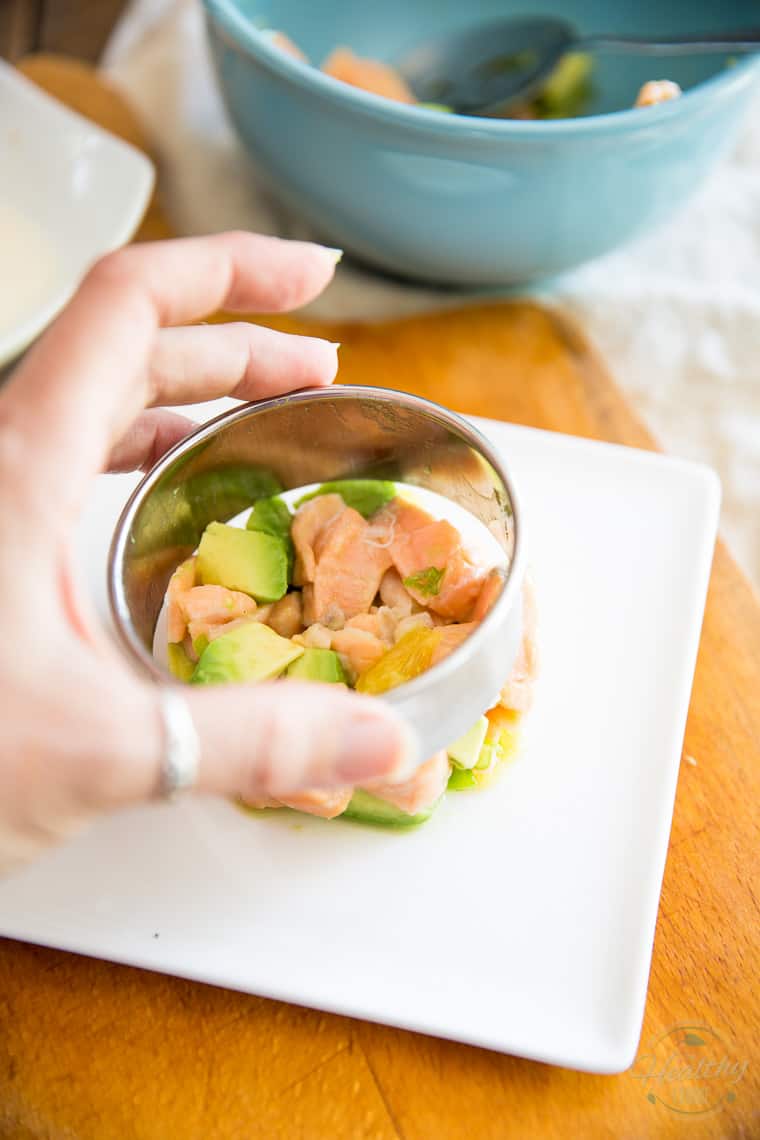 Carefully remove the cutter and repeat the process with the remaining salmon mixture on a second plate.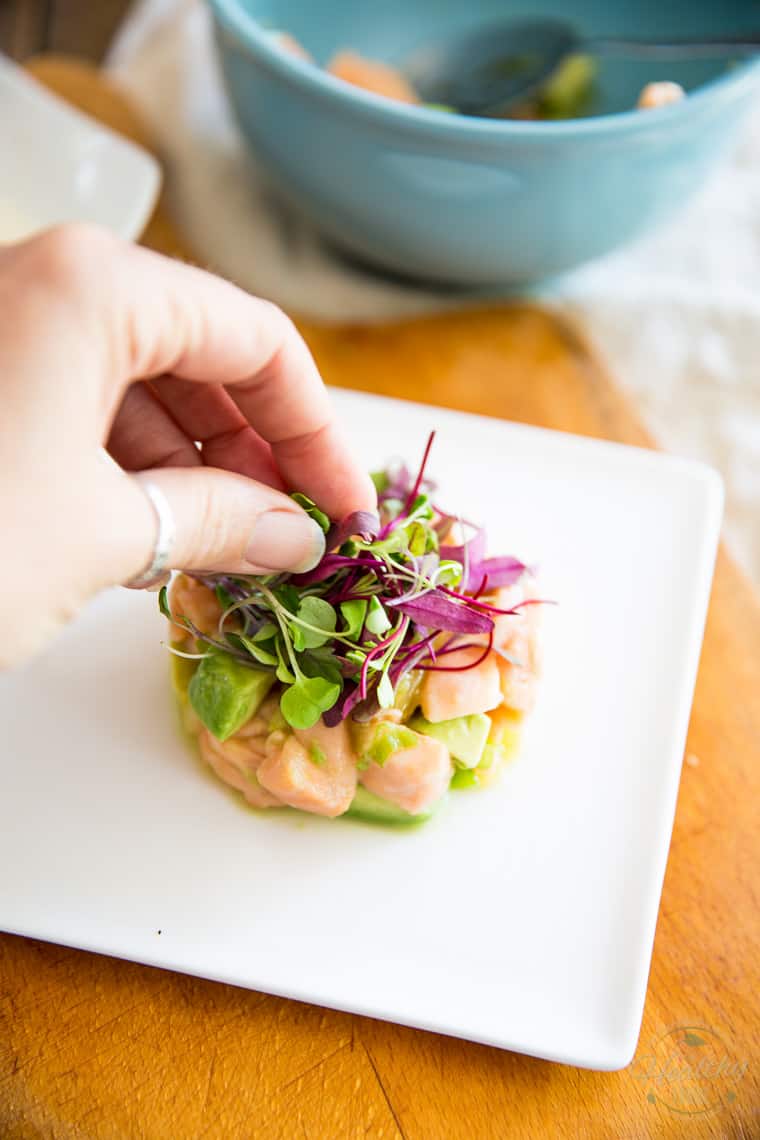 Garnish with a handful of micro-greens; I used a colorful zesty Mediterranean mix.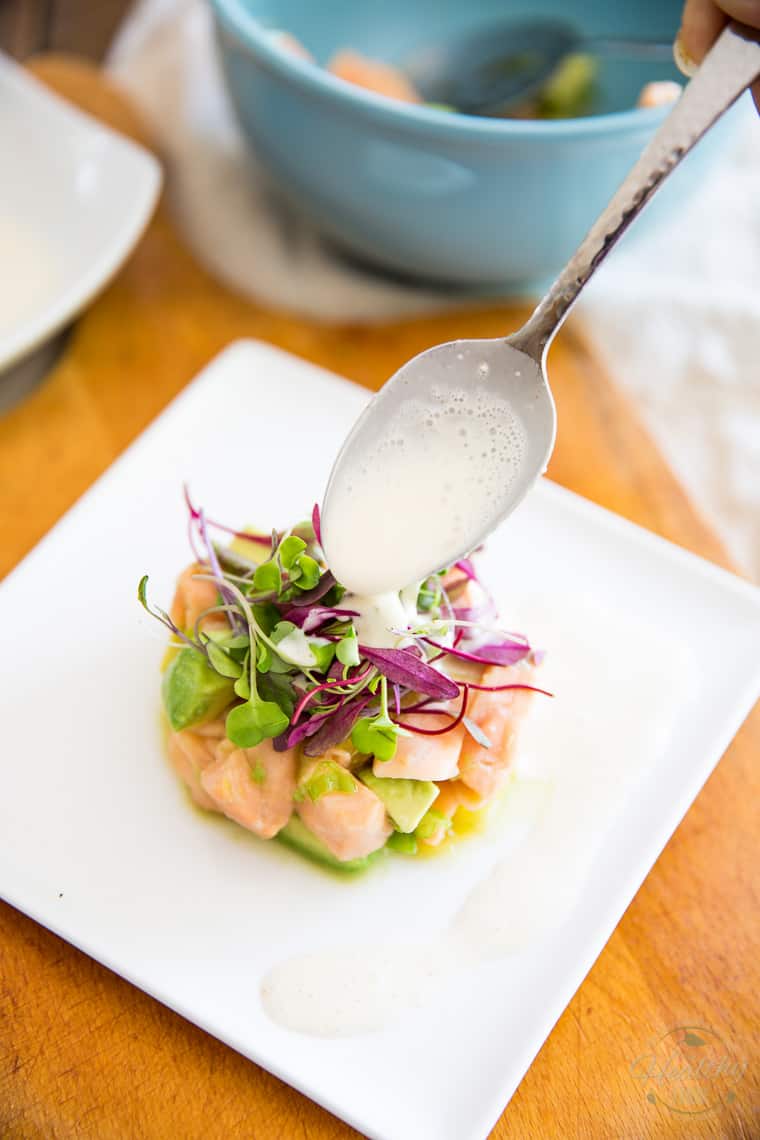 Finally, top with a few tablespoons of the creamy citrus vinaigrette.
If your ceviche should release a little bit of unsightly excess liquid after you plated it, delicately wipe it off with the corner of a folded paper towel. This is an old professional kitchen trick that works like a charm!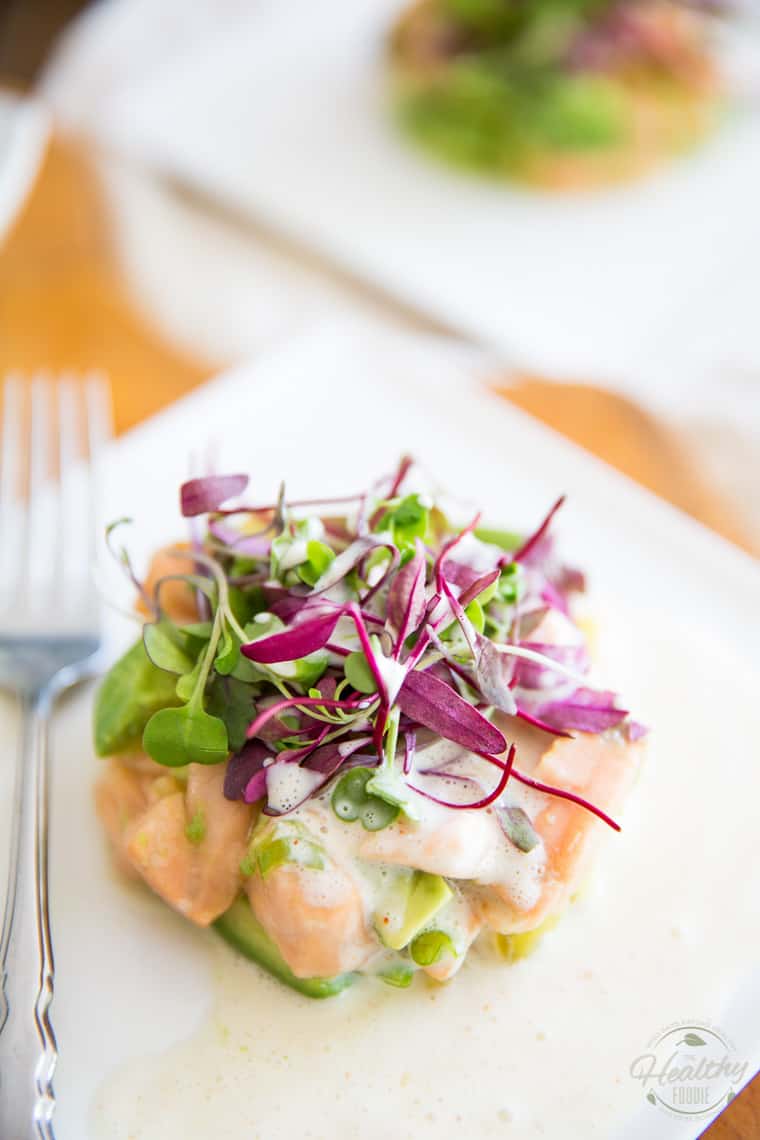 Your Salmon Ceviche is now ready to be served, and most of all, enjoyed!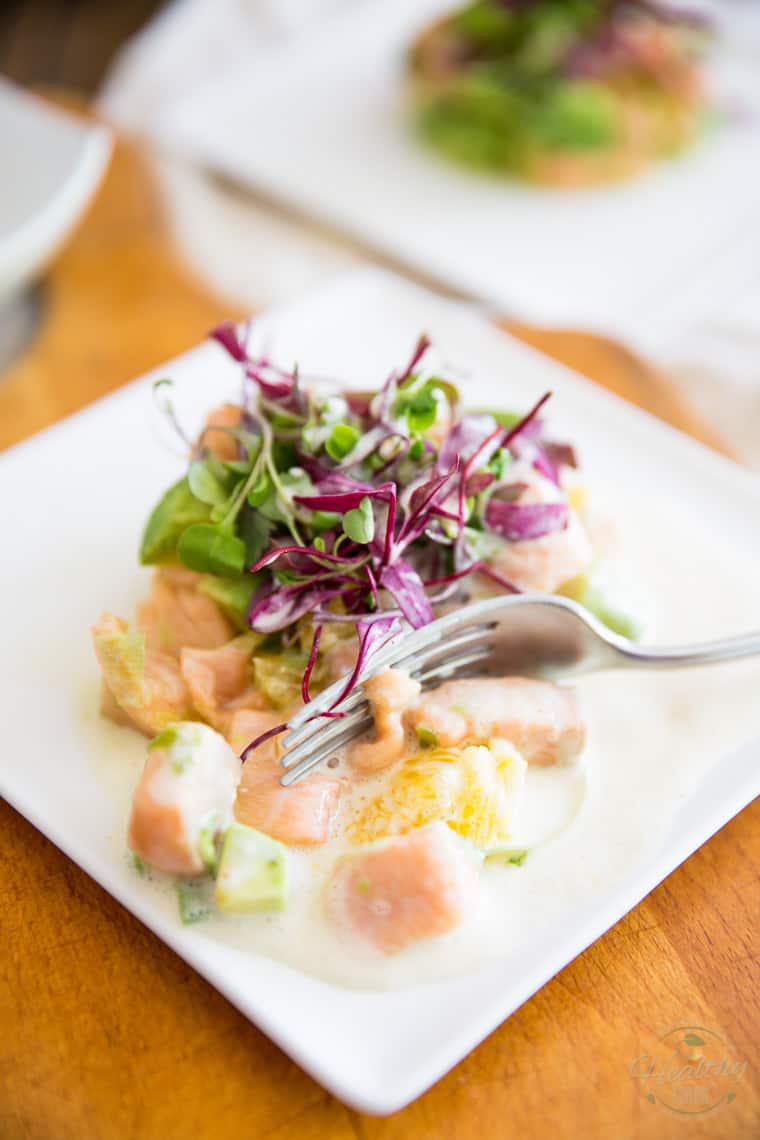 Citrus Avocado Salmon Ceviche
Instructions
Cut the salmon into ½" cubes and place it in a mixing bowl. Sprinkle salt over the fish, then squeeze the juice of half the orange, half lemon and half lime directly into the bowl and over the fish. Stir well and send to the refrigerator for 45 minutes to 1 hour.
When the salmon is done curing, remove the peel and pith from the remaining half orange, and then, working over a bowl, carefully extract the flesh from between the membranes with the tip of your knife. Let those pieces of orange flesh (also known as supremes) fall right into the bowl.
Add the diced avocado and chopped green onion to the bowl, and then carefully scoop out the cubes of salmon with a slotted spoon to add them to this bowl as well (hold on to that marinade, you'll be using it in a sec). Mix delicately until just combined and set aside.
To the citrus marinade, add the mayo, honey and cayenne pepper and mix with a whisk until well combined and slightly frothy.
Place a 3" cookie cutter on a serving plate; spoon half of the salmon mixture into the pastry cutter and gently press it down with the back of a spoon. Remove the cutter and repeat with remaining salmon mixture on a second plate. Garnish with a handful of micro-greens and top with a few tablespoons of the citrus vinaigrette. Serve immediately

Nutrition Information
Serving size:
NF based on 1 of 2 servings