Coconut Shrimp Curryless Curry
If you've tried, or even read a few of my recipes, you've probably noticed one thing about me: I'm not really one to use big and bold spices. I prefer to use a few herbs and a little bit of salt and pepper.
Very rarely will you see me bring out the big arsenal, such as coriander, turmeric, cumin or that yellow stuff that's known as curry powder. Oh, I do use them from time to time, but when I do, it's always with great parsimony…
In my opinion, these spices are just so fragrant that they tend to overpower the natural flavors of the original ingredients… which is not something I appreciate, unless the base ingredients also happen to be big and bold, or, my apologies to these poor ingredients, a tad boring perhaps…
But if I am going to have something as good, as decadent, as flavorful and unbelievably delicious as coconut milk, trust me, I do not want to lose any of that wonderful flavor! It's got to play the main role, to become the center of attention, without having to do so much as lift a finger. Never would I dare send it to the back of the room, forcing it to jump up and waive its arms in the air to get a chance at MAYBE getting noticed.
No way! It needs to be the star of the dish.
And this is exactly what it does here. It shines as the true star of this curryless curry, yet, it willingly and diligently shares the honors with the rest of its platemates.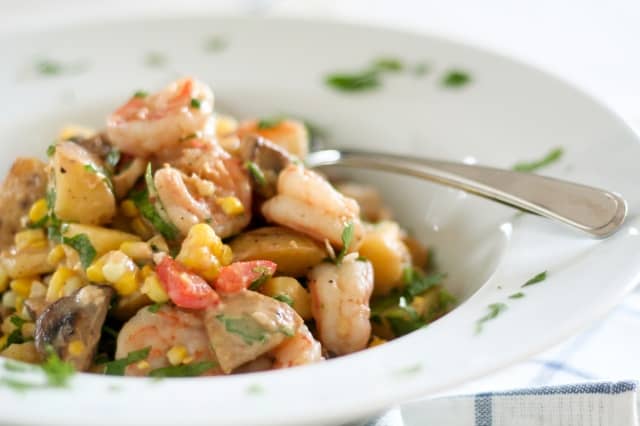 This, to me, is the ultimate comfort food. I could eat this every day of the year. Well, alright… let's make it every other day.
It's a beautiful celebration of flavours and textures, where the sweetness of the coconut meets the delicate taste of the shrimp and the creaminess of the potatoes complements the explosive crunchiness of the corn. Everything just blends together so perfectly well.
And best of all, you get to taste and appreciate the subtelties of ALL the different flavors.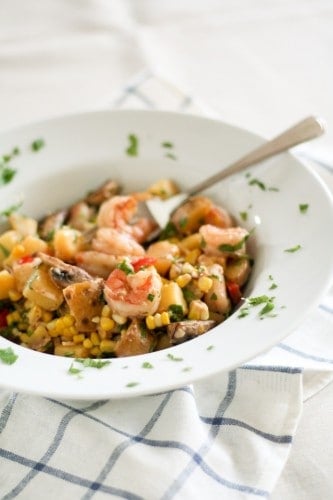 INGREDIENTS
(Serves 2-3)
4 small Yukon gold potatoes, quartered
100g mushrooms, quartered
½ red bell pepper, chopped
½ tsp salt
¼ tsp black pepper
2 cups cooked corn kernels (I used oven roasted)
150g raw shrimps
½ tsp sriracha (or other hot sauce)
½ cup coconut milk
½ cup water
the juice of half a lemon
2 tbsp fresh coconut, grated
2 tbsp fresh parsley, chopped
INSTRUCTIONS
In a medium saucepan, bring salted water to a boil and add the potatoes. Lower heat to medium and cook the potatoes until they are tender but still firm. Drain and set aside.
Brown the mushrooms over medium high in a large skillet. Lower the heat to medium, add bell peppers, salt and pepper and cook until tender, about 2-3 minutes.
Toss in the shrimp and continue cooking until the shrimp turn pink, about 2-3 minutes. Add corn, potatoes, coconut milk, water, sriracha and lemon juice.
Lower the heat and simmer for a few minutes, stirring from time to time. This will allow the flavors to infuse and the sauce to thicken some.
When sauce is thick enough, stir in the grated coconut and chopped parsley.
Serve immediately.