Cold Chicken Strips – The Utlimate Cold Cuts Replacement!
I used to think that no cold buffet would be complete without the traditional plate of assorted cold cuts and charcuterie. I guess it probably had a lot to do with the fact that, one, I was a mega carnivore, and two, I thought cold cuts were just so unbelievably good. I know so much better now.
Oh, don't get me wrong, I still think that cold cuts taste awfully good, but from a nutrition standpoint, trust me, these things don't fly very high… Plus, I find it very hard to completely erase from my mind all the nasty stuff that goes in the making of these types of cold cuts, and I'm not only talking fat, salt and additives here, I'm talking about all the "uninviting" parts of the animals that are being used….
I'm sure that, if I ever saw a batch of cold cuts being made, I would never, ever put another piece in my mouth, ever again.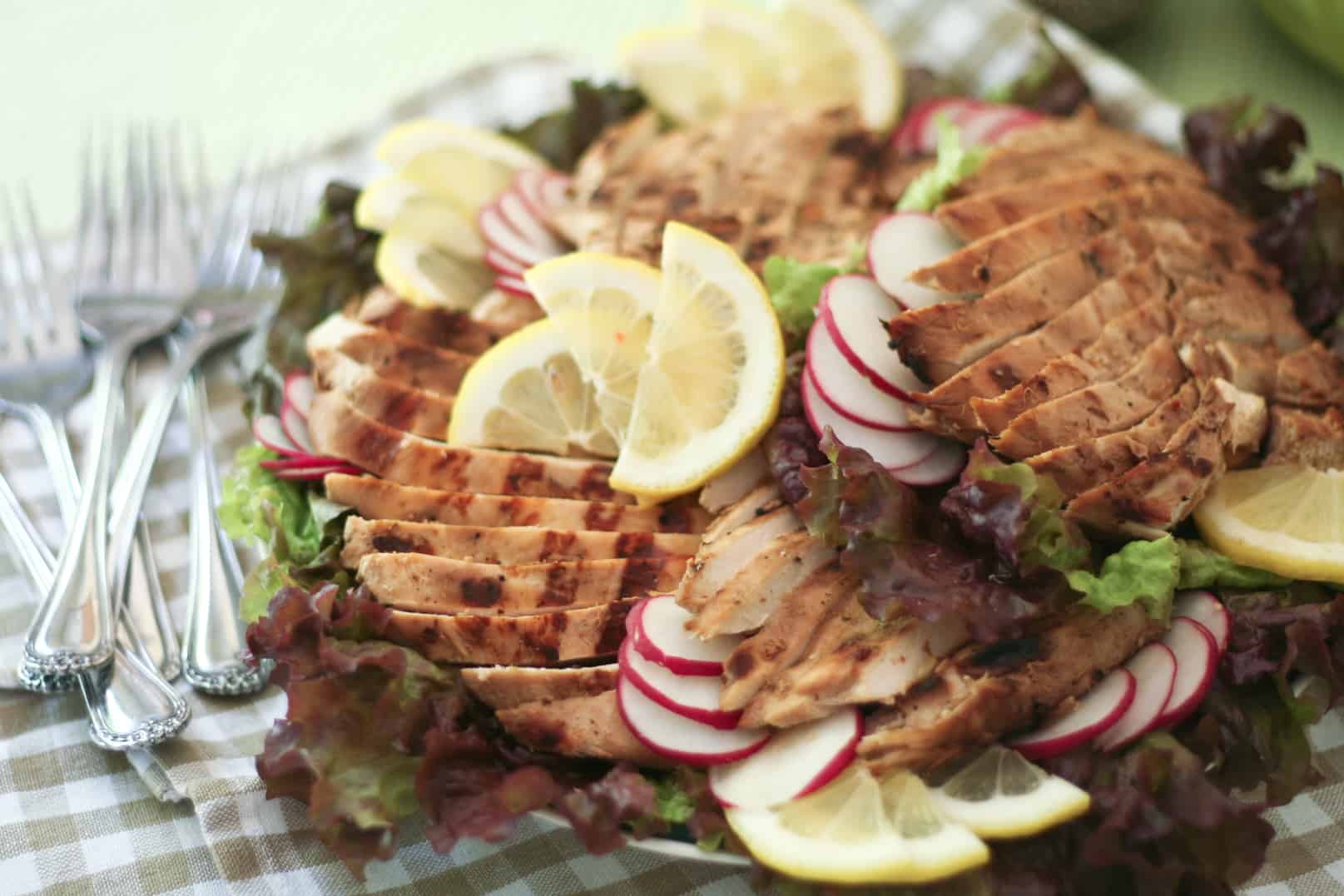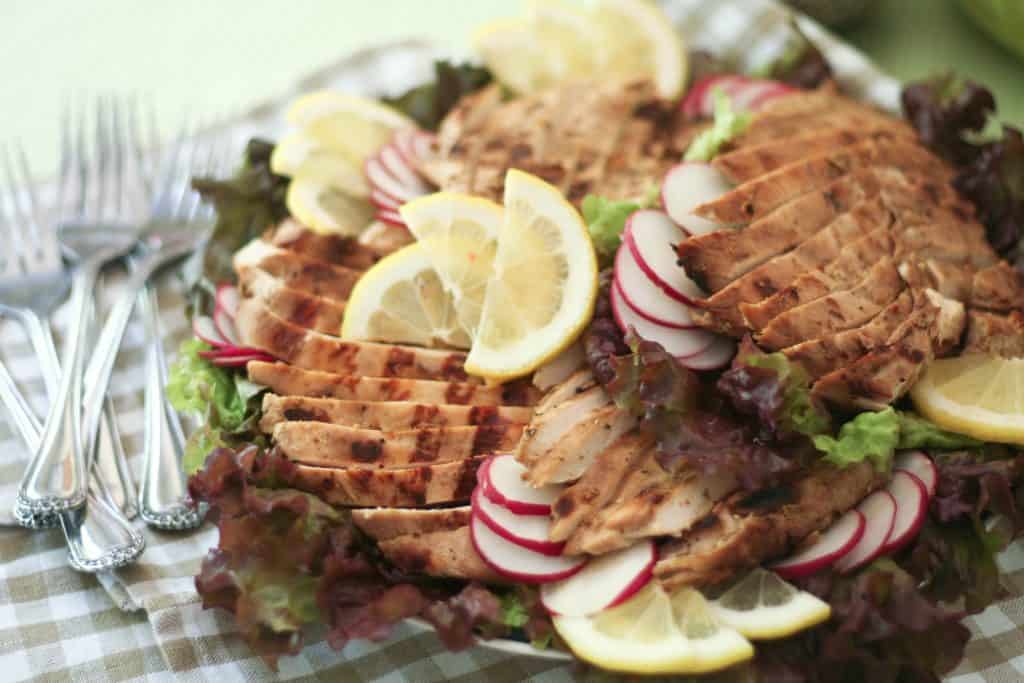 Still… if, like me, you find that sometimes you must supply your guests with a plate of some kind of cold meat that they can easily eat with their fingers, I find that these beautiful cold chicken strips are the perfect replacement. They look pretty, they taste great, they are a very good source of protein, and best of all, you can tell exactly what went into making them, and you can name all the ingredients that were used (you probably can name them by heart to, there aren't that many…)
I only did one flavor here, but you could really play with that endlessly. You could make a different marinade for each chicken breast if you wanted to, this way you get a platter of assorted chicken strips. You could try flavors such as honey mustard,  lemon thyme garlic, orange rosemary, raspberry and balsamic vinegar… let your imagination guide you. Also, I find that these are plenty tasty as is, but you could also create all sorts of dipping sauces to go with them.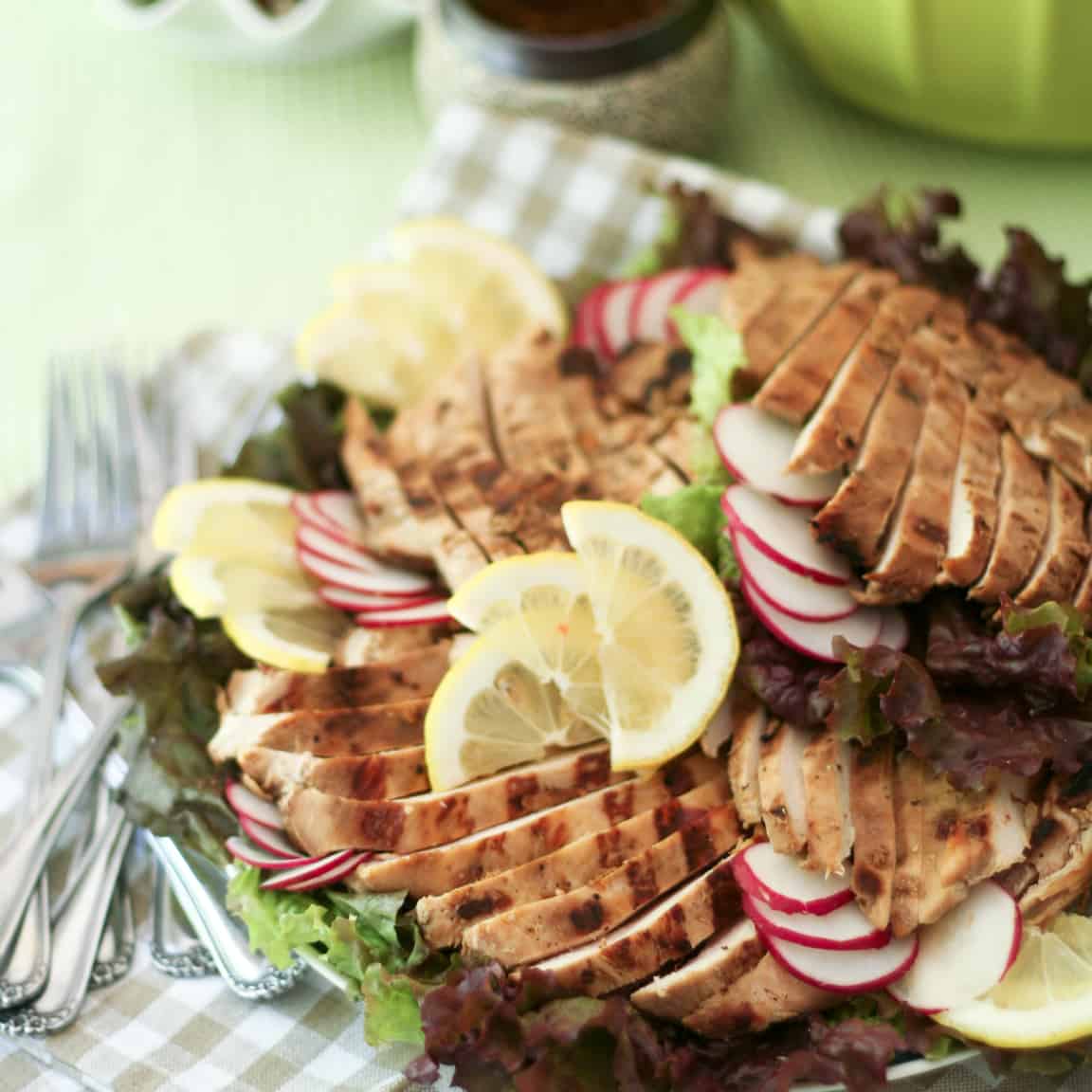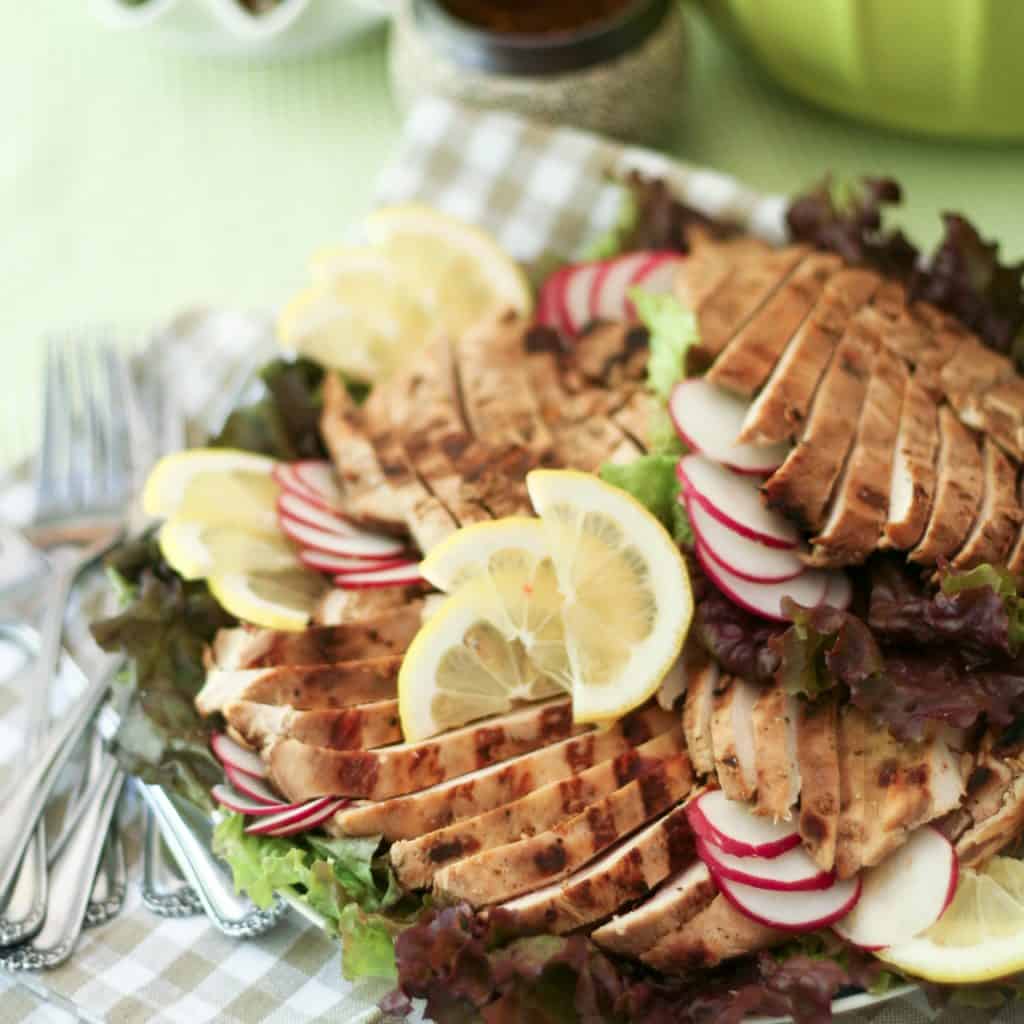 Also, just like cold cuts, these cold chicken strips are super convenient to keep in your fridge, or in your freezer. .. Then you can easily reach for a few slices and quickly turn them into healthy afternoon snack, by pairing them with a few veggies, or whole grain crackers, low fat cottage cheese or hummus.
You could also add a few strips to your favorite salads for some added lean protein. Stuff them into a whole wheat pita bread or tortilla, add a few veggies, say avocado, alfalfa sprouts and olives, maybe?, a dollop of plain yogurt a few herbs and spices and you've got yourself an instant healthy wrap.
See what I mean? Just as convenient as cold cuts, only much better for you!
Cold Chicken Strips – The Utlimate Cold Cuts Replacement!
Servings: 12
Ingredients
4 large chicken breasts
75 g fresh ginger, grated (no need to peel)
¼ cup soy sauce
3 tbsp rice vinegar
¼ cup lemon juice
1 tbsp mirin
1 tbsp honey
3 garlic cloves, minced
½ tsp salt
½ tsp pepper
Instructions
Mix all the ingredients of the marinade in a small mixing bowl. Set aside.

Pound the chicken breasts until they are about 1cm thick.

Pour half the marinade in a shallow non metal baking dish. Add chicken breast and pour the rest of the marinade over the chicken.

Cover with a plastic film and place in the refrigerator to marinate for at least 8 hours.

Preheat your grill to medium-high heat

Remove the chicken breasts from the marinade place them on the grill. Close the lid and let the breasts cook for about 5-6 minutes then flip them over.

Continue cooking for about 5 minutes, or until cooked through.

Allow the chicken breasts to cool completely in the fridge before cutting them into strips.
If you've tried this recipe, please take a minute to rate the recipe and let me know how things went for you in the comments below. It's always such a pleasure to hear from you!
You can also FOLLOW ME on PINTEREST, FACEBOOK, INSTAGRAM and TWITTER for more delicious, healthy recipes!