Cranberry, Apple and Bacon Stuffed Acorn Squash by Mellissa of I Breathe… I'm Hungry…
Mellissa and I started blogging pretty much at the same time. What's funny is we were both checking each other out for inspiration, thinking the other one had been around for way longer than they actually had. 
Years later, I still go to Mellissa for inspiration, especially when it comes to low carb eating. Keeping carbs on the low side has always been somewhat of a challenge for me, but it seems like it's become a second nature for Mellissa; she simply is the queen of low-carbers!
She comes up with a myriad of recipes that, despite being reduced in carbs, literally explode with flavors and creativity. Hey, she even wrote a book on the subject, so I guess she knows a thing or two about this. Oh, and did I mention her recipes were also gluten free? Right on! 
Oh, I almost forgot: if you're a fan of meatballs, know that every Monday, Mellissa posts a new and unbelievably creative meatball recipe.
And when I say unbelievably creative, I mean un-bah-lee-vah-bly creative. For instance, can you say Loaded Nacho Meatball?
Oh yeah! She did. So be sure not to miss out!
I know I don't!
_________________________________________________________________________________
When I started my own blog in the summer of 2011, I knew next to nothing about blogging. One of the ways I learned what to do (and more importantly not to do) is by following other bloggers that I respected. One of the very first blogs I ever followed was The Healthy Foodie. I was instantly drawn to Sonia's beautiful food styling and photography, as well as her enthusiasm for food and unusual ingredients. I had no idea that her blog was only a few months older than my own at the time – she was such a professional and made it look so easy!
While Sonia and I hold a lot of the same food values now that she's gone Paleo, it wasn't always so! I used to tease her all the time in the comments that her recipes looked amazing, but could be so much better with the addition of bacon! I'd always crack myself up knowing she'd be horrified because bacon was just SO UNHEALTHY!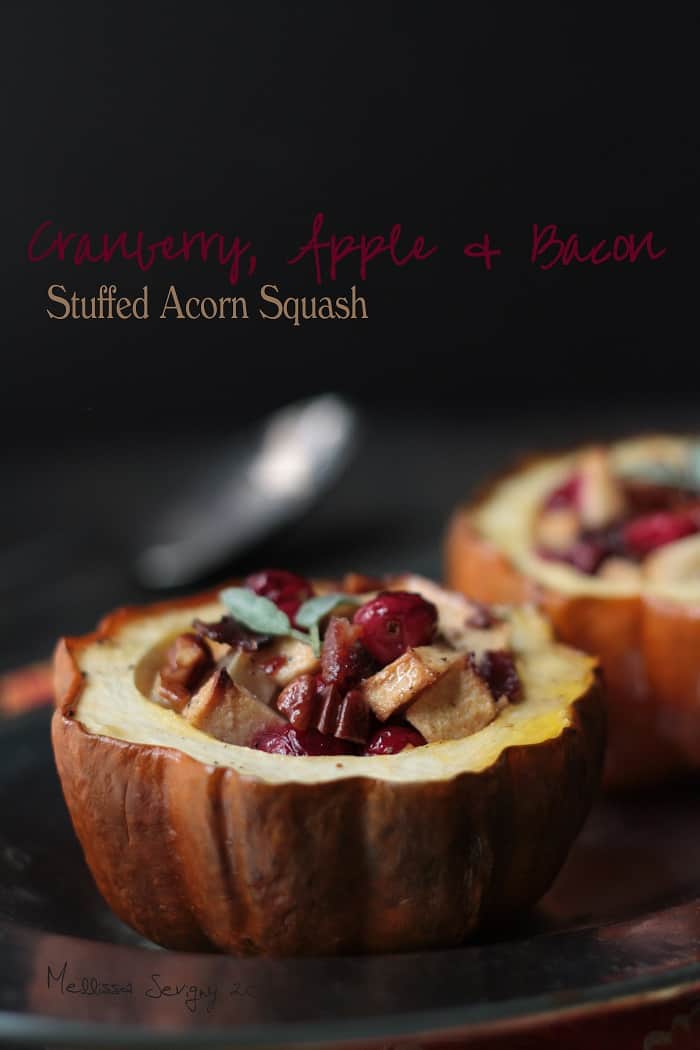 No one was more excited than I was (except maybe her!) when Sonia embraced the Paleo lifestyle and all of the delicious healthy fats (read: bacon) that it can include. Now she puts me to shame and renders her own lard! If you've been stalking Sonia as long as I have, you probably never saw that one coming either!! You go girl!
When Sonia asked me to guest post for her while she was on vacation, I was equal parts flattered and terrified! Her recipes are so creative and her photography so beautiful, I worried that I wouldn't do her justice. I agonized (seriously!) over what to make for all of you, and in the end I decided on this relatively simple stuffed acorn squash. The flavors are warm and comforting, and it's very easy to put together which is my favorite kind of recipe! It's also pretty enough for entertaining, but simple enough to make just because you feel like it.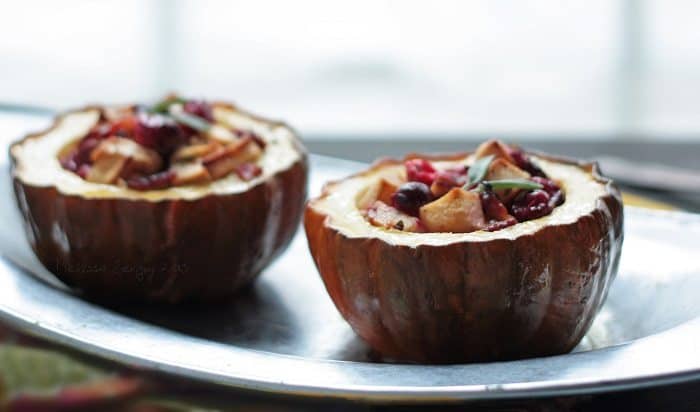 Of course I put bacon in it, I just had to! What's nice though is that this recipe is quite versatile, so it can be altered easily to work for pretty much all of you. Vegetarian? Simply omit the bacon. Doing the Whole 30? Replace the butter with ghee, omit the maple syrup, and you're good to go. Nut allergy? Skip the pecans. See? Easy!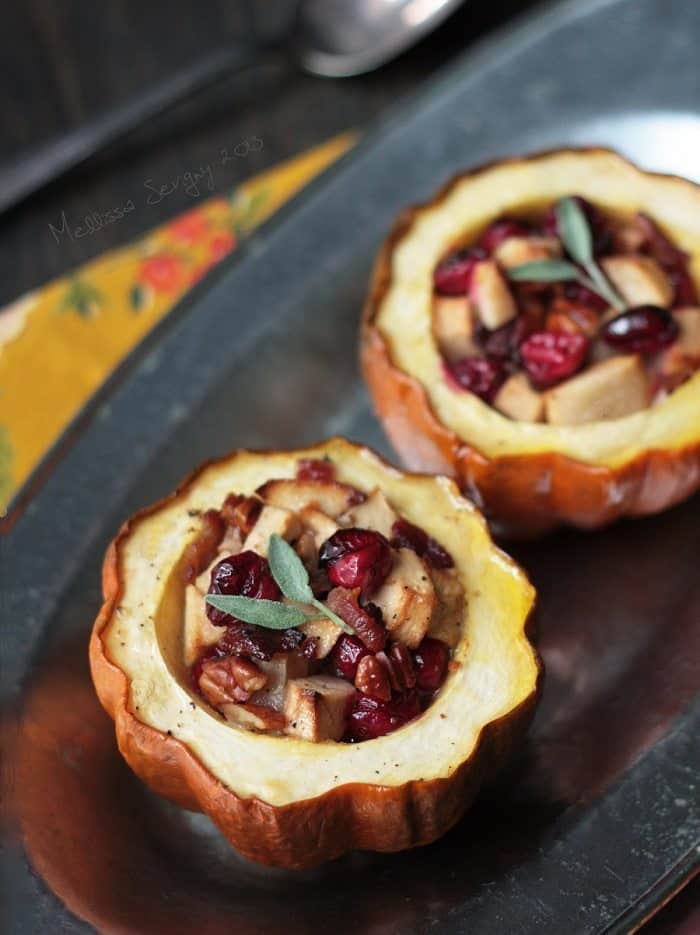 I hope that you guys will try this recipe, and that you'll let us know what you think. Also, please feel free to visit me over at I Breathe I'm Hungry any time, I love company! As long as you're not afraid of bacon, I'm sure we'll get along just fine. 😉
A huge thanks to Sonia for hosting me over here at The Healthy Foodie – it almost makes up for the fact that she's on an amazing trip right now and I'm stuck at home working! Have a great time Sonia, and then get back here and start cooking for us again ASAP! We miss you!
Cranberry, Apple and Bacon Stuffed Acorn Squash by Mellissa of I Breathe… I'm Hungry…
Servings: 4
Ingredients
2 acorn squash
2 large apples, peeled and chopped
3 slices of bacon, raw
1/3 cup raw cranberries
2 Tbsp pecans, chopped
2 Tbsp fresh sage, chopped
3 Tbsp butter or ghee
2 Tbsp maple syrup, or honey
Instructions
Wash the squash and trim both ends so that the halves will lay flat – be careful not to cut too much or there will be a hole in the bottom. Cut the squash in half and scoop out the seeds. Lay the halves on a cookie sheet. Season with salt and pepper.

Cook the bacon in a medium saute pan until crisp. Remove the bacon, chop and reserve. Add the apples, cranberries, pecans, sage, butter (or ghee) and maple syrup to the pan with the bacon fat. Cook until the butter is melted and toss to coat. Add the bacon back into the mixture and stir.

Spoon the stuffing equally between the 4 squash halves. Brush any extra sauce over the filling and edges of the squash so it doesn't dry out during roasting.

Roast in a 325 degree oven for about 45 minutes to an hour, or until the squash is tender.*

Serve garnished with fresh sage and an additional drizzle of maple syrup if desired.

Enjoy!
Notes
*If you are short on time, you can microwave these for 15 minutes on high, then finish in the oven at 400 for 10 minutes.
If you've tried this recipe, please take a minute to rate the recipe and let me know how things went for you in the comments below. It's always such a pleasure to hear from you!
You can also FOLLOW ME on PINTEREST, FACEBOOK, INSTAGRAM and TWITTER for more delicious, healthy recipes!