Spanish Potato Salad by Mike – The Iron You
For the longest time now, Mike has been a tremendous source of inspiration for me.
Get this: what this guy simply refers to as a "Kick-ass Sunday Morning Workout" would be the accomplishment of a lifetime for me.
Seriously, he just goes out one morning and runs the equivalent of a half marathon and then bikes for I don't know how long and as if THAT wasn't enough, he then proceeds to go for a crazy long swim.
How can one not be totally impressed by THAT?
I, personally, am in total awe. Blows.my.mind!
Yet, he's extremely humble about it, and has the greatest sense of humor, too!
If you never visited his blog before, you really have to. It is an incessant source of brilliant recipes and informative health & fitness related posts and Mike's photos will not fail to make your mouth water… sometimes for days on end!
Oh, and his Facebook page is just THE BEST! It's constantly refreshed with powerful words of inspirational wisdom. Trust me, you want in on that! Make sure to like his page to get your daily dose!
_____________________________________________________________________________________
When Sonia asked me to write a guest post for her blog, I felt very humbled and a bit nervous.
Nobody knows this, but Sonia was the first official blogger to follow my blog.
Over two years ago, when I started The Iron You, I didn't have much of an audience – besides my friends and family.
However, after a couple of months, "a certain" SoniaTheHealthyFoodie (no spaces) retweeted to her followers one of my posts. I remember sitting at my desk in my office, staring in amazement at my computer screen. I couldn't fathom how she'd found my blog in the first place; but there she was.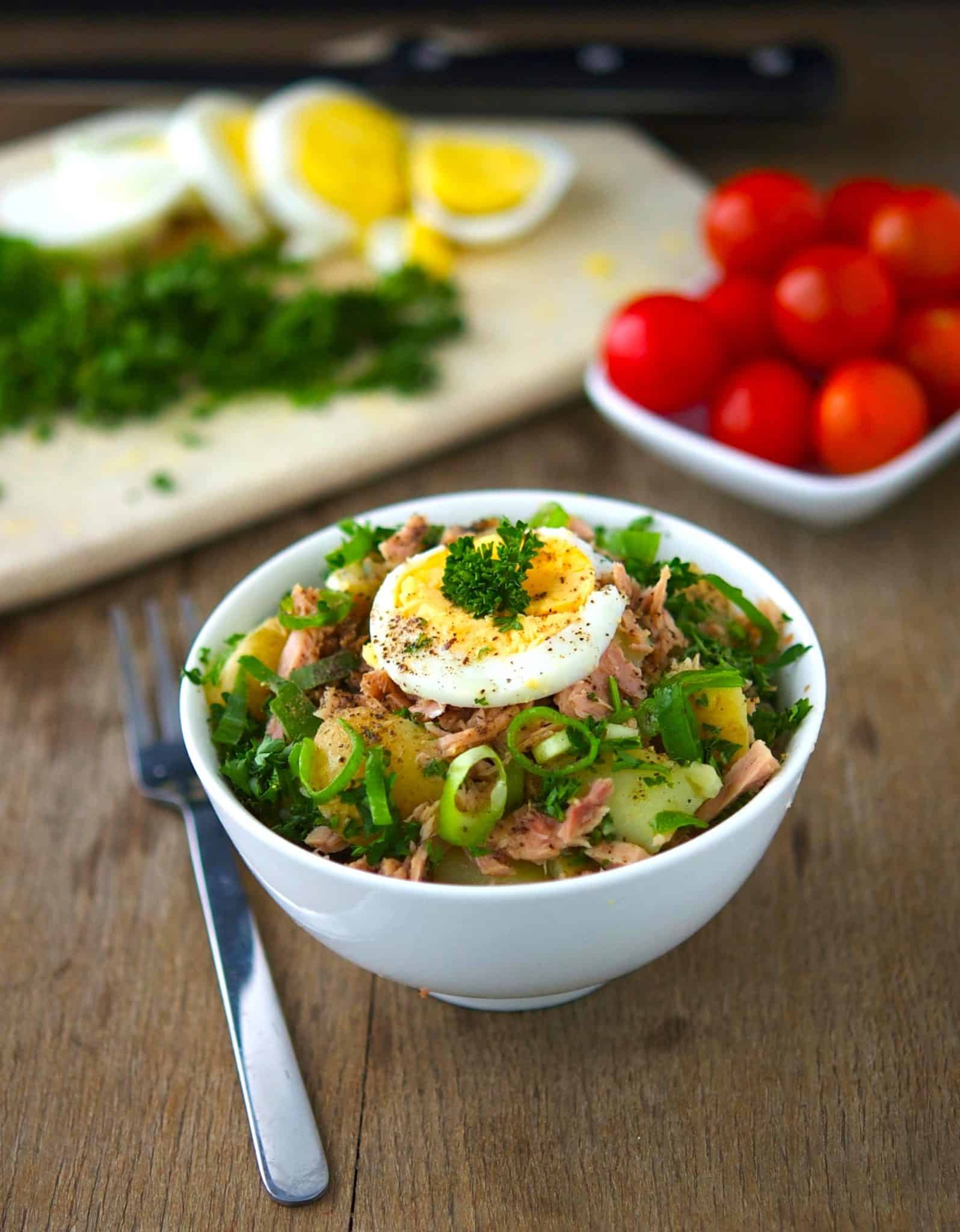 Sonia not only retweeted my post, she also added TheIronYou to her "Blogs I like to visit" blogroll.
That was definitely a turning point in my blogging experience. Someone who mattered cared about TheIronYou. I was in awe.
To be honest, if it wasn't for Sonia, I'm not sure I would still be blogging today. True story.
All this just to give you an idea of the kind of pressure I'm under while I write this.
Moving on to this recipe.
IMHO Sonia is the reigning queen of one-bowl meals.
I get so much inspiration from her work – she always seems to be overflowing with excitement in the kitchen. Her recipes for one-bowl meals are outrageous, innovative and delicious.
So I wanted to contribute with one of my own: a Spanish potato salad.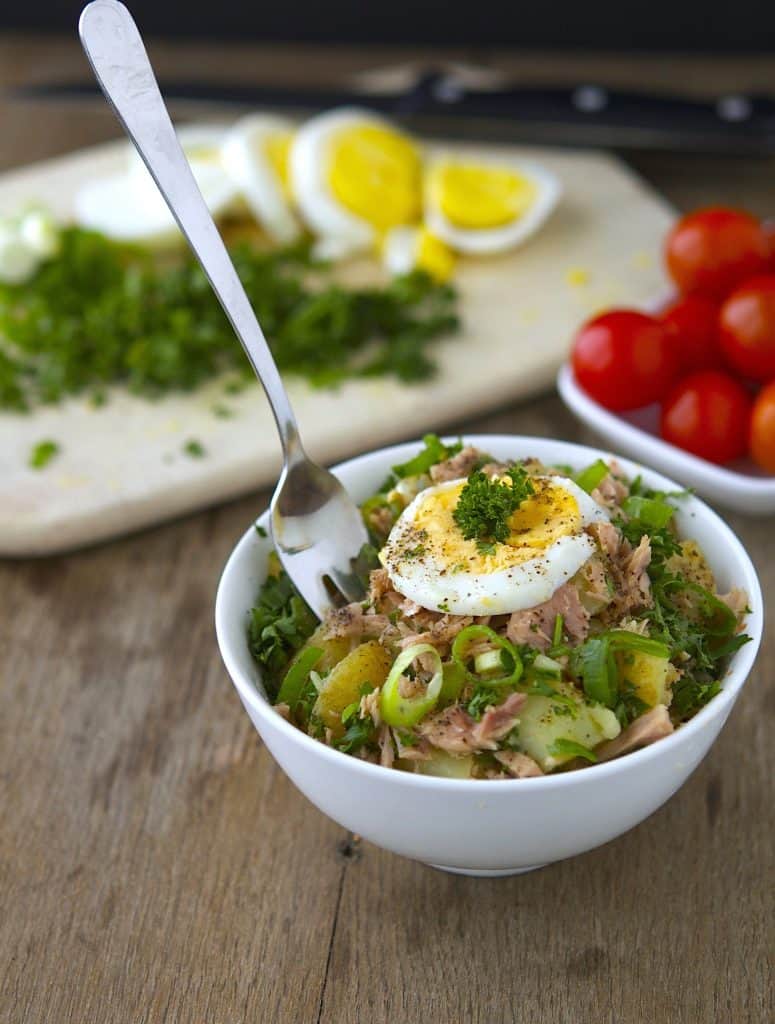 Don't think of this as a standard American potato salad with some Spanish flavor.
It's much more than that.
This recipe comes from my good friend Ana. It's a staple meal in her family's home in Valencia (Spain). During the summer months, when the scorching heat hits the country, a fresh and nutritionally complete one-bowl meal – such as this salad – accommodates everyone in the family. From her 88 years old abuelita (i.e., grandma) to her 3 years old sobrino (i.e., nephew).
Mediterranean cuisine is characterized by the use of natural products which, when properly combined and prepared, make for delicious and very special dishes.
That's what this Spanish potato salad is all about: Tuna, eggs, potatoes and scallions dressed in an olive oil, lemon and parsley vinaigrette. Simple yet awesome.
It's all about using the best ingredients possible.
Spanish Potato Salad by Mike - The Iron You
Servings: 4
Ingredients
4 large free-range organic eggs
2 medium Yukon Gold potatoes, peeled and cut into 1-inch cubes
2 scallions, thinly chopped
1 6 oz olive oil-packed tuna, preferably ventresca tuna belly
¾ cup, fresh parsley leaves, finely chopped
¼ cup freshly squeezed lemon juice
¼ cup olive oil
1 teaspoon fine grain sea salt
freshly ground pepper
2 tablespoons capers, optional
Instructions
Bring a large pot of water to boil and cook potatoes cubes for about 7 to 8 minutes.The potatoes are done when tender and the tip of a knife easily slides into the center of a cube.

Turn off the heat and drain the potatoes through a colander. Shake out the excess water and transfer the cooked potatoes to a large mixing bowl.

In the meantime, put the eggs in medium saucepan and cover with cold water by a ½-inch. Bring to a gently boil over medium-high heat. When the eggs start rattling against the bottom of the pan, turn off the heat, cover with a lid, and let sit for 7 - 8 minutes.

When the eggs are through cooking, place the saucepan under cold running water for about 3 minutes, long enough to stop the cooking.

To make the vinaigrette, in a small mixing bowl, add lemon juice, ¼ cup chopped parsley and sea salt. Using a small whisk (or a fork), slowly whisk in the olive oil.

Pour the vinaigrette over the potatoes and season to taste with more salt and pepper, as needed.

Using a wooden spoon, stir in ¾ of the scallions and the rest of the parsley.

Transfer the potatoes to a serving bowl and top with tuna.

Drain the boiled eggs and carefully peel. Once peeled, rinse the eggs under cold water to remove any remaining bits of shell. Slice the eggs and arrange on the top of potatoes and tuna.

Sprinkle with remaining scallions and parsley before serving.
Notes
One serving yields 380 calories, 26.5 grams of fat, 15 grams of carbs and 19 grams of protein.
If you've tried this recipe, please take a minute to rate the recipe and let me know how things went for you in the comments below. It's always such a pleasure to hear from you!
You can also FOLLOW ME on PINTEREST, FACEBOOK, INSTAGRAM and TWITTER for more delicious, healthy recipes!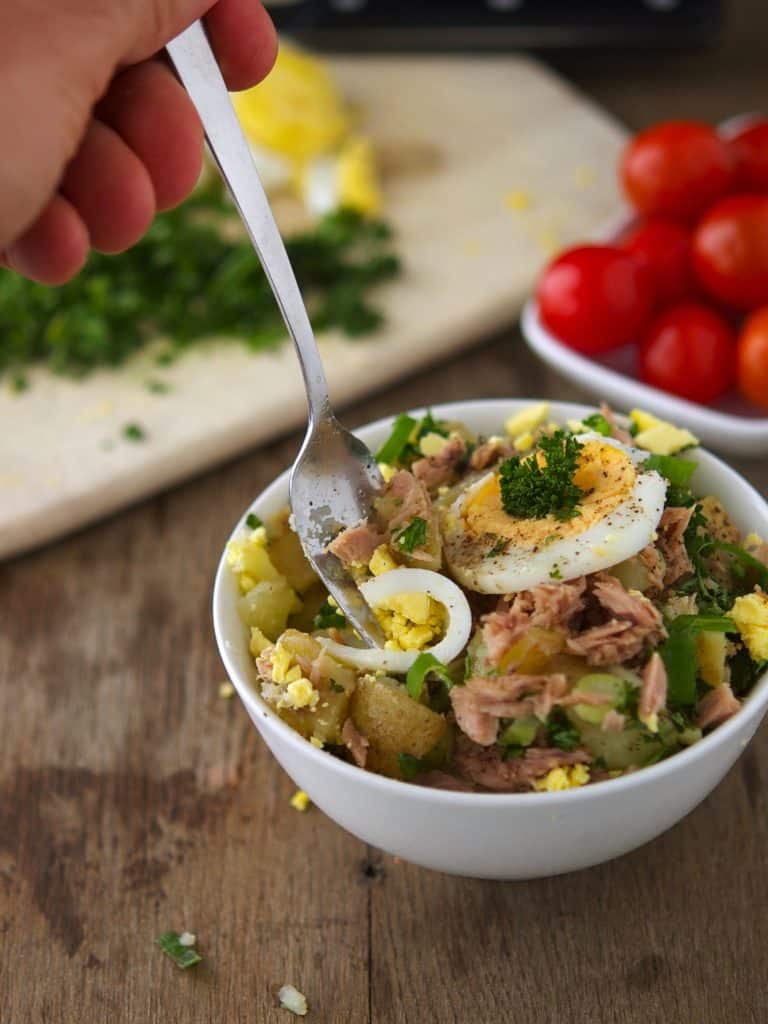 *Post-Scriptum by Sonia!
My jaw literally dropped when I read Mike's post. And it took a whee while before I was able to pick it up from the floor again.
I seriously had no idea. I'm at a loss for words, here and I don't know what to say, really. 
You know, blogging isn't always easy and there have been numerous occasions where I have asked myself if it was really worth all the work and effort I put into it.
Then someone who I admire very much sends me something like this. WOW! 
No amount of money, no stats record,  no post gone completely viral, NOTHING makes blogging quite as worthwhile as getting this kind of feedback.   
It just goes to say: You never know who you inspire in life, and whose life you may have impacted in a positive way. 
And you don't even need to go all out of your way either: it's the little things, sometimes…
So just be yourselves, people. We are all awesome! 
And Mike, darling, thank you so much for that. You just gave me wings.