Crispy Baked Chicken Fingers
I am so excited about this recipe that, even though I have a few waiting in line still, I had to move that one right to the top of the pile.
I mean, I've tried making oven baked chicken fingers a few times in the past, but I've never been so extremely satisfied as I was with these babies.
Funny thing is, ever since Nora posted this recipe, I knew I had to give it a try. What I don't understand, however, is what took me so long! Maybe I was afraid that I'd be disappointed. I mean, they look sooooo unbelievably good in her pictures. What if they didn't turn out to be as good as they looked? Maybe I just wanted to keep living the fantasy…
Good thing I finally stepped into action and actually put these to the test.
These are seriously moist and flavorful, super crispy and not one bit mushy. For real, they are much better than a lot of the deep fried stuff that I've had in the past.
They are even better than they look… I swear!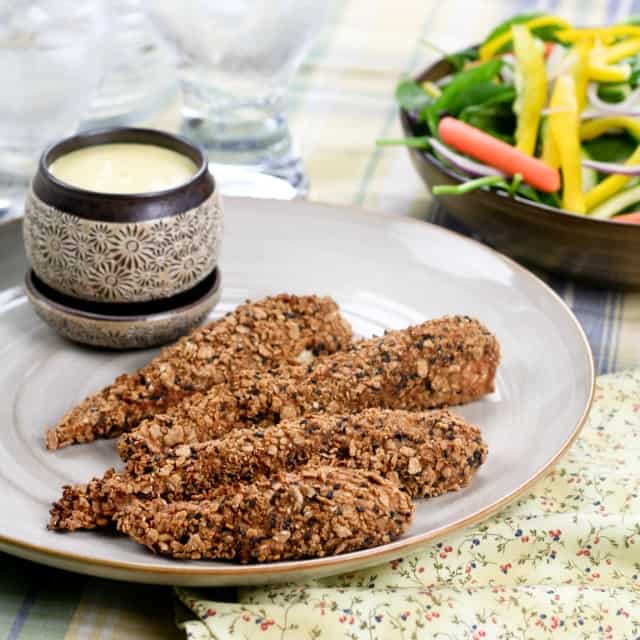 Now, I had to make a few changes to Nora's recipe, but they were very tiny little changes, really. Hardly noticeable. 😉
For one, I marinated my chicken in buttermilk. I love marinating chicken in buttermilk. It makes it really nice and juicy and also helps a lot with flavor, I find.
Secondly, I didn't have the cereal that Nora's recipe called for, so I used my beloved Heritage Flakes by Nature's Path. They worked BEAUTIFULLY!
Thirdly, I only single coated my strips, whereas Nora double coated hers. I find double coats are often too thick for my taste.  That crust came out PERFECT, just how I like it. Nice and light and cripsy and downright delicious!
This is now my official go-to recipe for chicken tenders.
It's that good!
Crispy Baked Chicken Fingers
Servings: 4
Ingredients
For Chicken Tenders
2 cups flaked cereal, finely crushed (I used Heritage Flakes by Nature's Path)
1 tbsp black sesame seeds
1 tsp garlic powder
½ tsp paprika
½ tsp salt
¼ tsp ground black pepper
Dash of cayenne pepper
1 egg
1 egg white
1/3 cup buttermilk from the marinade
2 large skinless, boneless chicken breasts
For dipping sauce
½ cup fat free plain Greek yogurt
2 tbsp hot Dijon mustard
2 tbsp liquid honey
Instructions
Remove tenders from chicken breasts and cut the remaining meat in 3-4 strips.

Transfer to mixing bowl, add buttermilk, salt and pepper and toss until chicken is well coated. Cover and refrigerate for at least 3 hours.

Preheat oven to 400F. Line a baking sheet with parchment paper or foil or lightly grease.

Remove chicken strips from marinade.

In a shallow bowl, add crushed cereal, sesame seeds, garlic, paprika, salt, and cayenne and stir to combine.

In a separate shallow bowl, add egg, egg white and buttermilk from marinade and whisk to combine.

Dip each chicken strip in egg mixture then roll in cereal coating until nice and evenly coated on all sides and place on baking sheet. Repeat until all chicken is used.

Bake until crust is golden and chicken is cooked through and no longer pink, about 15-20 minutes, depending on the size of your strips (mine took 20 minutes).

While chicken is cooking, prepare the dipping sauce by combining yogurt, mustard and honey in a small bowl.
If you've tried this recipe, please take a minute to rate the recipe and let me know how things went for you in the comments below. It's always such a pleasure to hear from you!
You can also FOLLOW ME on PINTEREST, FACEBOOK, INSTAGRAM and TWITTER for more delicious, healthy recipes!