Easy Leftover Turkey Salad with Creamy Orange Poppy Dressing
One thing I definitely don't eat often enough of in the wintertime is salads.
I guess it's only natural to be craving warm and comforting foods when it's so cold out that your nostrils kinda want to stick together every time you inhale through them. Or, when it seems as though the thermometer is begging you to take it inside with you when walk through the door to enter your home.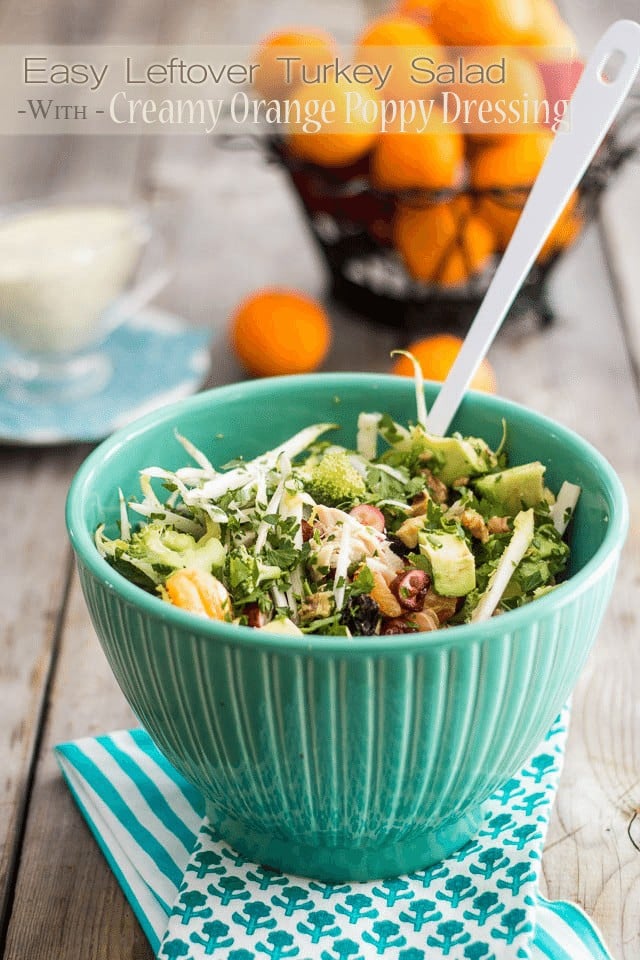 Plus, when it's this cold out, there aren't that many vegetables that are locally grown and available, if you know what I mean. Most of them come to us from right across the border or from all the way across the pond.
Still, I wish I could somehow manage to be a little bit more naturally inclined to go for salads on a regular basis during the winter months. Maybe I should get into the habit of making at least one per week.
Especially beautiful salads such as this one, where leftover cooked protein is the star of the show!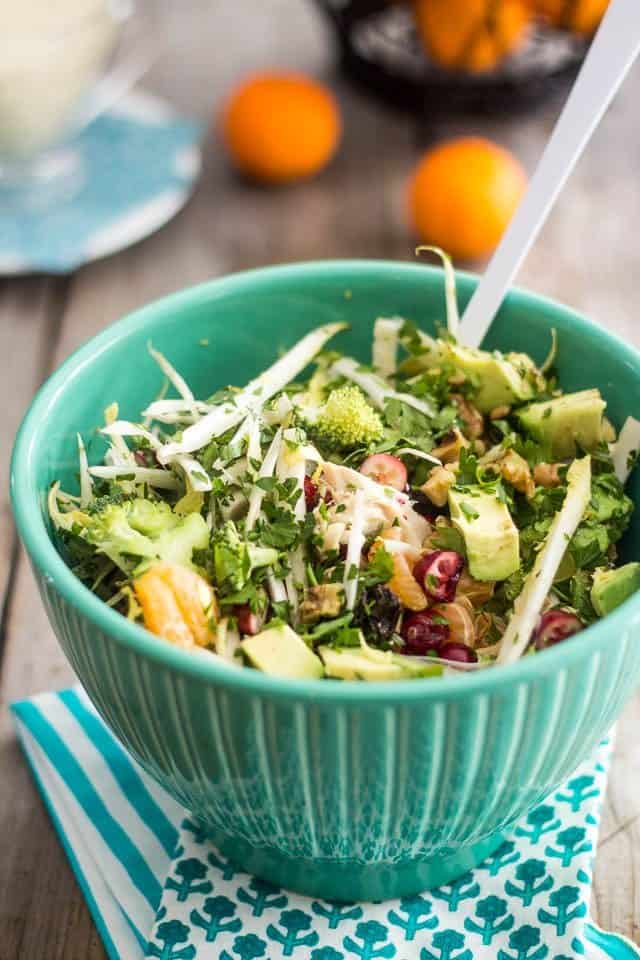 Plus, veggies, I still have to eat, right? Even if they weren't grown by a nearby farmer. I can still do a valuable effort to go with what's in season in other parts of the world, like clementines from Maroc, or fresh cranberries from… Quebec! Hey, here's something that is grown locally and available at this time of year. Guess I should eat more of those too in the wintertime.
This is another one of those salads that you can make ahead of time and keep in the fridge for a couple of days.
Oh, the avocados might go a little brown on you, but that's not really dramatic is it? They're still going to taste just as good and feel just as creamy and smooth in your mouth. And the rest of the ingredients, once they've had a chance to mingle and get comfortable with each other for a wee while, they seem to just leave their inhibitions out the door and boost their flavor giving capabilities to the 10th power!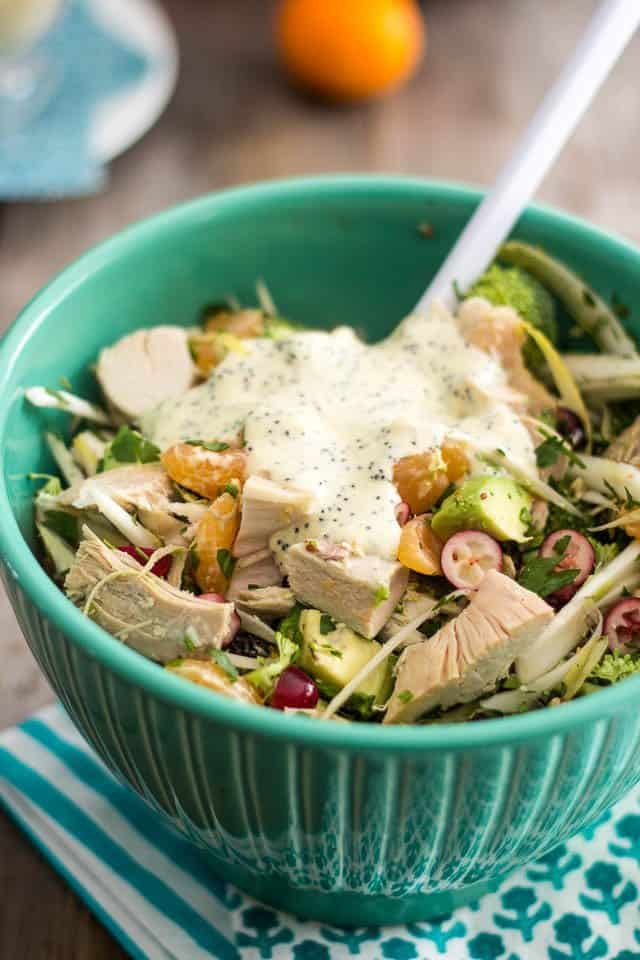 Also too, you can have a lot of fun playing with these ingredients.
If you can't find fresh cranberries where you are, you could always use the dry version. Or maybe use fresh red grapes, instead. Or apples!
Tangerines or oranges could very well be substituted for the clementines, and you could opt for using fresh and crisp bean sprouts instead of the julienned endive.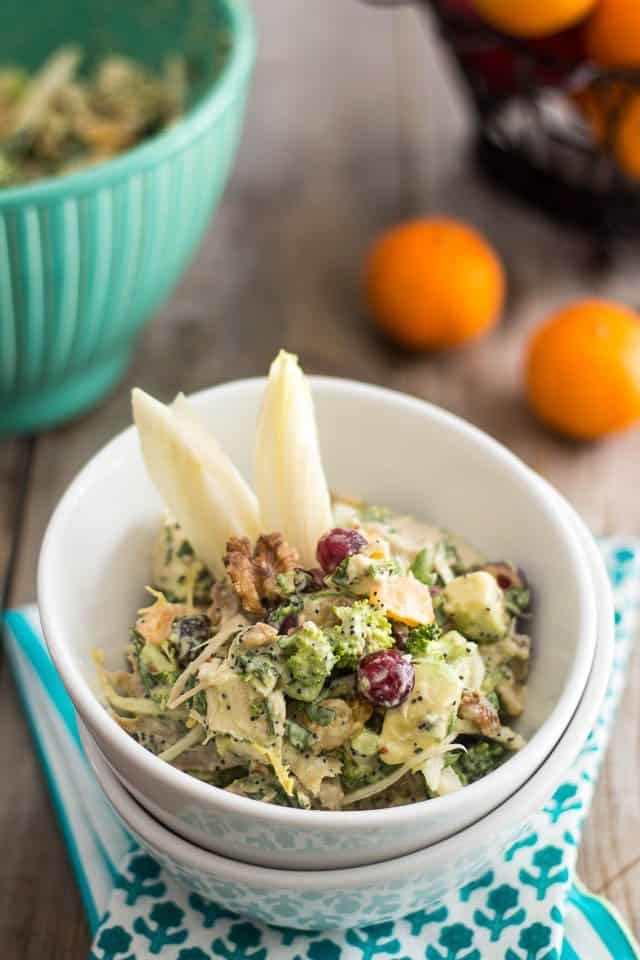 I think radishes would work beautifully well in this, and cashews would be a wonderful addition, too!
Oh, and quite obviously, if you don't have leftover turkey, chicken would work just as well! Or hard boiled eggs, why not?
That's the beautiful thing about salads. You can just improvise, according to what you have available in the fridge, and what's currently in season in your part of the world… or any other part when nothing much is available where you are.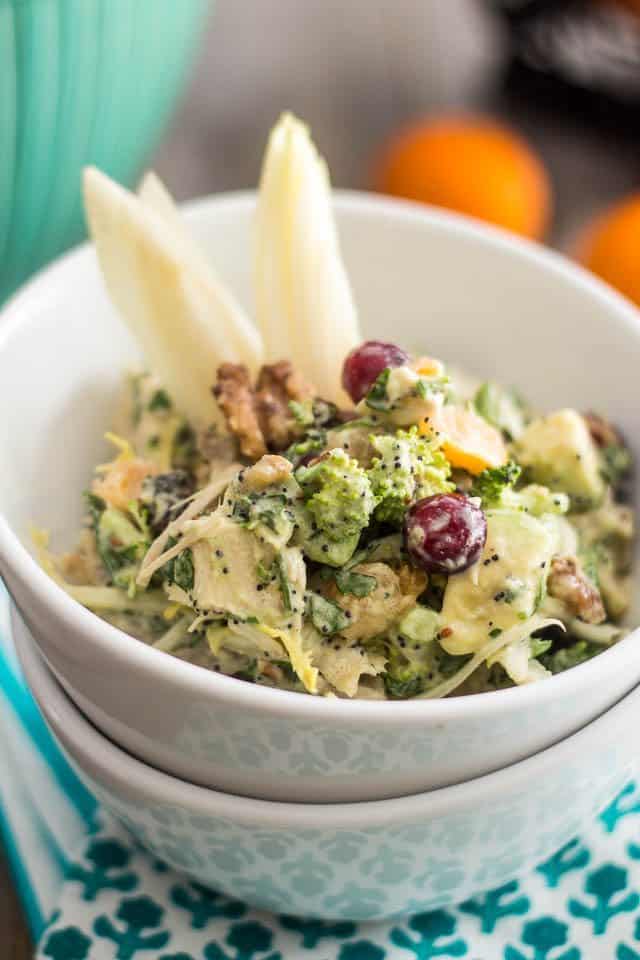 Evidently, you could choose to have this salad EXACTLY as described, too, and so you should because let me tell you, that salad it was absolutely fabulous and just the way I like 'em: a delicious harmony between sweet, tangy and savory and an exquisite combination of crunchy, crisp, chewy and creamy.
The perfect balance in every single bite.
Easy Leftover Turkey Salad with Creamy Orange Poppy Dressing
Servings: 2
Instructions
In a large mixing bowl, add cooked turkey, avocado, pieces of clementine, endive, cranberries, broccoli, raisins, parsley and walnuts and mix well. Set aside.

In a small food processor, add all the ingredients for the vinaigrette and process until smooth and creamy. Pour that right over the salad and mix until well incorporated.

Serve immediately or leave in the fridge for a few hours to allow flavors to develop. This salad will keep in the fridge for 2-3 days in an airtight container.
If you've tried this recipe, please take a minute to rate the recipe and let me know how things went for you in the comments below. It's always such a pleasure to hear from you!
You can also FOLLOW ME on PINTEREST, FACEBOOK, INSTAGRAM and TWITTER for more delicious, healthy recipes!