Super Quick and Easy Fennel Salad
Remember a while back, I had promised that I would give you the recipe for this gorgeous salad, but then, I completely forgot about it… until I recently felt like making it again and realized that I hadn't logged the recipe.
Not that it's sooo hard to make that I absolutely need to look at my old recipe to duplicate it, far from there, but I always like to go back and refresh my memory a little. For that one, I actually had to go back to my trusty spiral notebook. It's a great notebook really, but it's not quite as pleasing on the eye as this log is. Especially since my handwriting isn't what it used to be. 😉
I don't know about you, but it seems like my handwriting has taken a serious hit lately. It's almost like I've forgotten how to properly form letters. I totally blame this one on my keyboard! Funny thing is I love writing! I love how a pen or pencil sliding accross a sheet of paper feels in my hand, but at the same time I tend to get impatient and botch it because I find it takes way too long. I'll have to make a conscious effort to improve this.
But I'm getting way off track again. Back to the salad…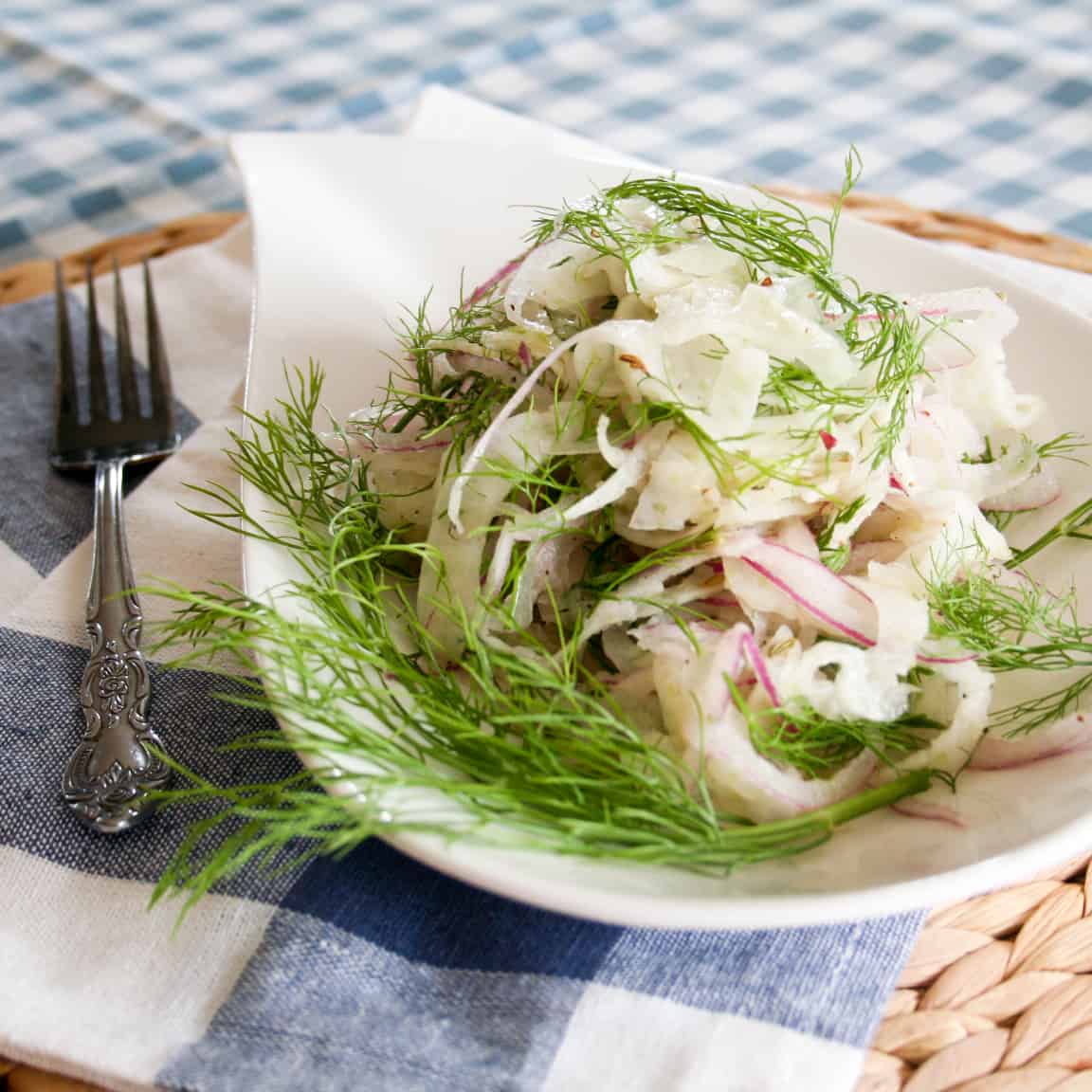 I think it's about time this beautiful salad gets its own entry, especially seeing that summer is apparently finally here to stay, and this one is so light and fresh, it's bound to become a big favourite of mine for the upcoming months!
Maybe one of yours too?
By the way, if you have a mandolin, this is the perfect time to take it out!
Super Quick and Easy Fennel Salad
Servings: 2
Ingredients
1 fennel bulb, thinly sliced
¼ of a medium red onion, thinly sliced
Half the leaves of the fennel bulb, roughly chopped
¼ tsp salt
Pinch pepper and fennel seeds
1 tsp white wine vinegar
½ tsp olive oil
Instructions
Mix all ingredients together in a bowl.

Serve immediately and garnish with additional fennel leaves, if desired.
If you've tried this recipe, please take a minute to rate the recipe and let me know how things went for you in the comments below. It's always such a pleasure to hear from you!
You can also FOLLOW ME on PINTEREST, FACEBOOK, INSTAGRAM and TWITTER for more delicious, healthy recipes!