More Power Gingerbread Smoothie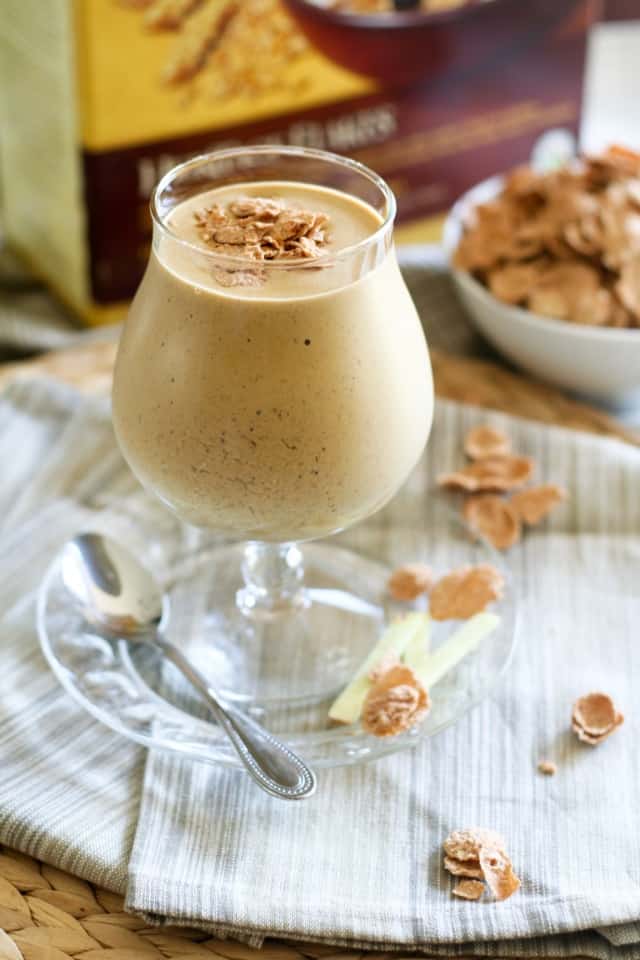 I must've had this smoothie at least 8-9 times over the course of the last 2 weeks. Funny that I should say this, right after I mentioned in my previous post that I tend to get bored after eating the same thing 2-3 days in a row…
You see, I was trying to create the PERFECT gingerbread smoothie, so I kept trying different combinations. Alas, none of them seemed to do the trick.
One of my biggest issues was with bananas. I found that, no matter how much ginger or spices I added, the taste of the banana would always come back on top and frankly, I didn't really want to taste it at all, or at least, only very little.
I tried not using any, but then the texture suffered big time. You know how I like my smoothies to be thick and chewable. They HAVE to have some texture to them, and a bit of a crunch, too.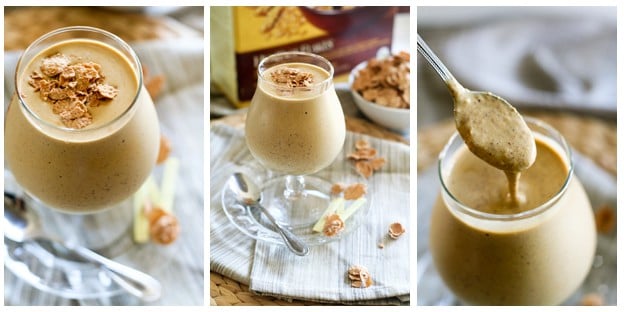 Lucky for me, I stumbled upon a blog post where the author would peel her bananas and cut them into 4 pieces before to put them in the freezer, so they would always be readily available to make smoothies. Hmpft. Why hadn't I thought of that? I've always put mine in the freezer whole, with peel and all, so I'd have to thaw them before to use them. Not very convienient for smoothie making. Plus, their flavor is even stronger when they're thawed like that.
Anyway, this, to me, was a true revelation. Bananas, when frozen that way not only give you a crazy thick and creamy, close to frozen consistency, but their flavor also seems to really mellow out.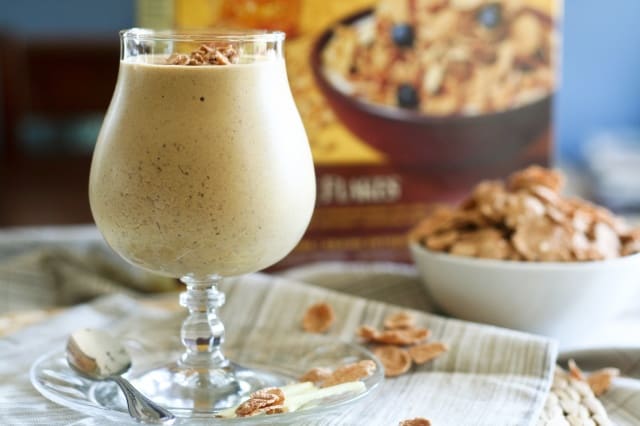 Then, the fact that I had leftover cooked white beans came into play… had to throw some in there. Hello chewability! 🙂
A few days later, I discovered and got completely, totally hooked on this cereal… it was only a matter of time before it became the crunch to my gingerbread smoothie. (Disclaimer: I didn't get paid to say that. I'm just expressing my personal opinion here! And I bet if you've ever tried it, you know exactly what I am talking about!)
The final and probably most important piece of the puzzle in the success of this smoothie was probably the fact that I came to the conclusion that ground ginger just wasn't cutting it. I switched to fresh and EUREKA!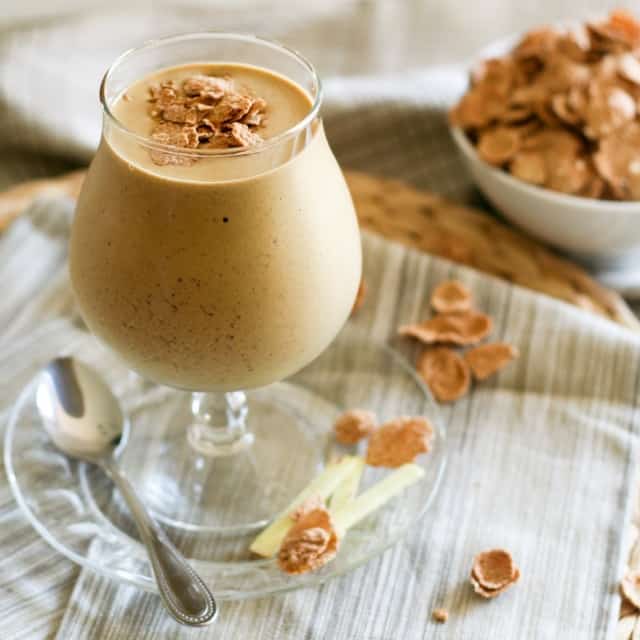 I had finally created my perfect gingerbread smoothie!
This is now my ultimate favorite smoothie ever. I can't seem to get enough of it and always look forward to breakfast when I know that it's on the menu.
I think that means I've finally found the winning combination.
Hope it's a winner for you as well.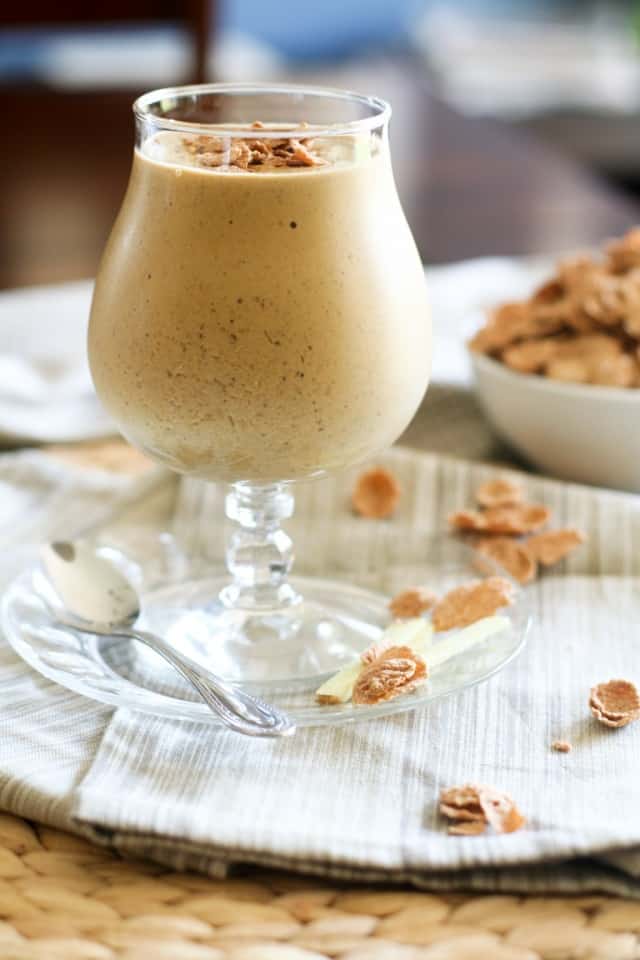 More Power Gingerbread Smoothie
Loaded with nutritious wholesome ingredients, especially delicious pre-or post workout, this Gingerbread Smoothie is sure to satisfy...
Servings: 1
Ingredients
½ cup cooked navy beans
½ frozen banana
1 oz fresh ginger, chopped (no need to peel, just remove dry parts)
¼ cup 0% fat Greek yogurt
¾ cup unsweetened soy milk
1 tbsp flaxseed meal
½ tsp ground cinnamon
1 tbsp blackstrap molasses
2 tbsp flaked cereal, I used Heritage Flakes by Nature's Path
Instructions
Add all ingredients, except flaked cereal, to your food processor and process until smooth. Add cereal, pulse 2-3 times and transfer to serving glass.

Garnish with a handful of crushed cereal, if desired.
Nutrition
Calories: 434kcal, Carbohydrates: 70g, Protein: 24g, Fat: 9g, Saturated Fat: 1g, Cholesterol: 3mg, Sodium: 691mg, Potassium: 1385mg, Fiber: 13g, Sugar: 26g, Vitamin A: 377IU, Vitamin C: 7mg, Calcium: 433mg, Iron: 5mg
If you've tried this recipe, please take a minute to rate the recipe and let me know how things went for you in the comments below. It's always such a pleasure to hear from you!
You can also FOLLOW ME on PINTEREST, FACEBOOK, INSTAGRAM and TWITTER for more delicious, healthy recipes!