Raw Cauliflower "Detox" Salad
So there was this one night last week when I got a bit caught off guard and didn't have any plan for supper. Or rather, I had one, but didn't feel like eating what was on the menu.
Alright, I admit… I was gonna have leftovers, but I was NOT interested.
Sometimes, eating the same thing 2 or 3 nights in a row gets pretty boring. So I had to think of something else. The problem was, there wasn't much to choose from in the fridge.
I did, however, have this beautiful, fresh cauliflower, for which I didn't really have a plan. I had bought it a few days earlier just because it was on sale… and thought I would come up with something. I just wasn't too sure what that something was going to be.
As I searched my mind in hopes to find some inspiration, I suddenly had a vision of Angela's gorgeous Detox Salad. Would I be lucky enough to have all the required ingredients on hand?
A quick rummage through the fridge and cupboards led to this favorable conclusion: I could, and would be able to make the salad, but I would have to make a few substitutions.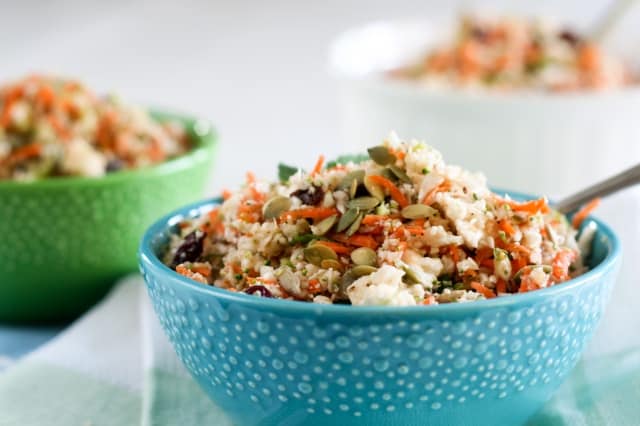 Oddly enough, I didn't have any fresh parsley. I usually ALWAYS have fresh parsley on hand. I did, however, have 2 nice bunches of fresh mint. Lovely! That should work beautifully.
Now, the recipe called for currants. I don't think I've ever tried those… so needless to say I didn't have any. Raisins would have to do the trick.
As for broccoli, I only had one bunch, and I wanted to save some of it, so I only used one head out of the two that were in the bunch.
I think that was pretty much it as far as substitutions go.
Oh, no, wait. I also added pumpkin seeds and a Gala apple, which I cut into tiny cubes to fit the general consistency of the rest of the salad.
I have to admit that I'm not usually a big fan of raw cauliflower in food, I find it tastes (and feels!) a little bit like dry chalk… but it was plain fantastic in this salad. It really is pleasantly crunchy AND flavorful! That salad has the perfect combination of sweet, salty and tangy, and I think the addition of the mint and apple really added an interesting dimension to an already incredible salad.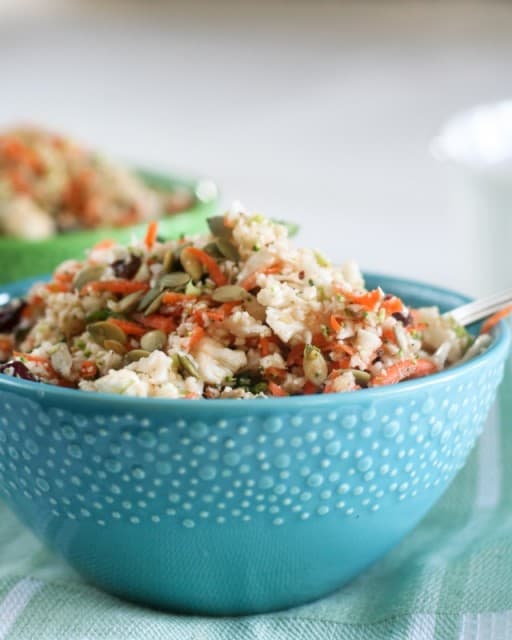 This makes a huge batch however, so unless you are cooking for a bunch of people, or don't mind *ahem* generating leftovers, you might want to cut the recipe in half.
Or maybe not! After all, it was only Tasha and I eating this, and we did manage to go through the entire batch.
Not in one sitting, though! I had leftovers the next day… and the day after! 😉
Oh, and I had some for lunch too! WIN! 😀
Raw Cauliflower "Detox" Salad
Servings: 4
Instructions
In a food processor (or chop by hand) process the broccoli (no stems) until fine. Add into large bowl.

Now process the cauliflower (no stems) until fine and add into bowl.

Attach grating blade to your food processor and grate the carrots (or grate by hand) and add to bowl.

Stir in the rest of the ingredients and stir until well combined.

This salad can be served immediately, or left in the refrigerator to macerate for a couple of hours. It will keep for about 3-4 days in an airtight container.
If you've tried this recipe, please take a minute to rate the recipe and let me know how things went for you in the comments below. It's always such a pleasure to hear from you!
You can also FOLLOW ME on PINTEREST, FACEBOOK, INSTAGRAM and TWITTER for more delicious, healthy recipes!