Healthy Apple, Pecan and Honey Caramel Cheesecake
Looks like this is becoming a habit! 😉 I'm completely hooked on creating healthy desserts. I'm really glad that I changed my mind about desserts not having a chance in the world at being healthy.
Although, I have to admit that I came THAT close to going back to my old thinking after someone made the following comment on another site where my pumpkin pie was featured:
Unbelievably healthy pumpkin pie? LOL. If you're really trying to eat healthy (i.e. cut calories, cut down on carbs, cut down on fat, cut down on sugar) you're not going to be eating any pie, much less this one…
It really brought me down at first and I'm still taking it rather hard. I probably shouldn't even bother, but you see, I am extremely perfectionist and I tend to take criticism really personal. In this case, I think it's the "much less this one" that hit me the most. What's so wrong with this one that would make it much less acceptable?
So I almost gave up right then and there. I thought I'd only created 3 desserts so far and already was getting that kind of negative reaction… I wasn't too sure that I really wanted to see more like that.
What if they were right? What if my vision of healthy was flawed?
I thought about it for a while, and then I decided I was very happy with my vision of healthy, whether it was flawed or not. To me, eating healthy doesn't mean cutting down on calories, or carbs, or fat, or sugar, to me,eating healthy means eating A WIDE VARIETY of food that is as close as possible to what nature intended, so the least processed the better. It's also about switching to complex carbs, whole grains, good fats and choosing sugars that come from natural sources.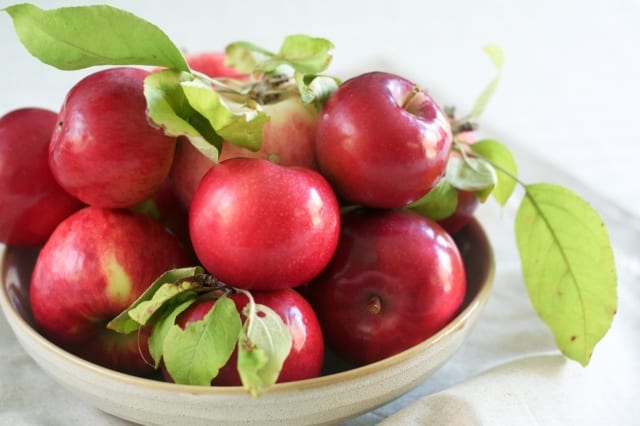 Of course, you also need to find a good balance for all this, but it doesn't have to be complicated, and it absolutely, positively doesn't have to be torture. It has to be fun, but mostly it has to taste and feel good.
That is my philosophy, and that is what this site is about. I am not a nutritionist and will never pretend to be. I am not here to educate, I am here to inspire. Inspire those who are so inclined and who share my vision to embrace a healthier lifestyle and adopt better eating habits, without having to sacrifice taste.
And this cake, this cake right here, just like my pumpkin pie, not only is it good, but it is also healthy. At least it is by my standards. So it is with great pride and pleasure that I share the recipe with you.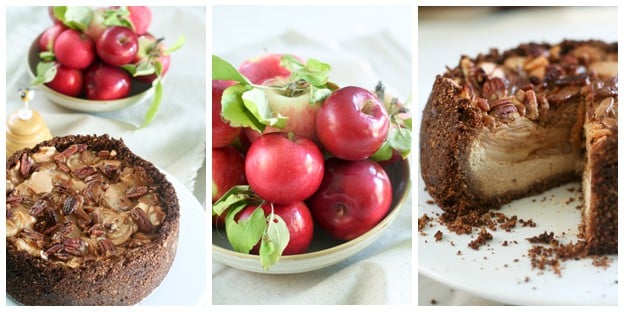 It might not be EXACTLY like I'd envisioned it, but it turned out pretty darn good if you ask me. If you are a fan of desserts that aren't overly sweet, you will love that one. It really isn't too sweet, it's literally loaded with apples and the crust nice and pleasantly crunchy. The caramel sort of disappeared though, when I was hoping that it would ooze and make the cake all ooey and gooey and maybe just a tad sweeter. You know, me and my sweet tooth! 😉 But still, I sure was sad when that cake was all gone…
I would redo that exact same recipe without a moment of hesitation. But you see, I already have a plan for a "new and improved" version! I think I am now  officially "unleashed".
I have millions (alright, alright, I'll be honest) hundreds of dessert ideas already. So stay tuned, if you care for more!
Until then, I'd be curious to find out what "eating healthy" means to you.
What's your perception of healthy food?
Healthy Apple, Pecan and Honey Caramel Cheesecake
Servings: 12
Ingredients
Filling
500 g 1% cottage cheese
250 g 0% Greek yogurt
2 whole eggs
½ cup egg whites, or 4 egg whites
¼ cup liquid honey
The zest of 1 lemon
1 tsp cinnamon
Apple / Pecan layer
6 apples, peeled and thinly sliced
½ tsp cinnamon
100 g pecans, roughly chopped
Honey Caramel
1/3 cup liquid honey
1 cup 2% evaporated milk
Instructions
For the crust
Add all the ingredients to food processor and process until well combined.

Transfer to a non-stick spring form pan and press to the bottom and sides (all the way to the top) of the pan to form a crust.

Set aside
For the filling and apple / pecan layer and honey caramel
Preheat oven to 375F

Add all the ingredients to the bowl of your food processor and process until smooth and creamy, about one minute.

Transfer to the reserved pie crust.

Bake in 350F oven for 40-45 minutes, until filling is somewhat set.

While cake is baking, cook sliced apple in a skillet over medium heat, until they start to soften up, about 3-5 minutes. Add cinnamon, mix to coat and set aside.

Make honey caramel (see instructions below)

After the cake has baked for 40-45 minutes, take it out of the oven, spoon cooked apples overtop, sprinkle pecans and pour caramel all over the apples.

Put cake back in the oven and cook for an additional 20-25 minutes.

Turn off the oven and open the door slightly. Allow cake to cool for a couple of hours, then take it out of the oven and let it cool completely before transferring it to the refrigerator, where you will leave it to cool for at least 4 hours, preferably overnight.

Drizzle with a little bit of honey when serving.
For the honey caramel
In a heavy saucepan, over medium heat, bring the evaporated milk up to a simmer.

In a second saucepan (choose one that is large enough to accomodate at least 8 cups of liquid, bring honey to a boil over high heat.

Without stirring, allow honey to boil until it takes a nice dark caramel colour, about 3-4 minutes. Monitor it closely until it reaches the desired color. Don't let it go too dark however, as you don't want it to burn.

When honey has reached the desired colour, remove from heat and pour in the evaporated milk A LITTLE AT A TIME, while constantly stirring with a long handled wooden spoon (the steam will be VERY hot!). Be very careful here as this mixture will bubble heavily and might boil over if you go at it too quickly.

Once all the milk has been added and completely incorporated, give the caramel another quick boil, then turn off the heat and set aside until ready to use.
If you've tried this recipe, please take a minute to rate the recipe and let me know how things went for you in the comments below. It's always such a pleasure to hear from you!
You can also FOLLOW ME on PINTEREST, FACEBOOK, INSTAGRAM and TWITTER for more delicious, healthy recipes!