My Go-To Quick and Easy Tomato Cucumber Salad
This, guys, would be my most-ultimate-favorite-go-to-salad-recipe-ever-for-real.
I honestly cannot even begin to understand how come I'd never shared that recipe with you before. For seriously, whenever I don't have a side dish ready, or whenever I lack inspiration, this Tomato Cucumber Salad is what I will inevitably fall back to.
Okay, I admit: there will sometimes be certain slight variations based on the actual content of my fridge, but most of the veggies that go in the making of this fab salad, I pretty much have on hand at any given time.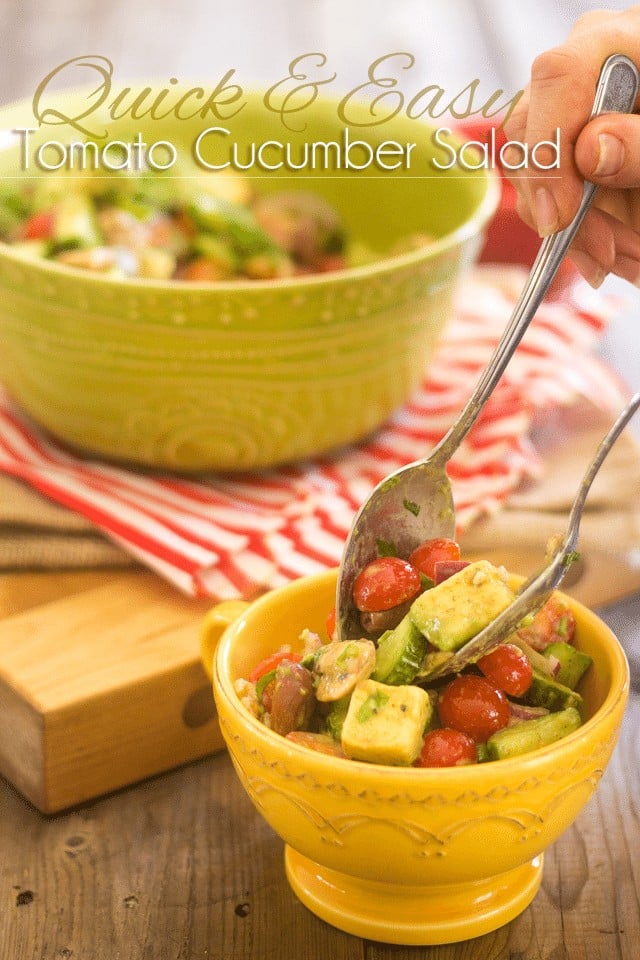 Not only does it call for very common ingredients, but this salad also comes together in mere minutes and it's so tasty and fresh and crisp, it's like pure sunshine in a bowl! Of course, it tastes like a million times better right in the heart of summer, when cucumber and tomato season is in full swing, but this one can pretty much be enjoyed year round, too.
You can also very easily play with the ingredients and adjust the quantities based on the number of guests that will be sitting at the table and their preferences. The only drawback to this salad, if I had to find one, is that you can't be making it too much in advance.
This one demands to be made at the very last minute, else it'll go mushy on you, but it comes together in so little time that this minute snag usually becomes a total non-issue…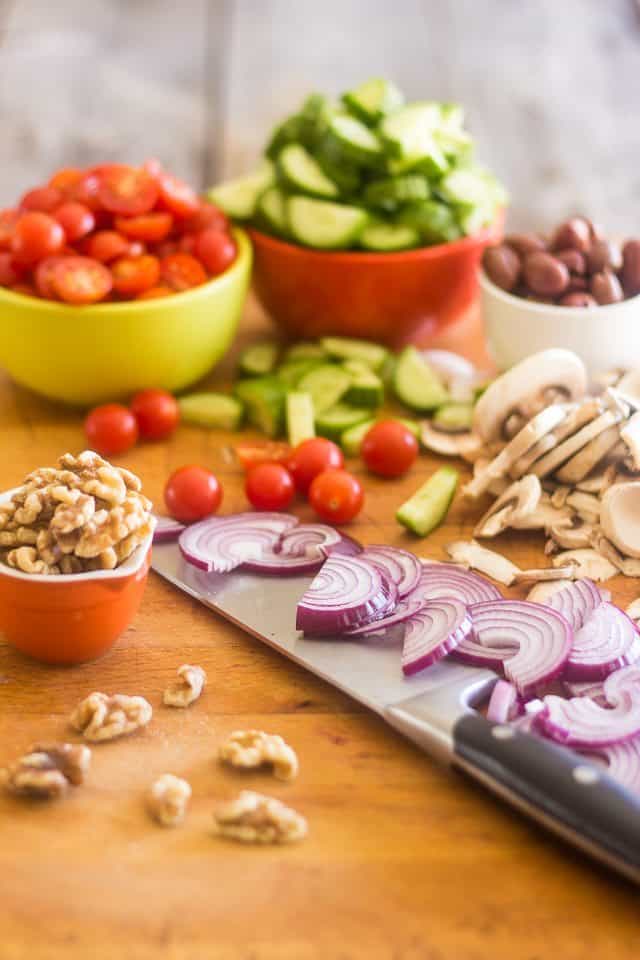 I had made a great big batch here, so prepping the veggies took a little bit more time than usual. When I make this strictly for myself, I've only a handful of tomatoes to cut in half, one Lebanese cucumber to chop, a few mushrooms to slice and a red onion to peel and slice thinly.
Mind you, I will often opt to use green onions instead when I am alone. They are a little less bright and colorful, but an entire red onion is way too much for a single person and, unless I know I'll be using it in some other dish very shortly, I don't typically like to leave an "open" onion in the fridge. They tend to stink the place up big time, no matter how well you wrap 'em! Plus, I don't know… I find older onions don't taste as good.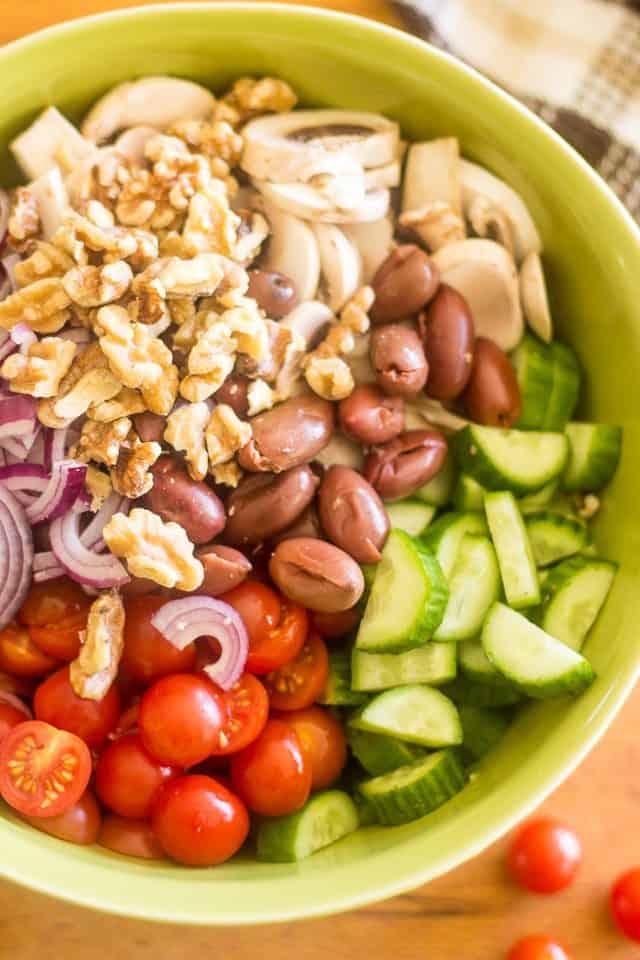 The nuts and olives, well, they don't require much prep at all… You pretty much just dump them in there. About the nuts, I really wouldn't pass on them. They truly do add A LOT to this salad.
Oh, and if you're looking for the avocado, I'm afraid you won't find it just yet. I don't really care much for brown avocado, so I tend to add it at the very end, just about when I'm ready to eat…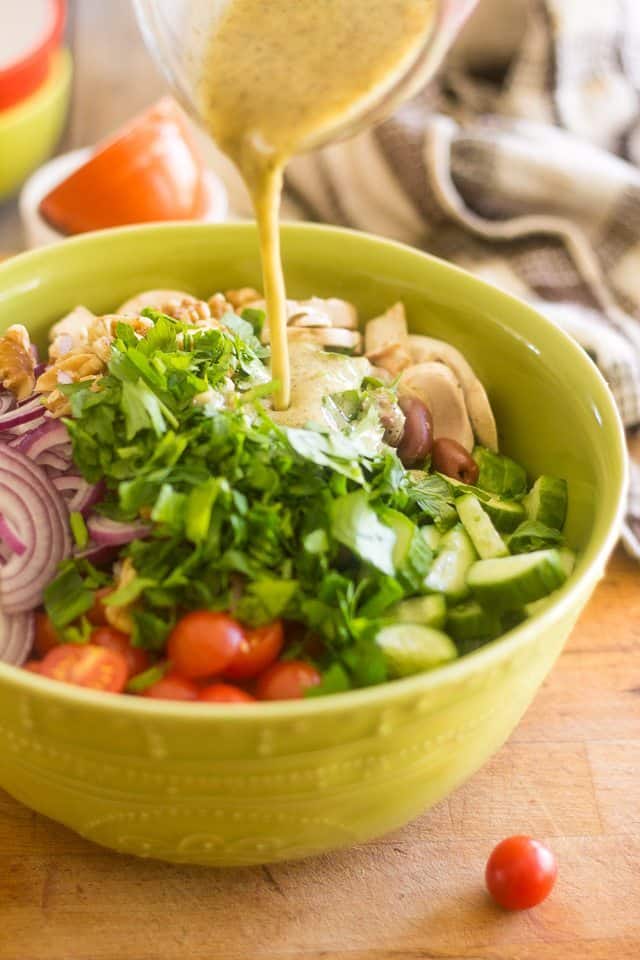 To make the vinaigrette, I like to use my immersion blender because it helps emulsify it and gives it a nice thick and creamy consistency. However, you don't even need to do this. You could very well add all the ingredients, including those of the vinaigrette, straight into your mixing bowl and give the whole thing a good yet delicate toss.
In fact, I do, do that sometimes, when I'm in a hurry… or feeling real lazy!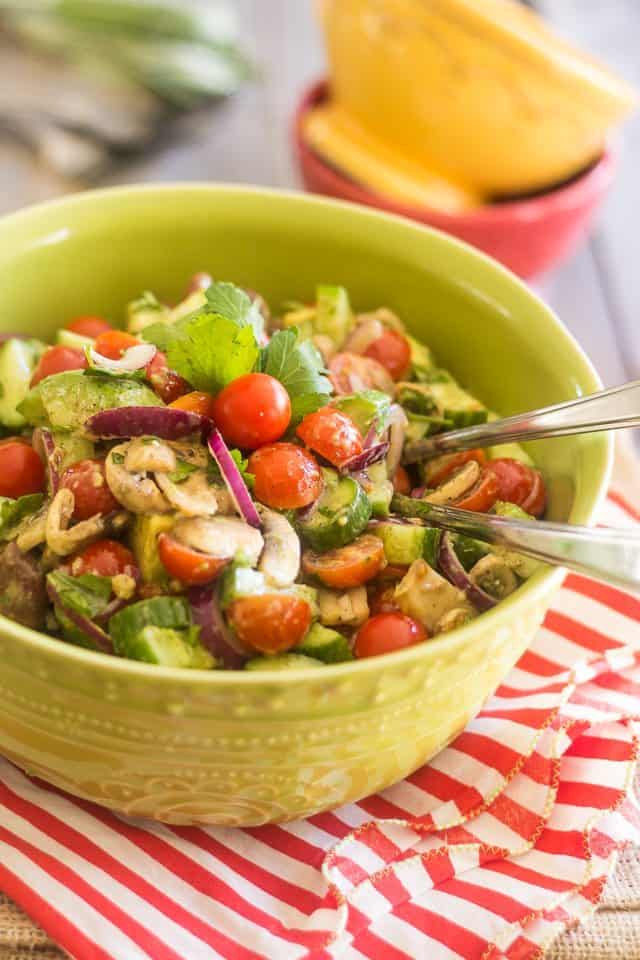 So add your emulsified vinaigrette of just plain dump everything in the bowl (don't forget to add your avocados if like me you're one to add them at the last possible minute), mix well and serve without delay.
I can already predict that this one will become a favorite of yours too, especially now that the warm, sunny days of summer are comfortably installed, which means grilling season is in full swing! There isn't anything you can throw on the grill that this Tomato Cucumber salad will not perfectly complement.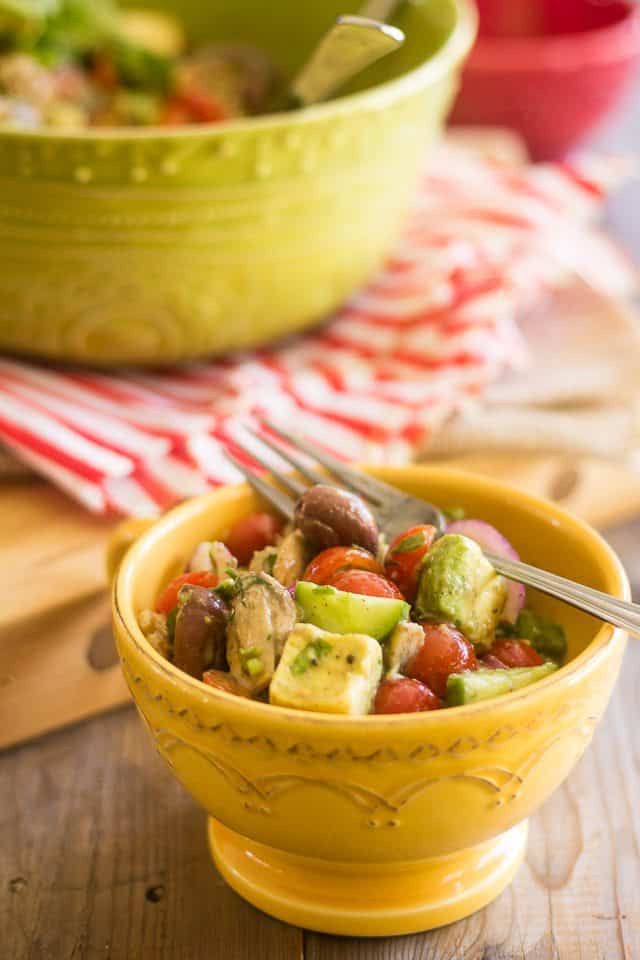 It will honestly go good with just about anything, be it grilled chicken, juicy steaks, thick pork chops, BBQ short ribs, mile-high burgers (bunless, of course!), beef kebabs or even fish.
Or… you could just sit yourself down with a whole big bowlful and nothing else. Trust me, you would not feel deprived in the least!
Quick & Easy Tomato Cucumber Salad
Servings: 4
Ingredients
3 cups cherry or grape tomatoes, cut in half
6 Lebanese cucumbers, chopped
6 button mushrooms, sliced
1 small red onion, thinly sliced
1 ripe avocado, diced
1/2 cup kalamata olives, pitted
1/4 cup walnuts, chopped
1/4 cup fresh parsley, finely chopped
Instructions
Add the vegetables, olives and walnuts to a large mixing bowl.

Add all the ingredients for the vinaigrette to a tall and narrow glass jar

(or use the container that came with your stick blender)

and blend well with a

stick blender

until slightly emulsified, about 30 seconds.

Pour the vinaigrette over the vegetables and toss delicately until well combined.

Serve immediately
If you've tried this recipe, please take a minute to rate the recipe and let me know how things went for you in the comments below. It's always such a pleasure to hear from you!
You can also FOLLOW ME on PINTEREST, FACEBOOK, INSTAGRAM and TWITTER for more delicious, healthy recipes!