Creamy Cauliflower Fritters
For the longest time now, I've had Cauliflower Fritters on my list of upcoming recipes.
In fact, what I really meant to do was revisit this old Cauliflower Fritter recipe of mine, which I came up with a little over 2 years ago. I'd always been curious to give them another try and perhaps improve them a little bit.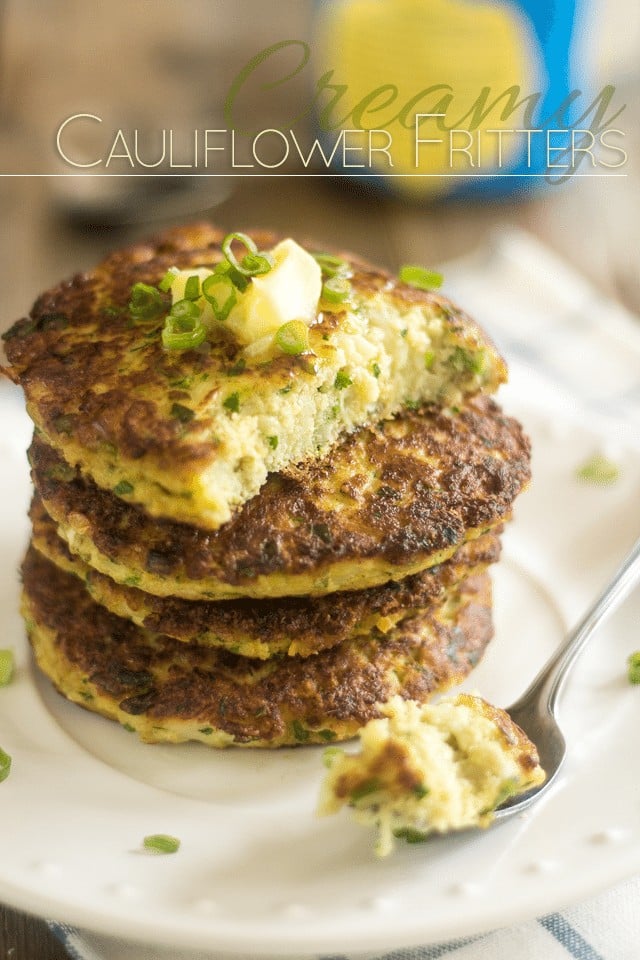 But then, some unknown blogger, you know, some guy whose blog I had never seen, let alone read before in my life, had to go and post HIS version of Cauliflower Fritters.
I was doomed, finished, done for.
From the moment I laid eyes on those fritters, I knew I would know no rest until I'd sunk my teeth into some extremely similar fare. That creaminess, that lusciousness over which my eyes were getting all excited, my mouth was eagerly demanding. The revisiting of my old recipe would have to wait. This new version was going to have to happen first.
And frankly, now that I've had a try of these, I'm not even sure that I want to revisit that old recipe of mine. I think I'm gonna have to come up with a cross between the "then" and "now" fritters.
Or just plain stick with the new…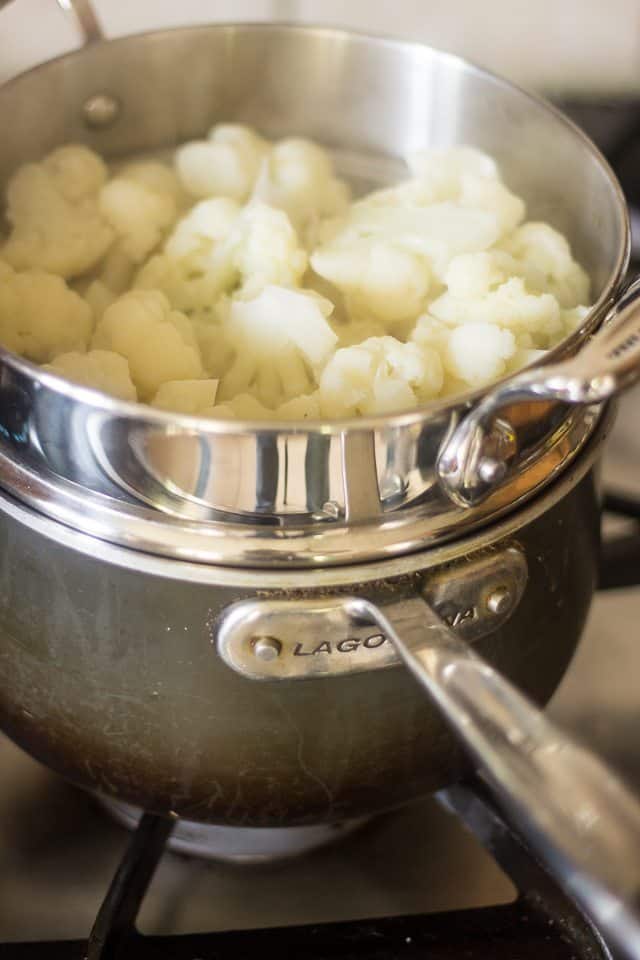 Unfortunately, there's [almost] no making cauliflower anything without well, cooking the cauliflower first, and then squeezing the water out of it. And we all know how much I like to squeeze water out of things, don't we?
I like to steam my cauliflower over salted boiling water, but some people prefer to rice it first and then microwave it. Really, you can use whichever method you prefer here, the end result will be the same. (We're STILL gonna have to squeeze the water out of it…) 
Just make sure you cook that cauliflower until it's REALLY soft and tender.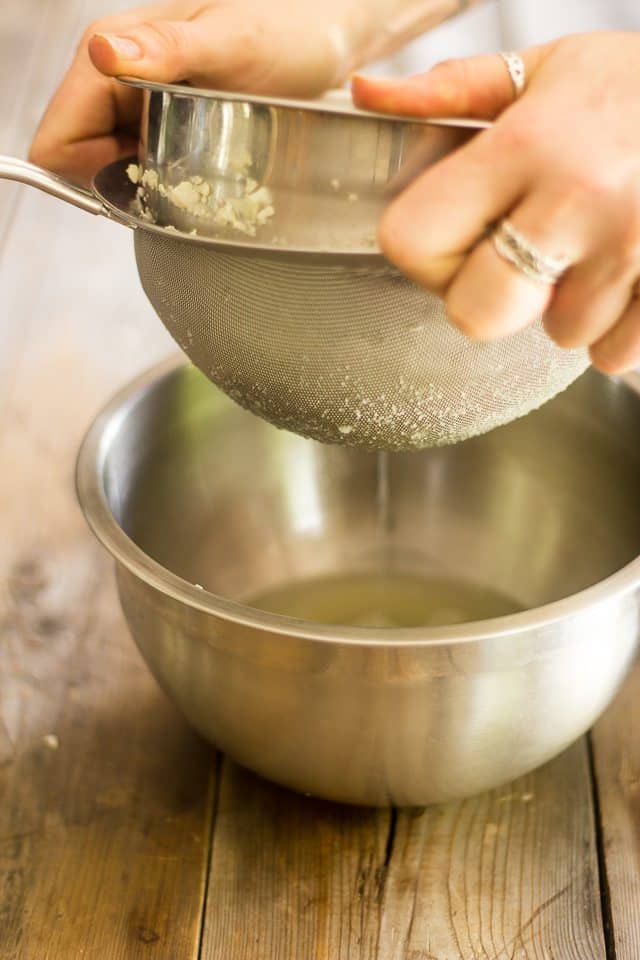 You then want to transfer your cooked cauliflower to a fine meshed sieve to get that water out, you know…
This is now my rig of choice for squeezing water out of things. I found a bowl that fits very snuggly inside my sieve, so I use it to push down on whatever I want to extract water from and it works wonders! If you don't have such a bowl, you could also use a ladle, or a small unbreakable plate.
And if you don't have a fine mesh sieve, you could also use the tea towel method: just dump your cooked cauliflower onto a clean tea towel, wrap it up and squeeze the bejesus out of it.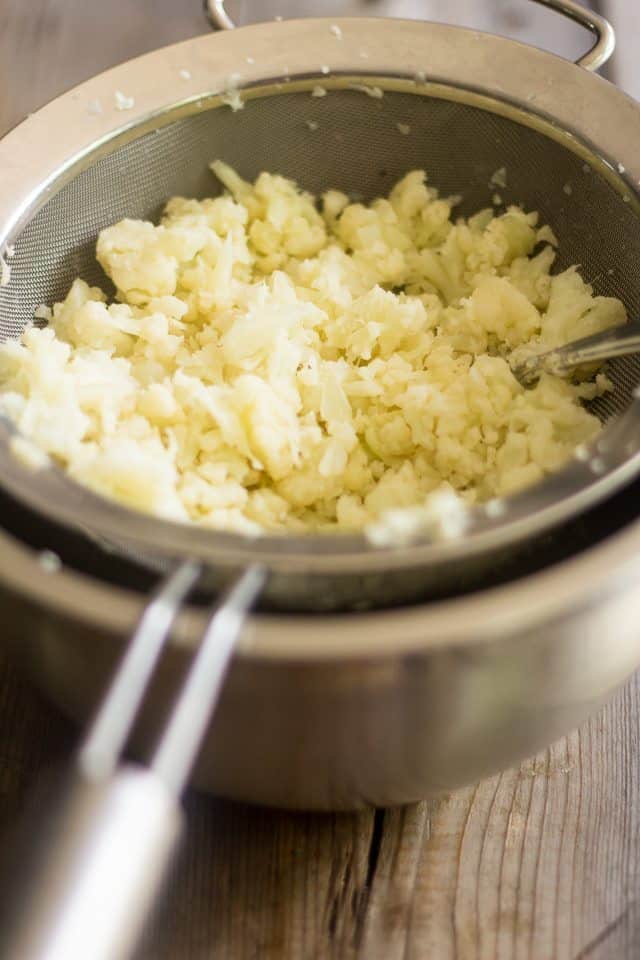 Again, whichever method you choose to use, make sure you squeeze every last drop of water out of that cauliflower. I can guarantee you that even when you think there's no more, there's still some. So grab a spoon, break down the florets and move them around a little bit and squeeze some more.
Do that 2 or 3 times. You want to be certain that your cauliflower is absolutely, positively dry. Don't stop squeezing until there isn't a single drop of liquid coming out.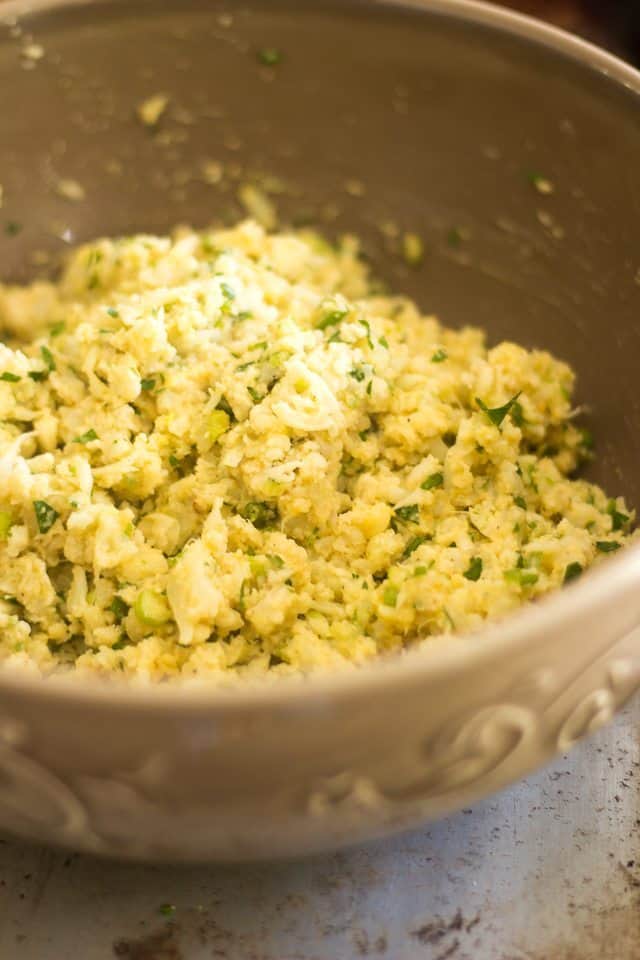 Phew. Glad that part's done with. Now we must simply mix all the ingredients together in a bowl, then form the mixture into 4 patties.
You could also do 8 smaller patties, if you wanted to, but I wanted nice big patties!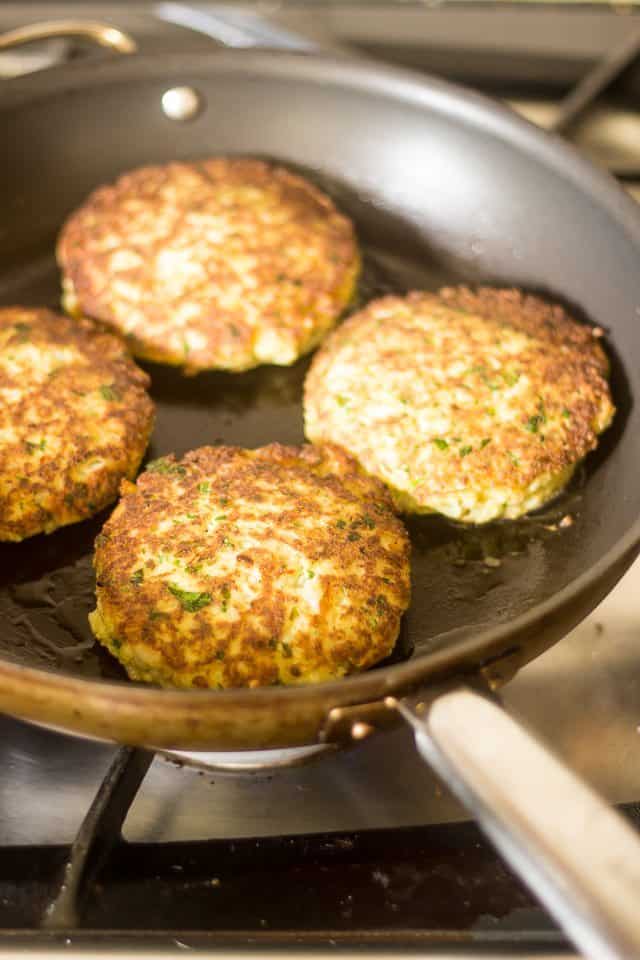 Cook the patties in a large skillet set over medium heat, for about 3 to 4 minutes per side.
Now these are fairly delicate, so you don't want to be moving them around. Plus, you want that nice golden caramelization to happen, right? Right! That only happens if you leave food alone. So set them in that pan and let the hot fat do its work.
When you can see that a nice golden crust has formed, delicately flip the patties over and give them another few minutes to form an equally beautiful crust on the other side.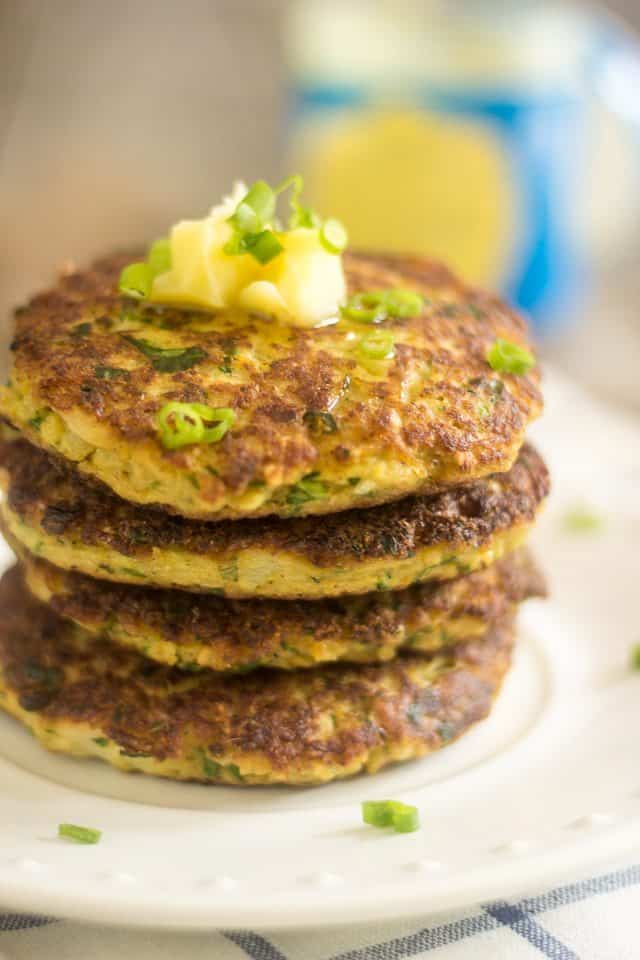 Serve these beauties piping hot, topped with a little dollop of ghee and a few rings of chopped green onions.
Just look at that gorgeous melting butter that's slowly making its way down the pile of creamy golden fritters.
OH! Be still my heart.
But that's not all… just wait 'til you see how creamy these are on the interior… Unbelievable!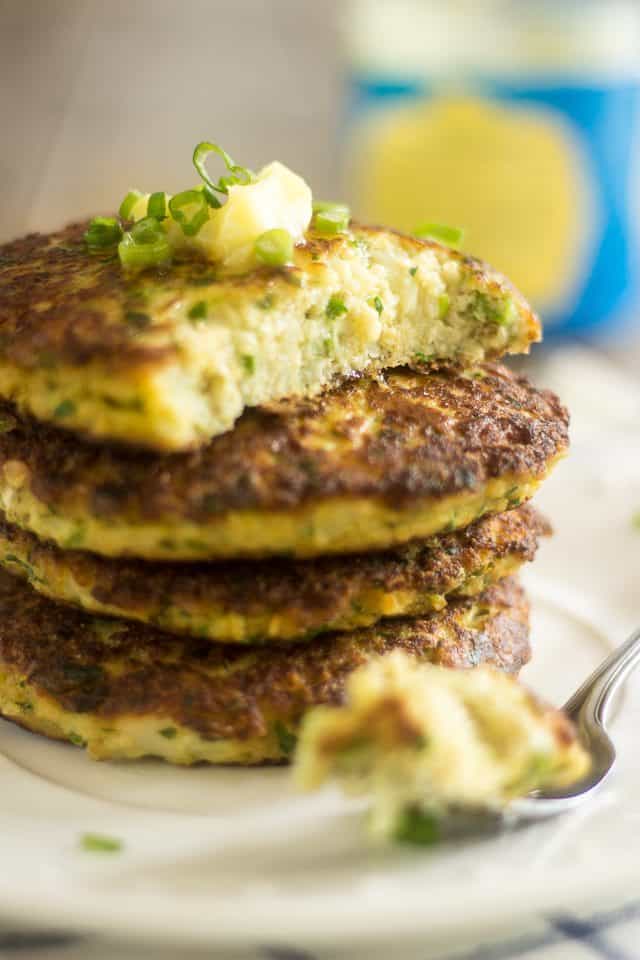 See? Oh my! Creamy enough for you?
Now if only I could let you taste them…
I'm telling you, the contrast between that crispy, tasty golden crust and the smooth, buttery interior is absolutely out of this world! It'll quite simply blow your mind!
Make these now… they're worth all the water squeezing efforts, I swear.
Take my word for it.
Creamy Cauliflower Fritters
Servings: 4 patties
Instructions
Steam the cauliflower florets over salted boiling water until really tender, about 8 to 10 minutes.

Place the cooked cauliflower in a fine mesh sieve* and press it down real hard with a ladle or an unbreakable bowl or plate that fits snugly into the sieve; You need to remove as much water as you possibly can, so don't be afraid to squeeze. Even when you think the water is all gone, I can guarantee you there's more! Move your cauliflower around with a spoon and break it down to smaller pieces, then squeeze again. Repeat until no liquid comes out: you want that cauliflower to be DRY!

Transfer the cauliflower into a bowl, along with the rest of the ingredients, except for ghee. Mix by hand until all the ingredients are well combined then form into 4 patties.

Melt the ghee in a large skillet set over medium heat. When the pan is hot enough, delicately add the patties and cook undisturbed until a nice golden crust forms, about 3-4 minutes per side.

Serve piping hot with a little dollop of ghee and chopped green onions.
Notes
*If you don't have a fine mesh sieve, you could also dump the cauliflower onto a clean tea towel, wrap it up and squeeze the heck out of it.
If you've tried this recipe, please take a minute to rate the recipe and let me know how things went for you in the comments below. It's always such a pleasure to hear from you!
You can also FOLLOW ME on PINTEREST, FACEBOOK, INSTAGRAM and TWITTER for more delicious, healthy recipes!