Apricot, Mustard and Rosemary [Cold] Pork Roast
For most of my life, I've been a huge fan of cold cuts.
Every week, I would buy several different kinds from black forest ham to smoked turkey breast to salami, bologna, pastrami or my all time fave, extra-spicy capicolli.
I rarely ever used them in anything, though. I've never been especially big on sandwiches, so you see, cold cuts, I used to buy mostly to munch on. They were my ultimate favorite thing to reach for when I'd come back from work starving and opened the fridge in search of something to satisfy my hunger.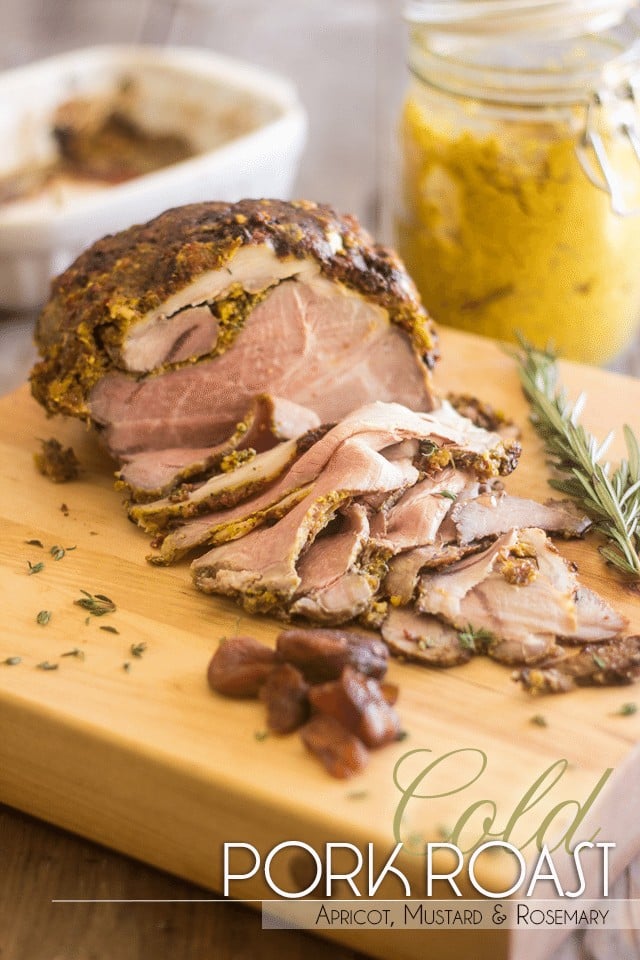 I should've known better, though, for my dad worked in the industry for several years so I knew full well how they were made and what went into them. Still. I couldn't resist eating them.
Good thing I've wizened up since…
Nowadays, when I get a craving for cold cuts, all I do is pop a roast in the oven, then let it cool 'til the next day, slice it real thin and I'm all set! Perfect cold cut replacement.
Granted, this will do nothing to fix a craving for salami or pepperoni or extra spicy capicolli, but it does provide the cold cut fix that I need. Plus, this tastes like a million times better, has a much superior texture, is much more satisfying and what's best is I get to create my own flavors.
All that's left for me to do now is learn how to make my own capicolli!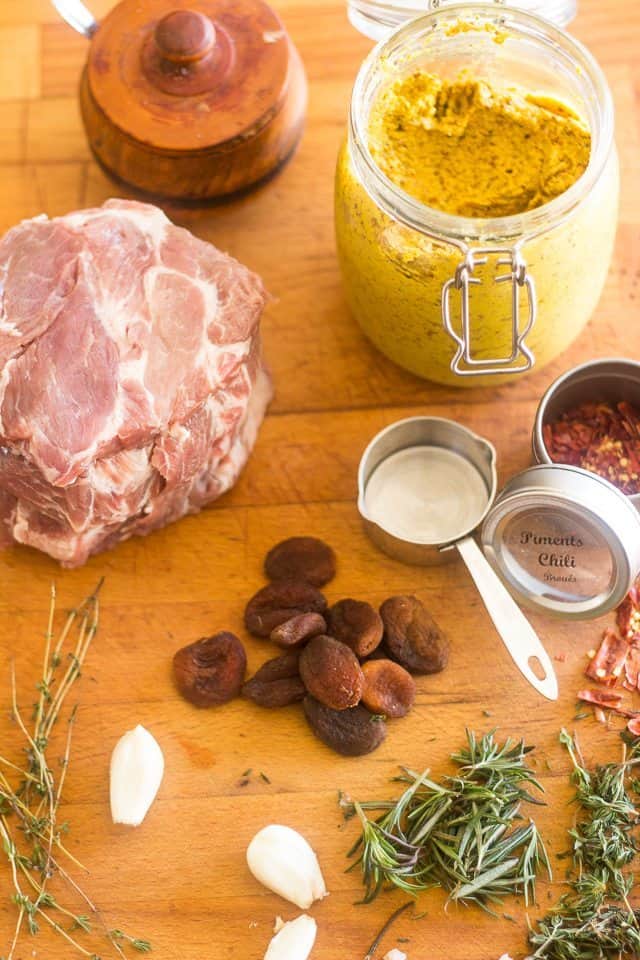 But I'm not quite there yet… (although if you've been reading me a while, you probably know that there's a very good chance I eventually will)
For the time being, cold pork roast and cold roast beef give me ample satisfaction when I get a sudden need for cold cuts. Pork especially… It must be because it reminds me of my dad. He had a real soft spot for it, and I think he passed it along.
Alright, enough babbling here. What do you say we get started with this thing? It does take a little while to make, so I hope you're not in a hurry. Don't worry though, it's not complicated at all. It's just the sitting time that takes forever… but that requires absolutely no effort on your part, so it's all good, right?
Good. Let's do this.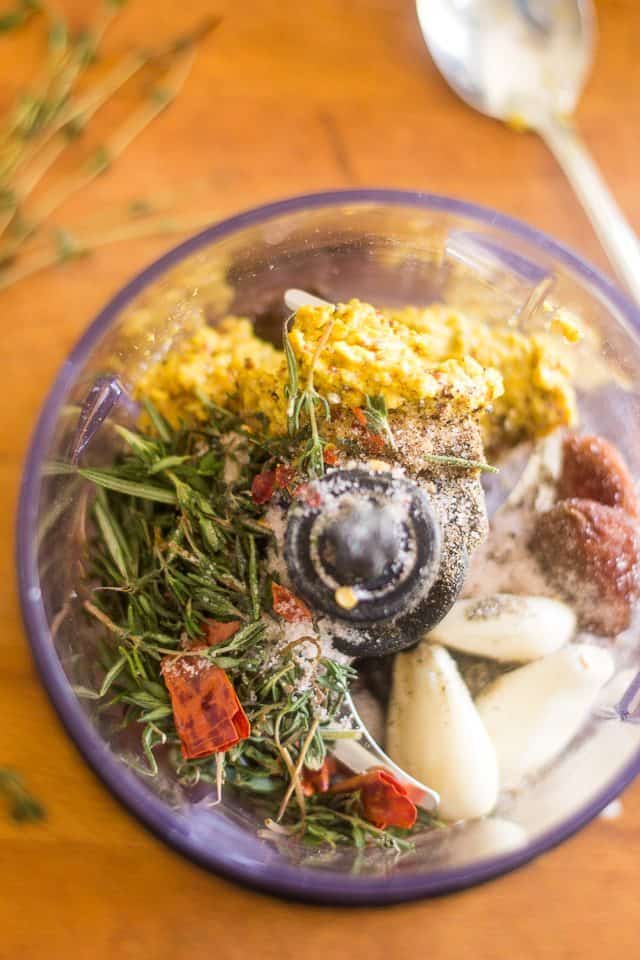 First, we need to create FLAVOR, and for that, we need a spice rub. AH! Easy as pie. Simply throw all the ingredients in a small food processor and reduce them to a thick, tasty paste.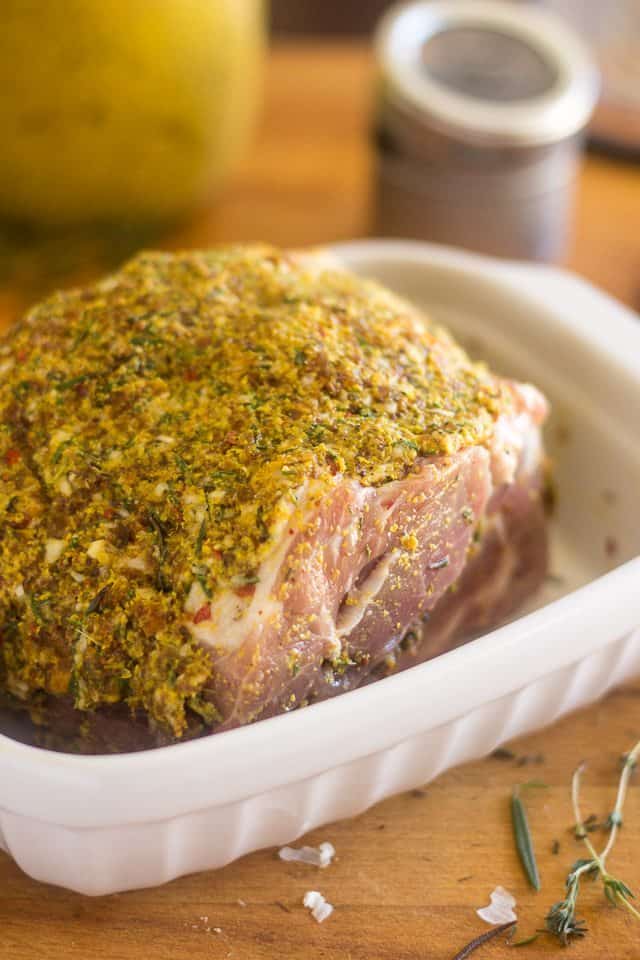 That tasty paste will then have to be rubbed all over the roast. If there are cracks and openings in your piece of meat, make sure you push some of that stuff in there, 'cuz that only means one thing: more flavor!!!
Cover the roast in plastic film and send it to the fridge for a couple of hours or better yet overnight, if you're not in [too much of] a hurry.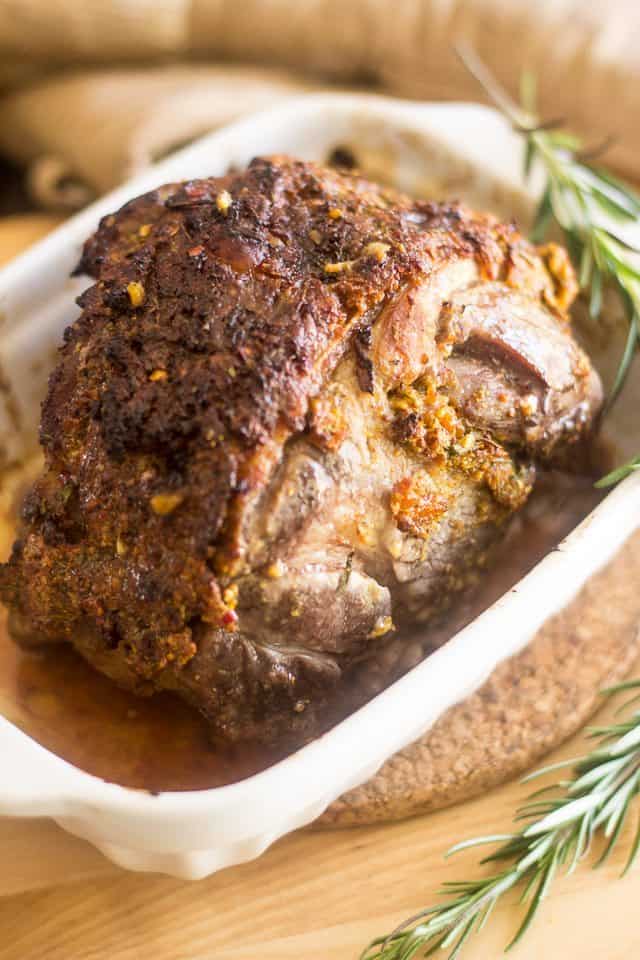 When you feel your roast has had enough time to make friends with all the flavors that you introduced to it, take it out of the fridge, replace that plastic film with foil and send it to the oven for an hour and a half.
You'll want to remove the foil for the last half hour and baste your meat once or twice to create a beautiful crust like the one you see here.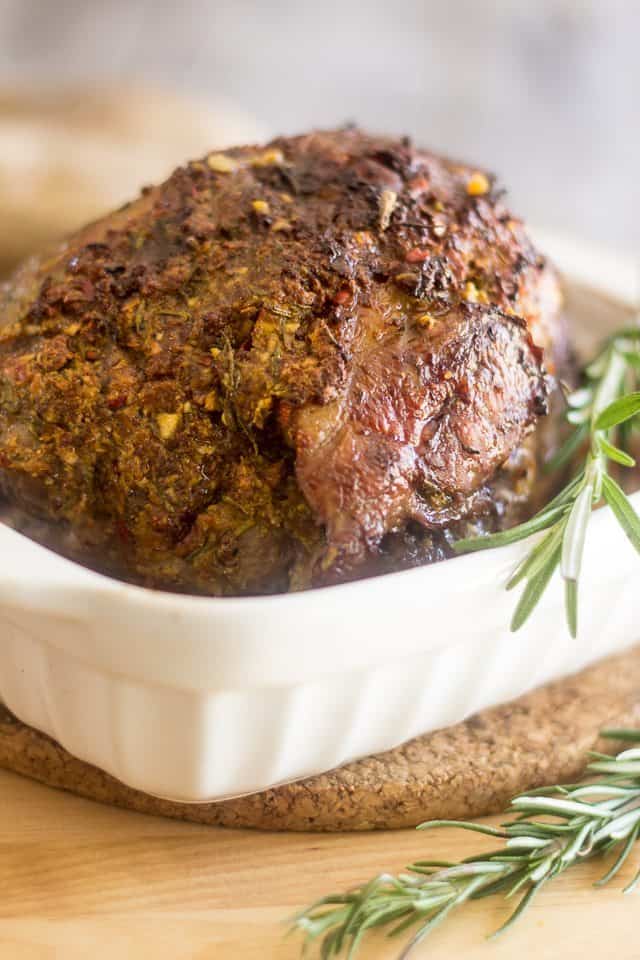 Whichever way you want to look at it, it's a beautiful thing.
Of course, you *could* eat this right away if you wanted to! I'm sure it would be absolutely DEEELICIOUS. It sure smelled amazing, let me tell you that, and it was VERY hard for me not to grab a fork and knife and dig right in.
But a cold cut fix is what I was after, so this baby had to go in the fridge until it got chilled to the bone. Wait. It doesn't have a bone… Alright then, make that very, very cold. Again, an overnight stay in the icebox is your best option.
Hey, this is a food of love thing, and love takes time, you know.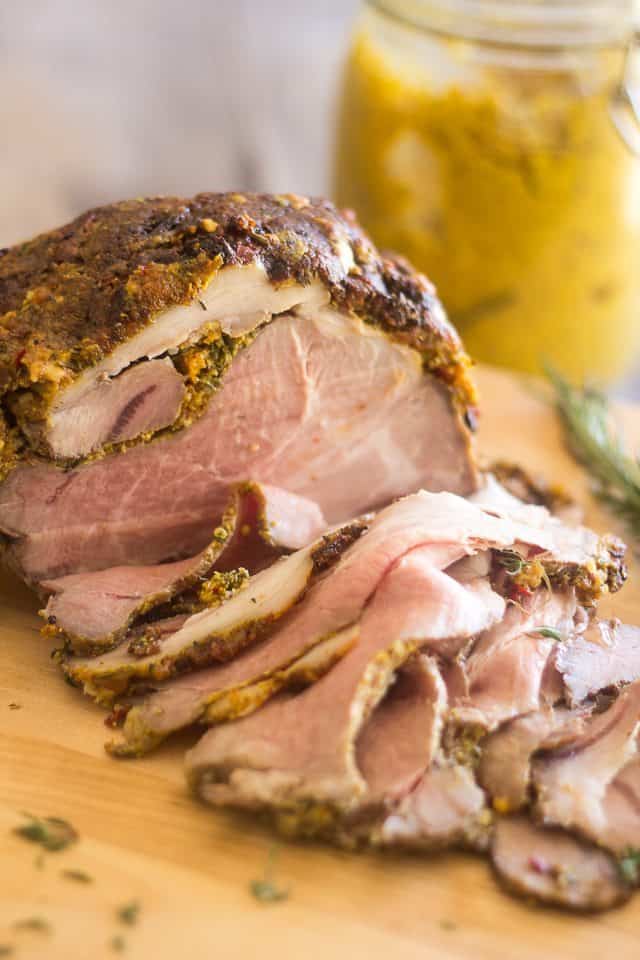 The next day (or after 4 to 6 hours, if you're not that patient) slice your roast as thinly as you possibly can. See all that beautiful flavoring that got pushed inside?
Oh yeah! That was yummy! And you don't get THAT from commercial cold cuts.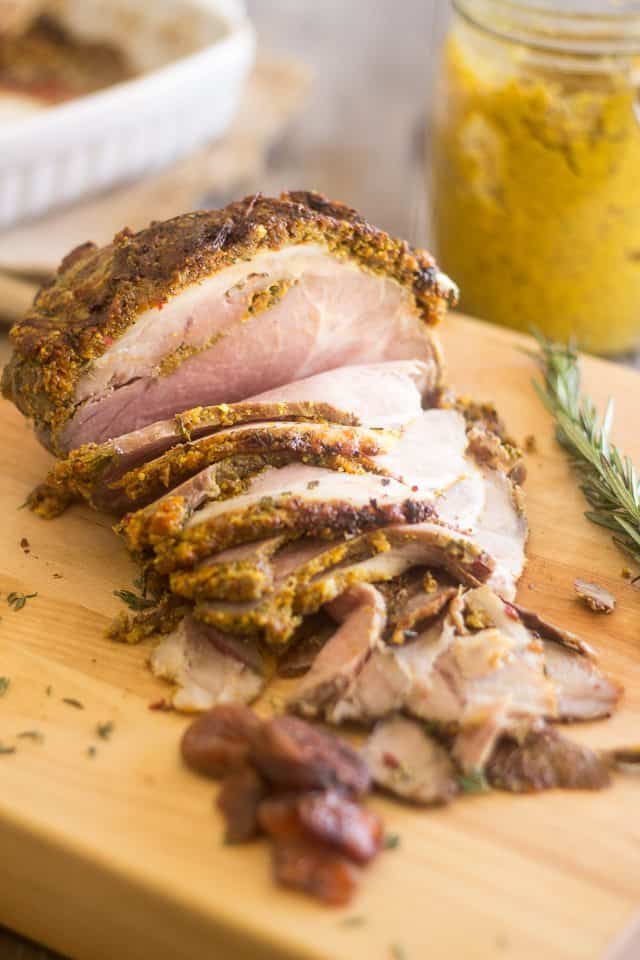 If you wanted to, you could also do thicker slices and pan fry them over fairly high heat in a little bit of ghee or coconut oil. Just don't move your meat around a let your slices form a beautiful caramelized crust on both sides. To die for!
I know my dad would've killed for that… (well, not literally!)
Now, if you'll excuse me, I think I've a few words I need to Google… Homemade capicolli, anyone?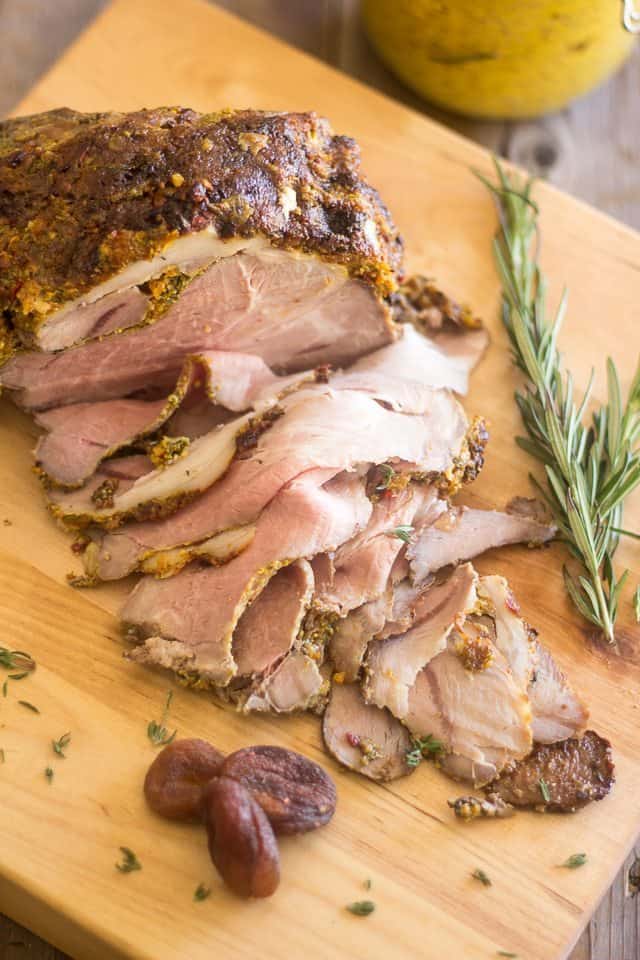 Apricot, Mustard and Rosemary Cold Pork Roast
Even though this Pork Roast is fantastic straight out of the oven, I chose to let it chill completely and slice it into tasty and healthy cold cuts.
Servings: 6
Ingredients
2.2 lb pasture raised boneless pork butt roast
Instructions
Add all the ingredients of the spice rub to a

small food processor

and process until it turns into a thick paste.

Cover the roast with the spice rub (make sure to push it down any crack that your roast may have) then place it in a shallow baking dish, cover with plastic wrap and place it in the refrigerator for a few hours or better yet, overnight.

Preheat your oven to 325°F

Remove the plastic that covers your roast and replace it with aluminum foil.

Place your roast in the oven and cook it for an hour, then remove the foil and continue cooking for an additional 30 minutes, basting once or twice.

Remove the cooked roast from the oven and let it cool for a few hours, then transfer it to the refrigerator to chill completely, at least 4 hours but preferably overnight.

Slice as thinly as possible and serve cold.
Notes
*You could also eat this warm as it comes out of of the oven, if you wanted to. It's also delicious, trust me!
Nutrition
Calories: 244kcal, Carbohydrates: 5g, Protein: 32g, Fat: 10g, Saturated Fat: 3g, Cholesterol: 100mg, Sodium: 620mg, Potassium: 661mg, Fiber: 1g, Sugar: 3g, Vitamin A: 359IU, Vitamin C: 2mg, Calcium: 40mg, Iron: 3mg
If you've tried this recipe, please take a minute to rate the recipe and let me know how things went for you in the comments below. It's always such a pleasure to hear from you!
You can also FOLLOW ME on PINTEREST, FACEBOOK, INSTAGRAM and TWITTER for more delicious, healthy recipes!