Green Lentil and Cabbage Soup
After having indulged quite a bit way too much over the Holidays, I would gladly go for a bowl of this light and comforting soup tonight. I'm telling you, good ol' chicken noodle doesn't have much on that one.
In fact, I think the two are pretty similar.
Both are very filling, satisfying, super tasty and are better served piping hot with a lot of freshly cracked black pepper.
Now, I don't know if you remember, but what seems like ages ago, I gave you a recipe for Vegetarian Cabbage Rolls and told you not to get rid of the leftover cabbage that you would invariably get stuck with because I had just the recipe for you to use it in.
Well, this is it, right here.
Hopefully you didn't go and make that recipe the very same night, got stuck with leftovers back then and held on to them until now, because if you did, well chances are, you can now get rid of them as they would no longer be suitable for human consumption… 😉
But seriously, you don't need to make the cabbage rolls in order to make this soup. You can use leftover cooked cabbage from any dish that you might have made, and I'm pretty sure that raw cabbage would also work beautifully. You only need add it a little bit sooner, that's it.
Seriously, the more I look at these pictures, the more I am craving a bowl…
Better go and get busy working on them pizzas. 'Cuz that's what for dinner tonight!
You know what that means, right?
Pizza post coming soon, people! 😀
But really, I think I'd rather have the soup… 
GREEN LENTIL AND CABBAGE SOUP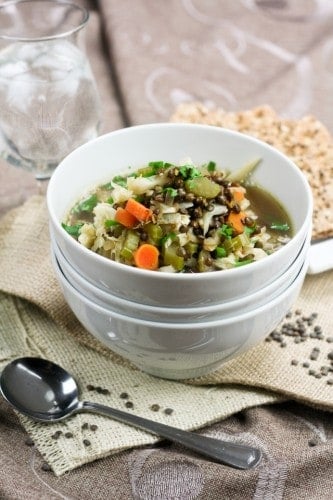 INGREDIENTS
(serves 2) 
1 small onion, chopped
½ tsp salt
¼ tsp black pepper
1 celery rib, chopped
8 baby cut carrots, sliced
½ cup DuPuy Lentils
4 cups water
½ tsp salted herbs
1 tsp no salt organic seasoning
2 bay leaves
2 cups cooked cabbage, shredded
INSTRUCTIONS
 Heat about a teaspoon of olive oil in a medium saucepan over medium high heat. Add the onion, celery, carrots, salt and pepper and cook until fragrant and the onion becomes translucent, about 3-4 minutes.
Add lentils and stir to coat evenly.
Add salted herbs, organic seasoning, bay leaves and water. (Alternatively, you could also use chicken stock and leave the salted herbs and seasoning out)
Bring to the boil then reduce heat and simmer, partly covered, for about 25 minutes, or until lentils are tender.
Add cooked cabbage* and continue cooking just until cabbage is heated through.
*If you don't have leftover cabbage, I guess you could very well use raw cabbage and add it at the same time you add the lentils.