Eggs Hemingway, sans Hollandaise… with extra greens, please!
Eggs Hemingway are basically just a variation on the great classic that are Eggs Benedict, only they are made with smoked salmon instead of ham or bacon.
A tad better for you, but still… the killer, butter laden Hollandaise Sauce is still part of the "official" dish… and frankly, I don't really understand why.
I mean, a poached egg, when prepared well, already provides you with such a beautiful, natural, healthy, smooth and velvety "sauce", in the shape of the yolk,  I don't really get why people would want to cover that with yet ANOTHER sauce.
Totally unnecessary, if you ask me.
Plus, you know me and a runny egg yolk: LIQUID GOLD, that's what it is.
It's so beautiful to look at, I wouldn't dream of hiding it under a thick layer of sauce, no matter how ooey, gooey or yummy.
Soooo, I say ditch the Hollandaise, add a little bit of greens, a few capers and a few drops of balsamic vinegar and you get yourself a great, simple and HEALTHY little dish that can be enjoyed anytime of day.
Seriously, could you dream of a yummier way to start your day? OK, I could think of about six hundred and fifty seven right this second, but you know me and breakfast. 😉
Still. This one here is way above average.
Lunch or dinner would also work beautifully. To be honest, I had this for dinner. I don't really do savory breakfasts. But if I did, this one would be right at the top of my list!
The best part is, it's fairly easy to prepare, once you get the hang of the whole egg poaching thing.  And really, it's not that hard, trust me… Just watch this video and you'll be a pro in no time!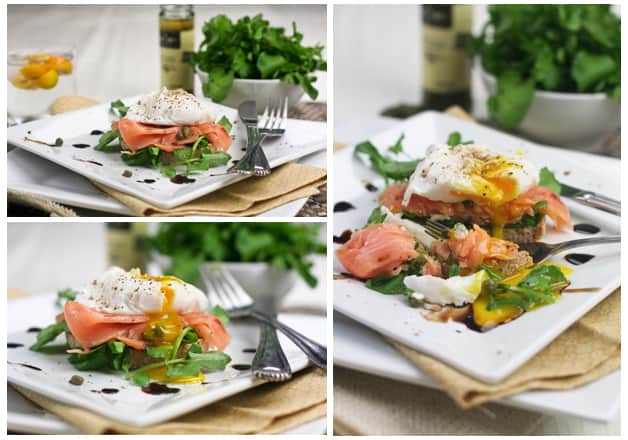 You basically poach the eggs, toast your English muffins, assemble the whole thing and voilà!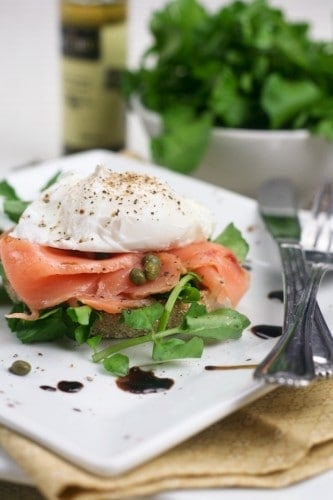 Almost as easy as spreading peanut butter on a toast…
Almost…
EGGS HEMINGWAY À LA HEALTHY FOODIE
INGREDIENTS 
(Yelds 4) 
2 Whole Wheat English Muffins, cut in half
200g smoked salmon
Watercress
Balsamic vinegar
Capers
Salt and pepper, to taste
INSTRUCTIONS
First, poach the eggs and set aside on a paper towel
Toast the English muffins halves and top each half with a handful of watercress leaves (baby arugula or spinach leaves would also work great)
Sprinkle a few capers and a few drops of balsamic vinegar over the greens and top with 50g of smoked salmon.
Place poached egg over the salmon, sprinkle with salt and pepper
Garnish with more capers and balsamic vinegar, if desired.