Shrimp, Avocado and Pink Grapefruit Salad
I've decided that I definitely needed to incorporate way more salads into my regular diet… but the thing is, in general, I find salads to be terribly boring.
I mean, there's only so much you can do with raw vegetables, right?
Well, yes, and no.
I think salads CAN be interesting, but one needs to unleash their creativity and incorporate all sorts of fruits and veggies, as well as protein such as eggs, lean meats, nuts and / or cheese to them, in order for a salad to become worthy of being called a GREAT meal.
So from now on, I'll try and come up with at least one fun salad recipe per week. I should be able to do that, shouldn't I?
I mean, all I need to do is grab a couple of ingredients and mix them together. Like say, cooked shrimp, avocado and pink grapefruit, served on a bed of greens with a hint of mint…
It might sound like a strange combination, but trust me, it works!
And it works beautifully, too!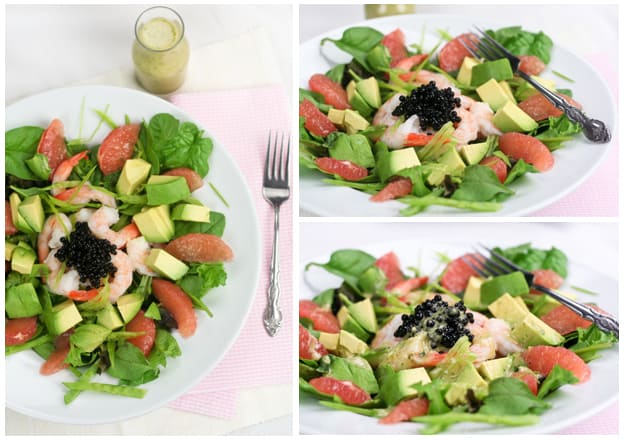 I think my favorite part about this particular salad, though, is this amazing discovery that I just made: Balsamic Vinegar Pearls. We are lucky enough to have that product available in stores here, but from what little information I've been able to find online, it doesn't seem to be that easy to find elsewhere…
However, it looks pretty easy to make at home. I'll definitely have to give this a try. I mean, it looks easy AND fun, and the end result is just so yummy. I mean, I could literally eat that stuff by the spoonful.
It's that good!
And it's so beautiful to look at, it looks almost like caviar.
I can only imagine the possibilities. I think I'm hooked.
Addicted.
Infatuated? Maybe. 😉
It certainly is one of my favorite food discoveries of the year (I know, I know, the year is still SO very young…)
Still, I was very excited to share that one with you.
But hey, you can very well make that salad without the pearls, you know. Trust me, they are totally optional.
But if you ever come across them, by all means, grab 'em!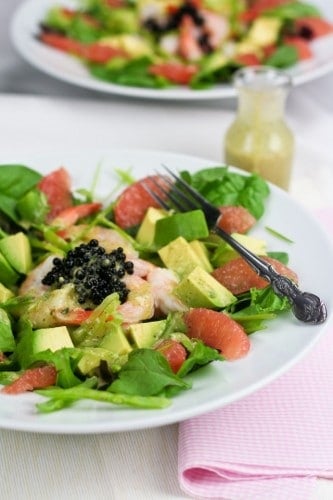 SHRIMP, AVOCADO AND PINK GRAPEFRUIT SALAD
INGREDIENTS
(Serves 2)
Salad
2 pink grapefruits, supremed (keep the juice)
 26-30 tail on cooked shrimp
1 avocado, diced
15-20 snow peas, julienned
Handful mint leaves, coarsley chopped
2 cups mesclun (spring mix)
2 cups baby spinach leaves
Dressing
Juice from your grapefruit
1 tsp ginger, chopped
1 clove garlic, chopped
1 tbsp extra virgin olive oil
½ tsp salt
¼ tsp black pepper
10 mint leaves, chopped
1 tsp unpasteurized honey
½ tsp Dijon mustard
1/8 tsp guar gum
INSTRUCTIONS 
Working over a bowl so that you don't let any of the juice go to waste, arrange your pink grapefruits into supremes. Once all the supremes are out, squeeze all the remaining juice out of what's left of your grapefruits.
Transfer that juice to your mini blender or food processor. Add the rest of the ingredients for the dressing and blend until smooth.
Arrange mesclun / baby spinach and chopped mint leaves at the bottom of 2 serving plates. Arrange half the shrimp, avocado, snow peas and grapefruit supremes over each bed of greens.
Garnish with Balsamic Vinegar Pearls, if you have.
Pour dressing overtop the salad when you are ready to eat.