Shaved Asparagus and Mushroom Pizza
It's been a while since I've last given you a pizza recipe, hasn't it?
Well, if it hasn't, it sure feels like it to me.
When I ate that pizza, it felt like it had been AGES since I'd last indulged in one of them.
AGES!
Really, I have to start doing this more often. Pizza once a month. That wouldn't be too much, now, would it?
I think I should make it a New Year's resolution: come up with a new crazy healthy pizza combination at least once a month. 😉
Would any of you complain about that?
I thought not!
Now, this last creation might not be the most original, crazy and strange combination that I've ever come up with, I mean, I didn't add any raisins to it (hmmm, raisins on a pizza? Now here's something to keep in mind…) but hey, I had a bunch of asparagus as well as some button mushrooms that I needed to use up…
I thought why not turn them into great pizza toppings?
And that's exactly what I did!
While not necessarily super imaginative, this particular pizza turned out stunningly delicious. 
Of course, there's no tomato sauce on it. I chose to make a quick bechamel using green onions and garlic as a base for flavor. That was a really great call!
Oh, and did I ever tell you just how much I love that crust? I mean, come on, just look at it!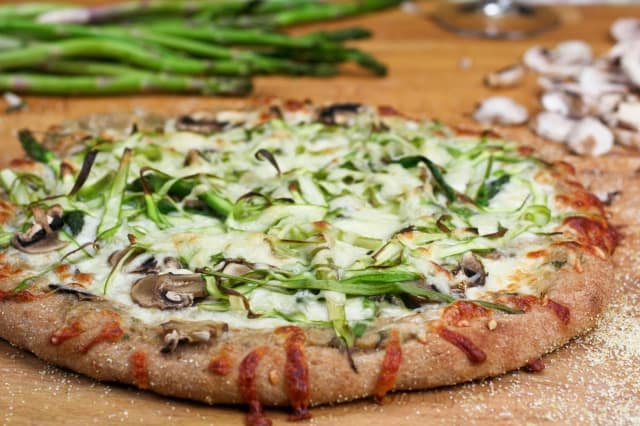 It's absolutely, stunningly gorgeous. Worthy of the best pizzerias, let me tell you. I think I like it more every time I make it.
Now, what I really want is to get me a pizza stone and see if it makes a difference.
But seriously, I'm not sure that it could really get any better than this!
Still worth a try, I guess… I mean, making an already incredibly good thing even better?
I'm all for that!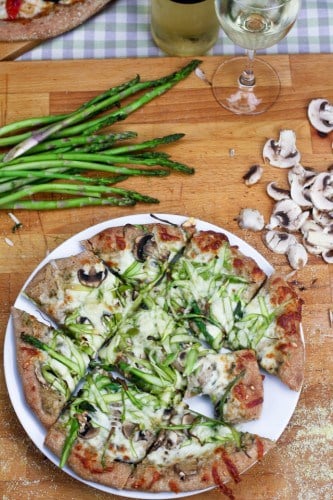 SHAVED ASPARAGUS AND MUSHROOM PIZZA 
INGREDIENTS 
(For one 10-12 inch pizza) 
DOUGH
SAUCE
1 small clove garlic, crushed
2 green onions, chopped
1 tbsp olive oil
1 tbsp whole wheat flour
½ cup unsweetened soy milk
Pinch salt & pepper
TOPPINGS
6 button mushrooms, sliced
12 asparagus, shaved (use a vegetable peeler)
75g low fat mozzarella cheese, grated
25g emmenthal cheese, grated
INSTRUCTIONS
Preheat oven to 500F.
In a small saucepan, heat the olive oil over medium heat. Add green onions, garlic, salt and pepper and cook until fragrant, about 1 minute.
Add flour and whisk to combine. Slowly pour in milk and whisk until sauce becomes thick and "smooth" and flour is fully cooked, about 2 minutes. Feel free to add a little bit more milk if you feel the sauce is too thick, but keep in mind that you do want it to be on the thick side. A sauce that is too thin will result in a soggy pizza dough.
Roll dough into 10-12 inch disc and lay on a baking sheet.
Spread "bechamel" sauce and top with half the mushrooms, then add mozzarella cheese, shaved asparagus, followed by the rest of the mushrooms and finally emmenthal cheese.
Bake in the oven for about 10 minutes, until cheese is melted and starts to colour on the edge.