Lean Mean Green… Pea Salad (and creamy cucumber dressing)
As much as I hated the colour of my mushroom soup, this salad, right here, I just couldn't stop staring at because I was in love with how beautiful it looked with all its different shades of exquisite, healthy green. To me, this one was a feast for the eyes way before it became one for my tastebuds.
It's probably got to do with the fact that, for some reason, I've been having major cravings for everything and anything green lately, but I mean, MAJOR.
How major, you ask?
Well, put it this way: I'm just having lunch now, as I type, and said lunch consists of one whole bunch of rapini, steamed and cooled, with a side of baby carrots, for a bit of contrast, you know.
I know, I know, it's not such a great or well balanced meal and I'll be hungry again in an hour, but hey, sometimes, you've got to give in to your cravings, don't you? 😉
Anyway, back to that salad, I really wanted something with green peas, tons of cold green peas to be more precise, so I decided to have a great big bunch of them in a salad, and add a few more green ingredients to complement them. Of course, I had to throw in some cucumber. However, I felt that the skin and seeds, if they were left on, would be in the way, as they would add too much texture and flavor and would basically end up stealing the show… so they had to go.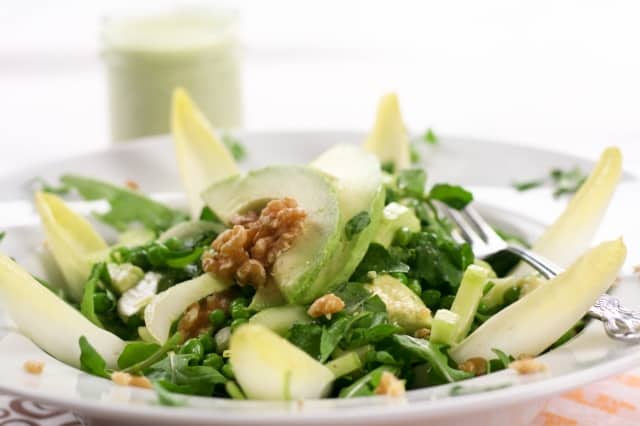 However, I just cannot bring myself to throwing any nutritious part of a vegetable to waste, so I had to find a way to incorporate them to that salad.
But how?
That's when I thought of the dressing. Why not use them as a base to make a creamy cucumber dressing?
I started builing around that idea and ended up with a salad dressing that it so healthy, you could eat it by the spoonful! Needless to say you can put as much as you want in your salad without feeling guilty in the least.
Oh, and did I mention it also tasted so mighty good that you'd actually WANT to eat it by the spoonful?
Well, it did! 😉
Skeptical?
Try it for yourself!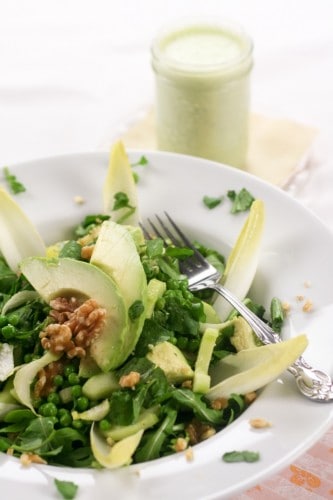 FRESH CUCUMBER AND GREEN PEAS SALAD
INGREDIENTS
(Serves 2)
1½ cup frozen green peas
1 large English cucumber
1 small endive
½ cup watercress, stems removed
1 avocado, diced
50g walnuts, coarsly chopped
3-4 cups arugula
Creamy Cucumber Dressing
the peels and seeds from the cucumber
¼ cup 0% fat Greek yogurt
4-5 Brazil nuts, chopped
1 tsp Dijon mustard
1 tsp liquid honey
1 tsp white wine vinegar
½ tsp salt
¼ tsp black pepper
INSTRUCTIONS
Cook the frozen peas and rinse them under running cold water until completely cooled. Drain and set aside.
Peel the cucumber and cut in in half, and then cut each half in half again, lenghtwise this time. Scrape the seeds with the tip of a spoon. Save the peels and seeds to make the dressing
Slice the cucumber rather thinly and add slices to a large mixing bowl.
Slice the endive on the diagonal, fairly thinly, and add that to the cucumber.
Add watercress, cold peas, avocado and walnuts and toss gently until well combined. Set aside.
In a small food processor, add all the ingredients of the dressing and process until smooth.
Divide the arugula between 2 serving plates and spread loosely to form a bed which will recieve your salad.
Mound salad in the center of the arugula bed and garnish with endive leaves, avocado slices and walnuts.
Drizzle as much salad dressing as you like overtop your salad just before serving.