Sweet Potato Casserole, Gratin Style
Is is a casserole, or is it a gratin?
I can't quite decide…
One thing I do know is that it's HMMM HMMMM GOOD!
This has got to be one of the best sweet potato dishes that I've had in my entire life.
Seriously.
Now, I really have to thank Cathy, over at What Would Cathy Eat, for that one, because if it hadn't been for her inviting me to take part in her Healthy Thanksgiving Challenge, it might never have occurred to me to create a special dish for Thanksgiving.
You see, I've never reallly celebrated Thanksgiving. In fact, I don't think that very many French Canadians do. Needless to say I don't know much about what constitutes a traditional Thanksgiving menu, so I had do a little bit of research.
One of the menu items that really caught my attention was the Sweet Potato Casserole.  I was really intrigued by the concept of a sweet, almost dessert-like, savory side dish. However, I thought I'd tone that sweetness down one notch by adding a generous dose of caramelized onions. I find they just go soooo well with sweet potatoes.
And, since I'm such a huge fan of gratin Dauphinois, but have pretty much put a permanent cross on it, I decided to make this casserole in a similar fashion, by alternating layers of thinly sliced potatoes and caramelized onions, which I then topped with a crunchy pecan crust.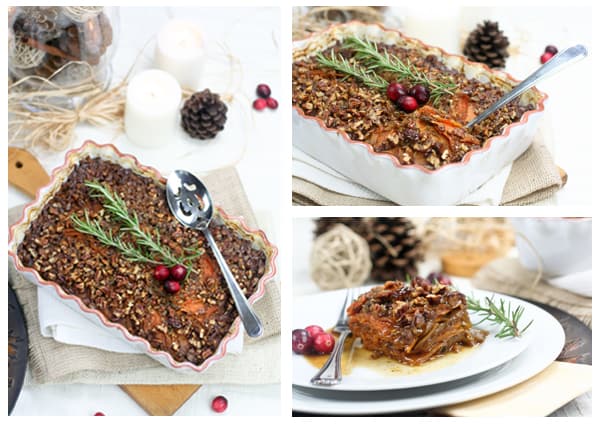 Of course, no gratin would be complete without some sort of a cooking liquid, and this one was no exception. I thought it needed something that would infuse it with the very essence of Christmas, so I invited my good friends cinnamon and rosemary to join the party.
To be honest, when I put this baby in the oven, I didn't have high expectations. I was half prepared for a major flop. But let me tell you, when I came back from the basement after it had been in the oven for a half hour and that delicious smell hit my nostrils , I knew I had succeeded at creating something good, something REALLY good!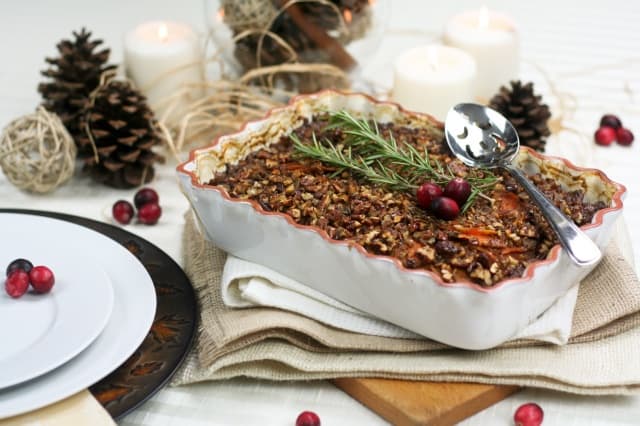 I sooooo couldn't wait to taste it, but first, I had to let it rest a bit an awful long time, and then, I had to take pictures!!! It must've been one of my toughest, longest photo shoots ever. I was so hungry and this dish, sitting inches away from my eyes and nostrils and tastebuds, looked and smelled so incredibly good. Yet, I couldn't touch it. Had to resist.
But when I finally got to it. OH! I almost died. This is seriously good. It's sweet, it's savory, it's creamy and crunchy, it tastes just like Christmas. I could've eaten the whole pan right there, standing next to the kitchen table, right under that spotlight…
And you know what? I think that, from now on, I'll be celebrating Thanksgiving!
Just so I can have this lovely casserole again…
Sweet Potato Casserole, Gratin Style
Servings: 8
Ingredients
4 large onions, sliced into thin half-moons
2 large sweet potatoes, peeled and sliced very thinly (use of a mandolin is strongly recommended)
1 tsp salt
½ tsp black pepper
Instructions
Preheat the oven to 375F

Heat a little bit of olive oil in a large skillet over medium heat. Add the onions, salt and pepper and cook until very soft and caramelized, about 20-25 minutes. Add a few tablespoons of water from time to time to help deglaze the pan and soften the onion. Always wait until the water has fully evaporated before adding more.

Arrange one third of the sweet potatoes in a rectangular baking dish. Make sure the potatoes overlap by about half a slice.

Top with half the caramelized onions and spread evenly. Repeat with another layer of sweet potatoes, then add the rest of the caramelized onions, followed a final layer of potatoes. It might be a good idea to keep your prettiest potato slices for the final layer.

Sprinkle chopped pecans evenly over that final layer of potatoes. Set aside.

In a small mixing bowl, or large measuring cup, add all the ingredients of the sauce and mix until well blended.

Very delicately pour over your potato dish, being careful as to not disturb the pecans.

Cover loosely with foil and bake in the oven for 40 minutes, then remove the foil and cook for an additional 15 minutes.

Remove from the oven, drizzle a tablespoon of honey over the pecan crust and return to the oven for an additional 5 minutes.

Remove from oven and allow to rest for 10-15 minutes before serving.
If you've tried this recipe, please take a minute to rate the recipe and let me know how things went for you in the comments below. It's always such a pleasure to hear from you!
You can also FOLLOW ME on PINTEREST, FACEBOOK, INSTAGRAM and TWITTER for more delicious, healthy recipes!