Grain Free Carrot Pancakes and an update on Lent
So how many days into Lent are we now?
I don't even know… I don't really keep track, to be honest. I think it'll be 2 weeks this coming Wednesday.
Or is it 3? No, it's 2… I think!
All I can say, really, is so far it's been going extremely great for me.
As a matter of fact, I almost feel as though Lent hasn't even started yet. I don't feel deprived in the least. So much so, I sort of have a hard time remembering that it's Lent, so I have to be extra careful not to eat something that is on the "forbidden" list by mistake. Good thing I got everything "grain" out of my cupboards!
The thing that I've been doing differently this year, and I think makes all the difference in the world, is that instead of plain cutting out "forbidden" foods from my regular diet, I've found ways to work around it. Found ways to still enjoy the things that I love so much, whilst leaving the "unwanted" ingredients out.
Like this very stack of carrot pancakes, for instance. Or is it carrot cake? I'm not sure.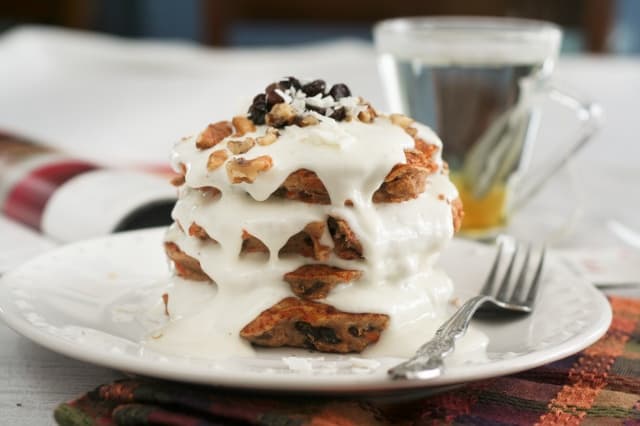 All I know, is it was stunningly delicious, and so very Lent friendly.
Believe it or not, this gorgeous breakfast right here, fits all my Lent requirements. It contains no grains or added sugar whatsoever.
Yet, it was simply decadent. So moist, so sweet, so comforting. Exactly like any pancake should be.
I am telling you, I can honestly say that I don't miss my grains one bit. Or my sugar, for that matter. How could I when I get to eat things like this? And even though I said that I would allow myself the use of honey to sweeten things up if I needed to, I haven't even touched it so far.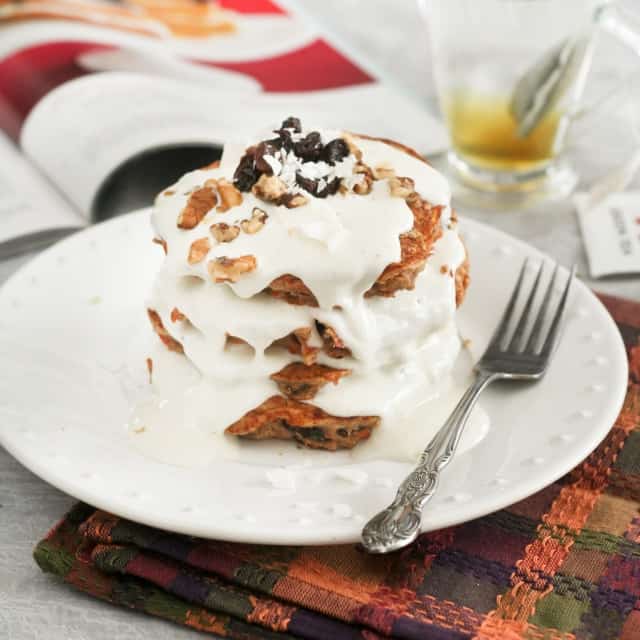 One thing that's very odd, though. I've been craving nuts, and especially nut butter like crazy. But I do mean CRAZY. I don't get up in the middle of the night to dip my finger in that jar and that's about it.
I'm pretty sure I dream about it, though. 
So not sure where the craving comes from, but I'm certainly hoping that it will subside soon. I mean, nuts ARE good for you, but they are also very calorie dense, and rather high in fat.
Guess my body is in need of that fat… I certainly hope that it knows what to do with it!
Other than storing it, that is!
Oh, and if anyone has a clue as to why I've got these crazy cravings, please, by all means, enlighten me!
Grain Free Carrot Pancakes and an update on Lent
Servings: 2
Ingredients
Pancakes, part II
1 cup grated carrots
20 g walnuts, chopped
20 g 2 tbsp raisins
"Cream Cheese Frosting"
2 tbsp 0% fat plain Greek yogurt
2 tbsp 1% fat cottage cheese
2 tbsp unsweetened soy milk
1 scoop vanilla flavored whey protein powder
Instructions
For the Vanilla « Custard »:
Add plain yogurt, cottage cheese, milk and whey protein powder to make vanilla custard to your mini blender or food processor and process until nice and smooth.
For the Pancakes:
Combine all ingredients of "Part I" in a food processor and blend until well combined.

Add all ingredients of "Part II" to a medium mixing bowl and mix until evenly distributed. Pour in batter from "Part I" and mix until well blended.

Spray a non stick panwith cooking spray and heat over medium-high heat.

When pan is hot enough, spoon pancake batter onto griddle, using ½ of a cup per pancake (this yields 4 pancakes)

Turn pancakes over when tops are covered with bubbles and edges look cooked.

If you can't cook all pancakes at once, transfer cooked pancakes to low temp oven to keep them warm while you cook the remaining pancakes.
Assembly
Start by laying a pancake on the plate, top with about one quarter of your "cream cheese frosting". Top with another pancake, followed by more frosting.

Do this with the remaining pancakes and finish by topping with a few raisins, chopped walnuts and unsweetened coconut.
Notes
Grain Free, Gluten Free, Refined Sugar Free, High Protein, Low Fat
If you've tried this recipe, please take a minute to rate the recipe and let me know how things went for you in the comments below. It's always such a pleasure to hear from you!
You can also FOLLOW ME on PINTEREST, FACEBOOK, INSTAGRAM and TWITTER for more delicious, healthy recipes!