Quick and Easy Quinoa Orange Salad
The oranges are ALMOST all gone now.
I promise.
But seriously, people… 10 pounds of oranges for a single person is A LOT of oranges. I do have to get creative and find ways to use them in recipes. Otherwise, even if I was to have one every single day, I get the feeling that I'd still be eating oranges by the time summer was here.
Besides, I'm sure you won't mind me sharing this recipe with you…
In fact, I think that you might even be thankful!
Indeed, this is one super quick, sweet, refreshing and extremely satisfying little salad, that calls for such simple ingredients, you could enjoy it any time of the year. No need to wait until oranges are in season!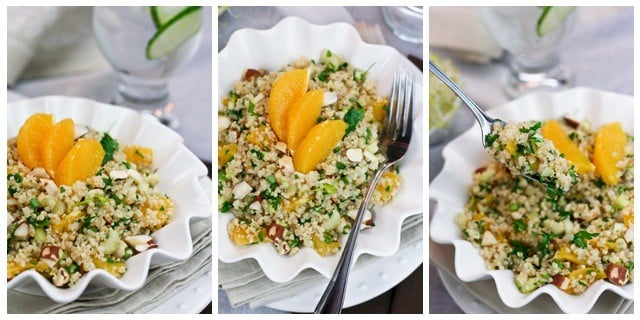 If you happen to have cooked quinoa sitting in your fridge, this salad will come together in no longer than 10 minutes. 
And if you don't have any, well, you could just cook some today, put it in the fridge to cool and make that salad tomorrow, how's that? 😉
Oh, and while you're at it, why not cook a little bit extra?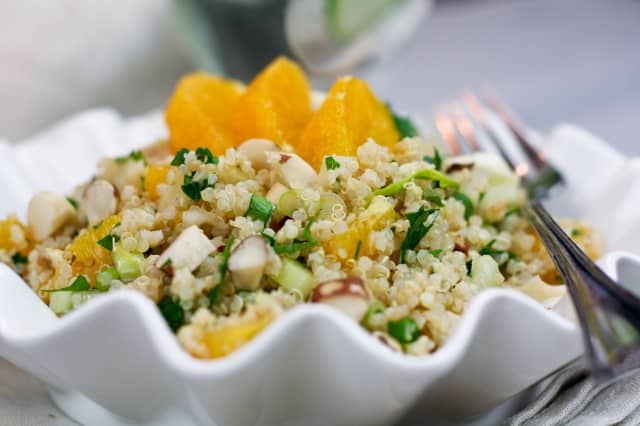 Whenever I cook quinoa, or anything that requires a somewhat long soaking / cooking time, I always cook a little bit extra (read, make a double batch) so that I have some handy to use in subsequent dishes.
That's how navy beans end up in smoothies, for instance…
Or black beans get used to garnish a lovely stack of Green Tea Pancakes…
Or cooked quinoa finds its way into Pumpkin Zucchini Muffins
Of course, the list could go on and on…
But you get the idea, don't you?
Yeah, I thought so! 😉
Quick and Easy Quinoa Orange Salad
Servings: 1
Ingredients
1 cup cooked quinoa, cooled
2 small oranges, supremed
1 celery rib, finely chopped
20 g Brazil nuts, chopped
1 green onion, sliced
¼ cup fresh parsley, finely chopped
Instructions
Cut the oranges

into supremes

, working over a bowl, in order not lose any of the juice. When you've got all your supremes done, make sure to squeeze all the juice out of the "membranes" that are left behind.

Transfer that juice to your mini blender or food processor. Add the rest of the ingredients for the dressing and blend until smooth.

Cut your orange supremes into bite size pieces and add them to a medium size mixing bowl. Add the rest of the ingredients, including the dressing, and stir until well combined.

Serve immediately, or keep in the refrigerator until ready to serve.
Notes
Gluten Free, Grain Free
If you've tried this recipe, please take a minute to rate the recipe and let me know how things went for you in the comments below. It's always such a pleasure to hear from you!
You can also FOLLOW ME on PINTEREST, FACEBOOK, INSTAGRAM and TWITTER for more delicious, healthy recipes!