Black Soy Bean and Napa Cabbage Salad
Well, I'm still not out of this "Asian" kick thing, apparently…
Or my orange phase, for that matter. Just as a bit of a warning to you guys… I've got a few more orange recipes coming this way soon. 😉
Please forgive me.
I'm pretty big on going in and out of phases like this. But I think I'm almost out of this Asian thing. Almost.
Mind you… I am extremely excited because I did manage to get my hands on a bottle of gluten free tamari sauce tonight. AND it's low sodium too.
For sure, I'll have to try this baby out, don't you think?
So this means one or two more Oriental flavored recipes are to be expected. But before I do that, I'll cut you a little bit of slack.
How so, you ask?
Well, for instance, I've got this gorgeous Grain Free, Vegan, Low Fat, No Sugar Added Apple Ring Cake coming up, as well as an amazing stack of Carrot Pan Cakes! Also grain free, of course! And without any added sugar.
But hey, enough about what's to come, let's focus about what's here now, shall we?
I was in the mood for Asian, but I was also in the mood for something different. While I can't say that this was my greatest creation ever, it still was extremely satisfying.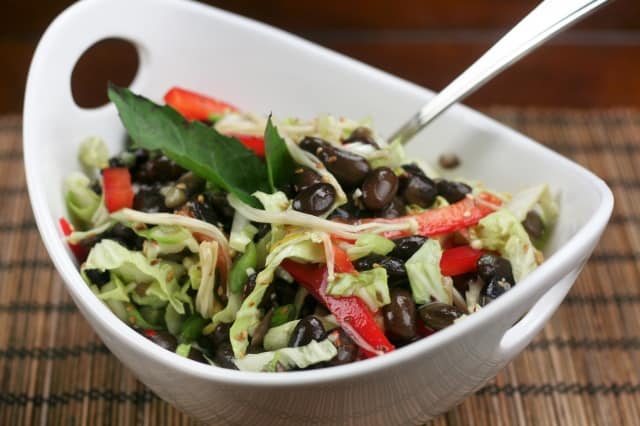 All in all, it was a very interesting combination of different textures and flavors. It was crunchy, creamy, stringy, chewy, tangy, sweet and spicy… all at once! Now, I would definitely make it again, only I'd really like to try it with fresh edamame this time.
For some obscure reason, I hadn't had Napa cabbage in a really long time… as in YEARS, literally. I fail to see why, though, 'cuz I truly like its peppery flavor and super-crunchy-watery-fresh texture.
I thoroughly enjoyed getting reacquainted with it; It felt just like sitting behind a good cup of coffee with a long lost friend.
I sort of get the feeling that this new-found friend of mine will find its way to my plate a tad more often in the weeks and months to come.
But don't worry, I won't give you like a gazillion different Napa Cabbage recipes.  😉
Although I wonder how Napa Cabbage and Oranges would go together…
Very well, I think! Especially if a handful of cashews were to join the party! 
BLACK SOY BEANS AND NAPA CABBAGE SALAD
INGREDIENTS
(Serves 1)
2 cups Napa cabbage, shredded
1 cup cooked soy black beans
¼ red bell pepper, julienned
25g enoki mushrooms
the zest of 1 lemon
1 green onion, sliced
2 tbsp toasted sesame seeds
2 bird's eye chili peppers, finely chopped
For the dressing
1 small clove garlic, chopped
1 tsp ginger, shredded
1 tbsp rice vinegar*
1 tsp unpasteurized honey
½ tsp salt
¼ tsp black pepper
1/8 tsp guar gum
INSTRUCTIONS
Add all the ingredients of the dressing in a mini blender or food processor and process until smooth.
Throw all ingredients for the salad in a medium mixing bowl and toss until well blended.
Stir in dressing and toss to coat evenly and serve immediately.
*Again, I made this salad before going off grains, but it could very easily be made completely grain free by using white wine vinegar instead of the rice vinegar that the recipe calls for.