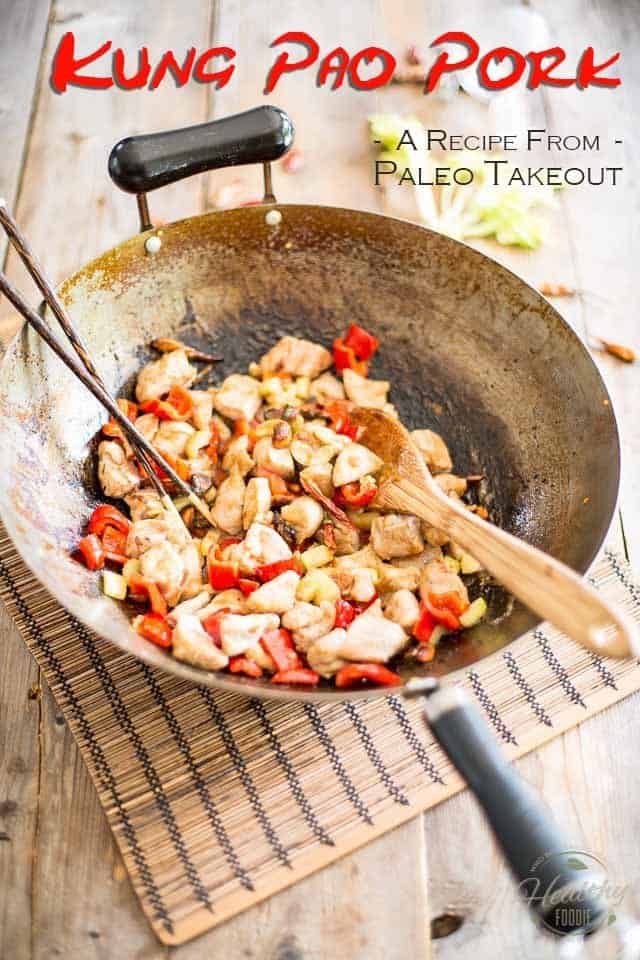 The very first thing I need to say about this Kung Pao Pork is O. M. G. in big, bold, capital letters!
Honestly, I couldn't believe how good this dish tasted, and neither could my son and daughter. The three of us could've easily wolfed down the entire thing straight from the wok! I couldn't even believe that this delicious fare had just been made in my kitchen and not in that of some fancy Asian restaurant.
Let me tell you, when it comes to creating Asian dishes that look and taste just like the real deal, Russ really has got it! And his latest cookbook, Paleo Takeout, is FILLED with TONS of such amazing recipes, all more delicious looking than the next (seriously, his pictures are all so mouth-watering, I have a hard time refraining from licking each and every page from that book). If you've been reading me a while now, you know just how much I adore and can't resist Asian food, right? Need I tell you then that I am totally, completely in love with Russ' book?
Pad See Ew, Pad Thai, Salmon Teriyaki, Faster Pho, Bam Bam Shrimp, Szechuan Beef, Moo Goo Guy Pan, these are only a few of the Asian recipes that I can't wait to try. In fact, there are so many of them, I didn't even know where to begin. In the end, it was my desire to share a recipe with you all that dictated my decision to opt for the Kung Pao Pork…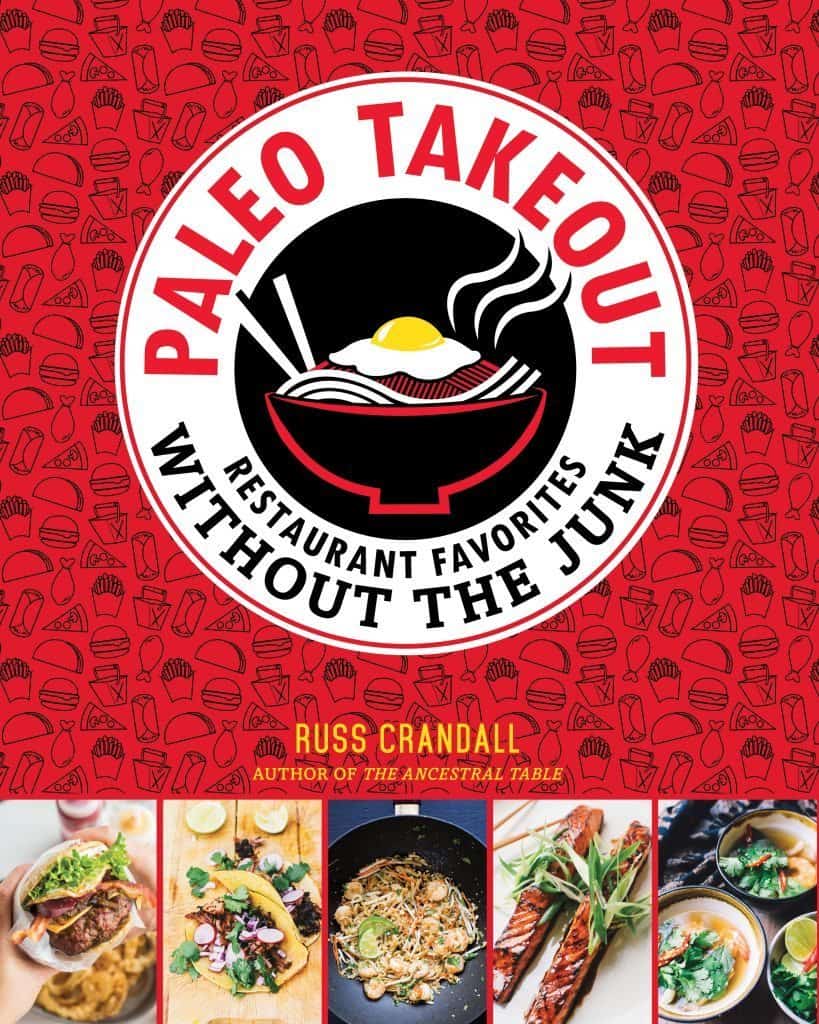 As Russ puts it, "Kung Pao Pork is the less popular little brother of the enormously famous Kung Pao Chicken". However, he felt that there were too many chicken dishes in his book, so he decided to transfer this one to the pork side, since it could be done with so much ease. He specified, however, that "if you are a Kung Pao Chicken purist, never fear; just make it with chicken thighs instead."
For now, I say let's stick to the plan and make us some delicious Kung Pao Pork, if you don't mind.
Oh, just one more thing before we head to the kitchen… I feel I need to specify that Russ didn't ONLY include Asian takeout recipes in his book. It's just that I like that kind of cuisine so much, I tend to get a bit overexcited when looking at these particular pages. However, you can also expect to find lots of great American Classics such as Pizza, Calzones, Chicken Wings, Burgers, Fried Chicken, Fajitas, Gyros, Tacos, and the list goes on and on.
Honestly, I say Paleo Takeout is a book you definitely want to get your hands on… that way, whenever the craving for takeout strikes, you'll be well equipped to make your own delicious and healthy version at home!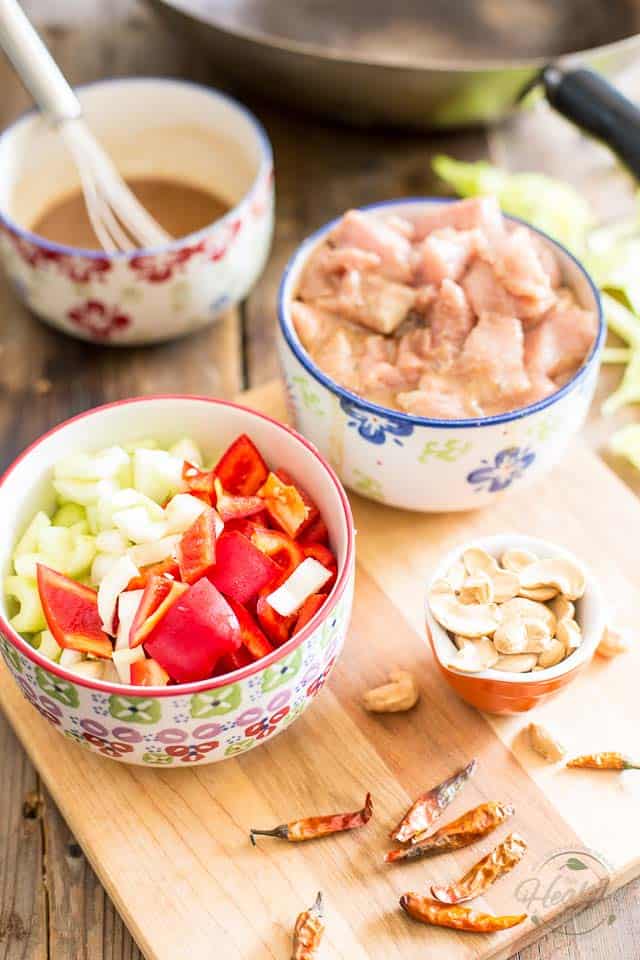 Before you do anything, I strongly suggest that you prep all your ingredients. As is often the case with Asian cuisine, once you start the actual cooking process, things tend to go fast.
Start by cutting your pork into bite size pieces and then put the chunks in a medium sized mixing bowl. Next, stir together the marinade ingredients and pour half of that marinade over the pork. Mix well and set aside to marinate for 20 minutes.
While that's happening, you can work on prepping your vegetables and other various ingredients.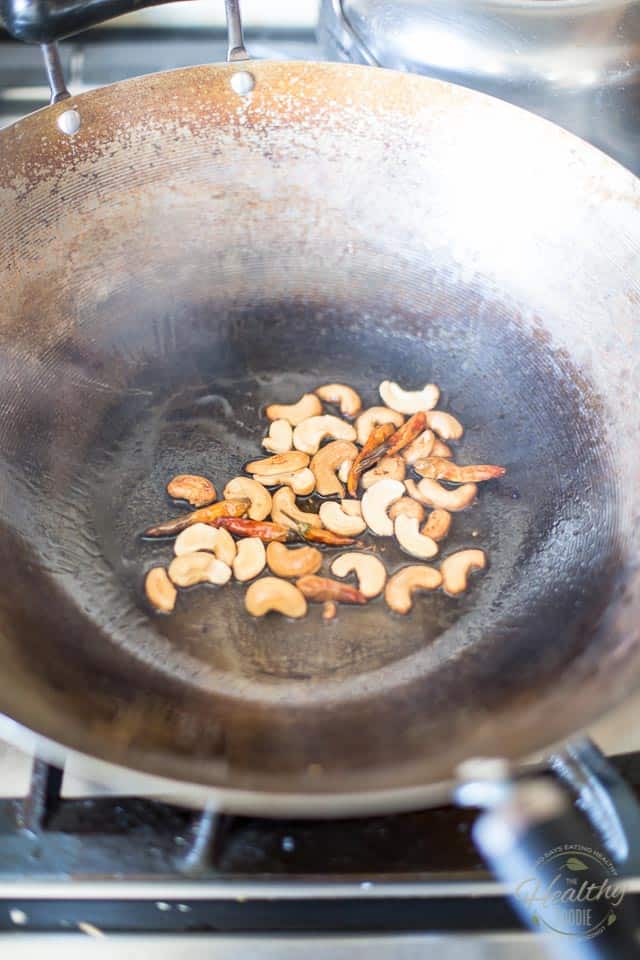 When everything is good and ready to go, heat a tablespoon of coconut oil in a wok or skillet over medium-high heat until shimmering, about 1 minute.
Add the cashews and dried chiles and stir-fry until toasted but not burned, about 1 minute.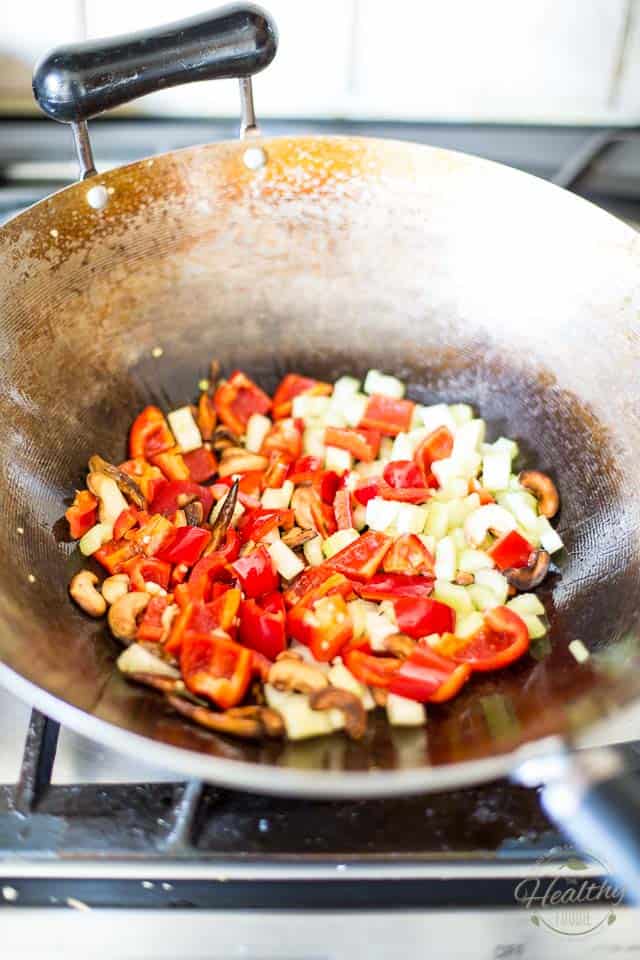 Add the celery and bell pepper; stir-fry until the vegetables are soft and starting to form charred spots, about 1 minute.
Transfer to a bowl.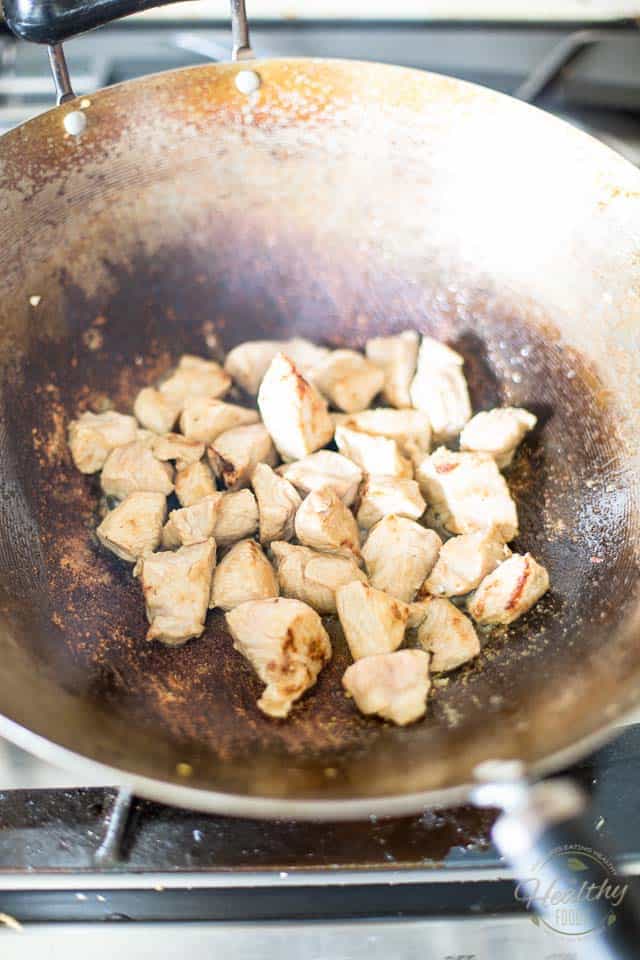 Add another tablespoon of oil and half of the marinated pork to the wok and stir-fry until cooked through and slightly crispy, about 4 minutes, then remove and set aside.
Then, add a final tablespoon of oil to the wok and cook the other half of the pork in the same manner.
Return the first half of the pork to the wok and add the marinade/broth mixture.
Simmer until thickened, about 1 minute,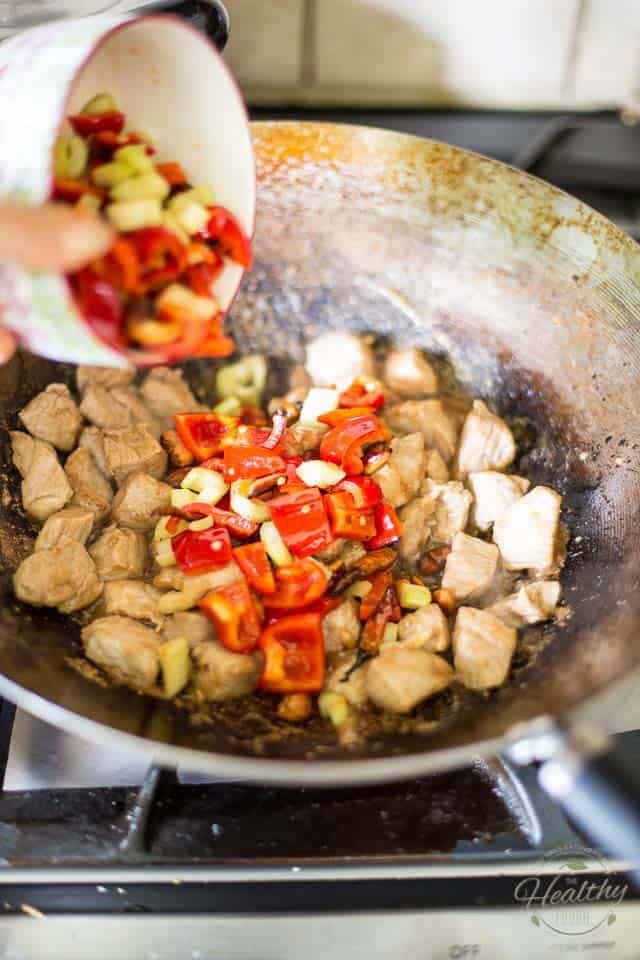 Lastly, add the reserved vegetables and cashews, toss to combine and serve.
Personally, I didn't need anything else in my plate, except for maybe more of this Kung Pao Pork… But if you'd like to serve yours with some kind of a side, I find this to work particularly well with steamed broccoli, sauteed vegetables, plain white rice or even served over rice noodles.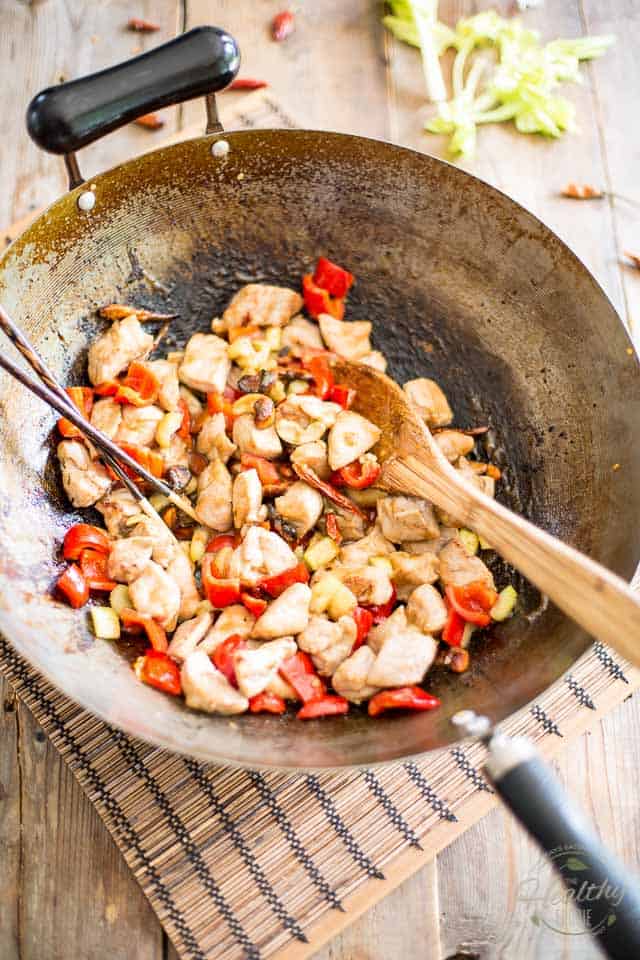 Kung Pao Pork – A Recipe From Paleo Takeout
Ingredients
MARINADE:
________
2 lbs (908g) pork loin or boneless chops, cut into bite-sized chunks
2 tbsp chicken broth
3 tbsp expeller-pressed coconut oil, divided
¼ cup unsalted roasted cashews, cut in half crosswise
2 stalks celery, sliced
1 red bell pepper, cut into chunks
Instructions
Stir together the marinade ingredients, then divide the mixture in half. Combine half of the marinade with the pork, then set aside to marinate for 20 minutes. Combine the other half of the marinade with the broth and set aside.
In a wok or skillet, heat 1 tablespoon of the coconut oil over medium-¬high heat until shimmering, about 1 minute. Add the cashews and dried chiles and stir-fry until toasted but not burned, about 1 minute. Add the celery and bell pepper; stir-fry until the vegetables are soft and starting to form charred spots, about 1 minute. Transfer to a bowl.
Add 1 tablespoon of the oil and half of the marinated pork to the wok and stir-fry until cooked through and slightly crispy, about 4 minutes, then remove and set aside. Add the remaining 1 tablespoon of oil to the wok and cook the other half of the pork in the same manner.
Return the first half of the pork to the wok and add the marinade/broth mixture. Simmer until thickened, about 1 minute, then add the vegetables, toss to combine, and serve

Nutrition Information
Serving size:
NF based on 1 of 4 servings