Mediterranean Artichoke Salad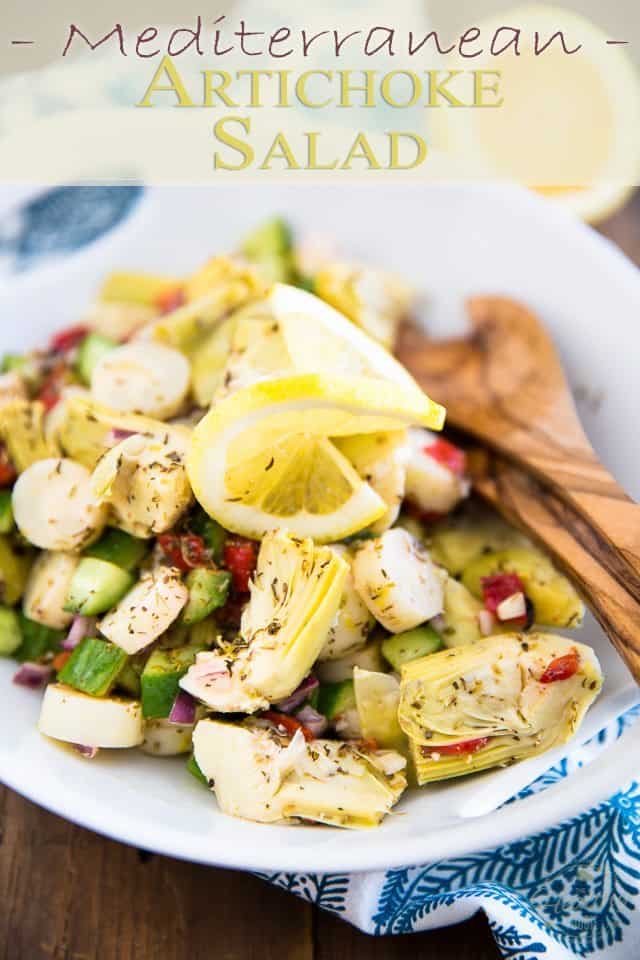 I've never been really big on restaurants and take-out, but you know that right?
However, since a few months, I seem to be having an insatiable craving for Amir, aka the most popular Lebanese food restaurant chain in my part of the world. Not that there's anything wrong with that, because I think that as far as take-out is concerned, Lebanese food is probably one of the healthiest choices there is out there.
Whenever I eat there, I tend to always order the exact same thing: a Shawarma and Shish Taouk combo plate with a side of cinnamon rice, house salad (hold the dressing please) and a generous serving of hummus. Then I'll usually add another little salad on the side, and generally go for one that's a very simple combination of cucumbers, tomatoes and bell peppers.
But the other day, they had made a new addition to their salad counter that immediately caught my attention. It was a mouthwatering artichoke heart salad, that looked every bit like the one I'm sharing with you today. Of course, I had them add some to my plate and, as you probably guessed it, this is my version of the crazy delicious salad I've eaten that night. I loved it so much, I wanted to have it again the next day, and the day after…
If I had my way, I think I could eat that every day for the next month or two.
And now that I know how to make this salad and also happen to know how to make the best hummus in the whole wide world, all I need to do is to learn how to cook my own Shawarna and Shish Taouk and I'll be able to whip up my very own Amir…
Think I can get me one of them sticks and cook my own meat in my kitchen?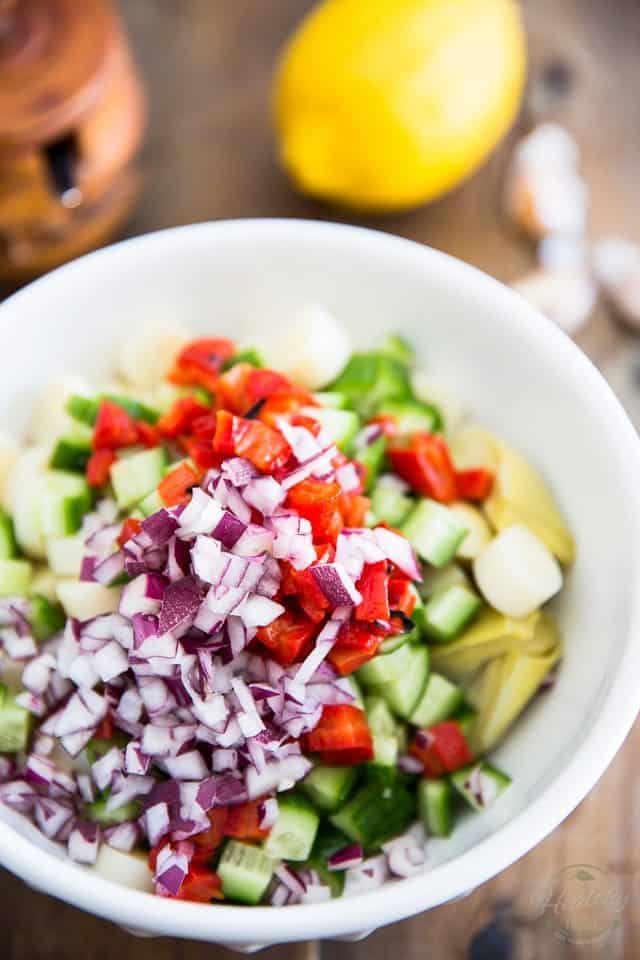 I think that I've never, in the entire history of THF, shared a recipe that's so easy to make before.
For real! This salad is so easy to make, I'm almost ashamed to be sharing its recipe on here. It almost feels like I'm about to show you how to toast a couple of slices of bread… But honestly, this salad is so insanely delicious, I could NOT not share it with you.
You ready for this? Here goes…
Basically all you need to do is open and drain a can of quartered artichoke hearts and a can of sliced hearts of palm. Next, chop a roasted red bell pepper, 2 Lebanese cucumbers, a little bit of red onion, and then mince 2 cloves of garlic.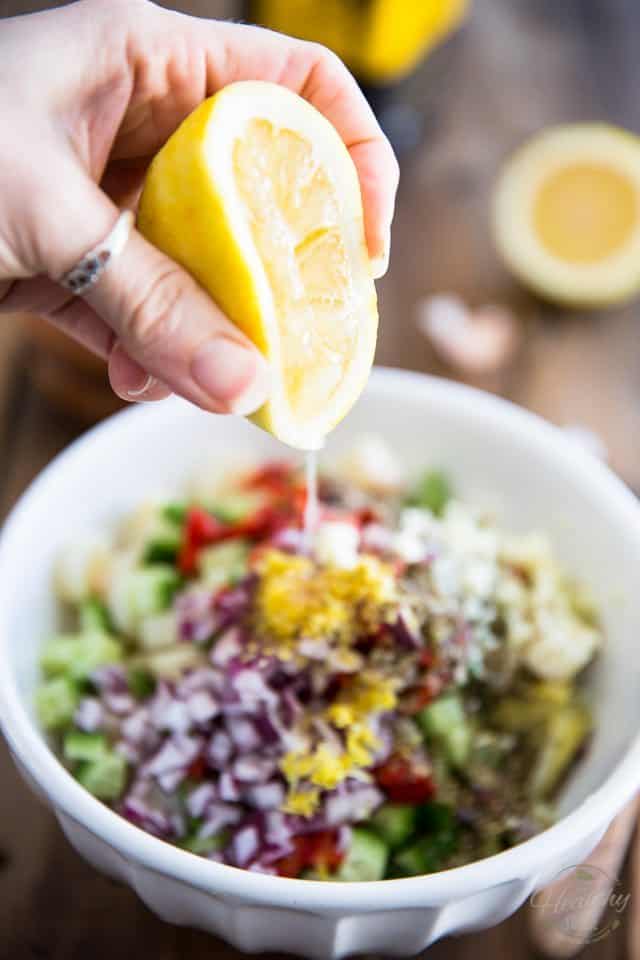 Throw all of that in a bowl, then add 2 tablespoons of extra-virgin olive oil, a tablespoon of dried oregano, half a teaspoon of salt and the zest and juice of half a lemon.
Oh, and sorry about the lousy lemon-squeezing-action shot… It looks like this is one of the things that I can't seem to capture right, no matter how hard I try. Every single time I need to squeeze a lemon, I try and snap that beautiful picture of a vibrant yellow fruit splashing beautiful droplets of refreshing juice all over the place as my fingers gently exert pressure on its sides… but that never works according to plan. Apparently, the only lemons being sold around here are stubborn little things that are too well behaved to let their fluid pour without restraints when they have their picture taken and leave you wondering "is there even juice coming out of that lemon?" as you look at it. Hmpft!
But I'm not giving up. One of these days, I'll manage to get that perfect shot I've been after. I know I will!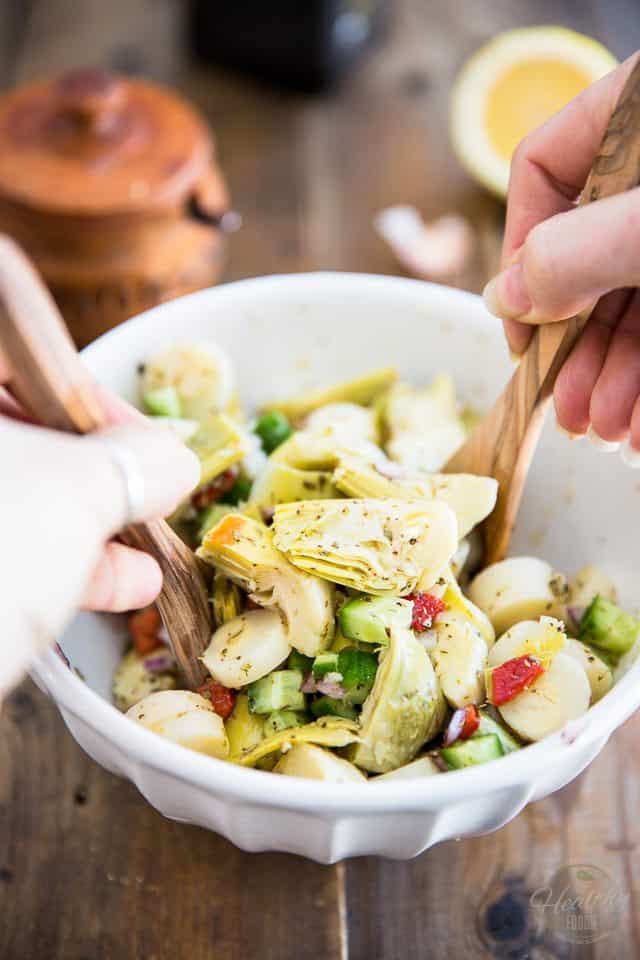 But anyway… let's get back to things that actually matter, shall we?
Alright, so once all your ingredients have been added to that bowl, give the whole thing a gentle toss, just to get it all combined.
And voilà! Your salad is now good to go! See, I told you that was easy. But just you wait until you get a taste of it! Even as it stands now, this salad already explodes with flavor. But if you have a little bit of time ahead of you, give it about an hour to rest in the fridge, so all those flavors get a chance to meld.
I'm telling you, you're gonna want to sit yourself down with the bowl and gobble the whole thing up. Want to know what the best part is? You very well could and wouldn't even have to feel the tiniest bit guilty about it.
You could even start over tomorrow… and chances are, you're gonna want to!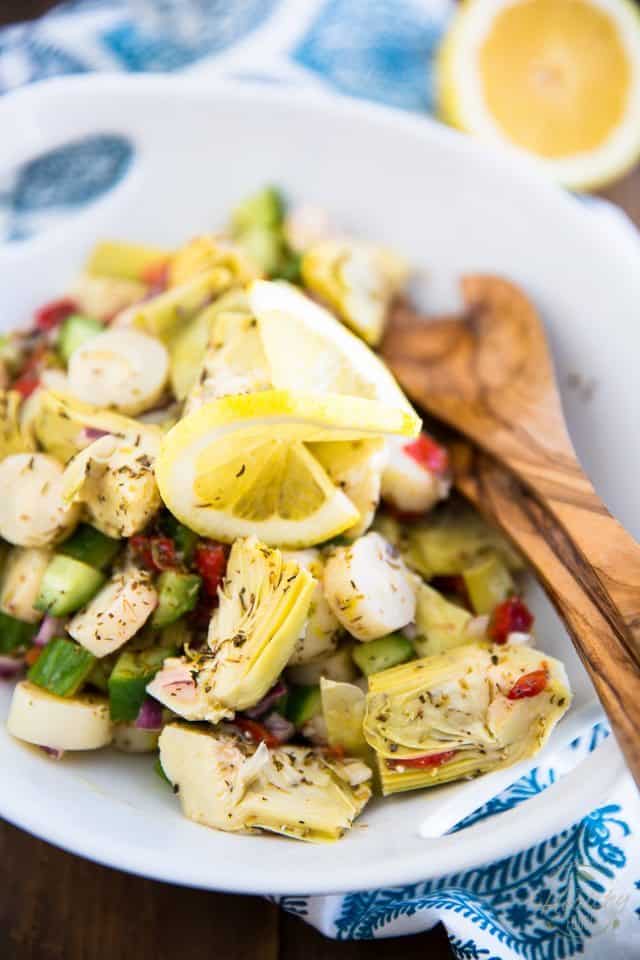 Mediterranean Artichoke Salad
Probably the easiest recipe ever, yet it's so unbelievably tasty, you're gonna want to have some of that Mediterranean Artichoke Salad every day!
Servings: 4
Instructions
Add all the ingredients to a large bowl, toss to combine.

Serve immediately or place in the fridge for about an hour to allow flavors to meld.

This salad will keep for up to a couple of days in the refrigerator.
Nutrition
Calories: 253kcal, Carbohydrates: 42g, Protein: 7g, Fat: 8g, Saturated Fat: 1g, Sodium: 356mg, Potassium: 2337mg, Fiber: 7g, Sugar: 21g, Vitamin A: 1331IU, Vitamin C: 56mg, Calcium: 83mg, Iron: 3mg
If you've tried this recipe, please take a minute to rate the recipe and let me know how things went for you in the comments below. It's always such a pleasure to hear from you!
You can also FOLLOW ME on PINTEREST, FACEBOOK, INSTAGRAM and TWITTER for more delicious, healthy recipes!