Mexican Black Bean and Corn Salad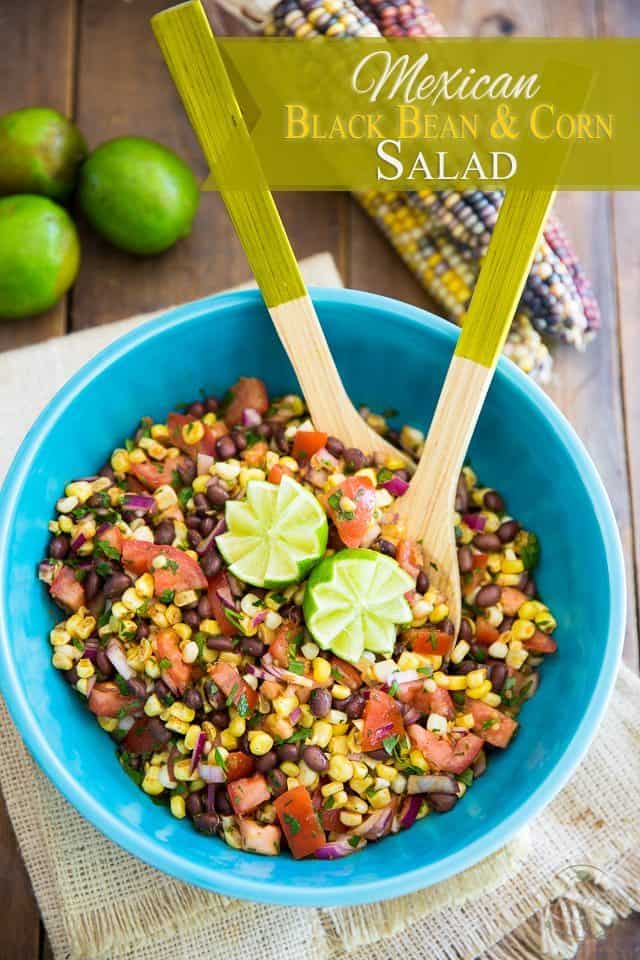 Sorry guys, I'm serving corn again! It looks like I'm having a truly insatiable hankering for the stuff this year. I think it had simply been too long since I'd really indulged in my ultimate favorite summer "technically-grain-but-considered-more-like-a-veggie-by-most" vegetable.
After I made my Chili Lime Corn Salad the other day, my craving only seemed to grow stronger, and the chili lime combination sort of left me wanting more of those typical Mexican flavors. With that in mind, I figured I would make another corn salad, but that I would invite more people to the party this time and give the salad more of a Mexican flair.
Black beans were naturally invited, and so were fresh tomatoes and red onions. Of course, I kept the chili and lime on the guest list, but also threw in a lot more of that ground cumin and a dash of chipotle powder, just to give a bit of an extra kick to the party.
And to help the chipotle powder in its efforts, I'd also extended an invitation to a couple of jalapeno peppers, but then, even though they'd RSVPed, stupidly forgot to throw them in the lot.
Bah! No matter. Their absence went practically unnoticed. This salad turned out absolutely brilliant, even without them, like a true Mexican Fiesta on a plate!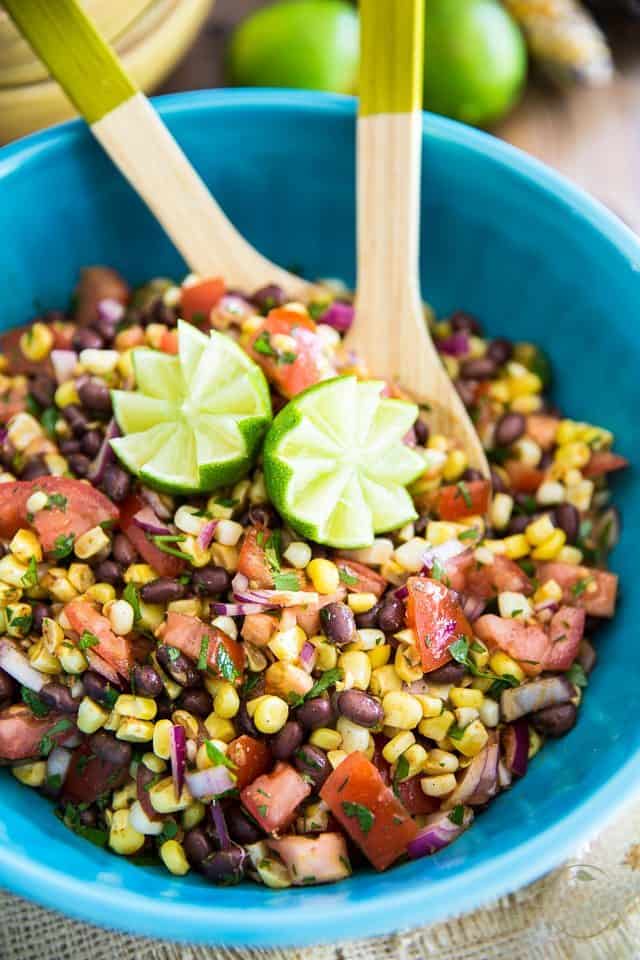 Since corn season is in full swing in my neck of the woods, I evidently elected to use fresh corn to make my salad; However, I'm sure it would be just as good if you used frozen (or even canned, if you were a fan) if fresh corn was nowhere to be found. Just make sure that your corn is fully cooked, cooled and drained (if applicable) before you use it in the salad.
Same goes for the beans. For the sake of convenience, and because I was having such bad luck in the kitchen that week (if you're curious, you can read all about that here), I decided to use canned beans in my salad, but feel free to cook your own if you prefer. Whatever you do, though, make certain that you rinse your beans real well and give them a chance to air dry a bit before to throw them in the bowl.
The last thing you want is to go adding a bunch of water to your vegetables…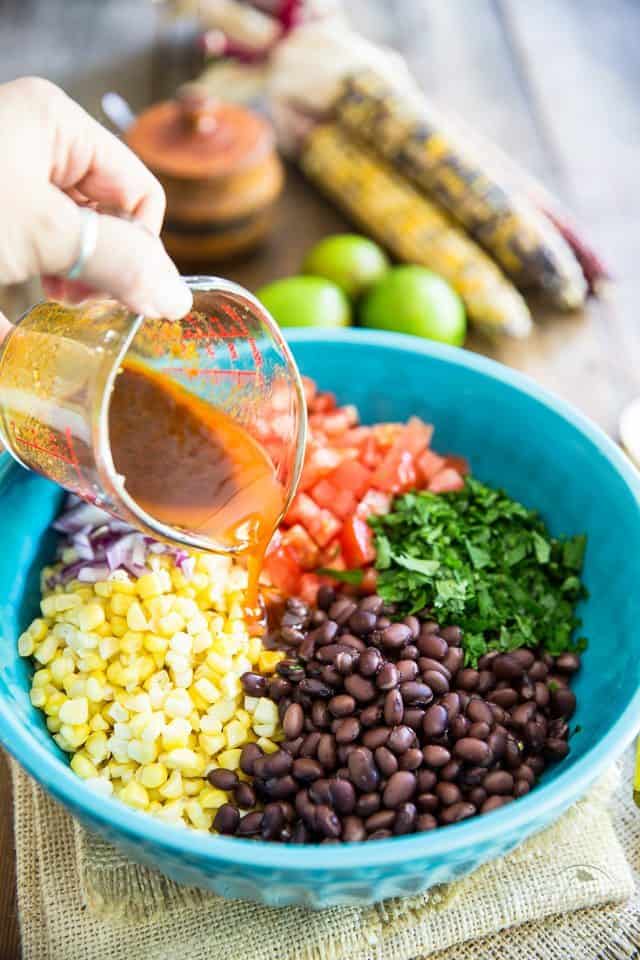 Other than that, though, making the salad couldn't be easier. Basically, all you need to do is throw your corn, cooked beans, diced tomatoes, red onions and chopped parsley in a bowl.
Oh, and 1 or 2 finely chopped jalapeno peppers if you felt like it (and if, like me, didn't forget that you had bought some SPECIFICALLY to go in the salad but then forgot to actually add them… ) I'm totally convinced that they would make a TERRIFIC addition!
Then, mix together some extra-virgin olive oil, the zest and juice of a lime, a minced garlic clove, some chili powder, salt, ground cumin and ground chipotle powder and then pour that lovely vinaigrette over your salad.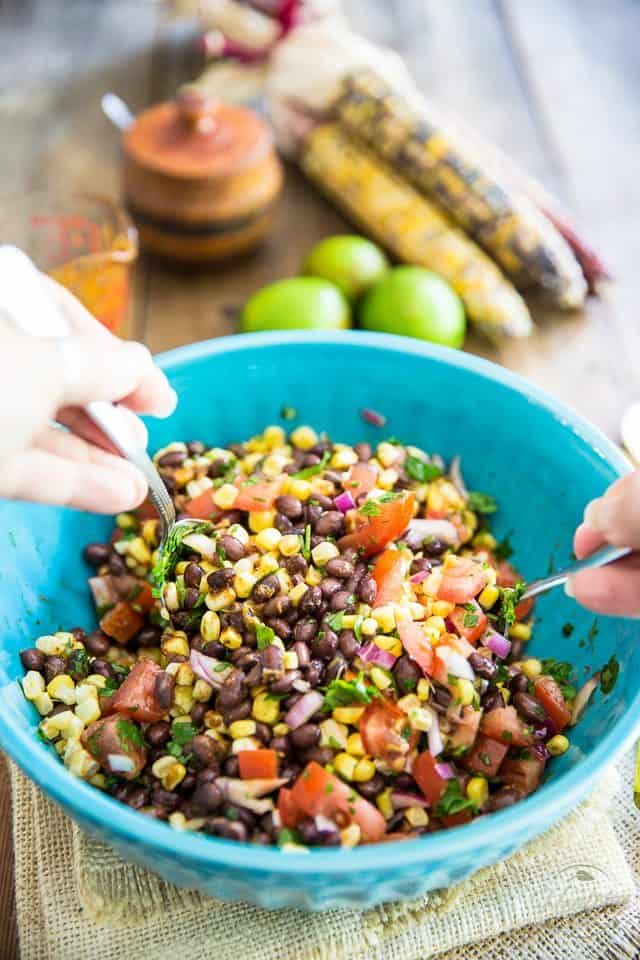 Give all your ingredients a good stir and then just like that, your salad will be good and ready to serve.
I strongly recommend, however, that you give it a little bit of rest time in the fridge before you eat it. All those beautiful flavors will have a chance to mingle and get to know each other, make themselves comfortable and get the party going, you know, and then BOOM, FIESTA! Your salad will taste like a million times better, I swear.
Do allow it to sit for a few minutes on the counter before you dig in, though, just so the olive oil gets a chance to relax a bit. That one tends to get all seized up when she's cold; she doesn't care much for it, you know. Hey, it's always warm where she comes from after all. So really, let her unwind for a wee bit: she'll be super happy and your palate and taste buds will appreciate her all the more.
And then, there'll only be one thing left to do: find yourself a pair of maracas, 'cuz the party's about to begin!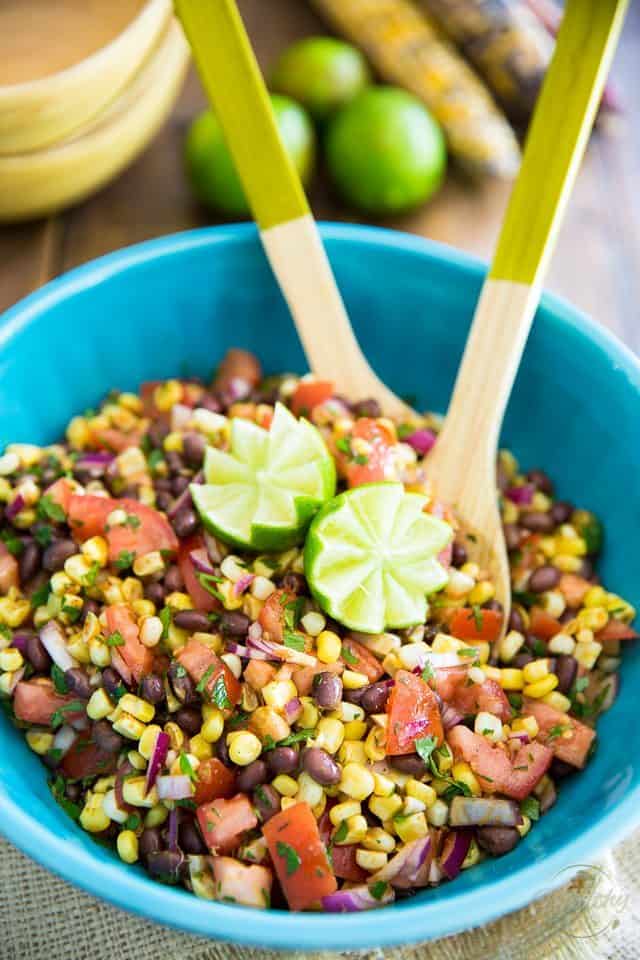 Mexican Black Bean and Corn Salad
Bring on the maracas! This black bean and corn salad tastes just like a Mexican Fiesta is happening right inside your mouth!
Servings: 4
Ingredients
3 cups corn kernels, cooked and cooled
2 medium tomatoes, diced
1 - 15oz can black beans, rinsed and drained
1/2 small red onion, finely chopped
1/2 cup chopped parsley
Instructions
Place the corn, tomatoes, black beans, red onion and chopped parsley in a large mixing bowl.

Combine all the ingredients for the vinaigrette in a small measuring cup and whisk until well combined. Pour over the salad and toss to combine.

Serve immediately or place in the fridge for about an hour to allow flavors to meld.

This salad will keep well for 4-5 days in the refrigerator.
Nutrition
Calories: 240kcal, Carbohydrates: 27g, Protein: 4g, Fat: 15g, Saturated Fat: 2g, Sodium: 539mg, Potassium: 390mg, Fiber: 4g, Sugar: 6g, Vitamin A: 1400IU, Vitamin C: 22mg, Calcium: 25mg, Iron: 2mg
If you've tried this recipe, please take a minute to rate the recipe and let me know how things went for you in the comments below. It's always such a pleasure to hear from you!
You can also FOLLOW ME on PINTEREST, FACEBOOK, INSTAGRAM and TWITTER for more delicious, healthy recipes!