You know, sometimes I just have too much on my plate and find I don't have as much time to cook as I'd like…
I bet that sounds familiar to a lot of you, doesn't it? I can't think that I would be the only one in that situation! 😉
Well, when that happens to me, especially when you factor in the fact that I'm on a bit of a Asian kick lately, this is what you invariably get: Miso soup.
Seriously, this is one of my ultimate I-really-don't-have-time-to-cook-dinner-tonight option.
I don't think that there's another meal out there that you can make quite as quickly as Miso soup, save for instant Ramen, but these hardly qualify as a meal, if you know what I mean…
And of course, there's an entire array of microwavable instant meals, but they pretty much generate the same kind of reaction from me.
Hardly meals, really. Hardly food, even…
Miso soup, on the other hand, is packed with highly nutritional ingredients: Miso, for starters, which is excellent for you, tofu, mushrooms, green onions, rice noodles… it's all good stuff, really!
It's pretty much like Ramen, made healthy, as far as speed and convenience are concerned.
When it comes to taste, though, you get ten thousand times better with this gorgeous bowl of [almost] instant goodness.
Agreed, it does require a little bit more prep time and "cooking" than just plain opening up a bag of dry fried noodles, dumping them into some boiling water and adding a little packet of salty greasy powder. But not that much, trust me. And the result is really worth putting in the little bit of extra effort.
Plus, if you don't have the exact ingredients that are on the list below, you can always improvise. This is one very forgiving soup. All that you really require is water and miso.
For the rest, you can use basically whatever you want. Shredded carrots, mushrooms, frozen peas, cooked chicken, tofu, shredded bokchoy, broccoli… You get the idea. Use whatever you have on hand!
Trust me, this IS one of those quick meals for those nights when you just don't have time to cook.
One that will make you be happy you actually didn't have time. 
MISO SOUP
INGREDIENTS
(Serves 1)
 3 cups  water
¼ cup warm water
2 tbsp miso diluted
50g rice vermicelli
50g soft tofu, cut into ½" cubes
25g enoki mushrooms (or shiitake)
1 tsp dried wakame, flaked
1 green onion, sliced (though you might not use the whole thing)
a handful bean sprouts
sprinkle sesame seeds
few drops sesame oil
INSTRUCTIONS
Bring water to a boil
Meanwhile, dilute miso in warm water
Add rice vermicelli to boiling water and cook until tender.
Remove from heat and add wakame flakes.
Stir in miso then add mushrooms, and tofu. Let stand for a minute  or two just to heat through.
Transfer to serving bowl and add green onion, bean sprouts, sesame seeds and a few drops of sesame oil.
Take the time to grab a seat and dig in!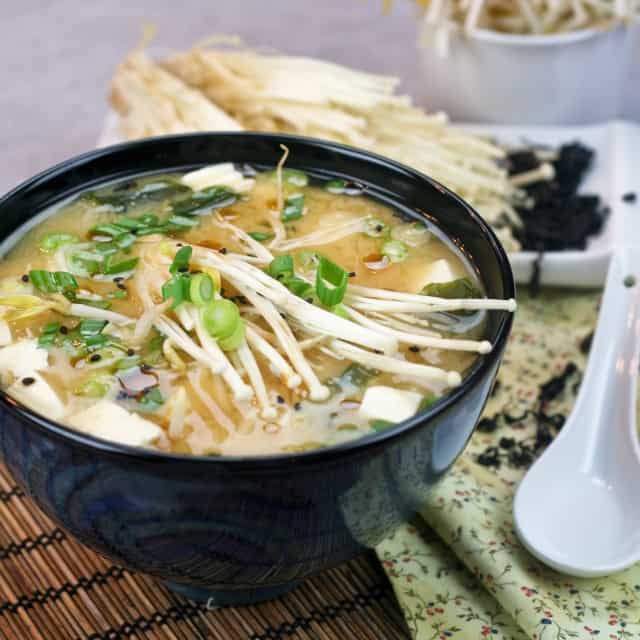 <