Mushroom Spinach and Brown Rice Casserole
I don't think that I've ever tasted a rice dish that was quite so tasty before.
Maybe it's 'cuz I was really hungry when I took the pictures, but I had the hardest time ever not eating wolfing down the entire dish right then and there. The first 5 minutes what felt like an hour and a half, during which I couldn't even take a bite but yet, had to look and stare and SMELL this baby from an inch away, were just excruciating.
I only had one thing in mind: DIG IN!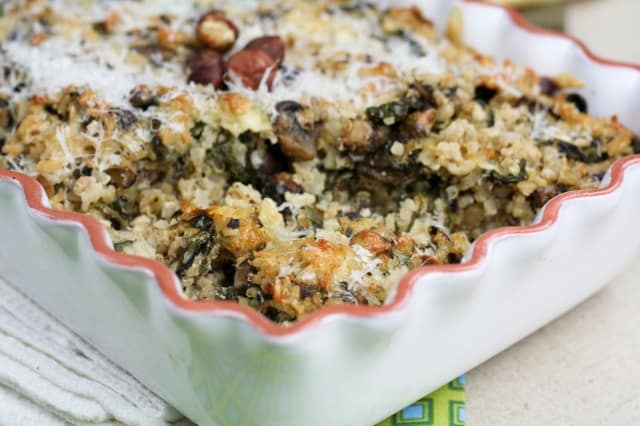 To be honest, I don't think that I've ever been so eager to taste any of my dishes. But this one smells SOOO GOOD, that alone will almost certainly knock your socks right off.
Imagine when you finally get to tasting it.
What happens is, you take a bite, you roll your eyes, you stop breathing, you die. This is just so good, so tasty! With so many different flavors and textures going on, you have to give it another try.
Like, NOW!
So you have another bite, and another, before you know it, you've already engulfed the entire portion that you'd plated for photo purposes only because, well, it isn't even dinner time yet and well, you're only taking photos for now and then you're supposed to wait another hour or so…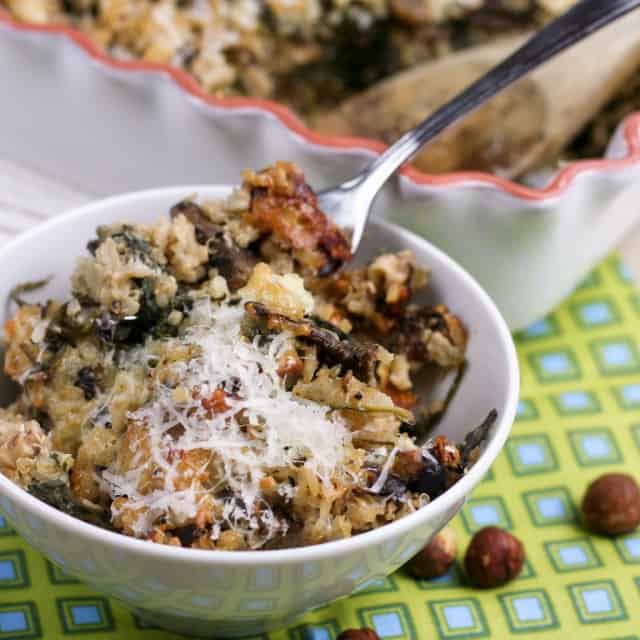 Oops, too late. See that bowl? It didn't last long.
If you're going to make that one, make sure you schedule it right, or be prepared to eat early that night!
Now this makes for a great side dish, but you could also have it as a main, with a side of vegetables. I personnally chose to have mine as a main dish, with a very generous side of steamed rapini.
Well, the second night, that is. When I had the leftovers.
Because on the first night, I didn't even bother with a side dish.
Or with sitting down, for that matter…
Mushroom Spinach and Brown Rice Casserole
Servings: 4
Ingredients
225 g button mushrooms, cleaned and coarsely chopped
1 large onion, finely chopped
225 g baby spinach leaves
1 cup cooked quinoa, at room temperature
2 cups cooked brown rice, at room temperature
1 cup toasted hazelnuts, chopped
1 large egg
2 egg whites
1 cup 1% fat cottage cheese
½ cup fat free plain Greek yogurt
½ tsp salt
½ tsp black pepper
50 grams sharp cheddar cheese, grated
1-2 tbsp freshly grated parmesan cheese, for garnish (optional)
Instructions
Preheat the oven to 350F. Lightly grease a 2 quart baking dish.

Coat a large skillet with cooking spray and, over medium heat sauté the mushrooms, stirring occasionally, until the mushrooms are nice and golden, about 5-7 minutes.

Add the onions to the pan and cook, stirring occasionally, until translucent and tender, about 4-5 minutes. Add spinach and cook until wilted, about 2 minutes. Remove from the heat. Add the rice, quinoa and hazelnuts to the skillet and stir to combine.

In a large bowl, whisk together the egg, egg whites, cottage cheese, plain yogurt, salt and pepper, until smooth.

Add in the rice mixture and stir gently until well blended. Transfer to reserved baking dish.

Sprinkle the cheddar cheese over the top, cover the dish with foil and bake for 30 minutes. Remove the foil and bake for another 20-30 minutes, until the top is lightly browned.

Top with freshly grated parmesan cheese, if desired.
If you've tried this recipe, please take a minute to rate the recipe and let me know how things went for you in the comments below. It's always such a pleasure to hear from you!
You can also FOLLOW ME on PINTEREST, FACEBOOK, INSTAGRAM and TWITTER for more delicious, healthy recipes!