Which came first? The chicken or the egg? – I vote for both!
Scotch eggs, my friends, are absolutely genius.
G.E.N.I.U.S
Hey, we're talking protein wrapped in more protein, seriously!
What more could you ask for?
Why I'd never had them before now, I can't even begin to understand.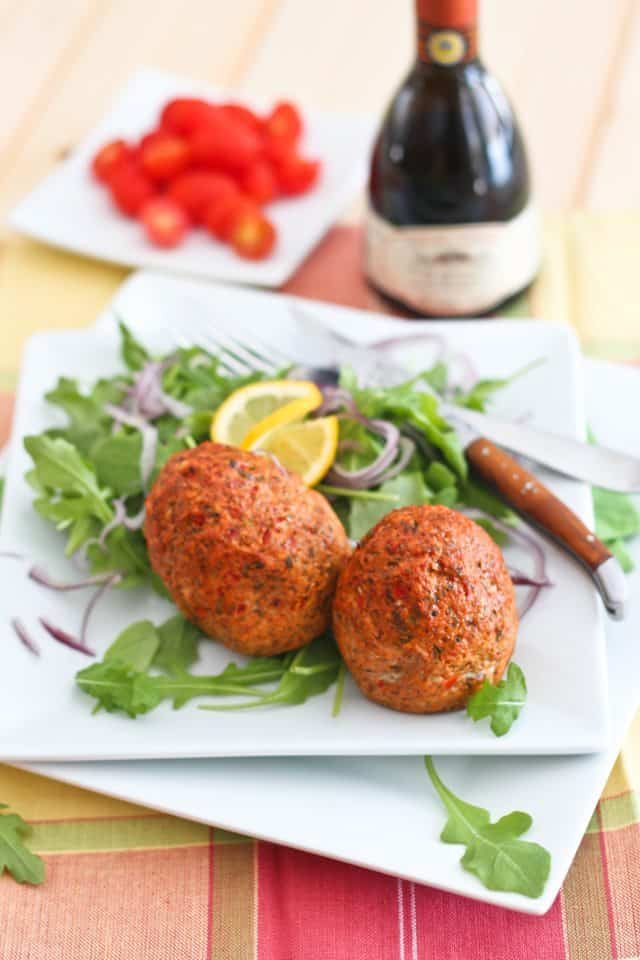 It's not that they never appealed to me, quite the contrary. I always found them to be fascinating. I guess it's just that I thought they would be super complicated, if not darn near impossible to make.
But seriously, I think the hardest part about this recipe is getting the hard boiled eggs perfectly done. Other than that, it's fairly easy.
Now that the ice has been broken, I can guarantee you that I will be making them on a regular basis and play with a whole bunch of different flavors and meat combinations.
I mean, these things are just soooooo convenient to have lying around in the fridge!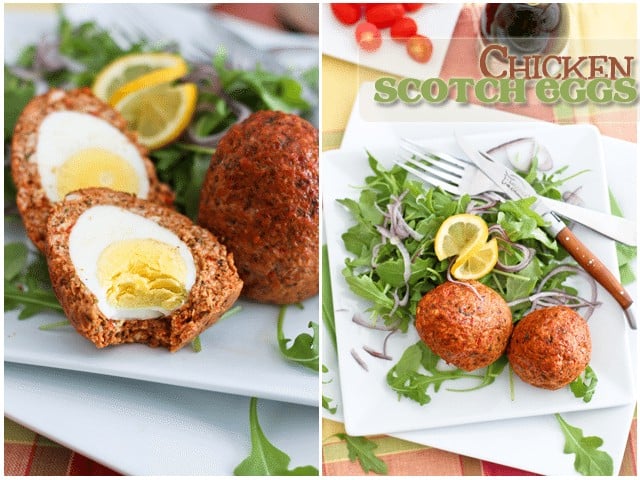 While technically, they are a "fork and knife" type of food, they certainly can be made into "finger food" as far as I'm concerned. Plus, they can be enjoyed warm or cold, which makes them the ultimate portable snack for those days when you're on the go and you KNOW you're going to need a little something to support you a few hours down the road!.
I just love how you can shove a couple of them in a Ziploc bag (or little plastic container if you care about preserving their pretty shape), throw them in your purse and be done with it.
If you can whip up a batch on the week-end, then you've got lunch and/or snacks covered for a good part of the week. You might want to double the recipe if you've got competition in the house…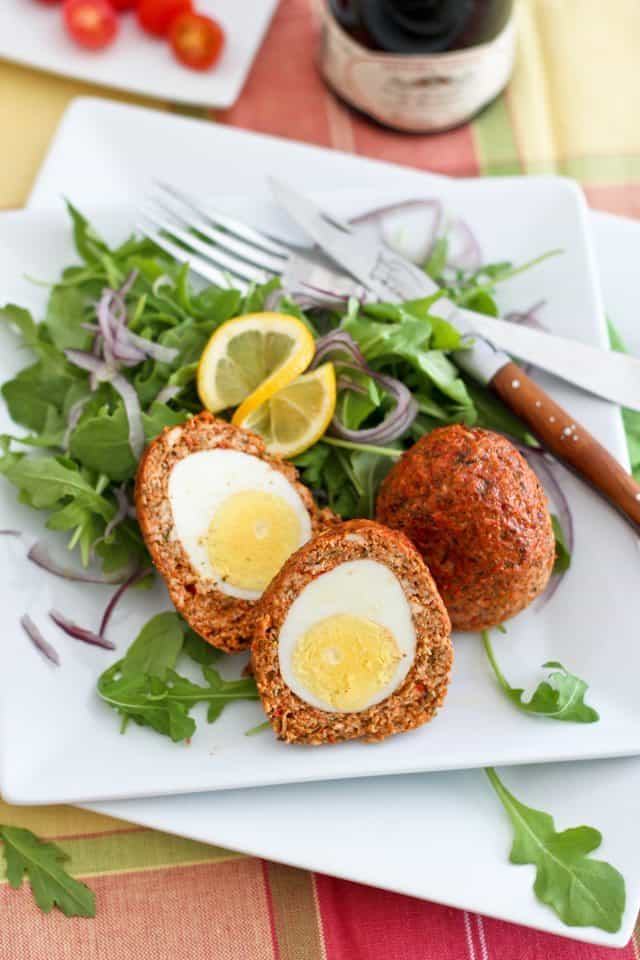 Now, I'm not gonna lie to you: they are a little bit time consuming to make AND you will have to get your hands dirty (which I happen to hate with a passion!), but they are so very well worth the effort, trust me.
Plus, aren't they like the ultimate Easter food? I would definitely love to see a few of those on my table on Easter day! Although I would probably come up with a pork / bacon and maple version to better suit the typical flavors of that Holiday.
YUM! I really like the sound of that! Too bad I've got my menu all planned out already, else I would've definitely added them.
Trust me, I know exactly what I'll be contributing the next time I get invited to an Easter Pot Luck!
Scotch eggs, my friends.
Scotch eggs!
Paleo Chicken Scotch Eggs
Servings: 8 eggs
Ingredients
600 g skinless, boneless chicken breasts
8 hard boiled eggs, peeled
3 cloves garlic, smashed
½ red bell pepper, chopped
1 large jalapeno pepper, seeded and chopped
2 tbsp fresh ginger, chopped
2 tbsp fresh coriander, chopped
2 tbsp tomato paste
1 tbsp paprika
1 tbsp Dijon mustard
1 tsp chipotle powder
1 tsp Himalayan or fine sea salt
1 tsp freshly cracked black pepper
½ tsp ground fivespice
1 tsp whole anise seeds
1 tsp whole fennel seeds
1 tbsp onion powder
1 tbsp garlic powder
Instructions
Preheat the oven to 375F

Lightly grease a muffin pan with coconut or olive oil; set aside.

Add all the ingredients except chicken and hard boiled eggs to the bowl of your food processor and process until it reaches the consistency of a thick paste, about 1 minute.

Add the chicken and process on pulse until the meat is finely ground and all the ingredients are completely incorporated. Divide into 8 equal portions.

Lay a piece of plastic film onto your work surface and place one portion of meat right in the center. Flatten the meat into a roughly half inch thick circle, then place an egg in the middle.

Gently slide your hand under the plastic wrap and lift the whole thing up. Use the plastic film to shape the meat around the egg until the egg is completely wrapped, then finish "shaping" it with your bare hands.

Place the finished egg in the muffin pan and repeat process with the remaining eggs and meat.

Place the Scotch eggs in the oven and set the timer for 25 minutes.

After 25 minutes, take the pan out of the oven and carefully tilt it over the sink to drain the liquid that has accumulated in the cups.

Place the pan back in the oven and continue cooking the eggs for an additional 5 minutes, or until nice and golden in coloration.

Remove eggs from pan and set to "dry out" and cool on a cooling rack for about 5 minutes.

Serve warm or cold, with a side of greens.
If you've tried this recipe, please take a minute to rate the recipe and let me know how things went for you in the comments below. It's always such a pleasure to hear from you!
You can also FOLLOW ME on PINTEREST, FACEBOOK, INSTAGRAM and TWITTER for more delicious, healthy recipes!