Egg-in-the-Hole Reinvented
Out of all the recipes that I've created so far, or out of all the culinary ideas that I've ever had, should I say, this is probably my favorite. Or at least, it's a very serious contender for that well coveted position: not only is this breakfast absolutely, decadently super delicious, but it's also, you have to admit, très joli to look at! Classic Egg-in-the-Hole can go right back to bed, 'cuz once you've had a taste of these babies, you're simply not gonna ever look back. This is SO much more fun, so much tastier, and so much prettier, too.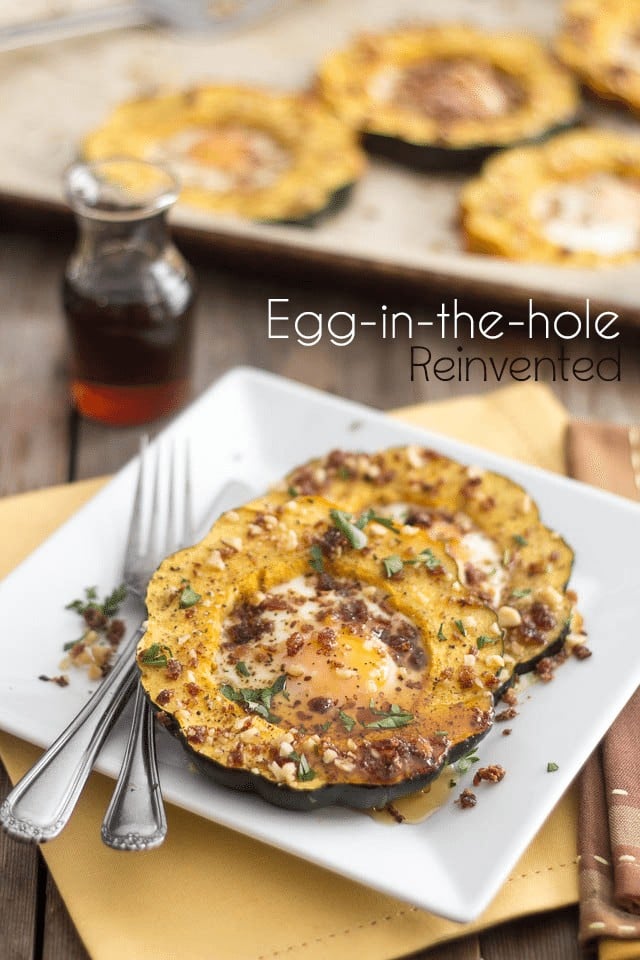 They're the perfect balance between sweet and salty, and the soft consistency of the squash and egg is well completed by the little hint of crunchiness brought forth by the date and walnut crumble topping.
The addition of a tiny drizzle of maple syrup really tipped this one right over the edge.
This, I say, is a close as can be to a "traditional" breakfast!
Want to make your own? Alright, let's get busy! First, you obviously need to get your hands on 2 beautiful, ripe acorn squash.
You might have to give them a quick wash to rid them of some dirt… Not that a little dirt ever killed anyone! 😉
For this project, we will only be using the nice middle slices; those that have a complete hole in their center once the seeds have been removed.
With slices about 3/4″ thick, I was able to get 3 per squash. You could probably stretch that number and get it up to 4 if you really wanted to. Just make your slices slightly thinner, but don't go make them too thin, though. Keep in mind that you have to fit an entire egg in that hole and you wouldn't want it to go over.
Now of course, don't you go chuck the unused pieces of squash. Peel them and dice them then steam them or roast them, or better yet, use them in another dish. Just gimme a couple of days and I will have just the perfect recipe for you!
How does Oven Roasted Brussels Sprouts with Squash, Dates and Pecans sound? Yeah, I thought you might like that! Couple more days and the recipe will be up. Promise!
But for now, let's get back to our breakfast Egg-in-the-Hole, shall we?
So… remove the seeds from your squash and lay the slices on a parchment paper lined cookie sheet. Sprinkle liberally with salt and pepper and throw that in the oven for about 20 minutes, just to soften up the squash some.
After that initial 20 minute trip to the oven, drizzle a little bit of olive oil over the squash then crack an egg right into each hole.
Sprinkle the eggs with their own personal dose of salt and pepper…
Then top each "Egg-in-the-Hole" with a mixture of finely chopped dates and walnuts.
I know, it may sound weird, but trust me. IT WORKS! It more than works. It totally DELIVERS!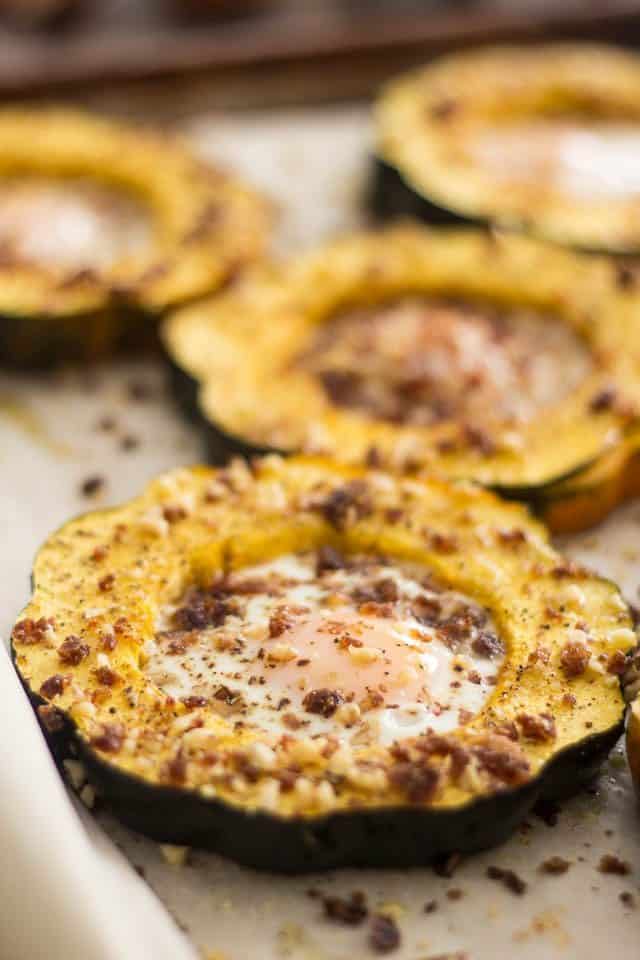 Back in the oven for 10 more minutes this goes, until your eggs turn nicely opaque and the yolks are set.
Serve these as soon as they come out of the oven, garnished with a little bit of freshly chopped parsley.
Hey, if you don't want the parsley on there, feel free to leave it out. I like it. I'm a big fan of green. I find it makes anything look so much better.
For a little extra indulgence, and to bring this breakfast experience up to level "Cloud 9", add a little drizzle of Pure Maple Syrup over the whole deal.
Again, trust. It's insane. You really have to taste this for yourselves.
Oh, and in case you are concerned about the peel having been left on the squash, know that, once cooked, the peel of Acorn Squash is totally edible.
While it does retain a certain kind of firmness to it, it's still soft enough that it can be completely chewed down and won't tarnish your feeding experience in the least. I swear!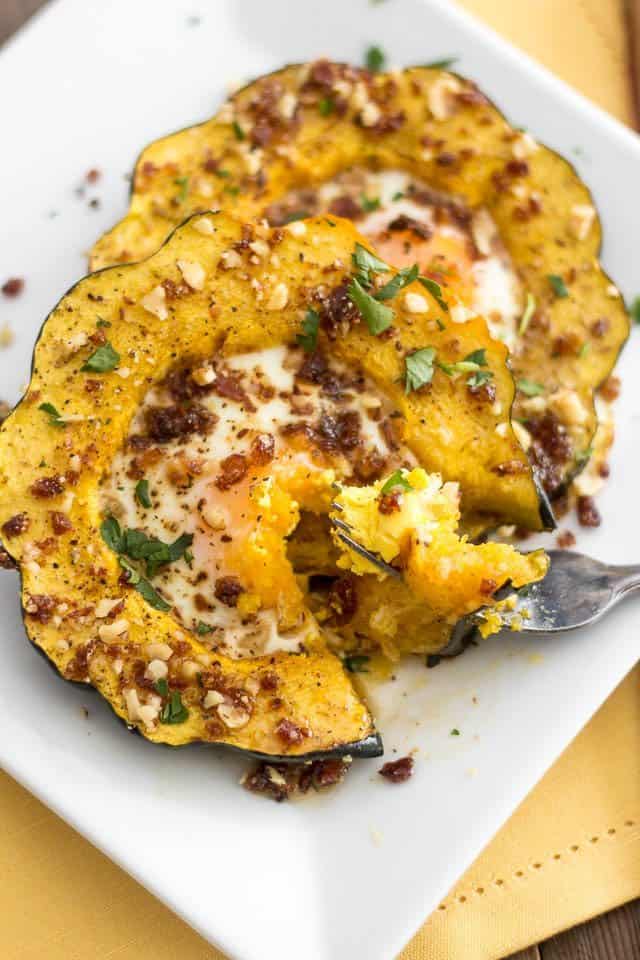 Oh, and did I mention just how convenient this breakfast is too? While it looks and taste much better fresh, it does reheat suprisingly well. I tried both the microwave and covered skillet over medium heat methods and both produced more than satisfactory results.
If you are going to serve this to guests, I strongly recommend sticking to fresh out of the oven, but if you want to make this on the week-end for you to have a breakfast that's ready to go in no time during the week, then this remains a serious option.
One that will brighten up your mornings, guaranteed! 
Paleo Egg-in-the-Hole
Servings: 6 Egg-in-the-Holes
Instructions
Preheat oven to 375F

Slice squashes crosswise in order to get at least 3 slices with complete holes per squash*. Your good slices should be about 3/4" inch thick.

Remove the seeds and place the slices on a parchment paper lined baking sheet. Sprinkle liberally with salt and pepper and bake in the oven for 20 minutes.

While the squash is in the oven, place walnuts and dates on a cutting board and chop them simultaneously until their texture resembles that of coarse sand.

Take the squash out of the oven and drizzle each slice with a little bit of olive oil.

Crack an egg directly in the center of each slice, sprinkle eggs with a little bit of salt and pepper and sprinkle date/walnut crumble over the entire surface of the squash slices and eggs

Return to the oven for 8-10 minutes or until the eggs are done to your liking

Garnish with fresh parsley and serve immediately.

Drizzle with maple syrup if desired.
Notes
*By all means, don't throw out the unused pieces of squash. Save them for another dish.
If you've tried this recipe, please take a minute to rate the recipe and let me know how things went for you in the comments below. It's always such a pleasure to hear from you!
You can also FOLLOW ME on PINTEREST, FACEBOOK, INSTAGRAM and TWITTER for more delicious, healthy recipes!