Oven Roasted Brussels Sprouts and Acorn Squash
After I was done reinventing the classic that is Egg-in-the-Hole last week, I was left with a surplus of acorn squash.
For me, there was no better way to use it up than by making one of my top favorite side dishes, one that you could almost be certain to find in my fridge at any given time. For seriously, I must whip up a batch of roasted veggies like this one at least 2 to 3 times a month.
I just roast 'em up then pop 'em in the fridge and they'll last me all week.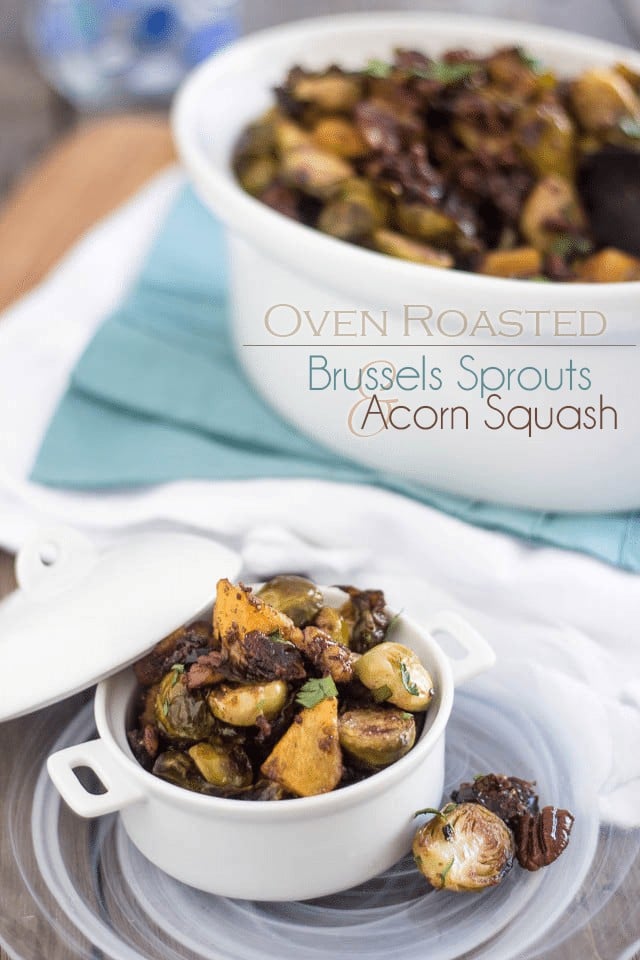 I find them just so convenient to have around: you can simply reheat them and enjoy them as a side, or toss them into existing dishes for a quick veggie boost.
I think I particularly enjoy them for breakfast, alongside scrambled eggs and homemade sauerkraut or mixed right into an omelet. Sometimes, too, I'll just pan fry a little bit of ground beef or leftover meat and throw a little bit of these roasted veggies right in to create some kind of an instant hash.
I might also have been seen adding a few spoonfuls to finished stews… what can I say, I like my vegetables, and I have a particularly soft spot for Brussels Sprouts.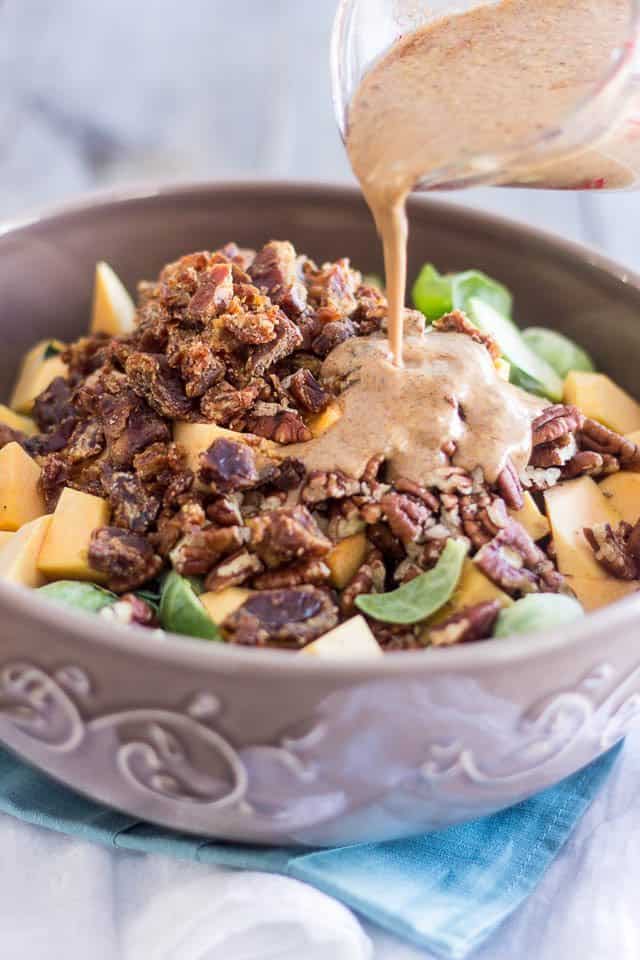 Preparation for this dish couldn't be easier and will only require a few minutes of your time. Simply prep your veggies, throw them in a large mixing bowl, add the "flavor pack" and mix well.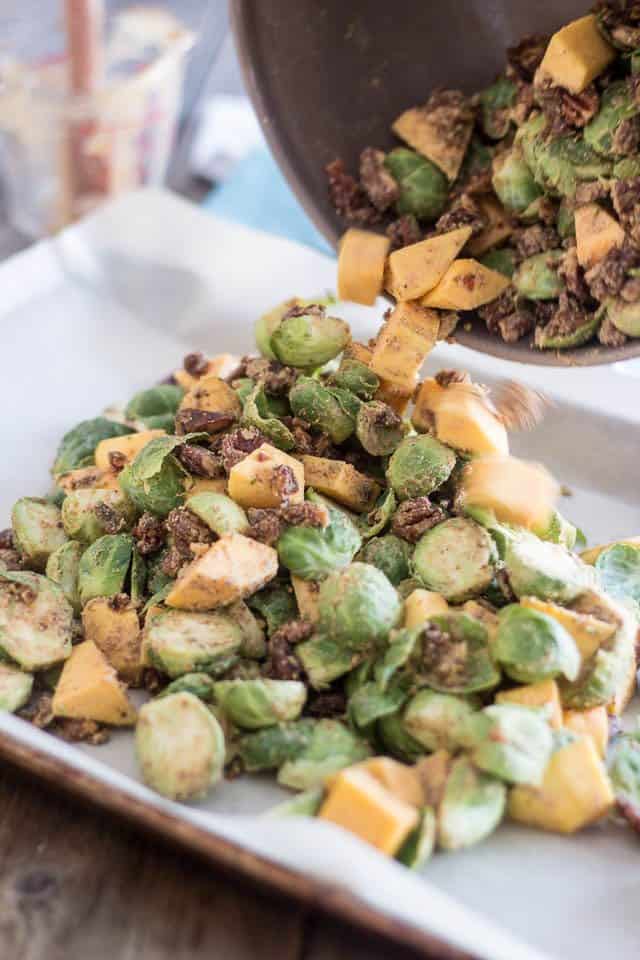 Throw that right onto a parchment paper lined baking sheet and place in the oven for 40 to 45 minutes.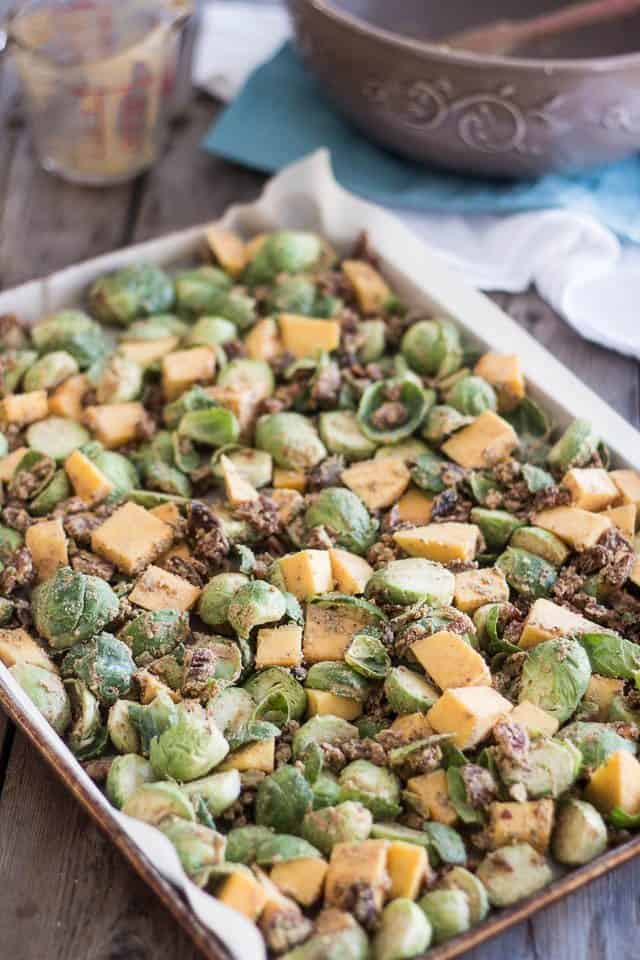 Ideally, you want to make sure that you get a baking sheet that's large enough so that you can fit the whole batch in a single layer.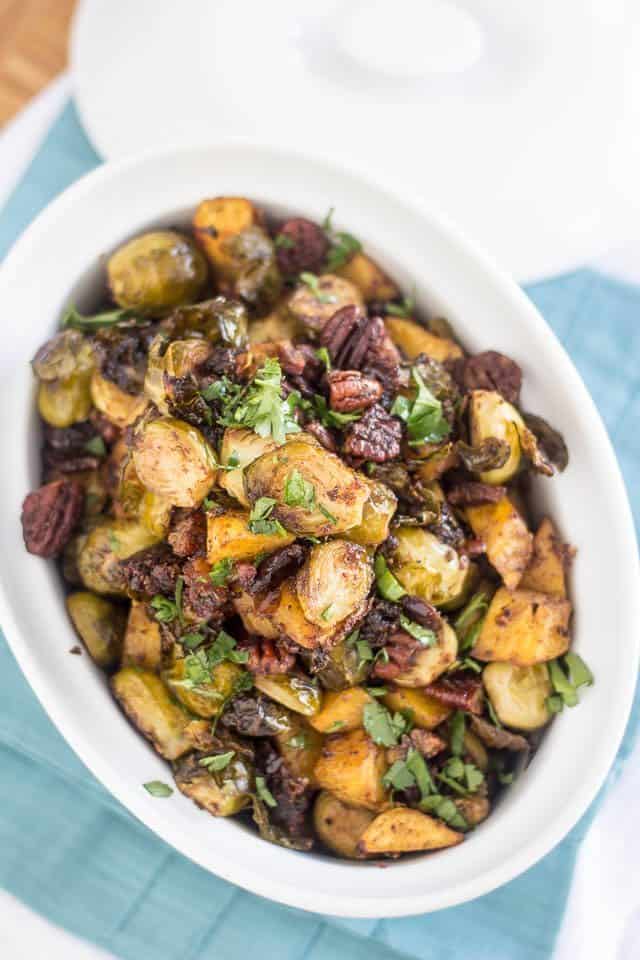 After 45 minutes, your house will smell amazing and you will have a fantastic dish that you can either serve immediately with your favorite side of protein (extra points if you drizzle some more healthy fat over it, such as ghee or coconut oil), or store in the fridge and reheat as needed over the course of the week.
Of course, you can change up the veggie composition some and play with the ingredients. Use sweet potatoes or butternut squash instead of acorn, add jicama, turnips, carrots or apples, even.
Replace the dates with figs or raisins, sub walnuts or cashews for the pecans.
A little bit of honey does wonders for this. I bet maple syrup would be fantastic too!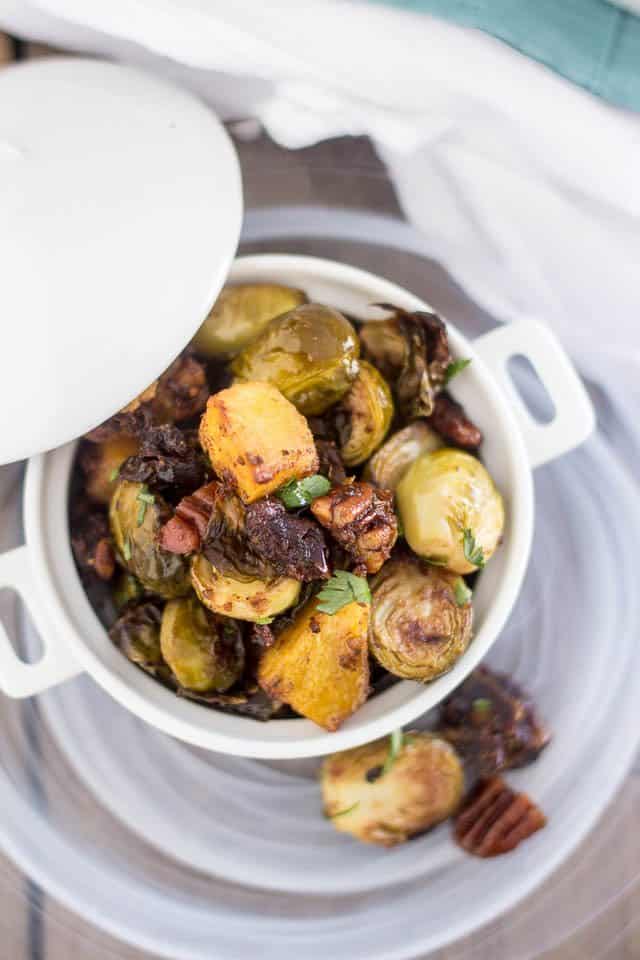 And if you're a fan of heat, don't be afraid to add more chili flakes, or use any other hot chili that you like. My personal favorites include smoked chipotle and ancho.
Feel free to play with the spices, too. Garam masala, spicy curry and sweet paprika, work really well with this. Next time, I think I'll try cumin. Bet it's fantastic!
This is a recipe that you can really have fun with and I bet that it will soon become one of your favorites too, if it isn't already!

Oven Roasted Brussels Sprouts and Acorn Squash
Servings: 8
Instructions
Preheat the oven to 375F and line a large rimmed baking sheet with parchment paper.

In a large mixing bowl, combine the Brussels sprouts, squash, pecans and dates and set aside.

In a smaller mixing bowl, or in a small food processor, combine fresh rosemary, salt, pepper, mustard, coconut oil, apple cider vinegar, garlic, cinnamon, nutmeg and chili powder and whisk (or process) until all the ingredients are well incorporated.

Pour that over the reserved vegetables and mix until well combined.

Transfer the veggies into the prepared baking sheet and bake in the oven for about 40-45 minutes, stirring once or twice during cooking.

Serve with your favorite side of protein!
If you've tried this recipe, please take a minute to rate the recipe and let me know how things went for you in the comments below. It's always such a pleasure to hear from you!
You can also FOLLOW ME on PINTEREST, FACEBOOK, INSTAGRAM and TWITTER for more delicious, healthy recipes!