Paleo Banana Walnut Muffins
These muffins, guys. These muffins… They're out of this world, I tell you.
Plain and simple, they're the best Banana Walnut Muffins I've ever had. As I was eating them, could not believe that they were paleo and entirely free of refined sugar.
I could not. I almost wanted to cry tears of joy with every new bite that I took. Especially when they were still warm from the oven!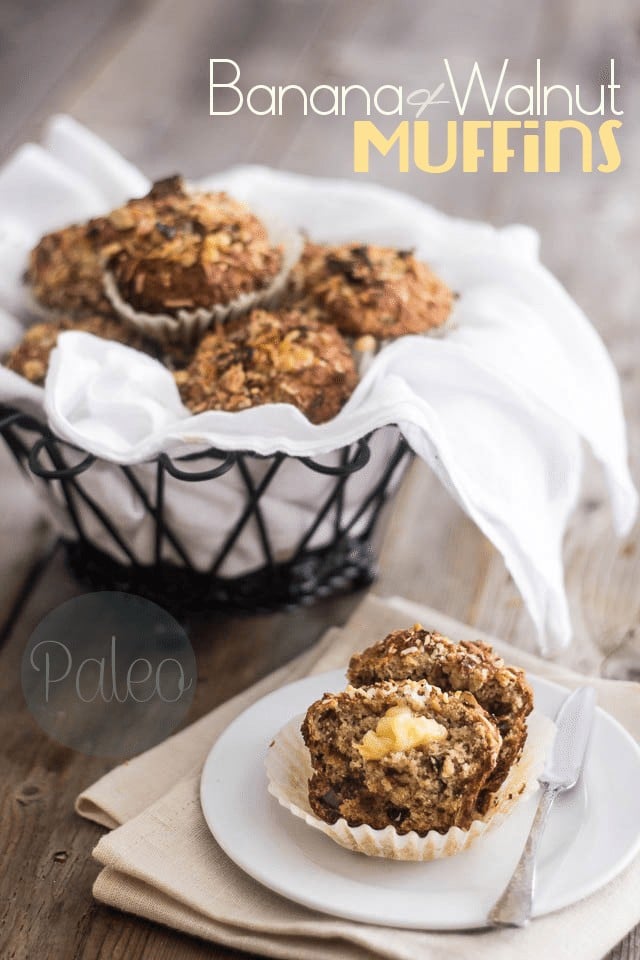 That said, I nearly had a heart attack as I got ready to write this post and couldn't locate the recipe anywhere. I frantically launched many folder searches which, for some obscure reason, would return all kinds of results except THE ONE I was hoping for.
Finally, as a last resort, I hit the "Start" button, typed the word BANANA in the search field and skimmed through the hundreds of files that popped in the "results" window.
At last, I found it! There it was, in the very folder where it belonged…
I swear, I think it went in stealth mode there for a while. But what a sigh of relief I sighed when I double clicked that file and saw the screen project my precious recipe, complete and unharmed.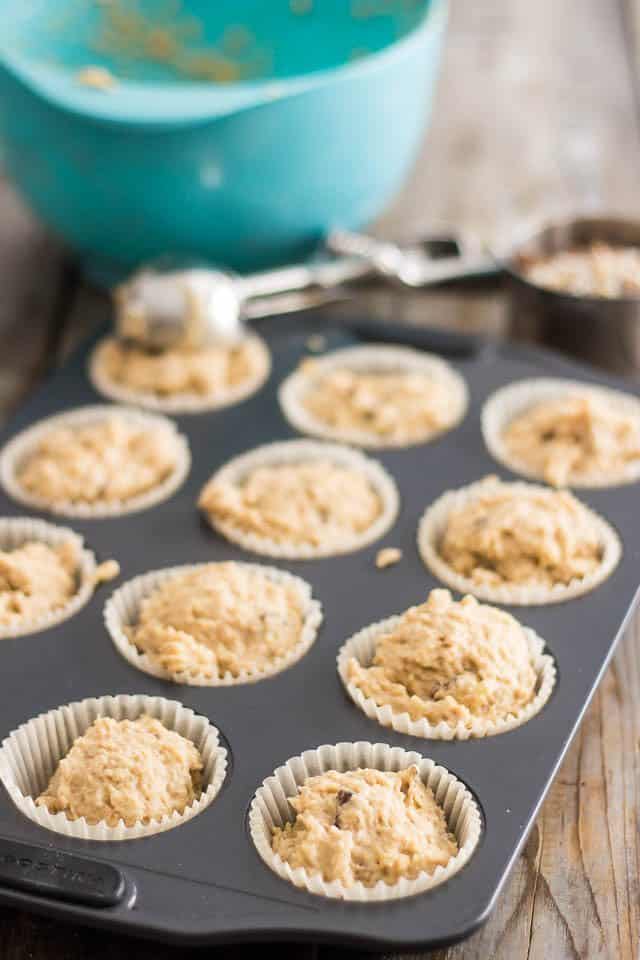 What a major waste it would have been for me to lose this recipe!
A disaster, even! The simple thought of never being able to replicate these muffins exactly as I'd known them almost made me want to cry, tears of sadness this time. I was panicked, I tell you. PANICKED.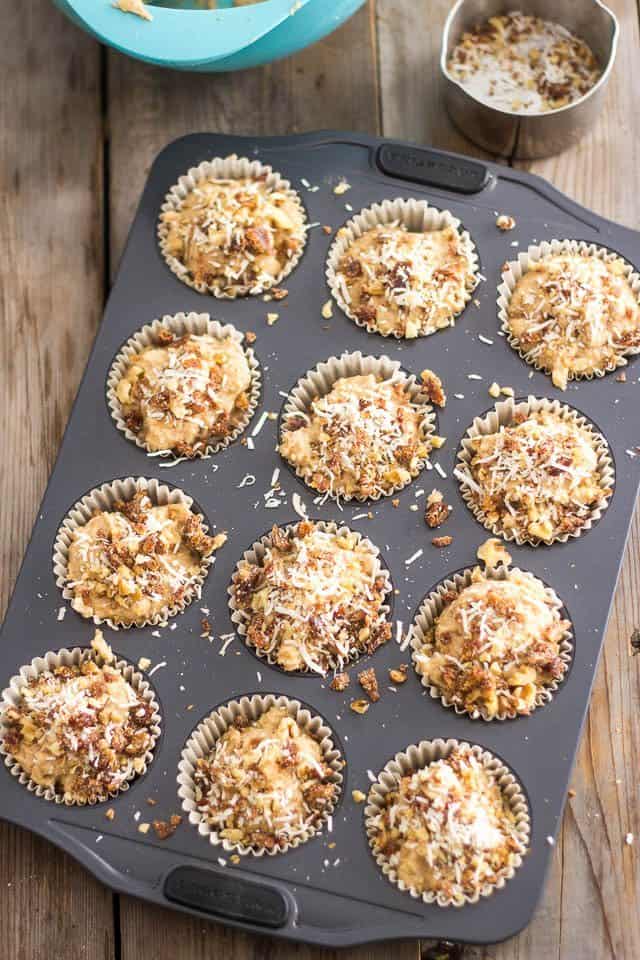 Oddly enough, it almost seems as though this recipe did not want to be immortalized… When I decided to whip up this batch of muffins, all I really wanted to accomplish was use up some very ripe bananas that had been sitting in the fruit basket for a whee while too long. I wasn't really planning on logging this and at all.
So I didn't take pictures of the process or anything. I didn't even use fancy bowls! Still, thank goodness, I wrote down the recipe, just because… this was my first go at making paleo muffins and I thought it would be a good thing to take notes.
But then I tasted the batter. OMG! I totally flipped and KNEW these would turn out fantastic and I'd wanna share the recipe with you. Without another second wasted, out came the camera and props: these puppies were going to be officially and publicly cataloged.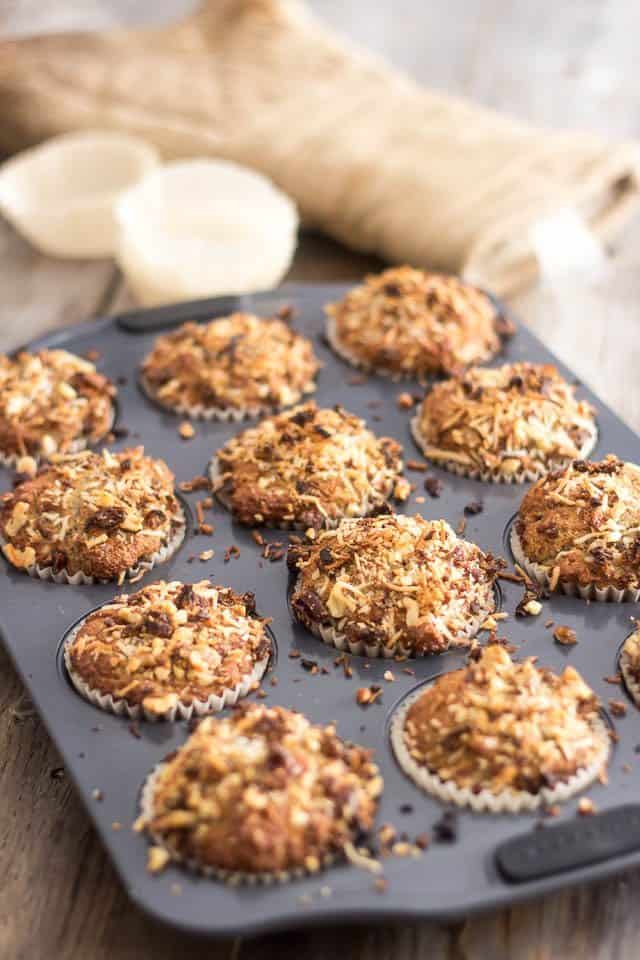 I'm telling you, when biting into one of these, there is no way one can tell that they are healthy and nutritious. No kid will ever turn their nose up at them that's for sure! They are so sweet and moist and fluffy and rich and buttery…
Oh maaaaaaan, I'm salivating just thinking about it. I so badly want one now!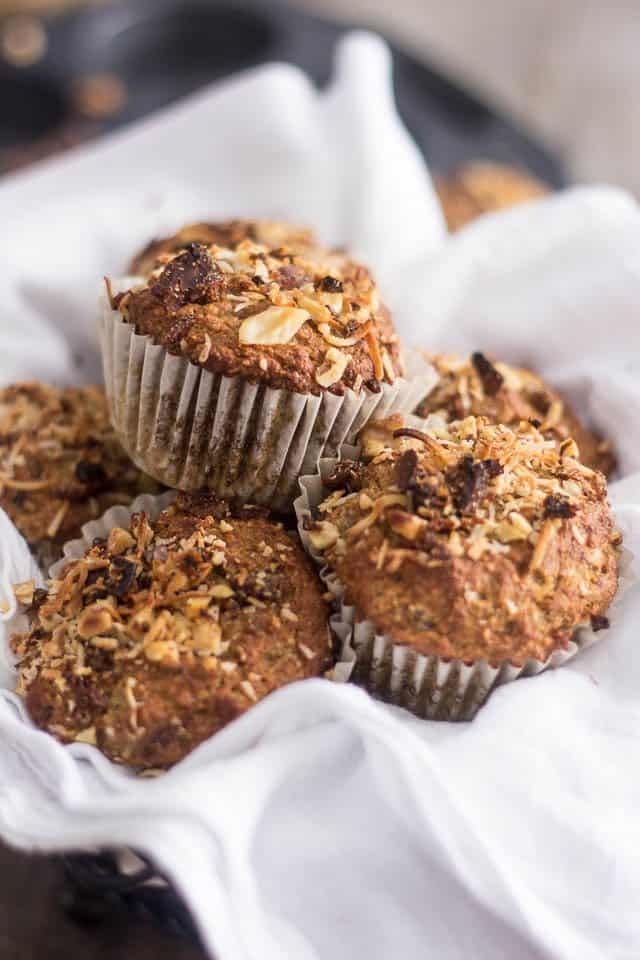 I have to say, though, that these muffins are at their extreme bestest best when slightly warm.
As such, I strongly suggest that you pop them in the microwave for 30 seconds to revive their "fresh out of the oven" fluffy warm goodness, then top 'em with a little bit of Ghee or Raw Cashew Butter.
You'll feel like the world has suddenly come to a complete halt, guaranteed.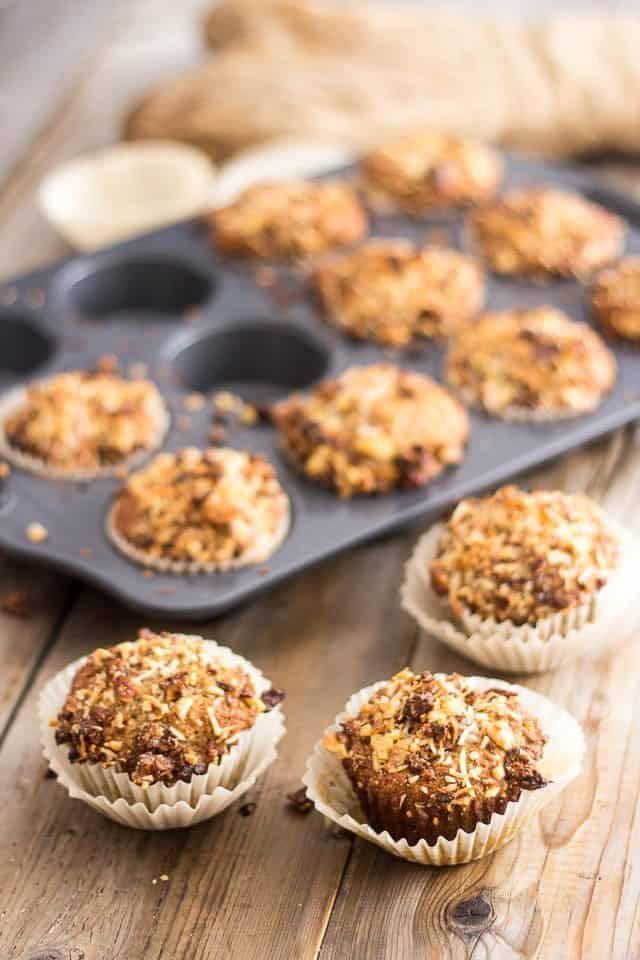 Fresh out of the oven fluffy warm goodness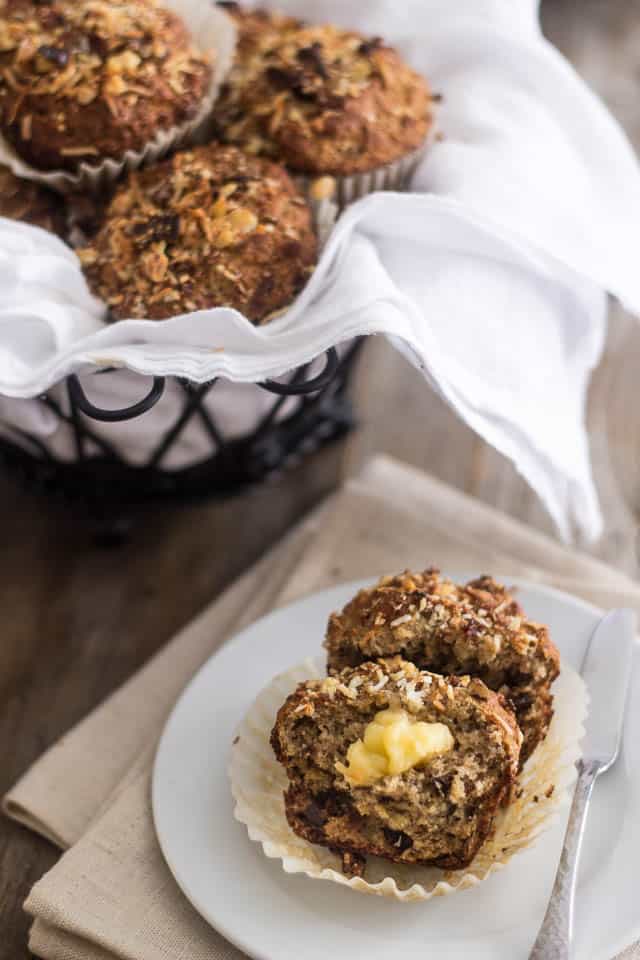 Topped with a dollop of creamy organic ghee. Who could resist this?
Paleo Banana Walnut Muffins
These Paleo Banana Muffins don't contain any grains, gluten, dairy or added sugar but still taste absolutely amazing! A definite must try!
Servings: 12 muffins
Instructions
Preheat oven to 375°F and line muffin pan with 12 large parchment paper cups.

In a large mixing bowl, mash bananas with a fork and whisk until slightly frothy in consistency. Add eggs and coconut oil and mix until well combined. Set aside.

In a separate bowl, mix almond flour, tapioca starch, coconut flour, shredded coconut, cinnamon, baking soda, cream of tartar and salt until fully incorporated. Mix in chopped walnuts and chopped dates.

Add reserved mashed banana mixture and mix delicately with a wooden spoon or rubber spatula until well combined, without over-mixing the batter.

Divide between prepared muffin cups.

Mix the chopped walnuts, dates and shredded coconut listed under "Garnish" and sprinkle over each muffin.

Bake in the oven for about 20-22 minutes, or until a toothpick inserted in the center of a muffin comes out clean.

Nutrition
Calories: 282kcal, Carbohydrates: 26g, Protein: 6g, Fat: 19g, Saturated Fat: 7g, Cholesterol: 41mg, Sodium: 229mg, Potassium: 278mg, Fiber: 5g, Sugar: 12g, Vitamin A: 78IU, Vitamin C: 3mg, Calcium: 54mg, Iron: 1mg
If you've tried this recipe, please take a minute to rate the recipe and let me know how things went for you in the comments below. It's always such a pleasure to hear from you!
You can also FOLLOW ME on PINTEREST, FACEBOOK, INSTAGRAM and TWITTER for more delicious, healthy recipes!