Paleo Chicken Fingers and Garlic Honey Dijon Dipping Sauce
It seems like whenever I get emotionally affected by certain life situations, my appetite makes it a business to lock up on me.
Doesn't matter if the emotions are good or bad, my stomach does not discriminate. When crisis strikes, it just ties itself up in a knot and sits in a corner, waiting for the wave to pass. It's been sitting there for a few days now, obstinately refusing to budge.
Believe it or not, even these Chicken Fingers, it sorta kinda turned its nose up at. It was like: "Meh, yeah, okay, they DO look good, even I have to admit… I'll have one, MAYBE two, but that's it". 
HA! The insolence!
It's not that they're not good, far from there. Truth is, I've had to feed that stubborn tummy of mine nothing but crazy delicious food lately, else there's just no way it would signal my mouth to open up and let the food in.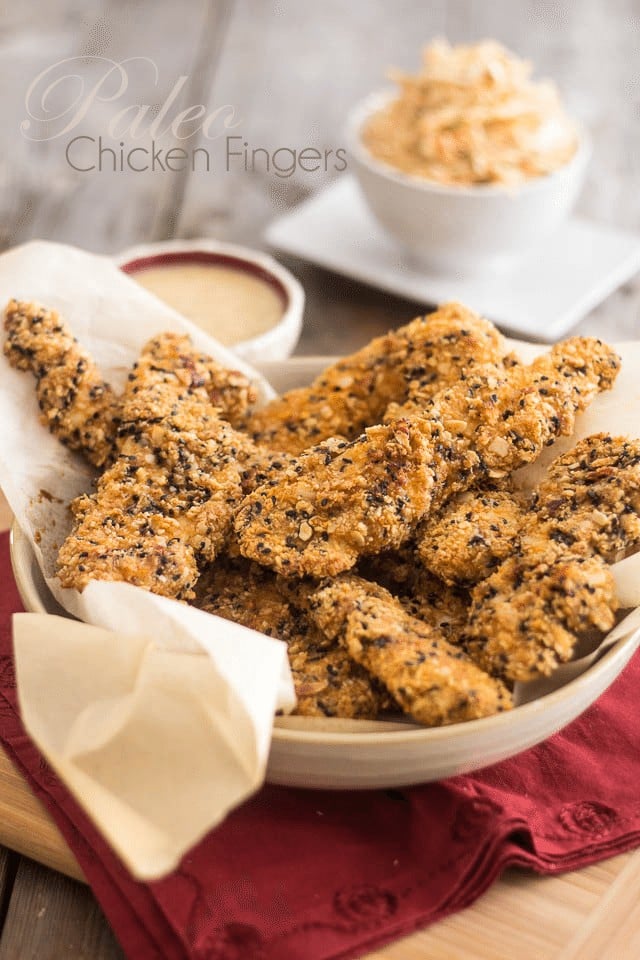 Now don't you worry about me, I'm fine. It doesn't take much for my stomach to start acting stupid like that. I think it just doesn't get the fact that it's not too convenient when you work as a food blogger to have food not really appeal to you all that much… 
On the other hand, maybe I should see this as a blessing. Being so picky about the food that I eat allows me to create dishes that are even more accessible and also much more likely to appeal to those of you whose tummies might be a tad reluctant at the idea of eating hardcore paleo food.
I can't imagine these Chicken Fingers not making any kid happy. Or even hubby…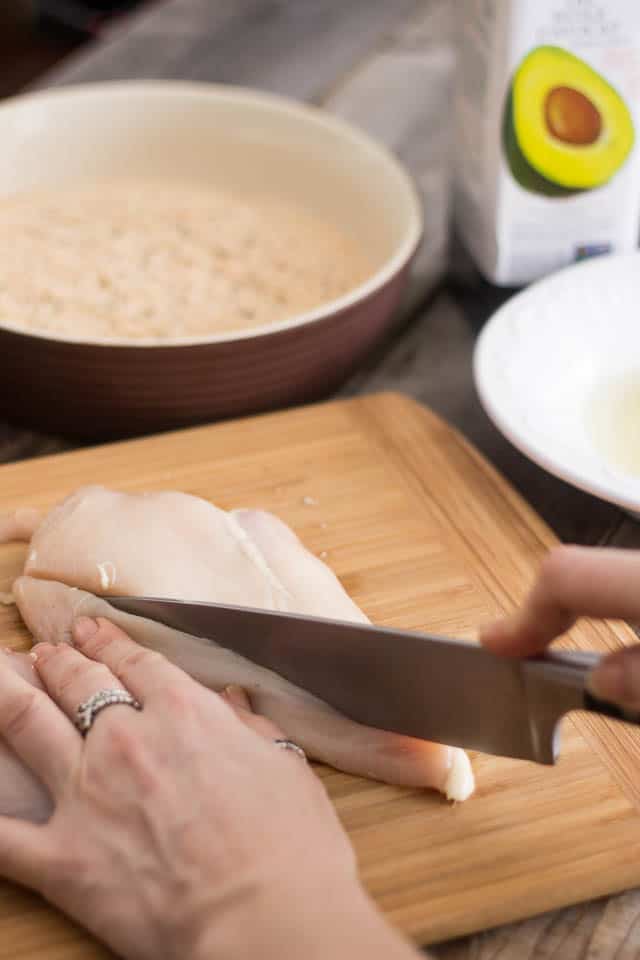 First thing we need to do is cut our chicken breasts in to strips. Support the meat with one hand while you cut the strips with the other hand.
Make sure that you use a very sharp knife and that you keep your fingers away from that blade. You could also freeze the meat for about 30 minutes prior to cutting it, just to firm it up a little. This makes the slicing A LOT easier.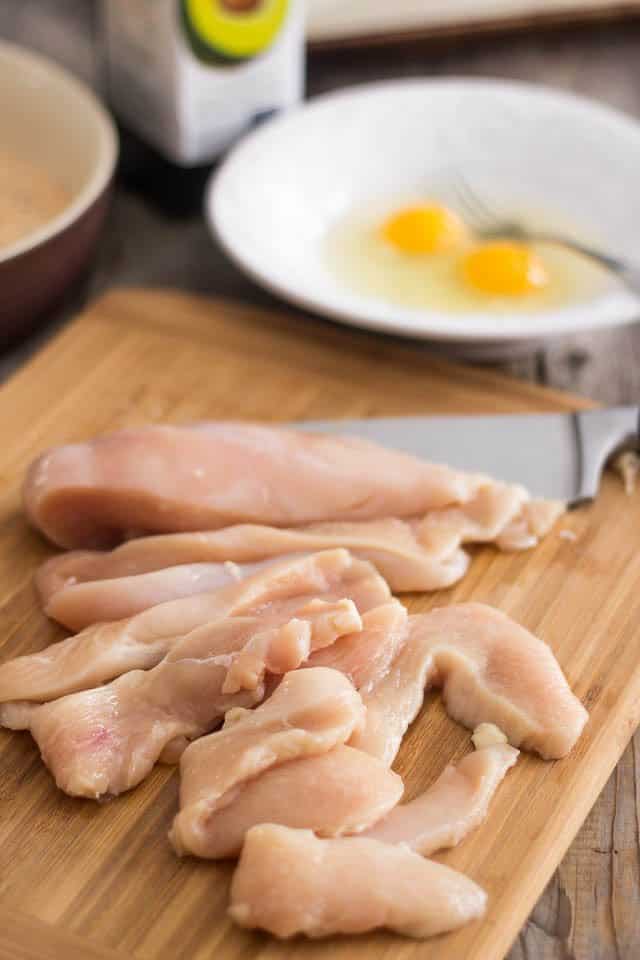 You should be able to get at least 6 strips out of each breast. Try and keep them as even as possible in shape and size.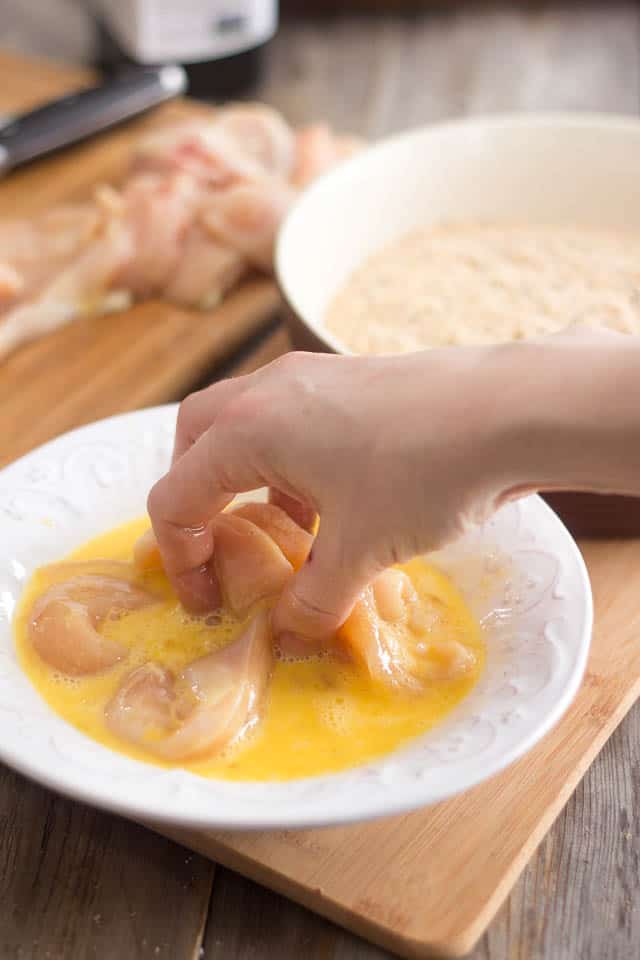 Beat the eggs and dunk the chicken strips right in, 2 or 3 at a time…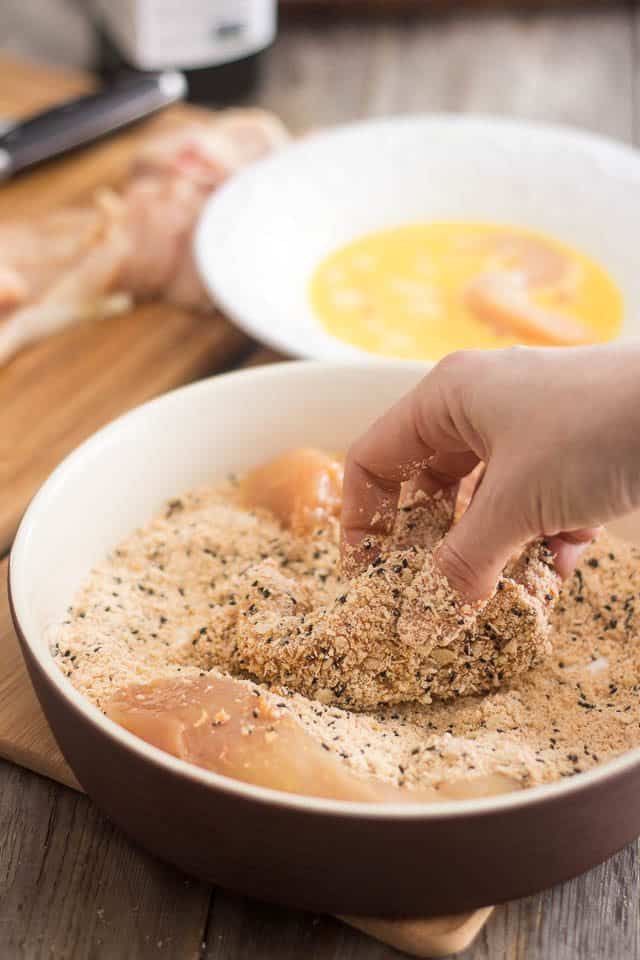 …and then transfer them right to the bowl containing the ground almond mixture and toss them around until they are completely coated. Yeah, your fingers will be getting a nice coating, too. Sadly, there isn't much you can do about this.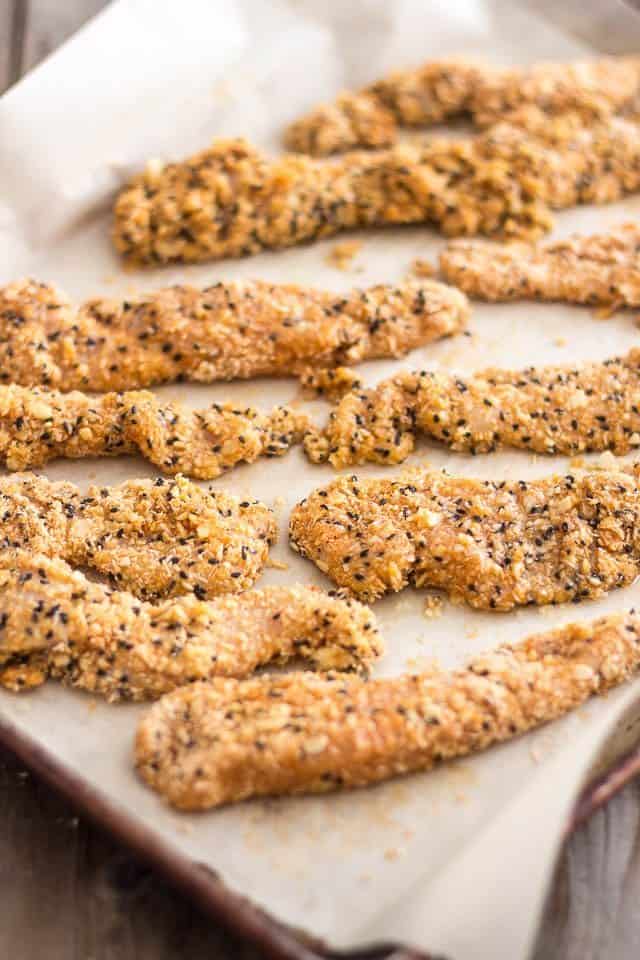 Lay the coated chicken strips on a parchment paper lined baking sheet and drizzle liberally with avocado oil (You could also use melted coconut oil, if you prefer. This would even add an interesting flavor!)
I tried to do a beautiful shot of the oil being drizzled here, but failed miserably. All I got was this big ugly and blurry green bottle taking up all the space, resolutely refusing to let any oil out. Hmpft. I'm afraid you're gonna have to picture all that sexy oil drizzling action in your mind… sorry about that!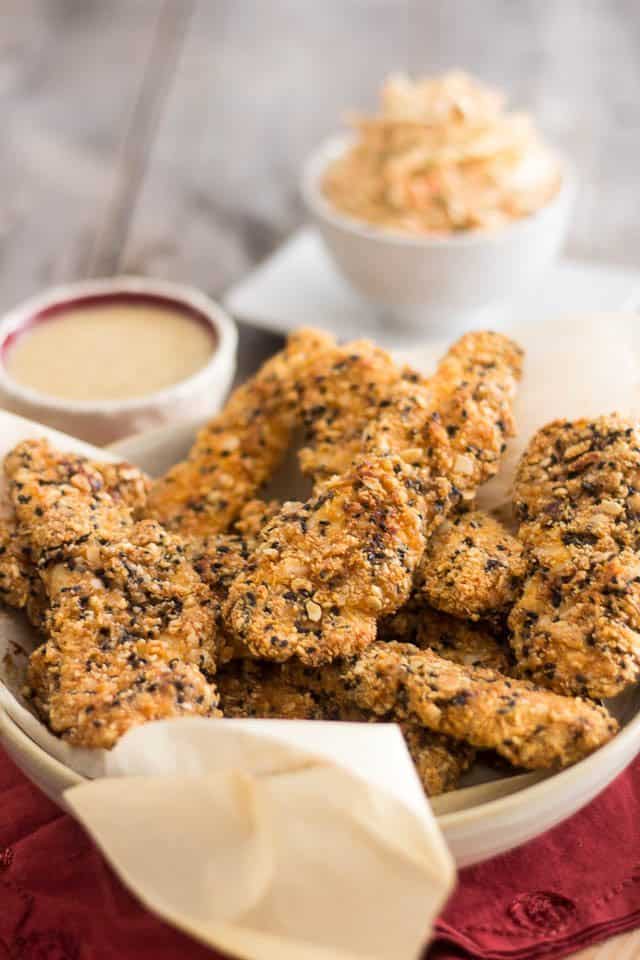 Alright, so once the oil has been drizzled, in the oven these go, for 15 to 20 minutes. You'll want to flip them once during cooking, at the 10 to 15 minute mark.
When your chicken fingers are fully cooked, let them cool on the baking sheet for a few minutes then stack them on a plate and serve to your [hopefully] hungry crowd.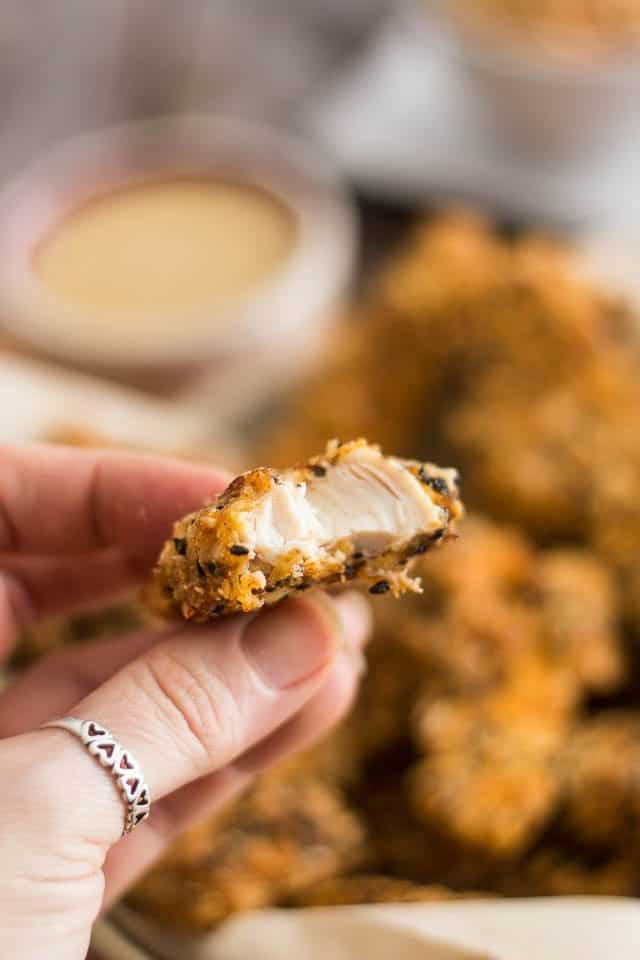 Now that's what I call a Chicken Finger! Look at that beautiful chunk of meat! So tender, so juicy. Oh, and that breading! Not only does it provide a great little crunch for your teeth to marvel on, it also delivers quite a surprising amount of flavor that will without a doubt make your taste buds go completely ga-ga.
I'm telling you, these things are packed with so much flavor that you barely even need the dipping sauce. Still, I highly recommend that you make it, for seriously, it takes these babies right over the edge.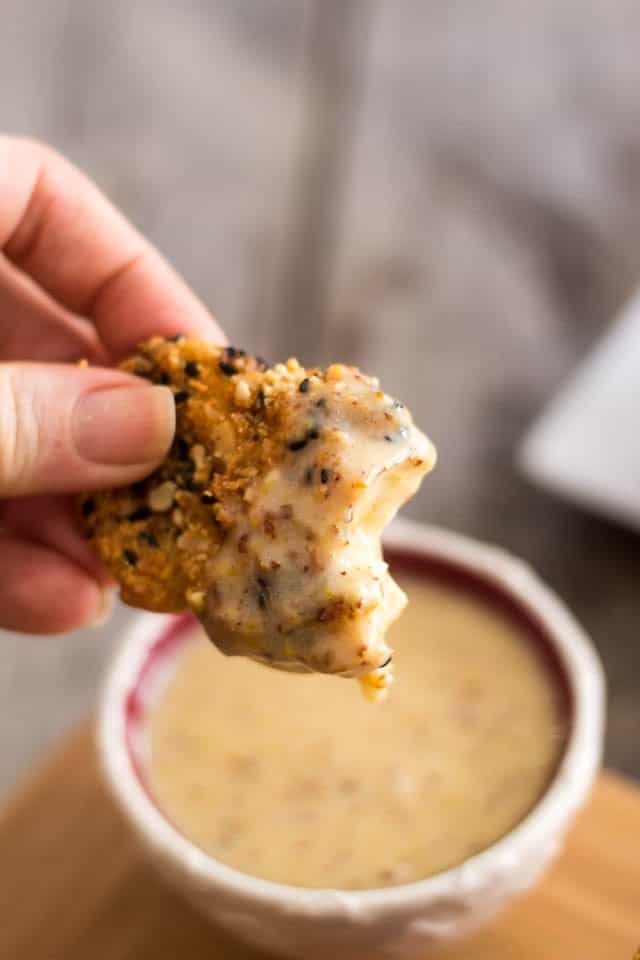 Plus, Chicken Fingers are always so much better and fun to eat when a little bit of dunking action is involved.
At least, my tummy seems to think so…
And for the time being, I simply wouldn't want to argue with it!
Paleo Chicken Fingers and Garlic Honey Dijon Dipping Sauce
Servings: 4
Instructions
*The night before - While this is entirely optional, I strongly recommend that you soak your chicken breasts overnight in a solution of salty water made of 1 teaspoon of salt for every cup of water. This creates a much juicier and tastier chicken and requires very little effort on your part. Trust me, it's totally worth it.

Preheat oven to 400F. Line a baking sheet with parchment paper.

Take the chicken out of the "brine" and pat it real dry. Cut each chicken breast into 6 relatively even strips.

In a shallow bowl, add ground almonds, tapioca starch, unsweetened coconut, sesame seeds, garlic powder, dried mustard, paprika, salt, black pepper and cayenne and stir until evenly combined.

Beat the eggs in a separate shallow bowl.

Dip each chicken strip in eggs then roll in almond mixture until nice and evenly coated on all sides; place on lined baking sheet and repeat until all chicken is used.

Drizzle generously with avocado oil, place in the oven and bake until the crust gets golden brown and chicken is cooked through, about 15-20 minutes, depending on the size of your chicken fingers. Flip after 10 to 15 minutes of cooking time.

While your chicken fingers are cooking, prepare the dipping sauce by combining mayonnaise, garlic, honey and mustard in a small bowl.

When the strips are fully cooked, allow them to cool for a few minutes on the baking sheet and then serve with the dipping sauce.
If you've tried this recipe, please take a minute to rate the recipe and let me know how things went for you in the comments below. It's always such a pleasure to hear from you!
You can also FOLLOW ME on PINTEREST, FACEBOOK, INSTAGRAM and TWITTER for more delicious, healthy recipes!